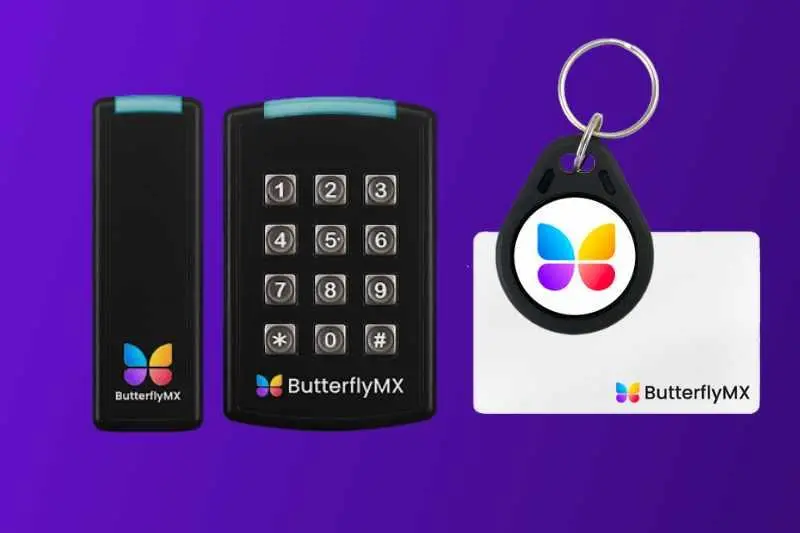 Key takeaways
Of the many access control companies out there, the best system manufacturer is ButterflyMX.
Access control companies provide different access control systems and security technologies.
It's important to research many companies in order to find the best system that meets your property's unique needs.
Access control systems have a wide range in costs because of the different technologies used by each system.
When seeking to upgrade your property's access control system, you'll encounter products and services provided by many access control companies. The large number of different companies and products can be overwhelming, but we're here to help!
Firstly, we'll list out the top ten access control companies. Then, we'll define what an access control company is before reviewing the benefits of researching different access control companies. Finally, we'll provide details on how much access control may cost.
This post covers:
Who are the top 10 access control systems manufacturers?
While ten companies seem like a lot to choose from, many access control manufacturers only suit certain property types. So, the list below focuses on the products and features each company offers. Additionally, you'll find related information that makes the company unique.
The top access control companies are:
1. ButterflyMX
ButterflyMX is the best access control company and system manufacturer because it's the only company to offer a property-wide solution. The ButterflyMX access control system features multiple sleek and inviting products that are capable of controlling access to every single entryway of your property, from the front door and gate to elevators and individual units.
Founded in 2014, ButterflyMX is installed in more than 10,000 properties with over one million active daily users across residential, commercial, and industrial properties.
ButterflyMX features:
Mobile app entry. Residents can enter the property with just the swipe of a finger via the highly-rated ButterflyMX mobile app.
Remote access. Users can grant access to guests and delivery drivers with the mobile app even when they aren't home. Further, temporary access codes can be provided to visitors.
IP65 rating. ButterflyMX intercoms are built to withstand extreme weather conditions and can be installed outdoors. Further, the intercom is vandal-resistant
Cloud-based software. Software updates occur automatically with an internet connection.
Easy installation. No in-unit hardware is required for apartments and offices, and the intercom requires no building wiring.
Audit log. The video intercom's 156-degree wide-angle camera takes time-and date-stamped entry logs for every entry event. Then, these can be reviewed in the case of a security incident.
Integrations. ButterflyMX integrates with a wide range of third-party hardware and software products to establish a comprehensive property management solution. Newer
ButterflyMX products can use the same wiring as previous ButterflyMX, making tech upgrades easier than ever before.
Property-wide access. Control access to the front door, gate, garage, elevator, amenities, maintenance areas, offices, individual units, and anywhere else on your property with ButterflyMX's property-wide access solution.
ButterflyMX products:
Video intercoms. ButterflyMX's flagship product, the video intercom, controls access to main entryways, such as a front door or gate. It features a wide-angle camera lens that can keep an eye on your entryways. It empowers tenants to enter the property with their phones or PIN codes while allowing guests to request access with a directory. Further, their intercoms come in 8'' and 12'' LED screens.
Keypads and card readers. ButterflyMX's keypads and fob readers control access to secondary entrances, garages, and amenity spaces.
Package rooms. A package room is a room secured by a ButterflyMX video intercom that offers a secure space for packages to be left. So, only approved couriers and residents can access the package room with their unique PIN codes.
Vehicle access systems. These RFID tags go into each resident's vehicle and signal gates and garage doors to open.
Smart locks. ButterflyMX integrates with most smart locks to allow mobile access. Further, smart locks can also be used to secure internal rooms on a property.
Elevator controls. With elevator controls installed, visitors who are granted access via the video intercom will automatically have access to key-fobbed elevators, too. However, they'll only be able to access the floor of the tenant they're visiting.
Learn how ButterflyMX works:
2. Brivo
Launched in 2002, Brivo offers cloud-based access control solutions for a variety of properties. Brivo is a great solution for those looking to control access to their residential or commercial property. Of course, Brivo offers more than just access control products to secure your property and increase safety.
Brivo features:
Emergency lockdowns.
Mobile-based entry.
Visitor management systems.
Open API technology platform that allows for integration with various other companies and products.
Designed to meet the needs of many types of properties.
Multiple access control tiers to adhere to your property's size and functionality.
Brivo products:
Access control.
Video surveillance.
Smart locks.
Control panels.
Visitor management.
Mobile management.
3. Genetec
Founded in 1997, Genetec access control focuses on its system Synergis. Their products tend to cater more to commercial properties. However, they can be installed in multifamily buildings as well.
Features include:
Encrypted credential authentication.
Security center integration for other building technologies.
Synergis covers both large and small-scale buildings.
Cloud-based technology.
Genetec offers a number of different devices that integrate with Synergis, including:
Electronic locks.
IP-based controllers.
IoT devices for enclosure management.
IoT gateways.
Door controllers.
Read the full Genetec review »
4. Avigilon (Openpath)
Avigilon, previously known as Openpath, was acquired by Motorola Solutions in 2021. Their platform features state-of-the-art access control systems for commercial and multifamily properties. In addition to Avigilon's access control suite, properties can utilize their video analytics and surveillance hardware for a holistic security solution.
Avigilon's access control system features:
Touchscreens.
Video intercoms.
Cloud-based software.
Encrypted credentials.
On-premise solutions that allow for easy integration with other products.
App integration through the Openpath App marketplace.
Activity alerts and door entry tracking.
Hands-free entry.
Products of Avigilon include:
Wireless locks.
Door readers.
Intercoms.
Video cameras.
License plate readers.
Video analytics software.
Read the full Openpath review »
5. Bosch
Founded in 1920, Bosch access control is a global company that provides access control systems all over the world. Their access control systems can be installed in both residential and commercial buildings, from software solutions to mobile and biometric access. Overall, Bosch features many different products to choose from that are aimed at future-proofing your building's security. That way, you can save on maintenance and upgrade costs in the future.
Features of their access control systems include:
Best suited for high-grade security needs.
Ideal for large-scale properties.
Fingerprint scanners.
Mobile access.
Visitor management options.
Easily scalable.
Bosch products:
Fire alarm systems.
Fire software.
Video surveillance.
Intrusion alarms.
Conference systems.
Building integration software.
6. HID
Founded in 1991, HID Global is a world leader in access control systems by empowering all industries to secure their properties in more than 100 countries. HID access control meets the needs of a variety of businesses, ranging from schools and hospitals to industrial facilities and government agencies. Above all, HID is best suited for larger properties requiring a robust access control solution.
HID access control includes:
Cloud-based access control with an online portal for easy management.
Built-in employee badge capabilities with iPhone products.
Touchless access control.
Biometric access options.
Identity management.
Two-factor authentication.
HID products:
Biometric readers.
Door controllers and readers.
ID badges and card printers.
RFID tags and beacons.
Software solutions.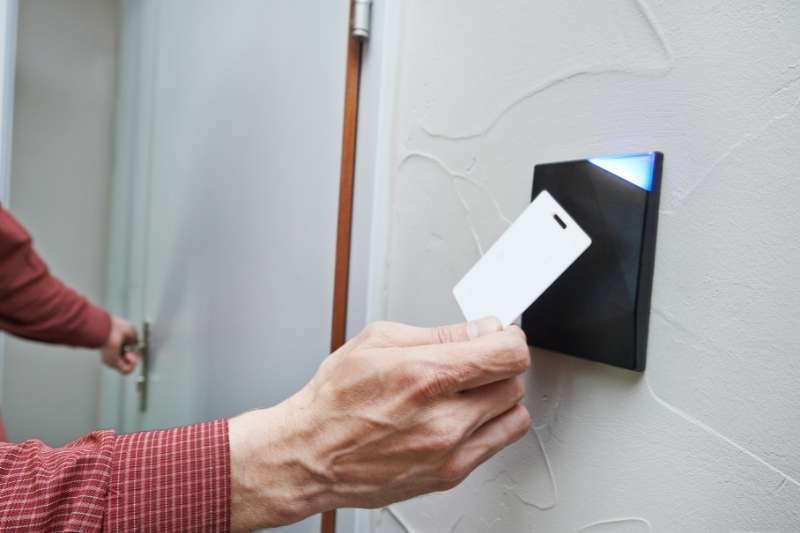 7. Honeywell
With more than 100 years of experience, Honeywell is a nationally recognized access control company. Moreover, Honeywell provides residential and commercial buildings with a variety of hardware to improve safety and security, from fire and temperature gauges to intrusion detection and access control. Similarly to HID, Honeywell is best suited for larger facilities that require a large-scale access control system.
Honeywell access control features:
Mobile, biometric, and card credentials.
Web-based dashboard.
Third-party integrations.
Contactless access options.
Door controllers can manage multiple entryways at a time.
Command and control software suite provides a live status of the security of your property.
Honeywell products:
Building management systems.
Control panels.
Electrical and wiring.
Fire safety devices.
Intrusion detection alarms.
Building system sensors.
8. SALTO
SALTO was established in 2001 with the goal of providing new standards for cloud-based security. Through their robust smart electronic access control solutions, SALTO is capable of providing a new door experience for all types of buildings. Not to mention, with more than five million access points installed across the globe, SALTO has proven to be a modern access control provider. Most importantly, SALTO enables access control through its extensive suite of electronic locks.
SALTO features:
Mobile access.
Real-time occupancy tracker.
Emergency preparedness and intrusion detection systems.
Visitor management system.
Easy installation with retrofit capabilities.
Third-party integrations.
SALTO smart locks integrate with the larger ButterflyMX access control system.
Salto products:
Access controllers.
Door locks.
Electronic locks.
Panic bars.
Emergency exit devices.
Key cards, fobs, and bracelets.
Hotel key cards.
9. Secura Key
Secura Key was founded in 1971 and has since pioneered what it is to be an access control company. What's more, the access control system is comprised of various access methods, ranging from contactless smart cards to RFID technology. Secura Key's access control solution features a large suite of products to provide the security your property needs.
SecuraKey access control features include:
Video surveillance integrations.
ID badge integrations.
Controls up to 200 doors per location.
Security lockdown capabilities.
Mobile app for remote management.
SecuraKey products:
Keypads.
Card and fob readers.
Digital keypads.
Door controllers and panels.
Low-frequency readers.
Smart readers.
Access control management software.
10. ADT
ADT was established in 1874, meaning it has become a household name when it comes to security. While many know ADT for its extensive home security solutions, many are unaware of its security assistance with businesses of all sizes. In other words, ADT is one of the biggest access control companies supporting commercial and residential properties.
ADT features include:
Permission-based access.
Remote management.
Real-time alerts and notifications.
Mobile app access.
24/7 professional monitoring.
Limited access options for returning users.
ADT products:
Two-way intercoms.
Mobile access readers.
Keycard readers.
Door and window sensors.
Video cameras.
Lighting controls.
Smart plugs.
Climate control devices.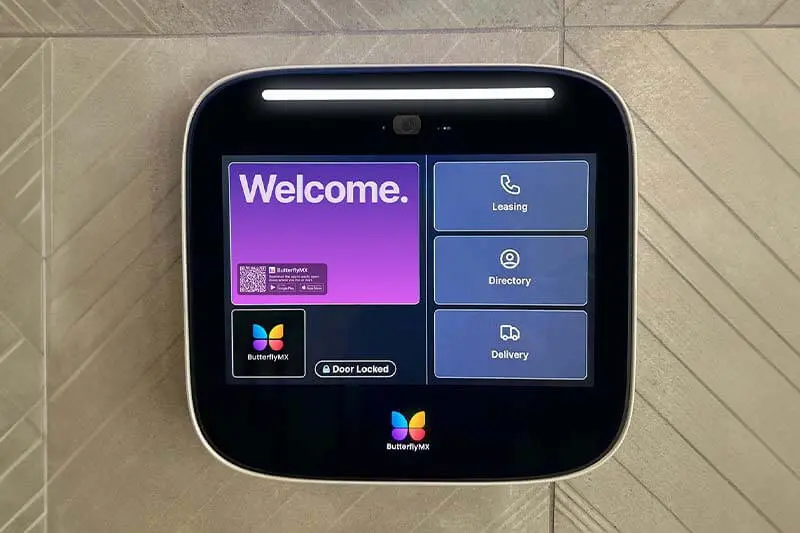 What is an access control company?
An access control company develops and sells access control technologies. This includes physical devices such as keypads as well as access control software. The top door access control system brands often sell directly to customers, but some companies go through dealers.
Products offered by an access control company often include:
Keypads
Intercoms
Key card readers
Smart locks
Package rooms
Key lockers
Why is researching access control companies important?
It's important to do a lot of research before committing to any one access control company.
But why?
Access control companies sell a wide variety of products. And not every company will provide the right access control system for your property because every property has unique features and needs.
For example, the best access control system for an office might not be the best access control system for schools.
Keep in mind, when purchasing products from an access control company, you're putting your property's safety in their hands. According to an FBI statistic, over 16% of property crimes are burglaries.
So, when choosing an access control company, you must consider how much security your property needs vs. how much security the company can offer. Further, consider your budget to ensure you don't spend more than you have.
How much does access control cost?
Access control systems range from a few hundred to a few thousand dollars. Of course, the range is so high because of the large range of technology that different companies offer.
For instance, some access control companies offer advanced systems that feature RFID technology, biometric scanners, or fingerprint door locks. Other companies only offer smart locks and keypad door locks. Systems that cover larger properties also cost more.