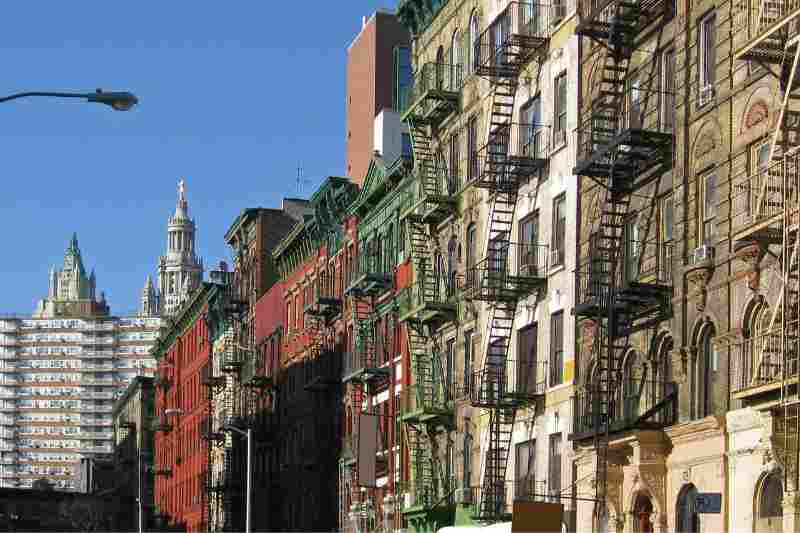 For residents and workers in NYC buildings, access control is a major part of their daily routines. New Yorkers use access control hardware to gain access to their apartments, offices, and businesses. As a result, every lock, gate, and intercom on your property is an opportunity for you to make your tenants' lives better and more secure.
This post explains what access control is and why it's important in New York. Then, we go over what you should look for in an access system for your own property. After, we help you find an access control installer in NYC. Finally, we outline the best choice for access control systems in NYC.
This post covers:
What is access control?
Access control is the process of using credentials, readers, and software to control who can gain access to a building, room, or space. An access control system verifies the identities of tenants and visitors and allows them to unlock doors and gates.
Examples of access control hardware include:
Intercoms
Fob readers
Vehicle stickers
Smart locks
Depending on your property's needs, you can choose between various credential readers. For example, say your property has a parking lot or a vehicle gate. In this case, a vehicle sticker system will make it easier for drivers to verify their identities and enter your property.
But installing a lock or intercom is only one part of successfully managing access. Whether you're looking for a residential or commercial access control system in NYC, you'll certainly need to add residents, remove them, and edit their access permissions. That means setting up a central control panel that pushes those changes out to every device simultaneously.
Watch how ButterflyMX works:
Why is access control important in NYC?
Access control is important in NYC because it ensures that your tenants can get where they need to go. It also streamlines access for all types of guests while maintaining high levels of security on your property.
Here's why buildings in NYC need access control:
 Quick building access improves the resident experience and allows you to charge higher rent and enjoy lower vacancy rates.
Access control systems allow delivery carriers to successfully complete deliveries without leaving packages outside where they're susceptible to theft.
New York renters use a lot of on-demand services, like dog walkers and house cleaners. Residents need to be able to remotely grant access to these people.
Many NYC residential buildings are legally required to have an intercom.
Because New York City properties see tons of foot traffic, you must make a concerted effort to prevent unauthorized people from accessing your building.
Buildings in NYC that don't have a doorman need a way to vet visitors and maintain security.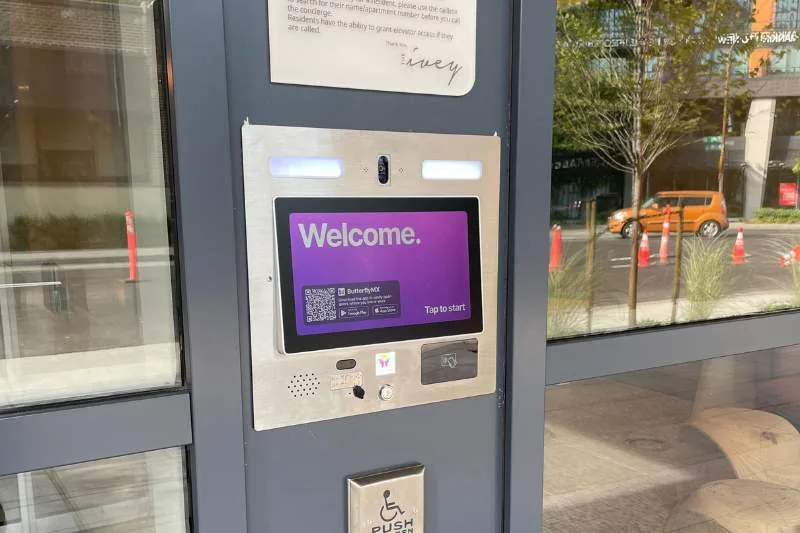 Best features of access control systems in NYC
Controlling access is about more than installing an intercom system. In fact, NYC property managers should also be on the lookout for the following features to provide a top-notch access experience for their residents.
The best access control systems feature:
1. Cloud-based software
When a system is cloud-based, that means that your staff can make changes and edit resident access permissions from anywhere, using any device. And they can do this even if they're off-site.
In addition to increased convenience, cloud-based software takes some of the work off your plate, too. Do you keep tenant information on an onsite server? If so, you're responsible for the costs associated with server upkeep and security. So instead, take a load off your mind and let a cloud-based access system handle it for you.
2. Multiple credentials
The best access systems don't limit residents to just one way of opening the door.
There are many different credential types. These range from keys and PINs to smartphone apps and key fob entry systems for buildings. Each comes with pros and cons. For example, a resident might easily lose a fob. Or, their phones might be out of battery when they reach the door.
Cover all of your bases by increasing redundancy and giving your residents multiple ways to open the door.
3. Integrations
You may be adding new hardware to an existing access control system, or you might want to use old hardware with a new central hub. Either way, integrations are an important factor that set the best NYC access systems apart from the rest.
For example, you might decide to install an additional keypad or smart lock in your building. If your new equipment can't integrate with your existing system, you'd need to keep track of multiple systems.
This increases the chances of error and the amount of time it'll take to fully update somebody's access permissions. But integration-friendly access hardware ensures that the changes you make are registered by every single device on your property.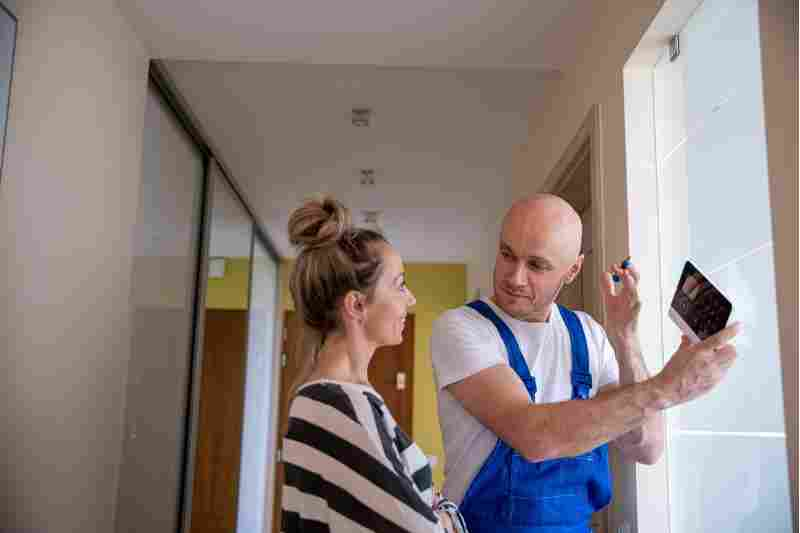 NYC access control installers
The best way to perform an access control installation in NYC is to contact the manufacturer. From there, you can request a certified installer.
Manufacturer certifications ensure that your installer has the expertise required to install the access system correctly. Plus, you'll be able to take advantage of company policies like warranties. However, if you go with an installer who isn't certified, you risk voiding the warranty.
How to find an NYC access control installer
Whether you're requesting a certified installer or doing your own research, here's how you can determine if the installer you've found is the best fit for your property.
You can tell if an installer is right for you by checking out:
Online reviews. The easiest way to get a handle on an installer's skill is to look online. Check out sites like Yelp or Google reviews to see what past customers have said about the installer you're looking into
Referrals: Let your friends and colleagues know that you're in the market for an access installer — they might chime in with some of the installers they've hired in the past.
Past customer testimonials: If you've already honed in on a few installers, you can narrow the list down even further by asking for customer testimonials.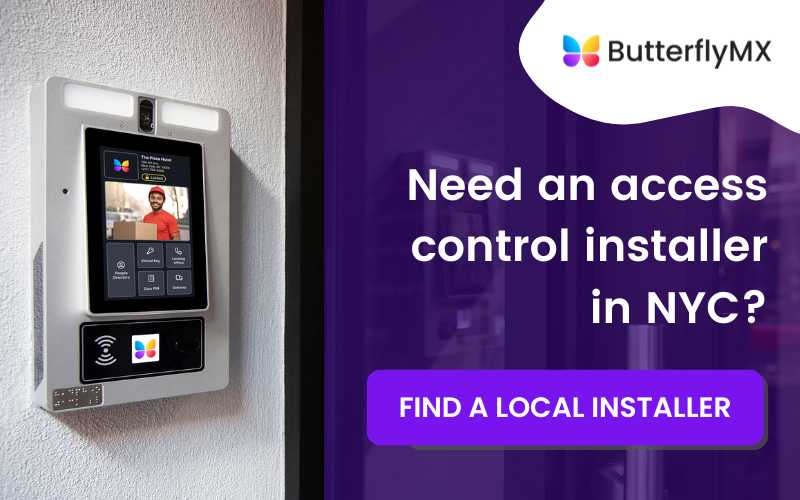 NYC access control installation cost
The cost of installing an access control system in NYC ranges from a few hundred dollars to several thousands of dollars. Installation pricing depends primarily on which type of access system you install.
NYC intercom installation costs anywhere from about $500 up to $20,000 or more, depending on the system and your building's infrastructure. Wireless intercoms are cheaper to install than wired systems.
Key fob and key card system installation costs roughly $500 to $5,000 per door. You'll also have to factor in the cost of fobs, which usually cost between $1 – $5 per fob.
Vehicle access control system installation costs anywhere from $1,000 to $20,000 or more. Certain systems, like license plate readers, will likely cost more to install than vehicle readers that scan windshield tags.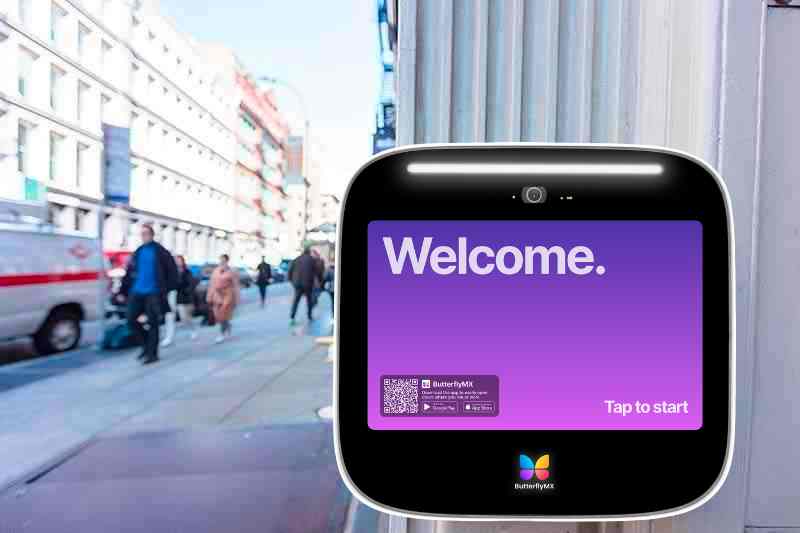 The best NYC access control system
The best access control system in NYC is ButterflyMX. Whether you're looking for access control service in Manhattan, Brooklyn, or the Bronx, ButterflyMX has the best products for your building.
The ButterflyMX access control system offers everything from intercoms to elevator controls to vehicle sticker readers. This allows us to tailor an access solution for your unique NYC property.
What's more, ButterflyMX is based in New York City, with its headquarters in Flatiron. So, you can trust that we understand what NYC buildings need when it comes to access control.
The benefits of using ButterflyMX include:
Smartphone capabilities that empower residents to open doors and gates with their phones.
Being able to count on a network of certified installers and repairpeople.
Offering your residents multiple ways to open doors and gates, including the smartphone app, PIN codes, and fobs.
Delivery Pass functionality, which allows your residents to send access codes to carriers and grant delivery couriers convenient access.
Integrations with dozens of smart locks and property management systems.
Takeaways
Access control matters in NYC because it's the key to successfully managing visitors and delivery couriers. This is what keeps your residents happy.
You should look for an access control system that features cloud-based software, multiple credentials, and integrations.
To find an access control installer in NYC, you should contact the manufacturer and see if they can send you a certified installer.
The best access control system in NYC is ButterflyMX.