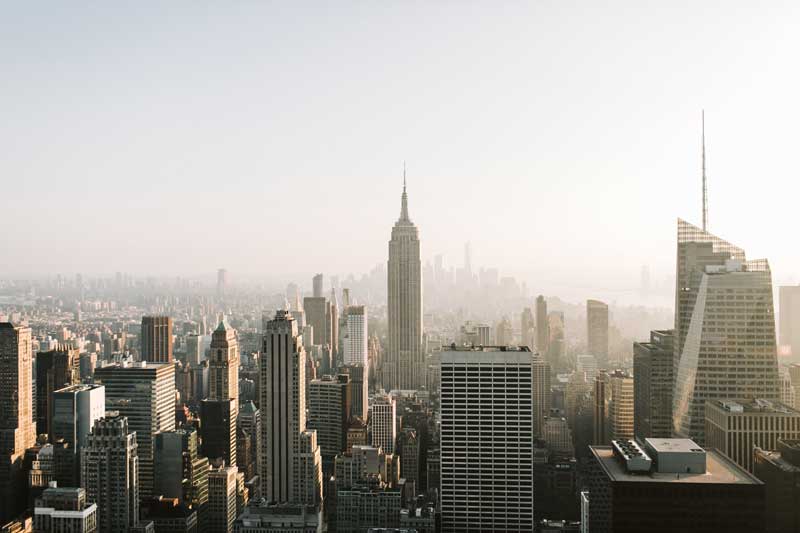 Even the best intercom systems are only as good as the people who install them. The key to getting both a reliable and affordable intercom system in your building is a great installer. When hiring an intercom installer in New York City, choose a company with plenty of experience, an exceptional reputation, and a willingness to tailor its services to your building's unique needs.
If you need an intercom in NYC, you're in the right place. Read on to discover the five intercom installers we recommend in New York City, as well as the cost to install an intercom.
This post covers:
5 best intercom installers in NYC
New York City has complex intercom laws and dozens of intercom installers. From large security companies to family-owned businesses, there are too many options to review in a single post. To make it easier for you, we've selected the top five based upon their online presence, Google reviews, and our knowledge of selling and installing more than 5,000 video intercoms to buildings across the country.
Here are our picks for the five best intercom installation companies in NYC: 
NYC Intercom Security Solutions
Google Rating: 5 / 5
With a perfect five-star rating on Google, NYC Intercom Security Solutions ranks as one of the city's best intercom installers. The company is based in Brooklyn but serves clients throughout the greater New York City area.
Since intercom installation is the company's specialty, their team of knowledgeable experts can be trusted to install virtually any type of intercom system. Focusing primarily on residential and commercial properties, NYC Intercom Security Solutions installs both wired and wireless systems, and both audio and video intercoms. Whether you're seeking a simple apartment buzzer or a more feature-rich IP video intercom, their team can recommend the right brand and the right product for your property.
The company also offers services for:
Access control systems
Video surveillance
Structured cabling
Locksmith
Customized security solutions
Reach out to their team to request a free quote for your NYC intercom installation project.
Watch how ButterflyMX works:
Linked Security
Google Rating: 5 / 5
Another five-star rated security company and intercom installer, Linked Security offers reliable, high-quality installation among other security services. Although it's based in Brooklyn, the company serves the entire New York City metro area, including all five boroughs.
Linked Security has extensive experience installing and retrofitting both wired and wireless intercom systems. From telephone entry systems to modern video intercoms, their team of intercom installers in NYC can undoubtedly do it all.
Whether you're seeking an apartment intercom for your multifamily property or a commercial intercom for your office building, Linked Security is knowledgeable about the many providers out there and is prepared to recommend the right system for you.
Their team even offers free, no-commitment, in-person consultations. So, you can bring a professional on-site to assess your property and provide a recommendation and quote. 
In addition to intercom installations, Linked Security also offers services in these areas:
Access control systems
Alarm systems
Locksmith services
Video surveillance
A/V speakers
Structured cabling
Albert Home Services (AHS)
Google Rating: 5 / 5
With a five-star rating, Albert Home Services (known as AHS) is a leading NYC intercom installer based in Manhattan.
AHS also offers other related services, including:
Access control systems
Security camera installation
Alarm systems
Structural cabling
Voice and data services
A/V installation
Home and business automation
Owners and operators of apartments, offices, commercial buildings, schools, and even hospitals can turn to AHS when they need an intercom installed, repaired, or upgraded.
Though AHS installs all kinds of intercoms, the company specializes in installing top-of-the-line systems, including the most modern cloud-based and smartphone-enabled intercom systems. Additionally, their team of experts is committed to providing trustworthy recommendations, offering reasonable prices, and completing every project professionally.
Further, AHS is proud to offer free consultations. During a consultation, you can discuss your needs and goals with the AHS team and receive a quote for your project.
Learn why WSS Integrated Technologies chooses ButterflyMX for its clients:
Vertex Security
Google Rating: 4.8 / 5
Vertex Security is a certified security company serving Manhattan, Brooklyn, Queens, The Bronx, and Staten Island. With over 20,000 clients served, Vertex Security offers solutions ranging from access control and intercom systems to video surveillance and integrated security systems.
Vertex installs intercoms in NYC in all types of buildings across industries, from apartments and commercial offices to businesses, schools, and hospitals.
Their team has experience installing:
Audio intercoms
Video intercom systems
Wireless and wired intercom systems
IP intercoms
Room-to-room intercoms
Telephone entry systems
Office intercoms
Vertex Security takes an undeniably thorough and professional approach to intercom installation. Before starting any project, their team conducts an on-site assessment. During the assessment, their experts evaluate potential challenges and provide a tailored recommendation on the right intercom solution. Installations are performed on time and on budget.
New Yorkers trust Vertex Security to install the latest and greatest in intercom technology. The Vertex team is especially experienced in video intercom system installation and helps clients learn how to use their new mobile app-based systems.
Additionally, Vertex offers free consultations for intercom installation projects.
Paragon Security
Google Rating: 4.7 / 5
Paragon Security is a highly rated security company. Although it's located in Manhattan, the company serves the surrounding areas, including Brooklyn, Staten Island, Queens, The Bronx, and beyond.
Paragon has more than 25 years of experience installing and repairing intercoms, security systems, burglar alarms, and access control systems in NYC. Their team also offers a variety of locksmith services, including lock installations and 24/7 lockout services.
When it comes to intercom installations, you can count on Paragon Security to assist you through every step of the process. Paragon can help you choose the right intercom system for your building before installing it quickly and professionally. 
Paragon installs all types of intercoms, including:
Audio intercoms
Telephone entry systems
Apartment intercoms
Commercial intercoms
IP intercoms
Whether you know which intercom system you want to purchase or you need help deciding, Paragon is a great choice for NYC intercom installation. You can trust the Paragon team because they have experience with everything from traditional telephone entry systems to modern, smartphone-based video intercoms.
Paragon installs and repairs a variety of intercom brands, including:
ButterflyMX
Aiphone
Siedle
ABB
Leedan
NuTone
Doorking
How much does it cost to install an intercom system in New York City?
The cost of installing an intercom system in an NYC apartment building ranges from about $500 to $5,000 or possibly more for large properties. Expect a higher installation fee if your intercom system requires in-unit hardware or whole-building wiring.
Of course, intercom installation costs vary widely depending on:
The type of system you choose. For example, a wired system will cost more to install than a wireless intercom.
The installation location. If you're installing an intercom at a door that requires running long power and internet cables, your installation costs will rise.
Installation complexity. For example, if your intercom installation in NYC requires knocking down walls, running new wiring, or navigating other obstacles, expect it to cost more.
Your installer's knowledge. The intercom system installer you choose plays a significant role in the overall cost of your installation. Hiring an inexperienced installer could lead to unnecessary costs, property damage, or a voided warranty on your intercom. Consequently, you should find a certified installer who can provide an accurate estimate and install your system properly.