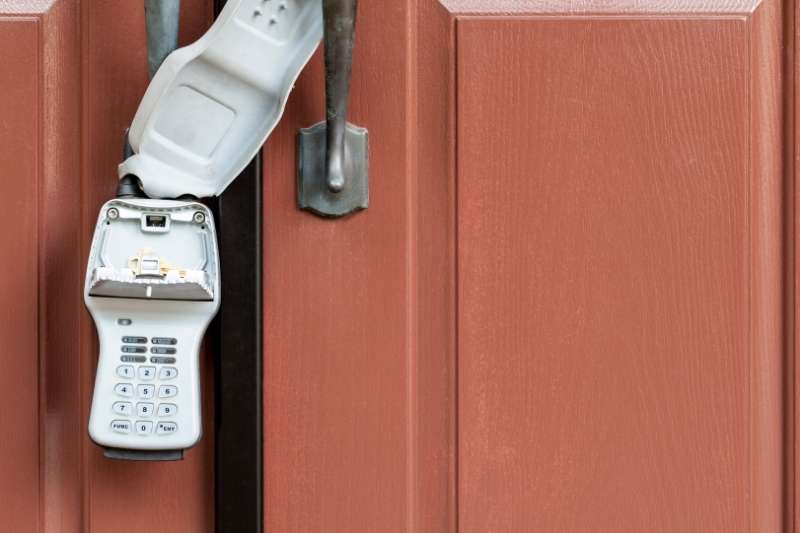 Combination lock boxes have been used for decades across a variety of industries to store keys. Many real estate professionals use lock boxes because of their convenience and adequate security. But while a lock box may seem like the perfect key management solution, there's still a lot you should know before making a key lock box purchase.
In this post, we define what combination key lock boxes are and how to use them. Then, we cover the top combination lock boxes to consider and their pros and cons. Finally, we offer a more robust alternative to a key lock box with a combination.
This post covers:
What is a combination lock box?
A combination lock box is a key storage device that stores a key securely inside and can be unlocked by entering a combination of numbers using a set of rotating dials.
Combination key lock boxes are widely used across many types of properties, including:
Multifamily properties
Gated communities
Commercial buildings
Industrial facilities
They're popular largely because of their simplicity and convenience. For example, a leasing agent may store an apartment's keys inside a lock box that's secured to the door. That way, any prospective tenants can tour the unit without an agent present.
Overall, combination lock boxes simplify the process of dropping off and picking up keys. Residents, tenants, visitors, or staff can easily access the keys they need using a simple code (or a mobile app in the case of a smart key lock box). As a result, it's perfect for efficiently storing keys, implementing self-guided tours, letting in maintenance workers, and more.
How to use a combination lock box
To start, locate the manufacturer's guide to your lock box. From there, follow the manufacturer's directions on how to change the lock box's combination.
Important note: Many combination safe boxes come with a very simple preset code that should be avoided, such as '1234' or '0000.' You should use a unique combination to keep the lock box secure.
Next, open your lock box and place the necessary keys inside. Then, close the lock box securely. Finally, mix up the digits on each dial to ensure the lock box is locked.
Learn how to use the ButterflyMX key locker:
How to open a combination key lock box
The process of opening a combination lock box is similar across all manufacturers.
Follow three easy steps to open your combination key lock box:
Rotate the leftmost dial until it reaches the first digit of the combination.
Repeat the first step until every digit on the dials matches the combination.
Press down on the lever to open the combination key lock box.
How do you set the combination on a lock box?
To set the combination on a lock box, you must change the preset combination to your lock box and create your own unique code. That way, you can secure any keys stored inside.
Set the combination to your lock box by following these four steps:
Turn each of the dials to the manufacturer's preset combination.
Open the combination lock and locate the reset mechanism on the back of the dial.
Move the reset switch into the secondary position and input your desired combination on the dials.
Move the reset switch back into its original position and close the combination key box. Finally, scramble the digits on the dials.
How do you open a lock box when you forget the combination?
Opening a lock box after forgetting the combination is not always an easy fix. However, it depends on the brand and type of lock box.
In some cases, manufacturers include a physical key to reset the lock box back to its preset combination.
But if you don't have such a solution, contact your manufacturer. They'll provide you with support on how to open the lock box after forgetting the combination.
After that, if the manufacturer is unable to assist you, the final solution is to contact a locksmith. Locksmiths are highly skilled in opening safes, doors, and even lock boxes without damaging them.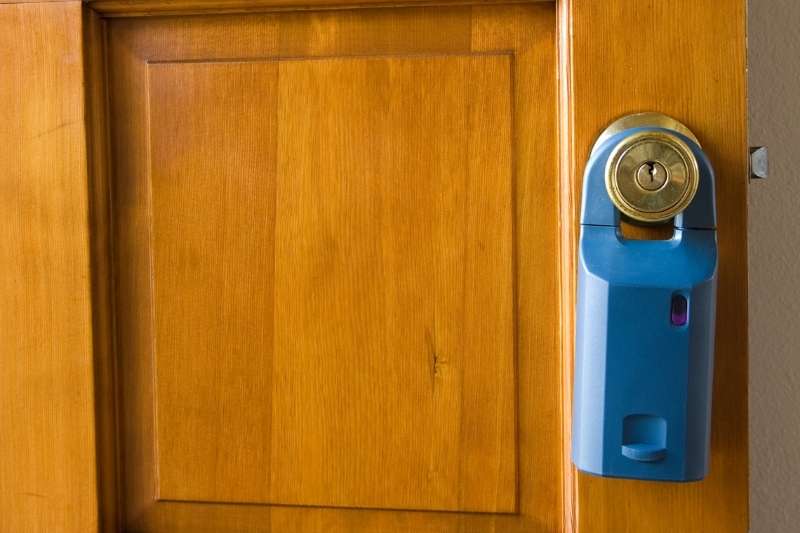 Top combination lock boxes to consider
When searching for a lock box, you'll find a lot of options. These may make it hard to discern which is right for your property.
Here are top combination lock boxes to consider:
Master Lock Key Safe. As the most popular option, the Master Lock Key Safe is a great choice for a wide variety of properties and uses. It comes in several styles, all with a large capacity for different types of keys.
Kidde AccessPoint KeySafe. Rather than using dials, the Kidde AccessPoint KeySafe utilizes push buttons capable of more than 1000 different combinations. Its sleek, portable design makes it an easy choice for many industries.
Vaultz Lock Box. The Vaultz Lock Box is a much less sleek design compared to its competitors. In fact, it resembles a suitcase. However, Vaultz offers a variety of styles, many of which are suitable for your key management needs.
Pros & cons of combination lock boxes
Before deciding on a lock box, consider the many benefits and drawbacks of these devices.
Pros of combination lock boxes
Convenient. Rather than storing keys offsite, lock boxes make it convenient to easily and securely store keys on the property. Further, there's no need to pick them up or drop them off for someone else.
Intuitive. Combination key boxes are easy to use. As a matter of fact, simple dials or push button codes allow anyone to retrieve keys without an issue.
Time saver. By storing keys onsite, you and your staff can save time without having to pick up or drop off keys.
More showings. For real estate or leasing agents, you can show more units on any given day. Additionally, storing keys onsite lets you schedule more tours each day because it cuts down on time otherwise spent retrieving keys.
Cons of combination lock boxes
Weatherproofing. Some combination safeboxes are outdoor key lock boxes that can withstand harsh weather — but not most. In turn, your lock box will deteriorate over time. So, it's vital to use a key management solution that can stand up against the harsh elements.
Lack of security. Every combination lock box offers a minor level of security, but it's never high enough. A combination key box can easily be broken into using malicious cracking techniques. Not to mention, the entire box itself could be stolen if it's not secured properly.
Easy to damage. Lock boxes aren't impenetrable. Sadly, they can be damaged to the point of a burglar gaining access to the keys stored inside.
Lost combination. Of course, with any code, the lock box combination could be forgotten. And if your lock box doesn't have an alternative entry method, it will require the skills of a locksmith.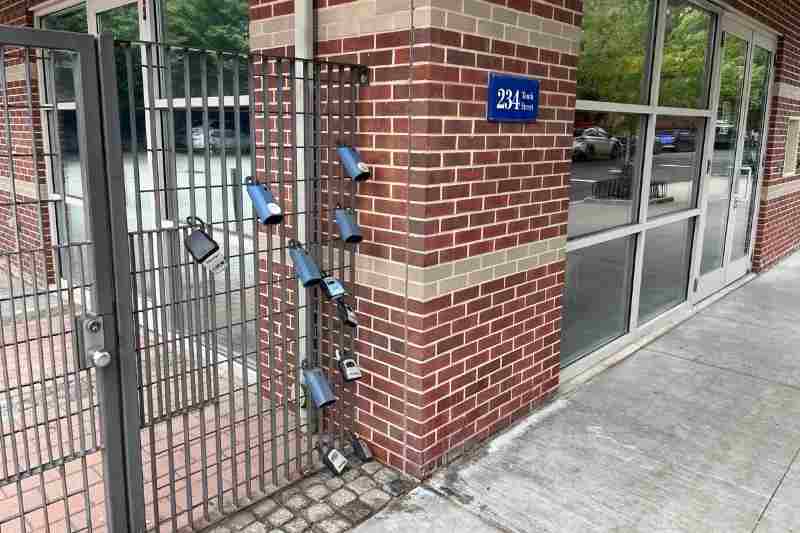 The best alternative to a combination lock box
The ButterflyMX key locker is the best alternative to combination lock boxes, especially if you're worried about their lack of security. ButterflyMX's key locker offers all the benefits of a typical combination without the drawbacks. Plus, it offers many other valuable features.
For example, the ButterflyMX key locker integrates with your existing access control system, creating a seamless experience for tenants and visitors alike. Moreover, it can be installed inside your property, keeping it safe from severe weather and theft.
The ButterflyMX key locker offers:
Access control integration. The key locker seamlessly integrates with your ButterflyMX smart video intercom system, allowing for easy access management through a single app.
Easy installation. Installing the ButterflyMX key locker is easy with only two wired connections: power and internet.
Alternative entry methods. Unlike a key lock box, ButterflyMX's key locker has two forms of entry: enter a PIN or scan a QR code.
Sensors. Whenever a compartment is accessed or is not closed properly, you're notified through the ButterflyMX OS.
Multiple compartments. You have an ample amount of key storage for your property.