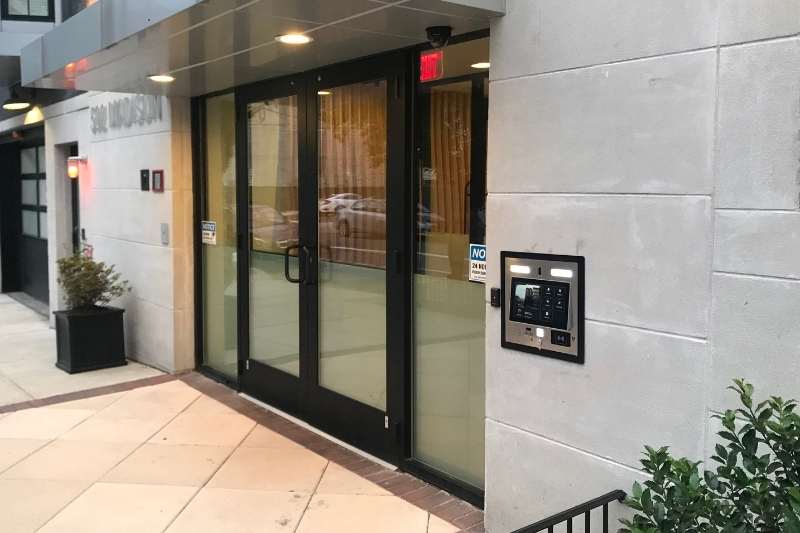 One of the most common building entry systems is the apartment buzzer system. You've probably seen building residents "buzzing in" their guests in movies, television, and even your day-to-day life. And if you develop, own, manage, or live in a multi-tenant property, you might even have a door buzzer system in your building.
In this guide, we explain the ins and outs of door buzzers to help you decide if you should buy one for your property. We also discuss the pros and cons of using them in apartments, offices, and other buildings. Finally, we explore alternatives such as smart buzzer systems that may be better suited for your property.
Navigate this guide:
What is a door buzzer system?
A door buzzer system is a kind of building entry system that allows visitors to request property access from tenants. Door buzzer entry systems control access at doors and gates in apartments, offices, commercial facilities, and other kinds of buildings.
Door buzzer systems get their name from the buzzing noise tenants hear when they have a visitor. Visitors can "buzz" tenants to let them know they've arrived. Additionally, tenants can remotely open the door or gate for their visitors by pressing a 'door open' button. Visitors may also hear a buzzing sound to let them know the door is unlocked.
Listen to a door buzzer system:
Door buzzer systems consist of:
Hardware at the entryway. This hardware includes a tenant directory, a microphone, a speaker, and either a keypad to dial tenants' unique codes or a call button for each tenant.
Hardware in each unit. Door buzzer systems also require hardware in every unit throughout the building. Tenants use their in-unit hardware to receive buzzing alerts from visitors and to open the door remotely. This hardware has a microphone, a speaker, a 'door open' button, and sometimes a 'talk' button that you press to speak with a visitor.
Wiring. The hardware at the entrance and the hardware in each unit must be connected by wiring.
Door release. You'll need a door release mechanism as well as an electric strike or a maglock so that users can remotely open the door or gate.
Watch how ButterflyMX works:
How much does a door buzzer cost?
A door buzzer system costs anywhere from $1,000 to $7,000 for the hardware. The exact price depends on the system you choose and its features.
However, remember that these estimates don't include the cost of installation and possible maintenance fees. The cost of door buzzer system installation varies widely because installers set their own pricing. Keep in mind that buzzer systems require in-unit hardware and lots of wiring — so costs add up quickly. You should always request a quote from a certified installer to make sure you're getting a good price from a trusted professional.
Door buzzer installation
Door buzzer installation requires a sizeable budget and careful planning. Installing door buzzer systems can be tricky because they require in-unit hardware and lots of wiring. As a result, costs add up quickly. Additionally, the installation project can be long and challenging.
Here's what to consider when installing a door buzzer system:
Pick reliable hardware: You'll need to install hardware at the main entrance and within every unit throughout the building. Always opt for a system that has durable hardware. Otherwise, if your hardware breaks or malfunctions, you might have to spend hundreds or thousands of dollars repairing or replacing it.
Don't forget about wiring needs: Installing door buzzer systems generally requires you to run wiring from the main device at the building's entrance throughout the building to every in-unit device. So, you'll need to budget for both the price of wiring and the cost of installing it. Note that laying wiring may require opening walls and ripping up floors.
Hire a great installer: Since your buzzer system probably requires a lot of wiring, you should hire a knowledgeable and trusted installer to handle the job. Keep in mind that the process could take several days, if not many weeks.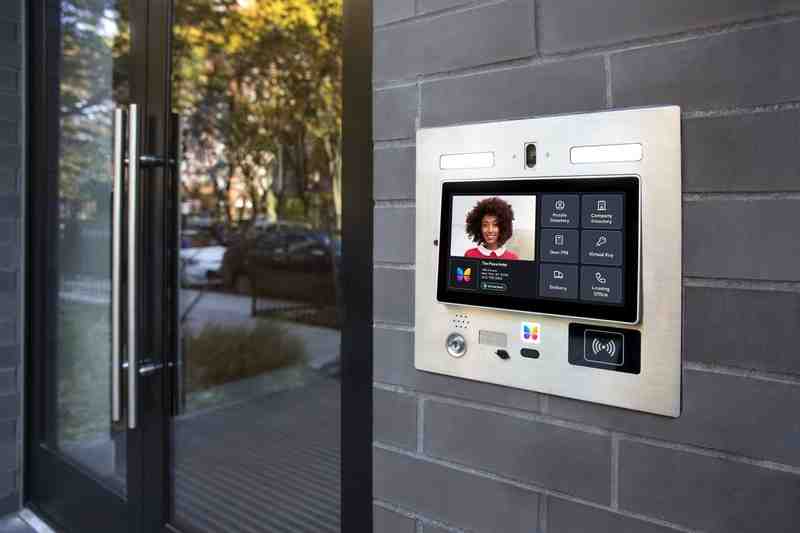 Types of door buzzer systems
A door buzzer is a common property access solution that's used in buildings across industries.
Door buzzer systems are primarily installed in apartment buildings and commercial buildings:
1. Apartment door buzzer
An apartment door buzzer is a building entry system designed for multifamily properties that enables staff and residents to manage visitor access and open the door or gate remotely.
Door buzzer systems for apartments provide a simple way for guests to contact a resident and let them know they've arrived. And residents use apartment buzzers to open the door for their guests. However, residents must use their in-unit hardware to remotely grant access — which means they must be in their apartment unit to use the system.
In addition, property staff can use the apartment door buzzer system to grant access to prospects for self-guided tours. A building with front desk staff or onsite leasing agents can also open the door for service providers, vendors, and other visitors. However, one potential drawback for property staff is that many buzzer systems can't be managed remotely. As a result, staff may have to go onsite to update the resident directory and adjust access permissions.
Although most apartment buzzer systems don't have a camera, some do. Buzzer systems with a camera offer video calling capabilities. However, most only offer one-way video — which means residents can see visitors, but visitors can't see residents.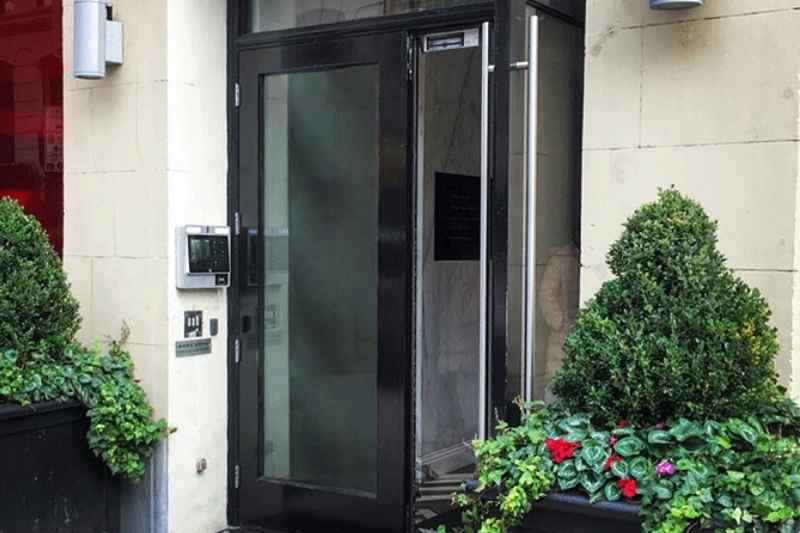 2. Commercial door buzzer
Commercial door buzzer systems are found in office buildings and other commercial properties. They enable tenants inside the building to communicate with visitors at the building's entrance and grant them access by pressing an 'open door' button.
Commercial doorbell buzzer systems aren't ideal for office buildings — especially offices with an open floor plan — because they require in-unit hardware. If you wanted to give every employee in the building the ability to grant remote access, you'd need to install several devices throughout the building.
Many commercial buildings with an office door buzzer system only enable visitors to "buzz" a front desk or building staff. In these cases, a visitor can't directly contact a specific employee.
Pros & cons of door buzzer systems
Door buzzer systems are popular building entry solutions, but are they the best option? Below, we outline the pros and cons of a door buzzer system.
Pros:
Gives tenants the ability to grant access without going downstairs or leaving their apartment.
Provides a way for visitors to notify tenants of their arrival and request property access.
In some cases, buzzers save time for building or front desk staff because visitors can request access directly from a tenant.
Cons:
Buzzer systems require extensive wiring, which is costly and difficult to install.
You'll need hardware in every unit throughout the building, which is expensive to purchase and install.
Maintenance is difficult because the system requires wiring and in-unit hardware. All these components make the system more prone to maintenance issues.
Door buzzers often lead to building buzzer bombing, which is when a visitor buzzes every person in the intercom hoping someone will let them in.
Tenants must be in their unit to open the door or gate remotely, which can lead to missed visitors and deliveries.
Door buzzer systems don't come with a mobile app, so tenants can't unlock the door with their smartphones.
No video calling, so tenants can't visually confirm who they're letting into the building.
Door buzzers lack modern features and functionality, such as virtual keys for visitors, delivery passes, and door release logs.
Many door buzzer systems require staff to go onsite to update the tenant directory.
Door buzzers are outdated and do little to improve the tenant experience or boost resident retention.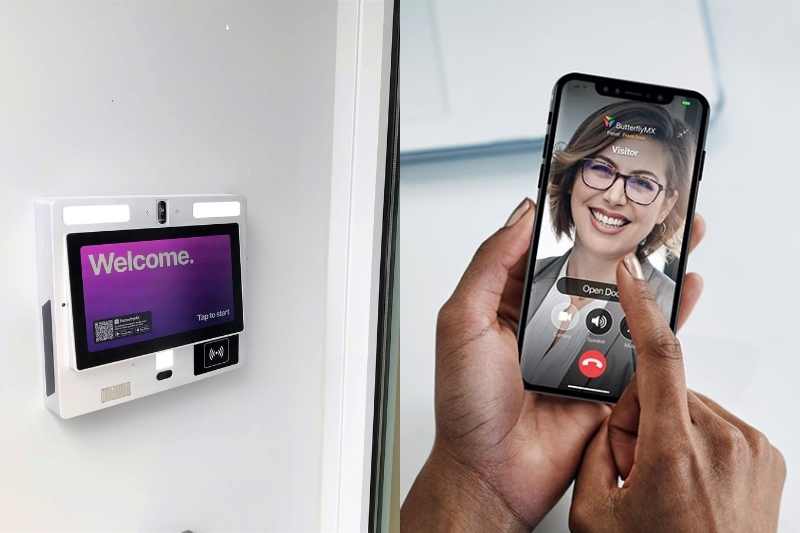 Alternatives to door buzzer systems
A buzzer system for door helps manage visitor access and improve building security, but there are much better door entry systems available.
One alternative to the traditional wired buzzer system is a wireless door buzzer entry system.
A wireless door buzzer intercom system is easier and more affordable to install because it doesn't require you to purchase and run wiring between the entryway device and the in-unit hardware. However, you'll still encounter many of the same downsides — such as missed visitors and deliveries since the wireless system still requires tenants to be in the building to buzz in guests.
So, the best alternative to a door buzzer system is an IP video intercom system with a mobile app.
Here's why a smartphone-based IP intercom is better than a door buzzer system:
You can open doors and gates with a smartphone from anywhere — which means you'll never miss a visitor or delivery.
The IP intercom's camera enables video calling, so you can see who's requesting access before letting them in.
You don't have to run wiring or install in-unit hardware because tenants use their smartphones instead.
IP intercoms integrate with the other proptech you're using, such as smart locks, property management software, and access control systems.
You can manage the system from anywhere using cloud-based software instead of going onsite to make changes manually.
Upgrade to a video intercom system
If your door buzzer system is outdated or broken, replace it with a video intercom. You'll instantly improve building security, add convenience, and boost the resident experience. Video intercoms make property access simple by empowering staff and tenants to open doors and gates from anywhere.
With loads of additional features and enhanced functionality, a video intercom is the clear choice over a door buzzer system.