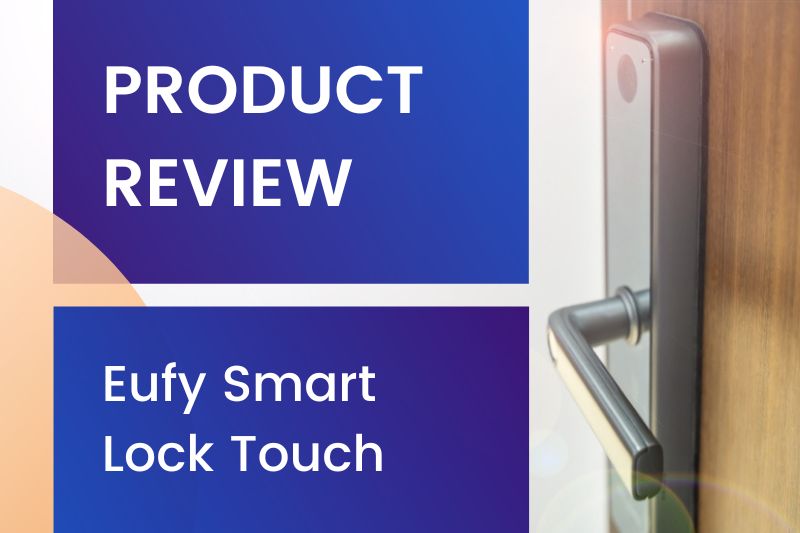 Securing access to your building is a top priority, and if you can add convenience to security, you get the best of both worlds. One way to achieve that balance is with a fingerprint-scanning lock. Gone are the days of residents hiding their keys under the doormat because these days, modern technology like the Eufy Smart Lock Touch allows a fingerprint to serve as an entry credential.
Eufy smart locks provide biometric entry and other features that are reasonable in cost and durability. Read on to learn more about the Eufy Smart LockTouch and determine if it might be a good solution for your multifamily or commercial building.
This review covers:
About Eufy
Eufy manufactures easy-to-use household devices and appliances designed to enhance customers' lives.
Eufy's product line-up includes:
Robot vacuums
Smart scales
Security cameras
Video doorbells
Alarm system kit
Smart lock
Baby monitors
Pet products
Eufy is developing a new generation of connected devices and appliances that work seamlessly together to deliver a complete smart home experience. Eufy is part of Anker Innovations, a leading and trusted American electronics brand.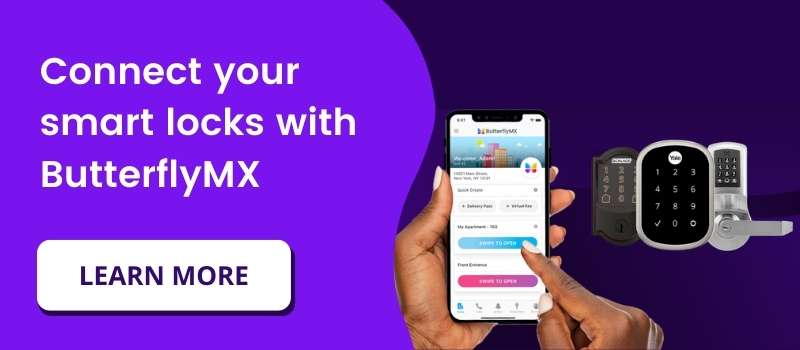 About the Eufy Smart Lock Touch
The Eufy Smart Lock Touch is a battery-powered biometric smart lock that offers several unlocking methods and a sleek appearance. It's a rectangular-shaped lock that can be added to lever-handle doors.
The face of the lock features:
Numeric touch keypad
Fingerprint scanner
Keyhole for mechanical keys
According to Eufy, their Smart Lock Touch correctly recognizes fingerprints up to 98% of the time so long as a finger is placed correctly on the scanner. It's also allegedly proven to continue functioning after 250,000 uses.
For added security, the Eufy Smart Lock Touch stores users' fingerprints locally versus in the cloud to keep their personal information safe and private. And in an emergency where your Eufy smart lock's batteries have died, you can unlock it using a portable charger.
Features
Fingerprint reader: The lock recognizes fingerprints in just 0.3 seconds and unlocks the door in one second.
Four unlocking methods: With the Eufy Smart Lock Touch, you can unlock the door in one of four ways: by scanning your fingerprint, unlocking in the Eufy Security app with Bluetooth, entering a PIN code on the touchscreen keypad, or using a mechanical key.
Optional internet connection: If you want to connect your Eufy smart lock to the internet, you'll have to purchase a separate WiFi bridge. Alternatively, you can purchase the model with built-in WiFi for roughly $100 more.
Automatic locking: The lock's built-in sensor detects when the door is closed and locks it automatically.
Weatherproof: This Eufy smart lock is IP65 rated, which means it can withstand rainfall and temperatures ranging from -22°F to 158°F.
Privacy protection: The lock stores users' data (including fingerprints and in-app data) locally instead of in the cloud to keep personal information private.
Back-up power: If the batteries die, you can use a portable charger to unlock the door.
High security: The lock contains a bank-grade AES128 encryption chip to keep fingerprints and app data safe.
Durable stainless steel plating: The lock's metal plating can endure 1122 kg of weight.
Eufy smart lock cost
The Eufy Smart Lock Touch costs $169.99. You can purchase it from the Eufy website or one of many third-party retailers, including Amazon, eBay, and Home Depot.
Watch how to use the ButterflyMX keypad:
Pros & cons
Pros:
BHMA Grade 2 certified by the American National Standards Institute
Multiple unlocking methods, including fingerprint scanning, PIN code entry, and smartphone app
Eufy smart locks use a bank-grade AES128 encryption chip to secure users' fingerprint and in-app data
Can be unlocked with a portable charger if the batteries die
Works with Alexa and Google Assistant (when connected to WiFi)
Cons:
Fairly expensive compared to similar locks
Only works for lever-handle doors
May lack the robust customer support that other providers offer
The lock is fairly large and bulky, which may look out of place on many doors.
Requires you to purchase a separate WiFi bridge for internet connectivity (unless you buy the Smart Lock Touch & WiFi, which includes built-in WiFi but costs nearly $100 more)
May not offer low-battery alerts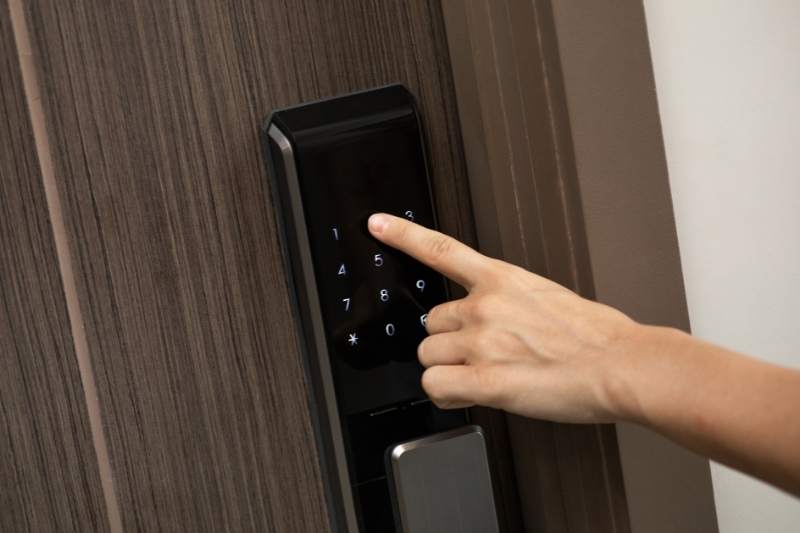 Should you get the Eufy Smart Lock Touch?
Overall, the Eufy Smart Lock Touch is a solid smart lock for anyone seeking to replace their traditional keyhole locks. It offers multiple convenient ways to unlock the door, as well as plenty of security features to keep data and assets safe. What's more, it's built with durability and longevity in mind.
However, Eufy's smart locks are relatively pricey, especially if you opt for the lock with built-in WiFi. Additionally, the Eufy Smart Lock Touch may not integrate with other technology you already use, such as your access control system or property management software.
Alternatives to Eufy smart locks
If you're looking for an alternative to the Eufy Smart Lock Touch, you may want to consider the August Smart Lock Pro + Connect. This smart lock offers many of the same features as Eufy, including WiFi capabilities for remote access and auto lock, but lacks fingerprint entry.
Another potential alternative is UltraLoq U-Bolt Pro. This lock offers six different ways to unlock the door and is ANSI grade 1 certified, which is the highest level of certification.
Finally, another alternative to a Eufy fingerprint lock is a smart lock that integrates with ButterflyMX.
ButterflyMX smart locks
If you want a truly simple and seamless access experience throughout your entire building, opt for the ButterflyMX unified access control solution. ButterflyMX offers several access control hardware solutions and integrates with more than 80 smart lock models, so you can manage access to every door or gate throughout your property.
Since ButterflyMX is powered by cloud-based software, you can remotely unlock doors, adjust tenants' access permissions, and grant access to visitors with just a smartphone or laptop.
Here's what the ideal building access solution looks like:
ButterflyMX video intercom at the front entrance
ButterflyMX keypads or card readers in shared interior spaces, like amenities and offices
Smart locks (which integrate with ButterflyMX) at unit doors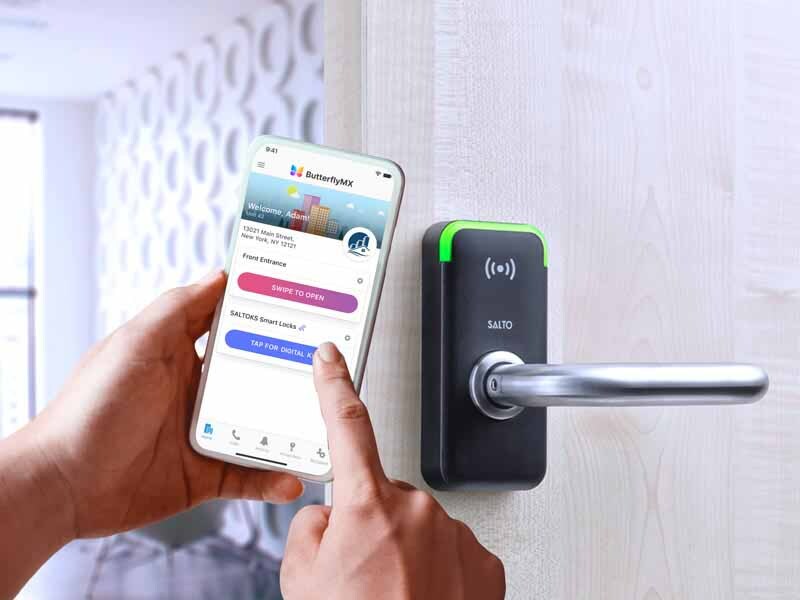 Takeaways
The Eufy smart fingerprint lock is a solid option for any building that wants to upgrade its traditional keyhole locks.
Eufy's Smart Lock Touch is relatively pricey, but it could help you cut costs on lost or missing keys. Plus, residents may be willing to pay more for an apartment with smart locks.
You'll need to purchase a WiFi bridge or a more expensive lock model if you want internet connectivity capabilities.
You may be better off purchasing a smart lock that integrates with ButterflyMX access control solutions for a unified access experience.
Disclaimer: ButterflyMX provides these blog posts to help our customers and potential customers make the right business decisions for them. Our blog posts are based on the information we have available to us at the time of writing.