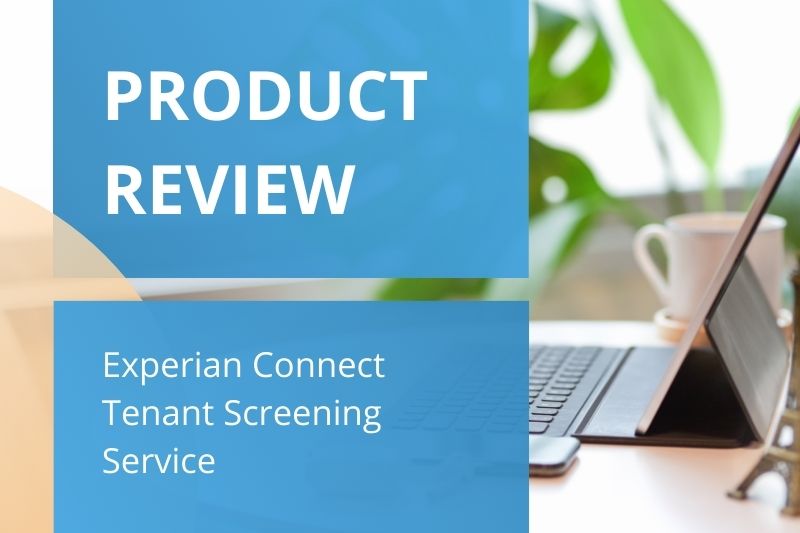 It's important to have a good tenant screening service if you manage a property so you can get a little more information before approving applicants. And it's wise to familiarize yourself with all your options before choosing a screening service. One option is Experian Connect.
Experian is a credit reporting agency that offers a wide variety of services for employers and property managers. Experian Connect is its affordable screening service that allows applicants to verify their identity and pay the report fee. Continue reading this review to see if Experian Connect is the right tenant screening service for you.
This post covers:
About Experian Connect
Experian Connect is a product from Experian, a top credit bureau. It allows users to request a credit report from anyone in just a few simple steps. It's also commonly used by property managers and leasing agents to help screen applicants before approving their applications. Experian currently has data on more than 220 million individuals and 27 million businesses.
Experian Connect grants prospective tenants the ability to purchase and review their credit report, then share it with property managers to view within 30 days of purchase. This allows prospects to safely share required information with the property while withholding Social Security and account numbers from the report.
In conjunction with the credit report, Experian Connect uses the VantageScore calculation to provide a credit score. Unlike different credit scoring systems, VantageScore uses only one model with one set of scoring criteria, allowing for more consistent scores.
How Experian Connect works
Experian Connect customers can request a credit report from any prospective tenant. Prospects then grant access to their credit report and score, which property managers can reference when deciding whether to approve or deny an application.
Experian Connect works in three simple steps:
First, create an account and verify your identity.
Next, invite applicants and request to view their credit information.
Then, the prospect will grant you access to their report and pay the $14.95 fee. You will need to view their credit report and score within 30 days of receipt. Also note that your applicant can share their report with more than one person at a time.
Watch how ButterflyMX works:
Review of Experian Connect
Experian Connect makes it easy to run a tenant background check on any prospect. When viewing a credit report and score through Experian, you can be certain that the information is coming directly from the credit bureau and not a copy or printout.
Features
An Experian Connect tenant background report includes the following:
Personal Information: See full name, current and previous addresses, and employer history.
Credit score: Experian uses the VantageScore model, which is a numeric range from 300 to 850.
Account History: Access applicants' credit accounts and payment history, including installment and revolving accounts
Credit inquiries: See who has previously obtained a copy of the credit file and why.
Public records: View potentially negative Public Record filings, including bankruptcies, evictions, foreclosures, and liens and judgments from local, state, and federal courts.
Experian Connect cost
The price of an Experian Connect tenant background check is a flat rate of $14.95, viewable for 30 days. Applicants pay the $14.95 fee, not the property manager or leasing agent.
Pros & cons
Pros:
This is a cheap option for screening. Experian charges the applicant the fee, which costs less than $20.
Credit reporting comes directly from Experian and its extensive database. Reports are quick and detailed. You can also access them for up to 30 days after ordering.
Cons:
Criminal record searches may not be included with Experian tenant screening. If these are essential for your screening process, you may want to select another service.
Reports are automatically generated. Unlike with some services, an FCRA-certified screener doesn't manually review them.
Should you get Experian Connect?
Experian Connect allows you to view someone's credit report and score while ensuring that the information comes directly from the credit bureau. If you're looking for a streamlined, affordable screening service, it might be right for you.
Experian Connect is a particularly great option if you want to pass the cost of the background check onto your applicants. With their platform, you won't have to factor tenant screening services into your budget.
However, Experian Connect may not be as robust as other tenant screening services. So if you're looking for a more comprehensive background report, it may not be right for you.
Alternatives to Experian Connect
If you're looking for a tenant screening service that will allow you to view applicants' eviction and criminal records, try E-Renter. E-Renter offers three different packages so you can choose which reports and details you want to receive. Packages start at $21.95 per report.
RentPep is another alternative to Experian Connect at a similar price point. The standard background check starts at $18.95. You can also add other reports, such as income verification and criminal and sex offender reports, for an additional fee.
Takeaways
Overall, Experian Connect is a streamlined, affordable screening service. Applicants get an invitation to verify their identity and pay the report fee, which saves you money. Results are delivered without delay but primarily focus on credit history.
Disclaimer: ButterflyMX provides these blog posts to help our customers and potential customers make the right business decisions for them. Our blog posts are based on the information we have available to us at the time of writing.