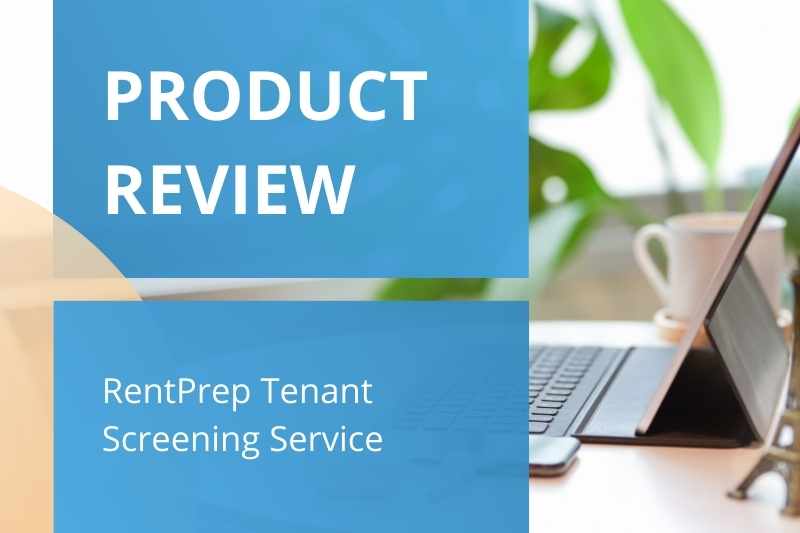 If you manage rental properties, a good tenant screening service is an important tool to have in your arsenal. There are a wide variety of tenant screening services on the market, so it can be difficult to choose the best one for your properties.
RentPrep is a popular tenant screening service with a variety of features to help you learn more about your prospective residents before approving their applications. Read on to learn more about RentPrep and see if it's the right service for you.
This post covers:
About RentPrep
RentPrep is a tenant screening service provider based in Buffalo, New York. They offer a variety of tenant screening tools designed to protect property owners and managers while helping them find the best residents.
RentPrep is a subsidiary of Fidelis Screening, a larger background check company founded in 2007. The team comprises FCRA-certified screeners who complete each check.
RentPrep's goal is to provide cost-effective tenant screening services while remaining faithful to customers and maintaining high standards. Its services are marketed primarily towards multifamily owners and operators with smaller portfolios, who would normally have to settle for instant — and often inaccurate — online reports.
RentPrep has served over 150,000 clients by performing more than 2 million screenings since the company was founded.
How RentPrep works
RentPrep is a cloud-based tenant screening service provider that operates on a per-screening basis.
To use their tenant screening services, all you have to do is sign up for a free account. Anytime you need a background check, simply log in and place an order.
When ordering a service, you'll have to decide what type of background check you need. RentPrep's website provides step-by-step instructions on how to order your background check, as well as a live chat where you can ask any questions you may have.
When you place your order, you can choose from a variety of tenant screening services including a standard tenant background check, credit check, income verification, and more. After your order has been placed, you'll receive a hand-compiled report from the FCRA certified RentPrep team in one hour or less. You pay for each report individually, and there are no sign-up fees or membership fees required to keep your account active.
Watch how ButterflyMX works:
What does RentPrep look at?
In a background check, RentPrep looks at a variety of factors, including SSN verification, address history, judgments and liens, bankruptcies, evictions, and criminal offenses. For an extra charge, they will also look at an applicant's credit score.
Review of RentPrep
How does RentPrep stack up against other tenant screening services? Here's what you need to know about the platform before you sign up.
Features
When ordering tenant screening services, you can choose from a variety of products to suit your needs.
RentPrep offers four primary tools:
Background check: Includes Social Security number verification and address history, and checks for judgments, liens, bankruptcies, evictions, and previous criminal history, including sex offenses. The background check also includes a Global Homeland search, which scans for more serious offenses like drug trafficking, terrorist activity, government fraud, money laundering, and more.
Credit check: RentPrep's credit check includes a "pass" or "fail" decision depending on whether the tenant meets your minimum FICO score criteria. It also includes a list of reasons why the tenant failed. However, it may not reveal the applicant's exact credit score.
Credit reports: If you want to know an applicant's full credit score — aka their "Resident Score" — which is $38 for the SmartMove credit score report.
Income verification service: Includes details about the applicant's annual net income, average monthly net income, and current balances on connected accounts.
In addition to these two primary reports, RentPrep also offers services for enterprise clients. RentPrep Enterprise is the company's high-volume tenant screening plan for portfolios over 50 units. Enterprise clients enjoy direct access to credit reports at discounted rates. To become an Enterprise client, you must request a custom quote, have a dedicated office, and undergo an onsite inspection to ensure legitimacy.
RentPrep also offers a tenant screening API that enables integrations with third-party platforms, such as property management CRMs.
RentPrep cost
The cost of RentPrep tenant screening services starts at $21 for a standard background check. Services are charged per report.
You can also pay for add-on services priced separately:
Nationwide criminal & sex offender search: $6
Credit decision report: $11
Income verification: $10.00
Alternatively, you can opt for the SmartMove Full Credit Report, which includes a credit report, a ResidentScore, and a rental background check.
You can also pay extra for:
Judgment and liens report: $17
Income verification: $10.00
RentPrep doesn't charge sign-up fees or membership fees, so you only pay for the background checks that you actually order.
Pros & cons
Pros:
RentPrep's background checks are conducted by FCRA-certified screeners to ensure accuracy.
You can customize each report depending on your individual needs.
RentPrep integrates with third-party platforms you may already use.
While reports aren't generated automatically, they come back fairly quickly. RentPrep aims to return them in under an hour, but they can come back in as little as 10 minutes depending on the complexity of the report.
RentPrep offers relatively affordable pricing for their background checks and has discounts available for bulk orders. Their services will likely fit within any property management budget.
Cons:
RentPrep's credit checks only indicate a pass/fail, and may not give extensive information about the prospective tenant's financial situation unless you pay extra.
You may have to pay extra for some particularly important checks, such as income verification.
Because RentPrep's screenings might not be conducted automatically, the turnaround time may vary between orders.
Should you get RentPrep?
Overall, RentPrep is a reliable option if you're looking for easy background and credit checks for your prospective tenants. Setting up an account and placing orders is simple, and you can customize your reports depending on what features you need.
If you use a service such as a CRM or property management software, you may be able to access RentPrep's screening services within the program you already use. Check with your provider to see if they integrate with RentPrep.
However, if you are mainly looking for detailed credit checks and financial information, you may want to opt for another provider.
Alternatives to RentPrep
One of the most popular alternatives to RentPrep is TransUnion MySmartMove. Since it is run by one of the three credit reporting bureaus, it may provide more detailed credit reporting than RentPrep. E-Renter is another popular tenant screening platform that offers similar features and pricing.
Takeaways
Overall, RentPrep is a reliable tenant screening service for anyone who manages multifamily properties. Their customizable and affordable reports can help you make smart decisions about who you rent to.
Disclaimer: ButterflyMX provides these blog posts to help our customers and potential customers make the right business decisions for them. Our blog posts are based on the information we have available to us at the time of writing.