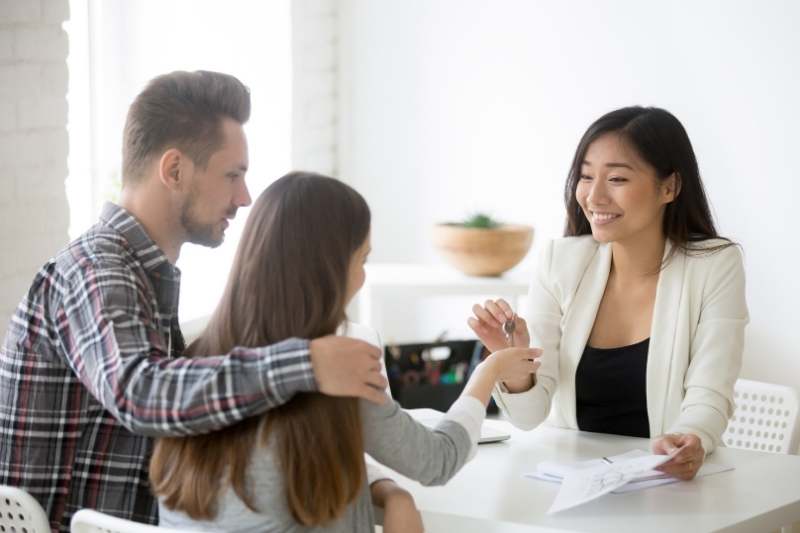 Though marketing your property might feel like a chore among all your other responsibilities, it's essential to maintaining any property management business. With a little creativity and consistency, you can build a marketing strategy that yields substantial results. So, marketing for property managers doesn't have to be a full-time job — you can incorporate these efforts into your daily schedule. And the best part: You don't need a massive budget to make it work.
In this post, we highlight eight real estate marketing tactics for property managers to use that will actually help grow your business, boost resident acquisition, and reduce turnover.
Here are the top 8 marketing tactics for property managers:
1. Show off what prospects really care about
One of the most difficult parts of marketing for property managers is knowing what to market. In your marketing efforts, you'll want to hone in on the aspects of your property that will attract the most attention. As a result, that may mean using a customer relationship management tool to keep track of prospects and knowing what your prospects really care about.
Additionally, be sure to consider the demographics and desires of both your prospects and current residents. Then, implement marketing tactics designed with those unique renters in mind. For example, you might not use all the same tactics to market to seniors that you would for Gen Z renters.
That said, all renters prioritize amenities that offer convenience and security. So, you should highlight the relevance of your community and in-unit amenities and promote your proptech.
Highlight the relevance of your community & in-unit amenities
Home is where we eat, sleep, cook, play, and exercise — and now it's where a lot of us work, too. Further, apartment hunters these days want to know how your building accommodates these lifestyle changes introduced by the pandemic.
Now is the time to really play up your apartment amenities — both community and in-unit amenities. And it's important to put a present-day spin on things. Communicate to prospects why these amenities are so beneficial to them right now.
Here's how to put a modern spin on marketing your amenities:
Is high-speed internet included in the rent? If so, use that to market to prospects who work from home.
Do you have workstations or conference rooms in your community? Prospects working from home will want to know!
Does your building have a dog park or pet grooming station? Americans have more pets than ever before, so modern pet-owning renters will appreciate your building for its pet-friendly amenities.
Discover the 8 best apartment amenities: 
Promote your proptech
Apartment dwellers of all ages seek apartments that harness technology to offer convenience and security. Proptech (property technology) amenities have the power to pique prospects' interest.
Are your apartment units equipped with smart thermostats or smart appliances? Modern renters love to see these kinds of conveniences that also help them conserve energy and save money.
Do you have package lockers or a package room to simplify deliveries and protect packages? Online shopping and food ordering are more popular than ever, so prospective residents will be pleased to know you have a package delivery system.
2. Focus on content marketing
When it comes to digital marketing for property managers, content is king. Producing high-quality, engaging content is one of the best ways to make a name for yourself in the digital sphere.
Types of content to include in your content marketing plan include:
Blogs
Blogging is the most fundamental building block of content marketing. Your blog should live on your apartment website as a place where you can write and publish interesting, engaging articles.
The benefits of blogging as a property manager include:
Establishing yourself as an industry thought leader and trusted figure
Getting your name (and your company or property's name) out there
Improving your apartment website's SEO and getting it to appear higher in Google search results (which means more people visiting your website)
If you don't have time to maintain the blog yourself, request other staff members to contribute to it. Alternatively, you can hire freelance writers to create blog posts.
Infographics
Infographics are engaging images that combine text and pictures to present information. They're great tools for enhancing engagement on social media, increasing website traffic, and improving brand awareness.
Good infographic topics for property managers include:
Apartment amenities
Package deliveries
Nationwide multifamily statistics
Benefits of living in your community
The good news: You don't have to be a professional designer to create awesome infographics. There are plenty of tools online with templates that let you fill in the blanks — check out tools like Canva and Infogram.
Videos
Video content performs the best online — especially with millennials and Gen Zers. While you could opt to hire a videographer or agency to create professional-looking videos, apps like Instagram and TikTok make it easy to create short, engaging video content with just your smartphone.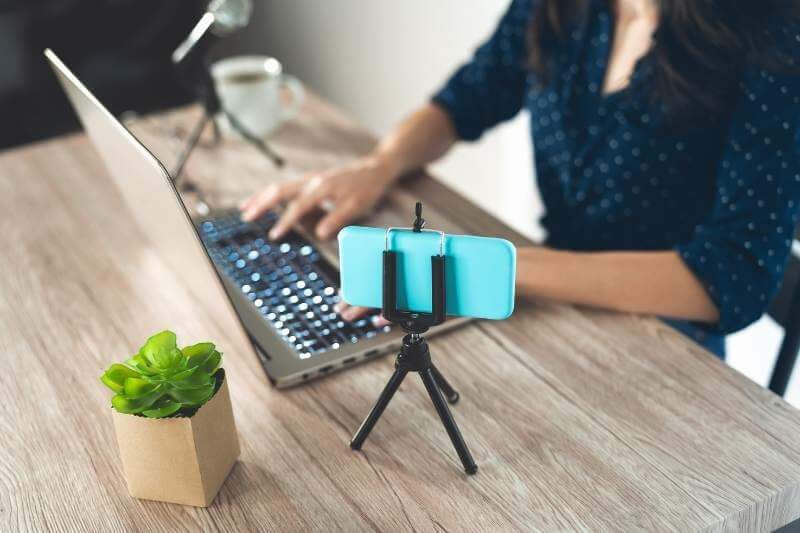 Here are some ideas for videos you can make as a property manager:
Property walkthroughs/tours of the building or specific units.
Behind-the-scenes videos of staff.
Interviews with current residents discussing what they like most about living in your building (make sure you have their permission to post the video online).
Expectation vs. reality videos — for example, a video that contrasts what people might expect your job as a property manager is like with what your day-to-day actually entails.
Marketing emails
Email marketing is an effective way to build trust with prospects, catch them at the right time, and convert leads to leases. But the content of your emails will make or break your marketing efforts. If your marketing emails don't capture people's attention, they might go unopened or unread.
You can definitely push sales in your marketing emails (by promoting vacancies), but don't be too heavy-handed. The best email marketing strategy involves giving your subscribers something of value — which means creating great content.
In your emails, send out informative blog posts, share industry insight, and include visually appealing infographics. Repurpose all the content you create and use it in your marketing emails. To get started, try a program like Mailchimp or Constant Contact.
3. Outreach marketing with gift bundles
Marketing is all about providing value, and who doesn't see the value in a sweet gift? Clever notes attached to small gifts — perhaps baked goods, pet treats, candy, keychains, or potted succulents — can convince people to stop and see what you're all about.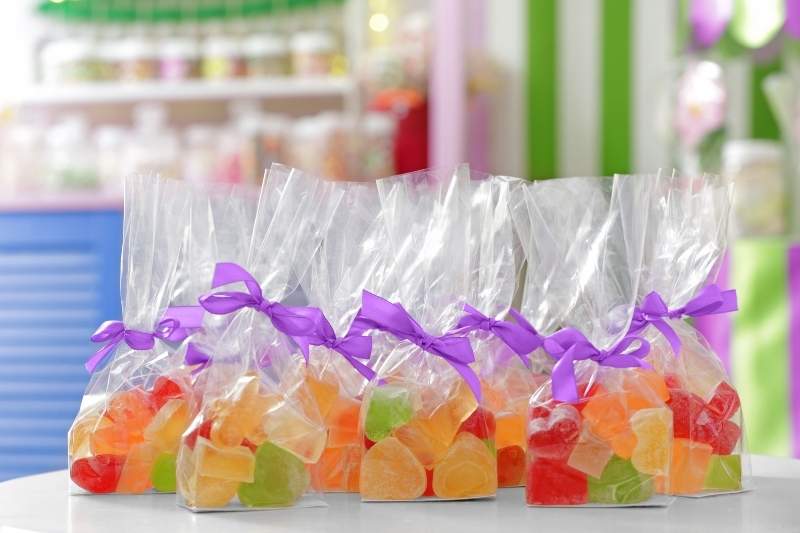 You can either purchase pre-made gift bundles from vendors or construct them yourself. Wrap the gift in cellophane with a ribbon or bow around the top. Tie or tape on a note with your building's address, your contact information, and a punny phrase (for example: "Come bloom in a new home" if you're gifting a pack of flower seeds).
Here are some tips on distributing outreach marketing gift bundles:
Spend an hour per week dropping into local businesses that will let you leave bundles.
If you have kids, ask permission to leave bundles at their school's front office.
Give packs of gift bundles to employees and instruct them to leave bundles at various businesses around town.
If you have an onsite leasing office, leave bundles in the office for prospects to take after touring an apartment.
4. Marketing to existing residents
Your marketing efforts shouldn't just focus on attaining new residents — you should market to your existing residents, too.
When marketing to existing residents, your goal is retention. Your efforts here can remind residents of the value your property offers and increase their chances of renewing their lease at the end of the year.
Here are some tactics to delight current residents:
Leave a handwritten thank you note or 'welcome home' card in the apartment upon move-in.
Partner with local businesses to provide welcome gifts to new residents or the occasional treat to existing ones.
Create and share a handy guide to the neighborhood that outlines the best local restaurants, shops, and other businesses.
Host an event to get residents engaged and strengthen your community
Come up with clever lease renewal reminders. For example, deliver a box of donuts alongside a note that says "Donut forget to renew your lease" to any resident whose lease is expiring soon.
Send residents a weekly, monthly, or quarterly newsletter that highlights what's new in the community.
5. Take control of your online reputation
Online reviews are often the deciding factor in someone's decision to buy something. And these days, there seem to be countless platforms that collect customer reviews — Yelp, Google, and Facebook are just a few. Embracing these online listing platforms and properly managing the reviews your company or property receives is critical to maintaining a great reputation online.
To manage your property's online reputation, you should: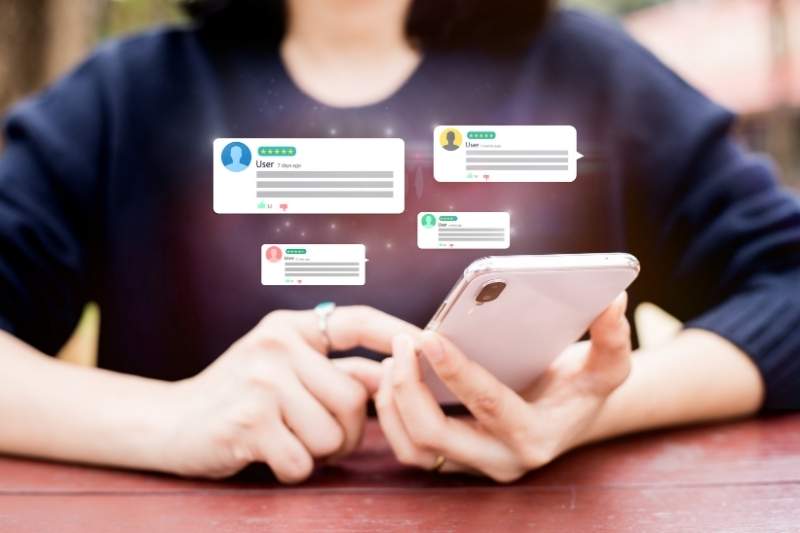 Respond to reviews — both positive and negative
Studies show that responding to reviews offers multiple benefits: Not only can it boost your local SEO, but it can also build meaningful trust with your prospects and customers.
It can pay to respond to both positive and negative reviews. Take the time to thank the person for their feedback. If the review was positive, express how glad you are to serve them and how thankful you are for their business.
When responding to a negative review — for example, on your Google My Business page — be courteous and sincerely apologetic. Explain that you are working to improve the situation, and outline concrete steps you're taking to ensure that no one else has the same negative experience. Then, offer to take things offline so you can chat with the customer by phone or email to discuss the situation and make it up to them. Provide your contact information and encourage the reviewer to reach out.
Offer your current residents an incentive to write a review
Residents will be more willing to write a review if they receive something in return. For example, you could offer to give each resident who leaves a review a $5 Starbucks gift card. Or you could host a contest that requires residents to leave a review to be entered in the drawing.
Use customer reviews in your content marketing
Customer reviews provide great content for social media, marketing emails, and many other kinds of content. Share positive customer reviews across channels to highlight your successes and build trust with prospects.
Whenever possible, include an image with the text of the review to make it more eye-catching. If you're not sure what imagery to use, consider creating your own design with a tool like Canva.
6. Step up your social media presence
Social media marketing is a must. You might already have social media accounts for your company or property, but that's only the beginning. Consider investing more time or resources into building up your presence on these networks.
Here are four ways to step up your social media game: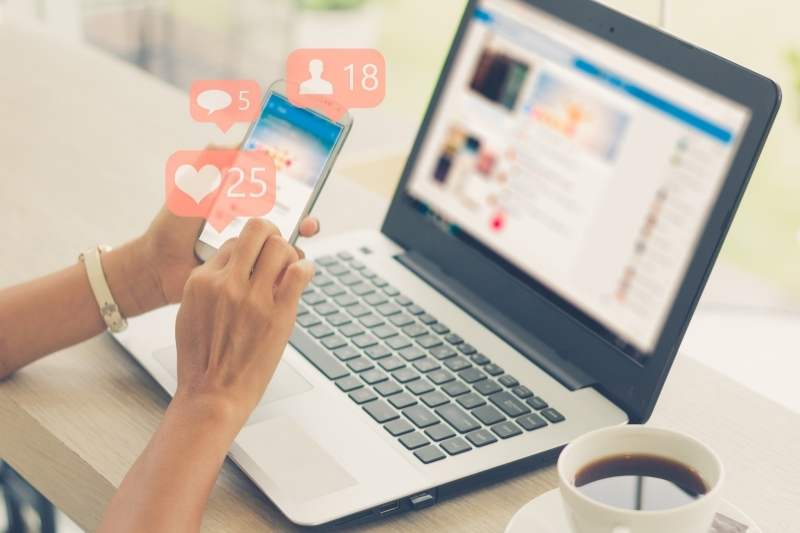 Give your business a personality
People follow athletes and celebrities because they love getting to know the "real" person. Property managers can create a similar feeling by giving their business or property a "personality." Is your property's persona nurturing and compassionate, or modern and fun-loving?
Use photos, videos, hashtags, captions, and comment replies to develop your property's personality and create a persona that followers connect with.
Get on TikTok
TikTok is all the rage these days, especially among Gen Z renters. Capitalize on this trend by creating an account for your property and sharing your own short videos. The beauty of this platform is that your videos don't have to look polished — in fact, the best-performing TikTok videos are raw and organic. Consider sharing community updates, clips from behind the scenes, resident or staff profiles, and event information.
Use UGC (user-generated content)
Savvy social media marketers covet UGC, which is user-generated content, or content related to your business that someone else has created. UGC is perfect to repost to your own social media channels because it builds trust with your followers. It's also the ultimate time-saver because you don't have to put any effort into creating the content.
Invite residents to share insight into what it's like to live at your property. Encourage them to tag your property's account in their photos, or to geotag your building in their Instagram posts. Then, you can share that content to your Instagram story, your Instagram feed, or your Facebook page.
Practice social listening
On social media, you can do more than just post content — you can also practice social listening. Social listening refers to monitoring social media networks to see what others are saying about your company, competitors, community, and industry. It's the best way to learn how people feel about your brand and what your audience is seeking.
Your social listening efforts should include:
Finding where people have mentioned or tagged your company and replying to their comments, questions, and feedback
Monitoring what your competitors are posting
Assessing what your target customers are talking about
7. Stage your units effectively
Touring an empty apartment can make it difficult to picture yourself living there. Without any furnishings or decorations, it won't feel like home. That's why it's worth investing in apartment staging.
Apartment staging is the process of filling a unit with furniture and decor to give prospects an idea of what looks like furnished. It helps prospective residents imagine themselves living in the unit and creates a more welcoming environment during agent-guided, virtual, and self-guided tours.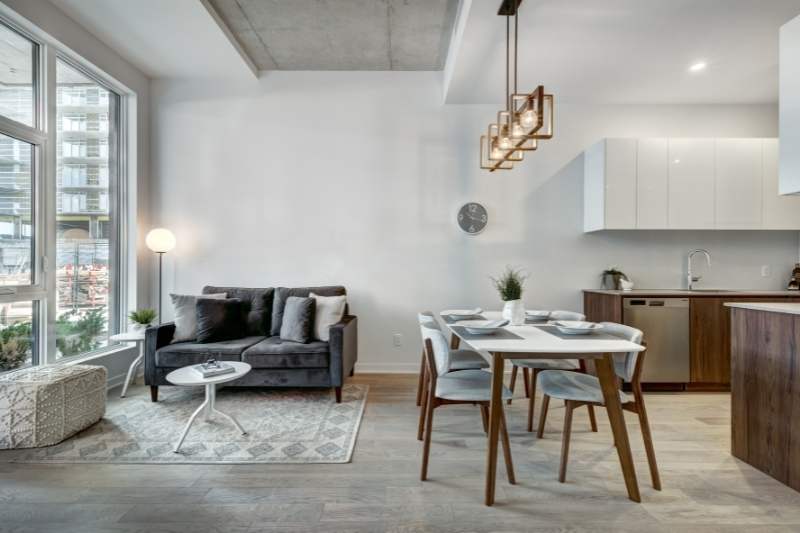 In fact, apartment staging decreases the length of time an apartment spends on the market while increasing the rent a prospect is willing to pay by up to 15%. So, staging can pay off by filling vacancies faster during the apartment application process and increasing your rent revenue.
Here are some tips on staging your apartment units:
Decorate the unit by hanging artwork, adding plants, and placing fresh flowers on the countertop.
Hang curtains or install new blinds.
Remove odors from pets, smoke, etc.
Upgrade fixtures like faucets and cabinet handles.
Add furniture that fills the space without feeling cluttered.
And if you're concerned about the cost of apartment staging, consider choosing a virtual staging service. That way, you'll enjoy the benefits of staged apartment photos without the hefty price tag.
Learn about the benefits of virtual staging software:
8. Use guest cards
Guest cards are a tried-and-true method of marketing for property property managers. Guest cards are short forms that prospective renters fill out to express their interest in your property. Most guest cards ask for the prospect's name, phone number, email, address, and what they're looking for in a rental.
By using guest cards, you can:
Keep prospects' contact information in one convenient place
Follow up with prospects in a timely manner
Personalize your outreach to prospects since you'll know more about them and what they're looking for
The importance of marketing for property managers
Marketing for property managers can seem daunting, but the longer you work on marketing your property, the better you'll get at it. No matter how fantastic your community or building may be, no one will ever know its greatness without marketing efforts.
Property marketing is all about getting the right information in front of the right people at the right time — and it can really pay off! Marketing, tracking leads, and following up effectively are the keys to signing more leases.
And don't forget: your marketing plan should be flexible. Over time, you'll accrue data on which efforts pay off and which tactics maybe aren't worth the effort. Use this data to adjust your strategy as needed.