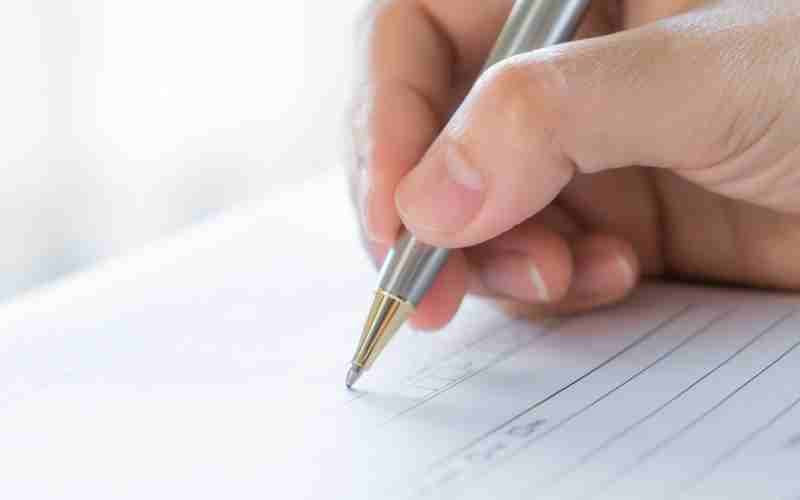 Every property manager knows that leasing more units is the best way to boost revenue. But to fill vacancies, you'll need to market your property. Fortunately, a guest card system is a great form of marketing for property managers that requires little effort.
Guest cards can help boost your leasing efforts in ways you didn't think they could. If you're curious about this system, keep reading to find out what forms a guest card can take and how they can boost your lead-to-lease conversion rate.
In this post, discover:
What is a guest card?
A guest card is simply a contact form that prospective residents fill out to express their interest in a specific property and share their contact information with the property manager or leasing agent.
Guest cards may collect various contact details, including:
Prospect's name
Phone number
Email address
Current address
Unit or property they're interested in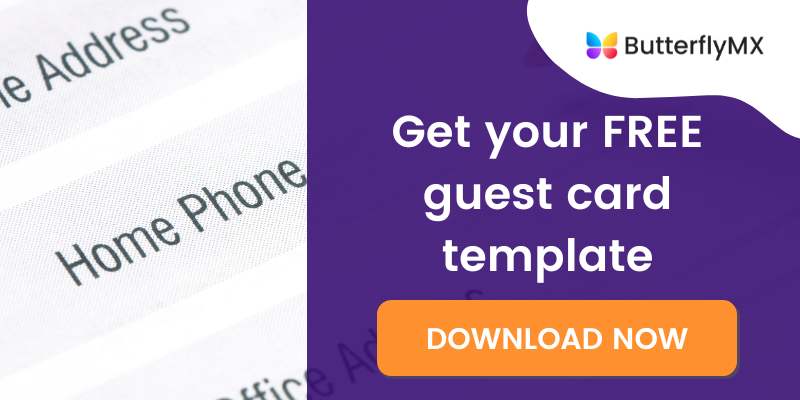 Why should you use a guest card?
You should use a guest card system for prospective tenants because it ensures that important information can be stored in your database for further use. Guest cards simplify prospect inquiries and increase usable data to help fill vacancies faster.
For instance, guest cards make it easy to keep track of prospects' names, contact information, and reason for calling. It's easy to think you can retrieve these details from memory, but that's not always true.
But why use guest forms instead of just taking notes the old-fashioned way? Because relying on memorized information can result in lost details or missed opportunities for personalized marketing.
Reasons to use a guest card:
Detailed information: When someone inquires about your property, you want enough information about them to store in your database. Without a name, number, or address, you have no identifiers for future contact. Furthermore, write down what they're looking for so you can curate your outreach to their specific needs.
Follow-ups: It's not hard to imagine that, as a property manager, there will be days you have very little time. Apartment guest cards give you an organized way to keep track of inquiries. With those names and numbers stored away, you can easily contact prospects when you have time to answer their questions.
Marketing: Guest cards and prospect forms can help boost your marketing and leasing efforts. With these forms, you can create email and social media campaigns using the information you gather.
Types of prospect forms
Depending on your skills, time, and needs there are two ways you can make guest cards available:
Printed guest card templates
Online forms
You should always have printed guest cards available for short-notice inquiries. These printed forms are great for managers who are busy and need to take quick notes. They're also easy to organize and store for later use.
Online guest forms will probably make for better marketing. On these forms, you can ask generic questions about contact information. But, you can also include drop-down menus and comment boxes to gather more information about their desires.
Learn more about social media marketing in real estate:
What should be on a guest card?
At the bare minimum, your guest card form should ask for the prospect's name, number, address, and reason for calling. Most free guest card templates usually only include these sections.
This is a great place to start and is perfect for a basic understanding of your prospect. However, there are more details that you can include that may increase your chances of winning a lease.
Elements to add to an online guest form:
Contact information
Desired move-in date
Reason for moving
"How did you hear about us?"
Preferred contact method
Comment box
Unit needs
Price range
Because one form is customer-facing and the other is for manager records, different lines should be included in each.
Elements to add to a print guest card:
Contact information
Name of the person who helped them
Preferred contact method
What they want more information about
If/when to follow-up
Type of unit they want
Price range
Date and time of communication
Best practices for requesting guest information
As we've seen, using a guest card system is a great step toward increasing leasing and marketing scope. However, you have a social responsibility to maintain best practices when asking for guest information.
As things become increasingly digital, your website's fill-out form for guests may be your only chance to make a good impression. Instilling trust in how you use the information they provide may help you establish a professional relationship.
Guest card best practices:
Label which fields are optional
Avoid asking for sensitive information
Use a single-column design
Include clear instructions
Secure user information
Be open about your use of their information
Make sure your form is compliant with privacy laws
Furthermore, if a follow-up call is made, there are chances for more best practices. For instance, making prospects aware of how you got their information and how you're using it is an ethical practice.
Takeaways
A guest card is a fillable form that helps track prospective residents' contact information.
Guest cards can help generate leads, inform marketing campaigns, and make prospect follow-up easy.
Both online guest forms and print guest cards are useful for property managers.
There are a number of elements guest cards should have including contact information, desired moving date, and price range.
It's your responsibility to apply best practices including compliance with online privacy laws.