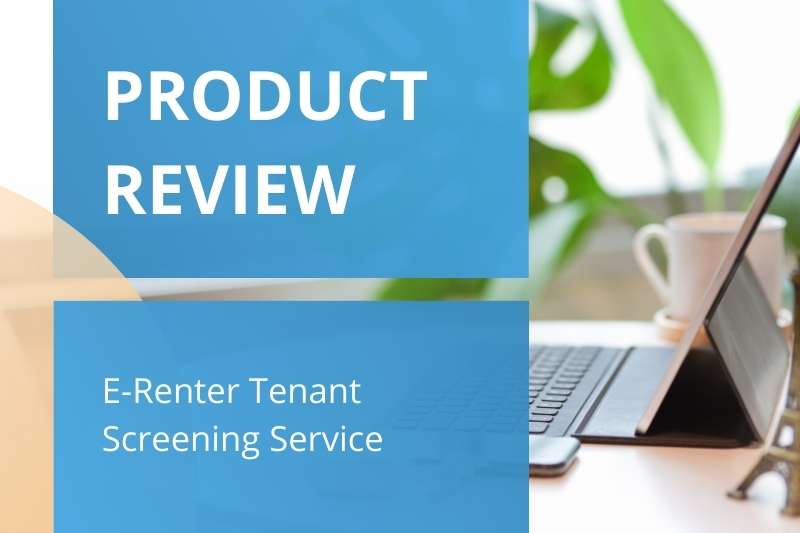 One of the most important responsibilities of managing a residential property is finding the right occupants — residents who will respect your property, their neighbors, and pay their rent on time. Those applicants are out there, and the best way to find them is to use a professional tenant screening service. Using a screening service will save you time, money, and the potential headaches of dealing with unruly and unreliable residents.
E-Renter is one platform to consider if you want to screen your prospective residents. So, read on to see how E-Renter can assist you in your search for the best residents.
This post covers:
About E-Renter
E-Renter has been offering tenant background reports since 2003 and is one of the most popular tenant screening services. Although E-Renter is best known for its tenant screening solutions, it refers to itself as a consumer reporting agency.
E-Renter serves multifamily building owners, property management companies, and businesses requiring employee screening, as well as businesses extending credit to consumers. They offer 24/7 direct online access to consumer and business credit files and other databases.
Providing exceptional service to its clients and continually improving its quality management system is part of E-Renter's mission statement. The company also promises to deliver the best possible screening service and to safeguard personal information.
How E-Renter works
E-Renter offers an intuitive and straightforward program to multifamily building owners and managers.
To use E-Renter, firstly you must establish an E-Renter Commercial Account by completing their application. The application may take 7-10 business days to process. During this process, E-Renter may schedule an onsite inspection of your office or property to confirm legitimacy.
As soon as your application is authorized, you will have 24/7 access to your online account. Then, you can start screening tenants immediately. In addition to screening tenants, you will have direct access to consumer credit files, eviction records, and business credit reports.
Watch how ButterflyMX works:
Review of E-Renter
E-Renters offers comprehensive screening services, providing various reports and information that may help you decide whether to approve an applicant. Screening prospects before approving them will help reduce resident complaints and enhance their experience at your property. Read on to learn more about E-Renter's platform.
Features
Eviction reports: E-Renter uses a 50-state evictions database. If you opt for an eviction report, you may receive information such as the court description, case number, dates, amount, and defendant name and address.
Rent Check Advisor: With E-Renter's Rent Check Advisor, you can avoid bounced checks, collections, and possible evictions. Rent Check Advisor recommends with a high rate of accuracy whether you should accept rent checks from prospective residents. Recommendations are based on risk analysis, check-writing patterns, and tenant history.
Social Security number verification: Validating a potential tenant's Social Security number is probably the most crucial aspect of the screening process. E-Renter's verification system issues a report with a result from the Social Security Administration of "valid" or "invalid."
Credit checks: As an FCRA-compliant consumer reporting agency, E-Renter offers full credit reports that include FICO scores. Note that full credit checks are only available to E-Renter commercial accounts.
Business credit check: If you happen to manage a mixed-use building and rent to any commercial tenants, you can use E-Renter's business credit check services. This provides you with a detailed report on the company's record of paying suppliers, legal filings, credit limit recommendations, and a credit logic score.
E-Renter cost
E-Renter offers three different packages for its tenant screening services. There are no monthly fees, and the cost of each package includes specific parameters covered in the report.
Package costs and report contents are as follows:
Basic Package costs $21.95 per report and includes Social Security validation, evictions and suits, bankruptcy, and liens and judgments.
Premium Package costs $31.95 plus $2.49 paid by the tenant for credit check verification. It includes everything in the Basic package plus the applicant's credit file, FICO score, and collections.
Ultimate Package costs $36.95 plus $2.49 paid by the tenant for credit check verification. It includes everything in the Premium Package plus Rent Check Advisor®, applicant identity check, Social Security name match, and validates the applicant's name and address.
E-Renter also offers a Commercial Account package with discounted rates to property management companies. To qualify for a Commercial Account, you may need to complete an application and a property site visit ($65 cost). Once approved, Commercial Account services include direct access to consumer credit files, business credit reports, eviction records, and more.
Pros & cons
Pros:
E-Renter is uncomplicated and user-friendly for most.
Prices are fair and reasonable.
The various pricing tiers ensure that you're only paying for the services and reports you want.
Reports are well-formatted and easy to read.
A top-rated eviction history report is included in all packages.
Cons:
Only Commercial Accounts can access full credit checks.
Tenant credit inquiries are "hard inquiries," which may have an impact on your prospective resident's credit.
No lease default prediction features.
Should you get E-Renter?
E-Renter makes it easy to screen prospects before drafting a lease. Their report packages may be a convenient way to ensure you get the reports you want without paying extra for reports you don't want.
E-Renter's report purchasing process is fairly straightforward and easy to navigate. And if talking to a live person is important to you, E-Renter has friendly customer service representatives who can readily be reached by phone.
If you work for a property management company, you may qualify for E-Renter's Commercial Account to get special discounts. This is ideal for managers who screen several prospects each month.
Alternatives to E-Renter
If you don't necessarily need a package and are looking instead for individual reports, try RentPrep, which offers single-topic reports and the ability to purchase add-ons, all at a reasonable cost.
Rent Spree is another alternative to E-Renter, offering most of the same reports and services. But unlike E-Renter, expect to pay a modest monthly fee of around $9.99 for Rent Spree.
Takeaways
With its convenient services and Commercial Account package, E-Renter should be on the shortlist of any property management company or multifamily property owner in need of tenant screening services.
Disclaimer: ButterflyMX provides these blog posts to help our customers and potential customers make the right business decisions for them. Our blog posts are based on the information we have available to us at the time of writing.