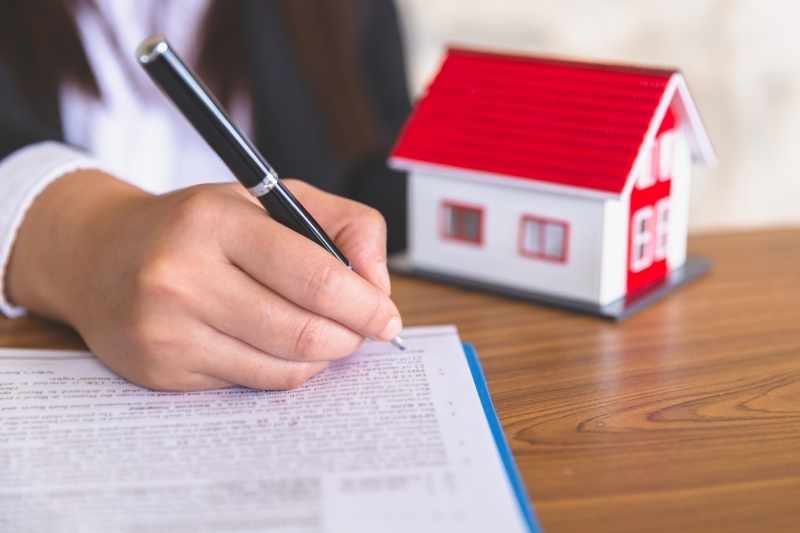 As a property owner or manager, it's your goal to maximize your property's NOI. And one of the best ways to do that is by renewing more leases and retaining residents longer.
In this post, we cover all things lease renewals. You'll discover the tangible benefits of renewing more leases, learn four effective ways to get residents to renew their leases, and see some simple steps you can take to renew a lease today.
Read this guide to learn:
What are lease renewals?
A lease renewal is when a tenant decides to continue living in a rental property beyond the time frame agreed upon in the original lease. Renewing a lease may involve drafting a brand-new lease with new terms, rules, and conditions or extending the terms set forth in the current lease. Either way, both the property owner and the tenant must agree on the terms and sign the lease renewal before it goes into effect.
Pro tip: To stay on top of deadlines and regulations for all of your residents' leases, invest in lease administration software. That way, you'll have all pertinent information and data in one convenient place.
Lease renewal periods
A lease renewal period is the time frame during which a tenant and a property owner must determine whether they will renew the lease. The lease renewal period occurs toward the end of a rental agreement. Each state has its own laws about lease renewal periods.
Lease renewal vs. lease extension
A lease extension is a formal agreement between both the owner and the tenant that extends the terms of the existing lease. In contrast, lease renewals create a brand-new lease agreement, the terms of which may differ from the original lease.
In other words: If you extend your lease, you won't receive a new lease. You'll only have to sign a document stating that you agree to extend the current agreement.
But if you renew your lease, you'll be signing an entirely new agreement. Your terms and conditions can be different from those of your original lease.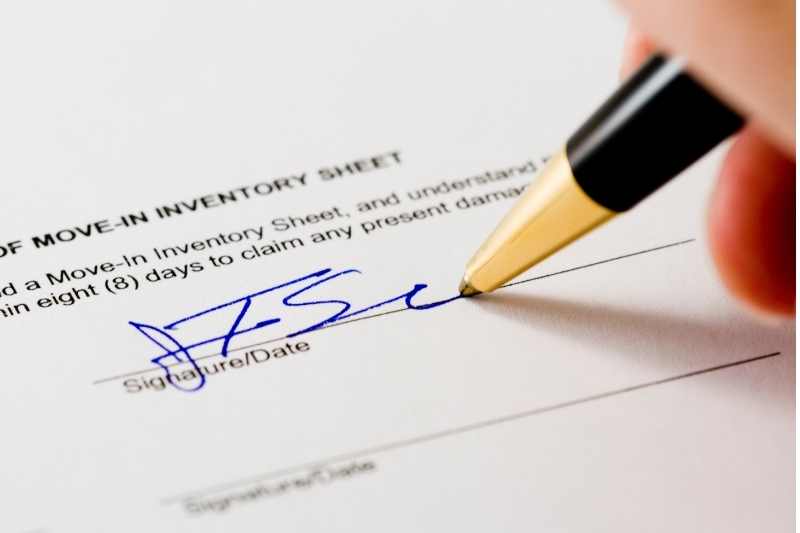 Raising rent when renewing a lease
Generally speaking, property owners can increase rent during a lease renewal by any amount — they face no restrictions.
However, you may be restricted if your building is in a rent-stabilized or rent-controlled state or city. If that's the case, you must follow government provisions that prevent you from raising the rent by more than a certain amount.
Keep in mind that property owners can't raise the rent punitively. In other words, they can't increase rent prices vindictively or to punish a tenant for any reason. Tenants have the right to sue for damages if they feel their landlord raised their rent punitively.
Additionally, property owners can't raise the rent after the renewal is finalized. Owners must clearly state the new rental rate during the renewal process.
Lease renewal fees
A lease renewal fee is a fee charged to the building owner by property management to cover the expenses associated with renewing a lease. Lease renewal fees are usually charged as a flat fee or as a percentage of the monthly rental rate.
The cost of not renewing a lease
Most property owners and operators are aware that it costs more to replace a tenant than it does to keep an existing one. Tenant turnover can cost anywhere from $1000 to $5000 depending on the size of your building and the scope of your operations.
After all, consider everything you have to do when a tenant moves out:
Clean the unit, repair damages, repaint, and perform any other needed maintenance.
Advertise the vacancy on rental listing sites, social media, etc.
Offer tours and show the unit to multiple prospects.
Screen and process applicants.
Draft a lease and perform other administrative tasks associated with adding a new resident to your rent roll.
Wait for the new tenant to move in and start paying rent, during which your vacancy is costing you money.
These tasks cost you both time and money. Renewing a lease, however, spares you the hassle of performing all of these tasks.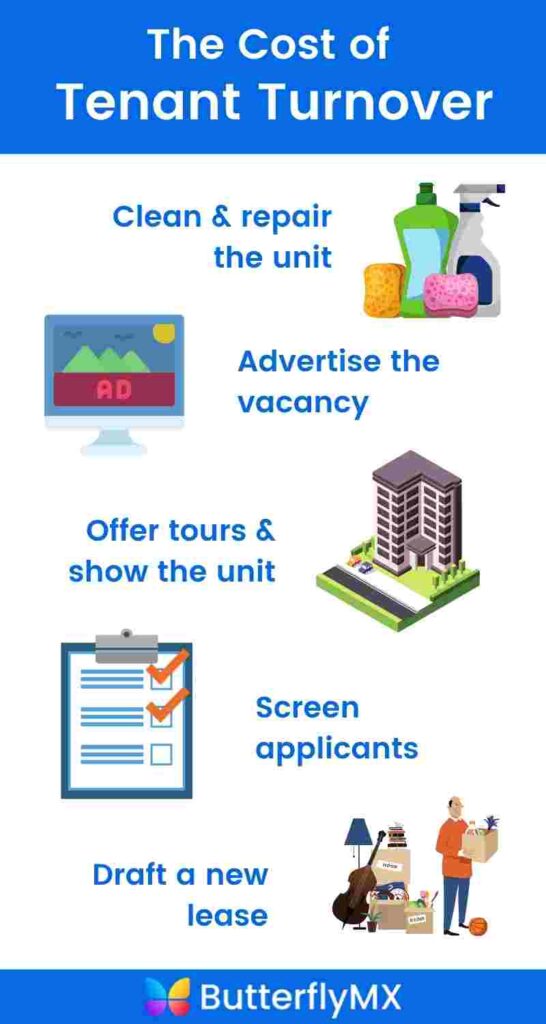 Why you should try to renew more leases
Renewing more leases ultimately helps your bottom line as a property owner or manager.
The benefits of lease renewal include:
Reduce turnover costs: As you know, renewing a lease saves you a substantial amount of money. You'll spend less retaining a tenant than acquiring a new one.
Save time on marketing, advertising, and administrative tasks. Marketing your vacant units takes a lot of time. And so do all the administrative tasks associated with filling a vacancy. Save time for your team by renewing your existing leases.
Reduces work for maintenance staff. When a tenant moves out, your maintenance team has to work quickly and tirelessly to clean and repair the vacant unit. As a result, they have less time to focus on other residents' requests.
Keep reliable tenants. Great tenants can be hard to find. So, it's in your best interest to retain the residents who are responsible, respectful, and pay their rent on time.
Build a stronger community. Tenants who renew their leases year after year spend more time getting to know their neighbors and turning your building from a house into a home. When your building retains residents longer, you create a stronger community and therefore a better resident experience.
5 ways to get more lease renewals
Now that you know the benefits of retaining residents, you're probably wondering how you can increase your retention rate.
Here are the top four ways to get more lease renewals: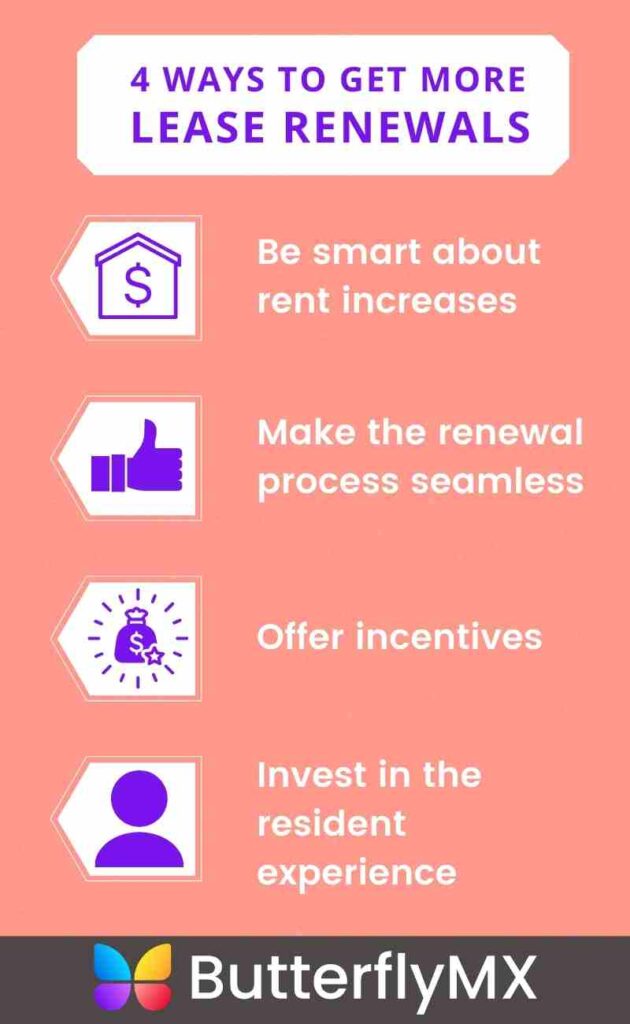 1. Be smart about rent increases
One of the top factors that dissuade renters from renewing a lease is price. If you intend to increase your resident's monthly rent upon renewal, be thoughtful about it.
Raising the rent too much could make or break your chance of getting a renewal. Generally, a 3 to 5% increase doesn't cause much backlash, and won't be enough to prevent a resident from renewing. However, if your rental rate is currently above market average, raising the rent could potentially be the tipping point to dissuade a resident from staying.
You should also be prepared to address why you're raising the rent. There's a good chance your tenant will ask! Explain that your building's expenses are increasing, and cite specific examples (maintenance, taxes, insurance costs, etc.). You can also point to any amenities you've added or are planning to add.
2. Make the renewal process seamless
Your residents don't want to jump through hoops. Moving is a pain, but so is a difficult lease renewal process.
So, make sure you're not creating work for your residents. Send them a notice 60-90 days in advance to give them ample time to consider. Be helpful and courteous — offer to answer any questions they may have or meet in person to discuss.
Handling the process digitally is often the simplest and most preferred way, especially by young millennial and Gen Z renters. So, send emails rather than make phone calls, and provide a digital lease for residents to e-sign instead of having them mail in a hard copy.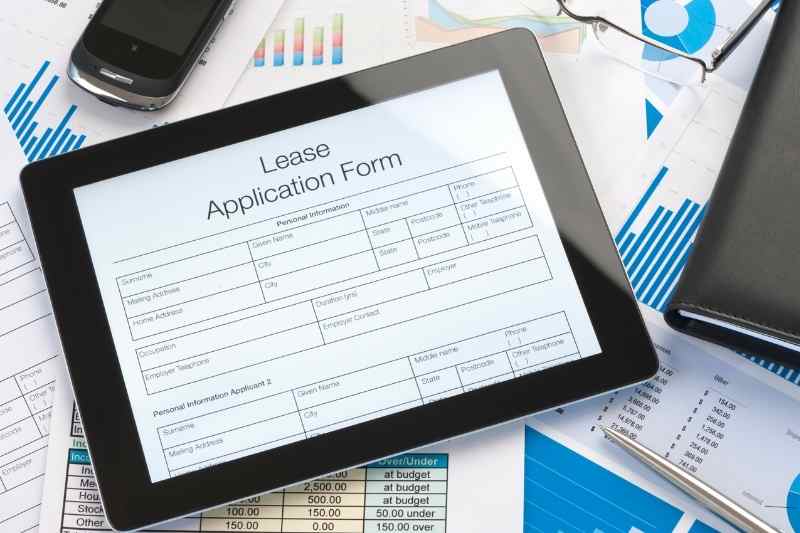 3. Offer incentives
It doesn't hurt to incentivize a lease renewal. By offering an incentive to stick around, you're not only sweetening the deal, but you're also showing your resident how much you value them.
Here's how you can incentivize a lease renewal:
Offer a discount, rent credit, or a free month.
Include a gift card with your rent renewal notice.
Offer a free upgrade, such as a new appliance, new plumbing fixtures, or fresh paint.
Invest in small gestures throughout the year, such as sending each resident a card around the holidays or a Starbucks gift card on their birthday.
4. Invest in the resident experience
Above all, the best way to get more lease renewals is to make sure your residents love living in your building. By investing in the resident experience, you'll make residents feel at home — and no one wants to leave their home behind.
The best ways to create an unbeatable resident experience include:
Handle maintenance requests quickly. If your residents are stuck dealing with maintenance issues that aren't addressed for days or weeks, they'll have no reason to stick around.
Host resident events. By hosting fun events throughout the year, you'll strengthen your community and the relationships between your residents.
Enable smart access throughout the building. Install a mobile access control system so residents can replace keys and fobs with their smartphones.
Make a strong first impression. Start things off on the right foot with every new resident by making them feel welcome. Consider leaving a care package for new residents and a handwritten welcome now upon move-in.
Invest in a delivery management solution. Prevent package theft and ensure that residents never miss a delivery by setting up a secure package room.
Maintain open communication. Residents want to feel connected and understood by their building staff. So, maintain open communication by chatting with residents around the property, requesting feedback about your building, and writing an apartment newsletter to share community updates.
Watch how ButterflyMX works:
4 steps to renewing a lease
As you approach any resident's lease renewal period, it's wise to prepare yourself and ensure the process goes smoothly. If the renewal process is too difficult, expensive, or time-consuming for your resident, they might reconsider and plan to move elsewhere.
Here are the four simple steps to renewing a lease:
1. Adhere to your state's lease renewal period
The most important first step is to familiarize yourself with your state or city's lease renewal period policies. In most cases, the period is anywhere from 30 to 60 days. But failing to adhere to local laws can create a lot of work, so it's worth taking the time to understand the laws governing your building.
If you don't start the renewal process within the legal time frame, you might miss out on the chance to renew the lease altogether. This could really hurt your bottom line and cost you both time and money.
But even if your state only requires a 30-day notice, it may be worth sending a notice 90 days before the lease expires. That way, you give your resident plenty of time to consider the renewal offer and respond. Additionally, if the resident declines to renew their lease, you'll have plenty of time to start searching for a new resident to fill the vacancy.
2. Send a thorough lease renewal letter
Your job is to initiate the lease renewal by sending a letter to each tenant in advance of their lease expiration date. This letter serves as a formal notice to your resident and is the starting point of any lease renewal.
Your letter should start by immediately indicating when the resident's lease expires and whether or not you will renew it. If you aren't offering a renewal, be very clear and provide an exact date for when the resident must move out.
From there — if you are offering a renewal opportunity — your letter should include:
The time frame/length of the renewed lease
Any proposed rent increase
Additional terms you intend to add to the new lease
Proposed dates when you can meet with the resident to discuss the renewal
Your contact information
Your signature and the date
Alternatively, you could offer the resident the option to turn their existing lease into a month-to-month agreement.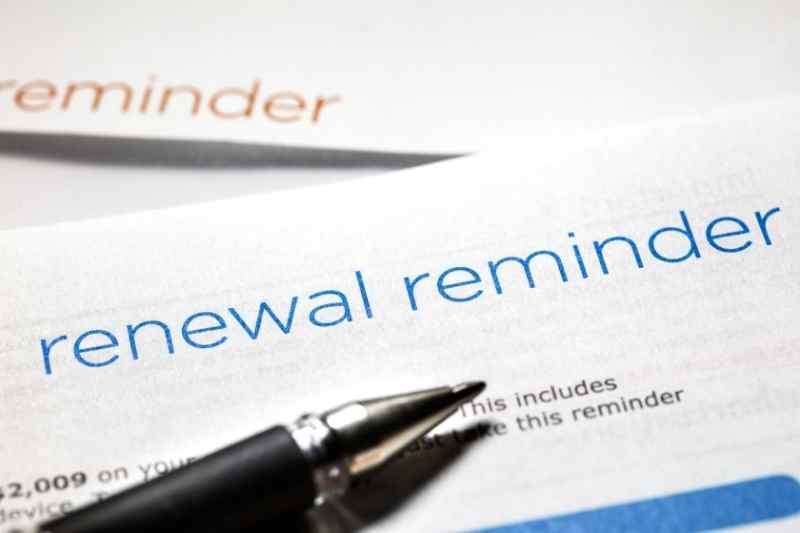 3. Draft a new lease
A verbal lease agreement puts you at risk. You should always draft a new lease for your resident to sign.
Even if you aren't changing many (or any) of the rental agreement terms and conditions, it's in your best interest to write a new lease. Treat the lease as if it was for a new resident. Be extremely clear and thorough, and don't skimp on any details — even if you feel like your resident already knows or understands them.
Your renewed lease should include:
The names of all parties (you/the property ownership or management group as well as each tenant)
The property address and unit details
Exact monthly rent to be collected
Details about penalties for paying rent late or breaking the lease
Subletting policies
Utility charges or details about which utilities residents must set up on their own
Security deposit amount and details about assessing and sending the security deposit when the resident moves out
Pet policies
Amenity space policies
Lockout policies and fees
Dates of exactly when the lease begins and expires
In addition to these and any other property policies, you need your residents to agree to, be sure to meet any requirements as outlined by your state or city. Every state has its own laws regarding what must be included in a lease agreement, so do your research.
4. Finalize the lease renewal
Once your resident has agreed to renew their lease and you've drafted the new agreement, it's time to send it.
You can either:
Mail a printed copy of the lease.
Send an e-lease for the tenant to sign digitally.
Set up an in-person meeting to review and sign the lease together.
Remember: Nothing's set in stone until your tenant signs the new lease. But if you've followed the previous three steps in a timely fashion, you should be set up for a successful lease renewal that's completed on time.
Takeaways
To maximize NOI and save time for your entire team, encourage your residents to renew their leases — and make it easy for them to do so. By investing in the resident experience, you'll attain a higher rate of renewals and experience lower turnover rates.
Lease renewals are simple and straightforward — especially once you've implemented a seamless process. As long as you've done your due diligence and carefully considered your state's laws, you and your residents will enjoy stress-free lease renewals.