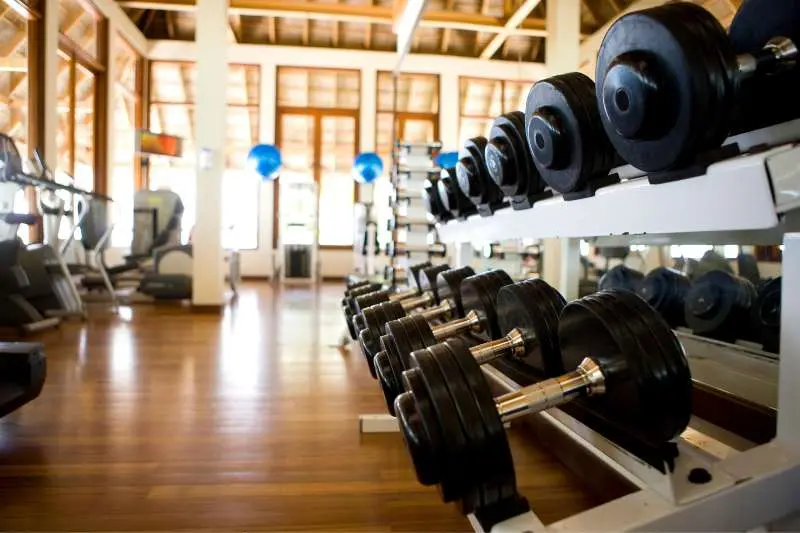 Gym management software is vital in maintaining a healthy and operational gym or fitness center. Compared to other real estate industries, fitness property management encompasses diverse challenges that require robust solutions.
With that said, this guide details everything you need to know about gym and fitness center management software, such as what it does and how much it costs. Not to mention, you'll learn how management software is beneficial for gyms and what the best software is.
This guide covers:
What does gym management software do?
In general, gym management software assists with organizing and maintaining the daily operations of a gym or fitness center in your apartment building.
To achieve that goal, the software streamlines workflows and tasks by centralizing them in one place. This way, gym staff operates more efficiently while performing their duties. In turn, your gym provides the perfect experience for members.
Gym management software has many functionalities, such as:
Managing memberships and renewals.
Accepting payments and tracking finances.
Tracking member check-ins and visits.
Scheduling training sessions and equipment usage.
Providing a staff portal for timesheets and schedules.
Tracking and monitoring exercise equipment.
Assisting with client retention and attraction (emails, promotions, etc.).
Of course, the capabilities of gym management software will vary based on the solution you select.
Find out what access control is and how it can help secure your gym:
How much does a gym management system cost?
A gym management system can cost anywhere from $50 to $200 per month.
However, many factors will impact the price of a gym management solution.
These factors include:
Number of members
Size of your organization
Functionality you require
To learn more about the pricing of your solution, reach out to the sales team of the software you want.
Why you should use gym management software
The advantages of gym management software can significantly boost the success of your business. After all, so many other gyms and fitness centers have benefited.
The benefits of gym management software include:
Unify workflows. Staff may perform any number of duties in a single day, ranging from processing payments and renewals to scheduling appointments and sending emails. All of these tasks are managed through an all-in-one gym management platform, helping staff operate more efficiently.
People management. Portals for both customers and staff allow them to manage their accounts themselves, reducing operating costs. For instance, customers can use it as gym membership management software, making changes whenever they like. On the other hand, staff can review their timesheets, schedules, and paystubs.
Enrich data. Data is essential for any business because it reveals patterns businesses can improve. In the case of gym management software, fitness centers can review data regarding peak visiting hours or equipment usage. With this information, gyms can determine how to improve the customer experience, whether that involves buying more equipment or opening another location.
Report finances. Gym management software can gather and collect all your financial data in one place. Additionally, this tool uses automation to create financial reports, saving you time.
Retain members. Retaining gym members is how you make money. A full-service gym management software provides a streamlined experience customers will love. Plus, these solutions often include tools to promote discounts or special events that will further entice members to return.
Attract members. Attracting new members is just as important as retaining them. Fortunately, this type of software incorporates marketing tools to attract leads and notify you of their journey. That way, you can effectively nurture them toward conversion.
5 best gym management software
As you can see, gym management software helps maintain the health of gyms and fitness centers, but what software is the best? Below, you'll find the best management solutions for gyms.
The best management software for gyms is:
1. Glofox
Glofox is a leading software company for gym and fitness center management. Serving more than 80 countries, Glofox has created a user-friendly experience for all types of fitness businesses, ranging from martial arts and yoga studios to traditional gyms and indoor cycling studios.
What's more, the Glofox app makes it easy for everyone to access gym information from anywhere. Members can simply manage their membership online, review classes, and book appointments. As for staff, they can manage class performance, handle transactions, and review trainer progress through the Glofox dashboard.
Some features of Glofox include:
Track how leads are nurtured along their journey.
Facebook and Instagram integrations.
Automated messaging and push notifications for membership renewals.
Activity reports on how members interact with classes, equipment, etc.
Customized and branded member app for your business.
Pricing: Glofox customizes pricing based on your business, so visit their website to learn more.
2. PushPress
PushPress was founded in 2008 after founder Dan Uyemura realized his CrossFit gym's management system was difficult to use. Since then, PushPress has grown significantly, serving more than 2,000 fitness studios across the globe.
As a free gym management software, PushPress is a great fitness CRM option for your business. It incorporates a robust management solution for handling payments, memberships, inventory, and more. Lastly, the PushPress app allows for full customization and branding, putting you front and center on customers' phones.
PushPress includes many features, such as:
Real-time workout routine tracking.
Integrates with Facebook, Google Calendar, Mailchimp, Slack, etc.
Sell products directly from your website or the PushPress app.
Automate payments and notify members of upcoming charges.
Mobile check-in system and class schedule.
Pricing: PushPress is available for free with limited capabilities. Alternatively, PushPress Pro is $159, and Max is $229 per month.
3. Zen Planner
Zen Planner is a comprehensive gym management software for fitness centers, martial arts schools, yoga studios, and more. Built for boutique businesses, Zen Planner provides both owners and members the features they want.
New customers receive one-on-one training to get the most out of Zen Planner. Members can easily access gym information through the Apple or Android mobile app. The app will provide information on memberships, billing, schedules, workout tracking, and marketing tools to help retain members.
ZenPlanner includes several features to help manage your gym:
Member and staff mobile apps.
Skills and belt tracking for martial arts.
Automate email campaigns, billing, membership notifications, etc.
Workout tracking includes percentages, leaderboards, and progress.
Integrates with Google My Business, Facebook, and Google Ads.
Pricing: The cost of Zen Planner depends on the number of members you have, but the lowest starting price is $99 per month for up to 45 members.
4. TeamUp
Launched in 2012, TeamUp is a management software for boutique gyms and fitness studios. No matter the type of fitness your business supports, TeamUp has the management solution for you, ranging from boot camps and CrossFit to sports training and pilates.
TeamUp makes it easy for families or groups to manage memberships. This way, your business can track group dynamics, schedules, payments, and discounts based on activity. Moreover, TeamUp integrates with your property's access control, allowing only those registered to the software to access facilities.
Features of TeamUp include:
Integrates with smart security features, such as an access control system.
Member app for class booking, signing waivers, purchases, etc.
Collect payments and track purchases with sales forecasting.
Manage customers and memberships.
Let customers schedule their own appointments with trainers.
Pricing: TeamUp is priced based on the number of members you have. Pricing starts at $99 per month for up to 100 members.
5. WellnessLiving
WellnessLiving is an all-in-one gym management software for fitness and wellness businesses of all sizes. If you're a fitness center that likes to incentivize your members, WellnessLiving has the tools you need. Track exercise goals and host competitions through the customizable client app. From there, reward your members with points to redeem later on.
Furthermore, WellnessLiving offers a complete fitness CRM to manage billing, memberships, marketing campaigns, and more. Centralizing your marketing efforts to one platform saves time and money. With WellnessLiving, you can reach active members and leads via direct mail, email, and even SMS.
Notable features of WellnessLiving include:
Client and staff mobile apps for Android and Apple.
Book online through Google, Book-a-Spot, and website widgets.
Entice customers to return with rewards programs.
FitLIVE and FitVID serve as virtual workout tools for members.
The Isaac AI assistant gives deeper insights into business operations.
Pricing: WellnessLiving offers four tiers that are charged monthly: Starter at $89, Basic at $129, Business at $159, and Enterprise, which requires you to contact their team for information.
Takeaways
Gym management software helps fitness centers operate more efficiently by streamlining workflows in one digital tool.
You should use gym management software for your fitness business because it unifies workflows, manages people, enriches data, reports finances, retains members, and attracts new members.
The best gym management software systems are Glofox, PushPress, Zen Planner, TeamUp, and WellnessLiving.