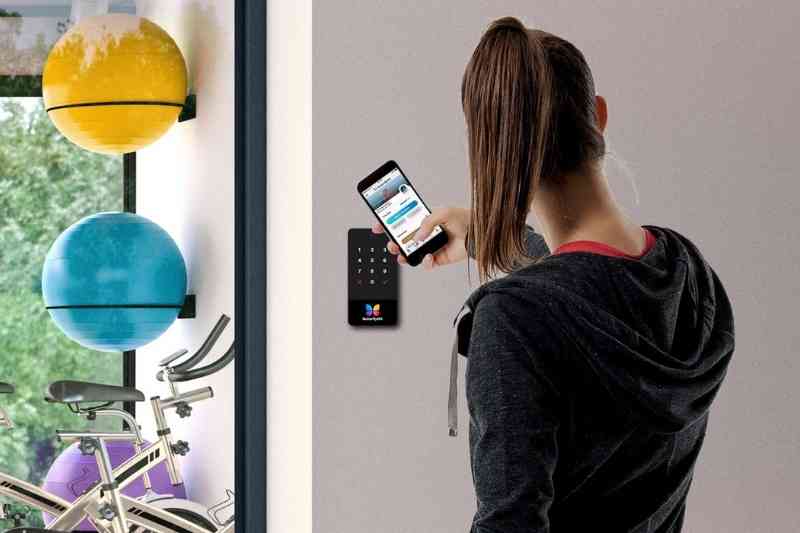 If you're looking for a way to control access throughout your property, remember that security is only one of many factors to consider. You also want to make sure that access is simple and convenient for residents and their guests. So, one access control device you might consider is a keypad door entry system.
In this post, we explain what a keypad door entry system is and how it works. Then, we go over the attributes you should look for in a keypad entry system.
This post covers:
What is a keypad door entry system?
A keypad door entry system is a keyless access control solution that allows users to unlock doors using PIN codes. Keypad door entry systems are a popular way to manage access into a building or room without handing out keys.
Some keypad systems can only be programmed to accept one PIN code credential. In other words, all tenants share and use the same PIN to gain access. In contrast, other keypad entry systems allow each tenant to set their own personal PIN code.
Keypads secure all kinds of spaces, from gyms to co-working spaces to rooftops in both multifamily and commercial properties. And you can use keypads to control access to doors in both interior and exterior spaces. However, if you want to install an outdoor keypad, you should make sure that it's IP65 rated to withstand weather conditions.
Keypad door entry systems have three components:
Keypad. The keypad device is installed on or near the door it secures. Some keypads have a camera that takes a picture of every door entry event, creating a secure audit trail that staff can review.
Software. Beyond just the keypad device itself, you also need a way to store all the system's data, which includes tenant information and all the authorized PIN codes. Keypad systems store data either in an onsite server or in the cloud.
Electric or magnetic lock. While the keypad accepts credentials and the system's software verifies a resident's identity, it's the electric lock that actually moves to let a resident in. Whether a lock is electric or magnetic, it needs to detect electric currents so that it can unlock when the system sends a signal.
Watch how to use the ButterflyMX keypad:
How to use a keypad door entry system
For tenants, using a keypad is simple and convenient. Keyless door entry systems, like keypads, allow residents to gain property access without the fear of misplacing a small, easily lost credential.
Here's how a resident uses a door keypad entry system:
Enter a PIN number. The keypad may have a touchscreen or mechanical buttons for tenants to enter their PIN code.
Keypad unlocks door. When the keypad receives the correct PIN, it unlocks the door by sending an electric current to the lock. When the lock disengages, the resident can enter.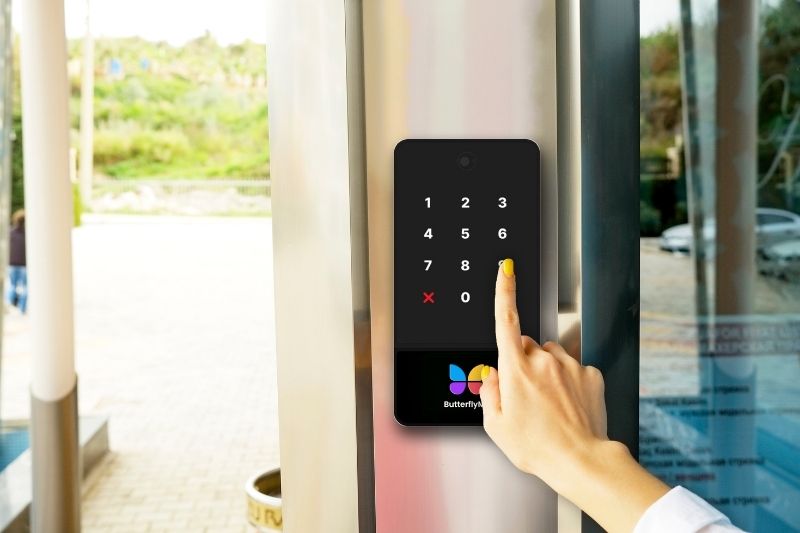 Managing a front door keypad entry system
If your building has a keypad entry system, staff must be able to add and remove users from the system, update access permissions, and set times during which the keypad can be unlocked.
Generally speaking, there are two types of keypad systems: analog and cloud-based keypads. Cloud-based systems are much easier to manage and update than analog keypads.
Analog vs. cloud-based keypads
Managing analog keypads requires time-consuming manual work. If you want to add a PIN number or remove a user from the system, you'll have to go onsite and make those changes within the keypad itself. In some cases, you may have to punch in a 'command number' to change settings. And if you enter the wrong number, you'll have to start over. If you've installed multiple keypads at doors or gates throughout your property, this could take forever!
That said, some keypad systems come with software that you can install on a computer, saving you the hassle of manually programming each keypad device. So, any change you make using the software is pushed out to all keypads automatically. But there's one big downside: You can only install the software on one computer, and only one staff member can use it at a time.
So, the best keypads are cloud-based. Cloud-based keypads store data in the cloud, which means you can manage the system from anywhere on any device. With a cloud-based system, you can update access permissions and add or remove tenants from a smartphone, tablet, or computer at any time.
Using a smartphone-based keypad
Smartphone-based keypads give residents more ways to open the door. It's also easier for staff to make changes to a smartphone-based system.
Residents enjoy smartphone-based keypad systems because they can use an app on their phones to unlock doors in addition to a PIN code. The best apps come with "swipe-to-open" functionality that lets residents unlock keypad-controlled doors with one swipe of a finger. Residents can also use the mobile app to generate temporary access codes that they can send to visitors by text or email.
Also, smartphone-based keypads run on the latest technology. They're usually cloud-based, allowing staff to manage the system on the go. Staff will appreciate the fact that changing keypad settings from a smartphone app or laptop is much easier than doing it manually.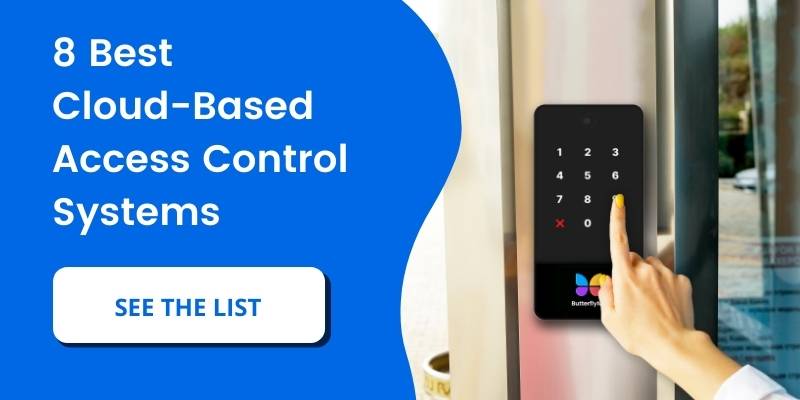 Choosing the best keypad door entry system
If you want to install a keypad system in your building, make sure you choose one that's easy to install while enhancing security and convenience.
The best keypad door entry systems have these three attributes:
1. Mobile app
Keypads that come with mobile apps are more convenient and provide residents and staff with a wide array of features. Some keypads allow users to unlock doors with one swipe on their smartphone, which is convenient for letting in delivery couriers and service providers when a resident isn't home.
Look for a system with a mobile app that allows tenants to generate temporary access codes that residents can send to their visitors. Residents can set these codes to expire after a certain amount of time has passed, which is perfect for granting one-time access to a delivery courier.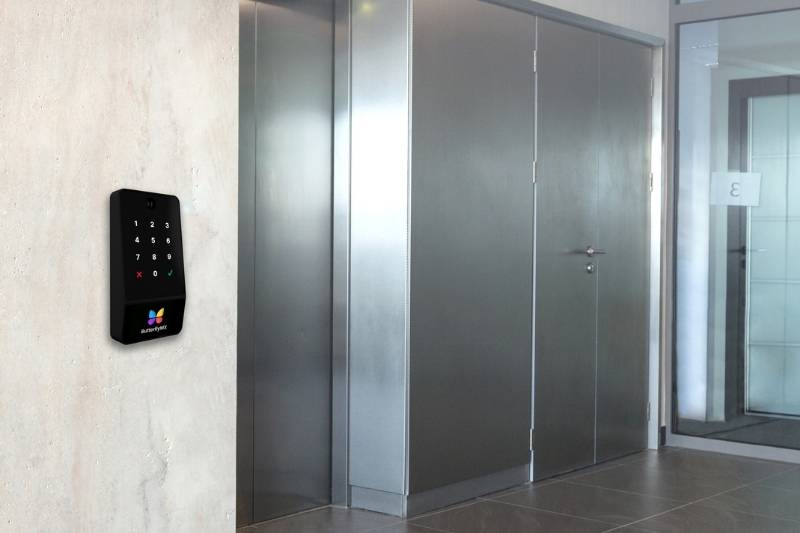 2. Cloud-based
Cloud-based keypads are ideal because they're easy to update on the go.
Before cloud-based software, keypads had to be managed on-site. In fact, a staff member who wanted to change a setting on a keypad had to physically go to each device and interact with its clunky interface. This is a long and tedious process.
In contrast, you can manage a cloud-based keypad from anywhere, and on any device. Not only is this more convenient, but it's more secure since you can instantly revoke access permissions or add a new user to the system even if you're not onsite.
3. Integrations
While keypads are convenient, they aren't the perfect solution to control access at every entrance throughout your property. Notably, a keypad entry system doesn't have visitor management capabilities. In other words, there's no way for a resident to have a real-time conversation with a visitor requesting access.
To ensure a simple access experience for tenants and visitors alike, choose keypads that integrate with other access control devices, like video intercoms.
The best keypad door entry systems also integrate with property management software. This ensures your keypad system is always up-to-date with the latest changes to your rent roll.
Takeaways
Keypad door entry systems are a powerful, versatile access control solution — especially if you choose smart keypads with a mobile app and cloud-based software.
While you may not want to install a keypad door entry system at your front door or gate, they're an ideal solution for auxiliary entrances, garages, amenity rooms, and other shared spaces.