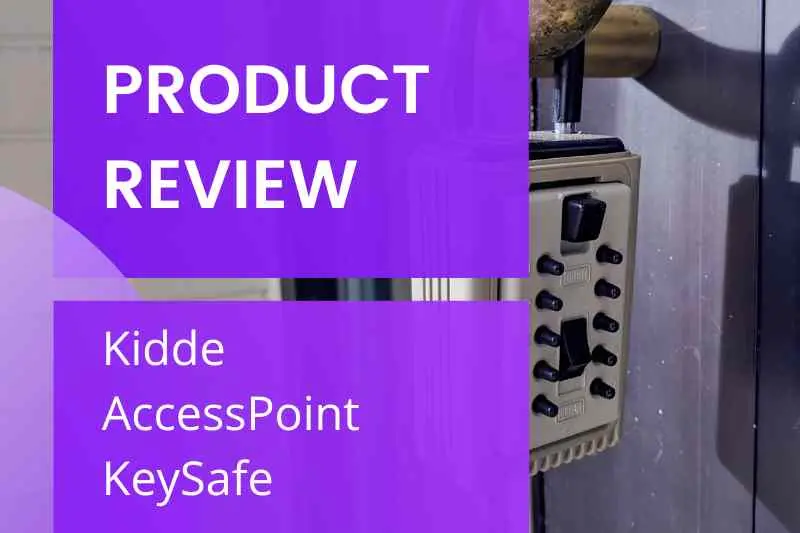 Key takeaways
Kidde was founded in 1917 and it's since become a leader in fire safety.
The Kidde AccessPoint KeySafe has several designs that can be installed on any kind of door knob, gate, or fence.
What's more, combinations on the Kidde key lock box can be changed at any time for increased security.
Using a key lock box or key safe is a necessity to provide modern amenities to tenants and prospects. So, whether you want to allow prospective tenants to take a self-guided tour, leasing agents to show a future tenant an office or residence, or a service worker to have convenient access to your property, a key safe is a reliable option. In fact, one key lock box you've likely encountered is the Kidde Key Lock Box.
In this product review, we cover features, pricing, and pros and cons of the Kidde AccessPoint KeySafe. Additionally, we go over some robust alternatives.
This post covers:
About Kidde
Kidde was founded in 1917 as a smoke and carbon monoxide detection system. Today, Kidde is the world's largest manufacturer of fire and other safety products.
Kidde's mission is to protect people and property.
Based in Mebane, North Carolina, Kidde is a part of the larger Carrier Corporation, an HVAC and fire safety company based in Palm Springs, Florida. Further, they've established a stellar reputation with their customers, including the military, airlines, firefighters, and industry leaders.
In addition to fire safety, smart alarms, and smoke and carbon monoxide alarm products, Kidde sells a variety of key security products.
About Kidde key lock box
Kidde's key security products include the Kidde AccessPoint KeySafe, also known as the Kidde key lock box.
In fact, Kidde offers three different AccessPoint KeySafe models to fit every need:
A permanent mount
A traditional portable lock box
Over-the-door mounting
So, whether you're looking for a small, innocuous key safe or a larger industrial device, there's a Kidde AccessPoint KeySafe option for you.
What's more, tying up staff members all day waiting for maintenance or gaining access to a locked amenity are all things of the past with a Kidde key lock box.
Features
Kidde key lock boxes offer features unique to the three different AccessPoint KeySafe designs.
So, let's take a closer look at the exclusive features of the three models:
Kidde AccessPoint 001166 KeySafe Original 3-Key Portable:
Opened by a 10-digit combination code that can be updated when necessary.
Additionally, cleaning staff, gardeners, and swimming pool maintenance people get easy access to enter the gates.
Available with either a pushbutton or a spin-dial lid.
Furthermore, built to last from tough zinc alloy.
Kidde AccessPoint 001015 KeySafe Original 5-Key Permanent, Pushbutton:
Allows key storage in one central location when separate keys are needed to enter several different areas.
The permanent design attaches to any wall and holds up to five keys. Further, it's large enough to hold key cards.
Designed to accommodate many different users.
Kidde AccessPoint 001017 Over-The-Door Mount Pushbutton KeySafe:
Can be placed over the top of a door when the padlock design doesn't fit.
Provides easy access to pool service, cleaning personnel, and household maintenance.
Finally, the combination can be changed whenever necessary.
Kidde key lock box pricing
The cost of Kidde key lock boxes varies according to model and features, but they range in price from $11.99 to $87.99.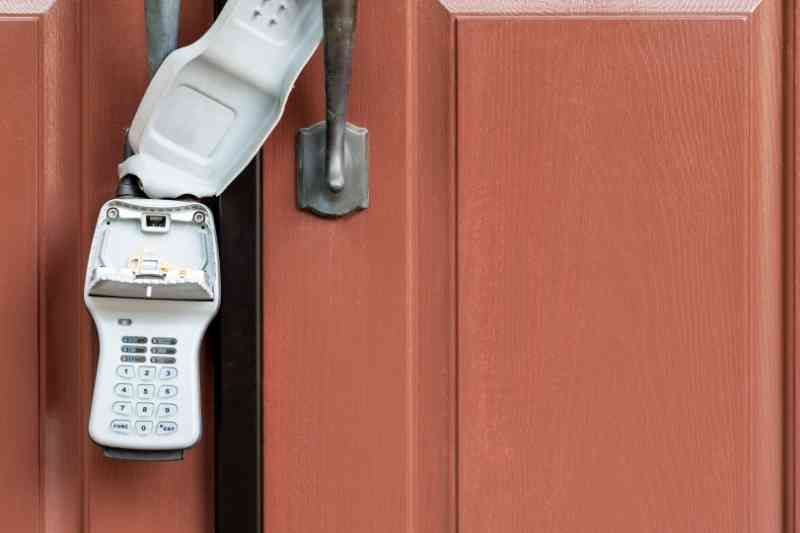 Pros & cons
Pros:
Users can change the combination of the pushbutton lock when needed. Up to 10 digits are available.
The letter dial on the device lets you choose and change alphanumeric codes.
When the padlock style doesn't fit, place your KeySafe Over-the-Door Mount Pushbutton over the top of your door.
Lastly, they're constructed of tough zinc alloy.
Cons:
It can be challenging to program.
Also, there is limited key storage capacity.
Further, combinations must be changed manually and onsite.
Additionally, there is no integration with smart locks or larger access control systems.
Alternatives to Kidde key lock box
The Kidde AccessPoint KeySafe is a reliable key lock box option. However, it's not the only option.
When comparing key lock box options such as the MasterLock 5300D Portable Lock Box and the WordLock Key Lock Box you should consider their additional capabilities. These may include the ability to connect to smart access control systems and to be camouflaged to prevent theft.
However, a more robust alternative to key lock boxes overall is a key locker.
Key lockers offer the convenience of a key lock box on a larger scale. They accommodate several keys at once. What's more, each key gets its own compartment and can be controlled remotely via a mobile app.
Comparison of Kidde AccessPoint Key Safe to ButterflyMX key locker
The Kidde key lock box is a great option if you're looking for a non-electronic, no-frills key storage option. However, it lacks the sophisticated features offered by a smart key locker system.
In contrast, the ButterflyMX key locker offers convenience without compromising security. For example, the key locker has multiple compartments for safe key storage and retrieval by guests, tenants, and property staff. In addition, each compartment has its own unique code that can be changed at any time in the ButterflyMX app for optimal security.
Discover how to assign a ButterflyMX key locker compartment:
Kidde AccessPoint Key Safe vs. ButterflyMX
Kidde key lock boxes have been proven durable and long-lasting, providing secure key storage. However, they don't offer the high-tech, large-capacity, and convenient key storage of the ButterflyMX key locker.
| Feature | ButterflyMX key locker | Kidde AccessPoint KeySafe |
| --- | --- | --- |
| Built-in camera for added security | Yes | No |
| Accessible via smartphone or computer | Yes | No |
| Independent electronic locking mechanisms | Yes | No |
| Multi-compartment key storage | Yes | No |
| Easy to install | Yes | Yes |
| Facilitates self-guided tours | Yes | Yes |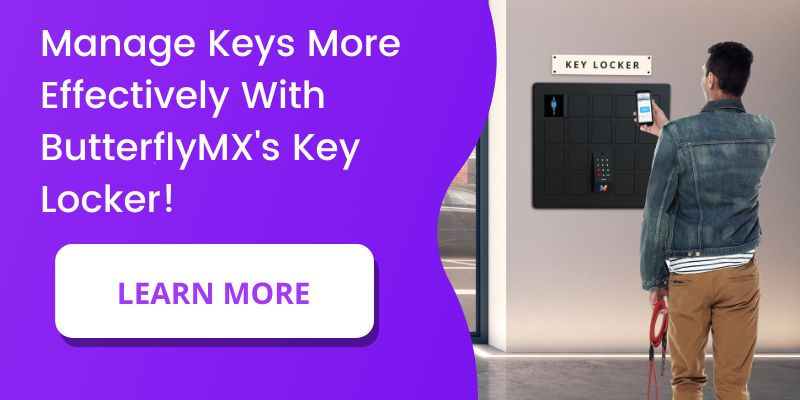 Disclaimer: ButterflyMX provides these blog posts to help our customers and potential customers make the right business decisions for them. Our blog posts are based on the information we have available to us at the time of writing.