With the right cloud-based access control system, property owners and managers have the power to control access within their buildings from anywhere. From a smartphone or laptop, you can adjust access permissions, add or remove tenants, and assign credentials — without ever stepping foot on site.
But with so many access control systems out there, how do you know which one to choose? Lenel S2 access control systems have been on the market for over two decades, but are they the best fit for your building? Let's dive in.
This review covers: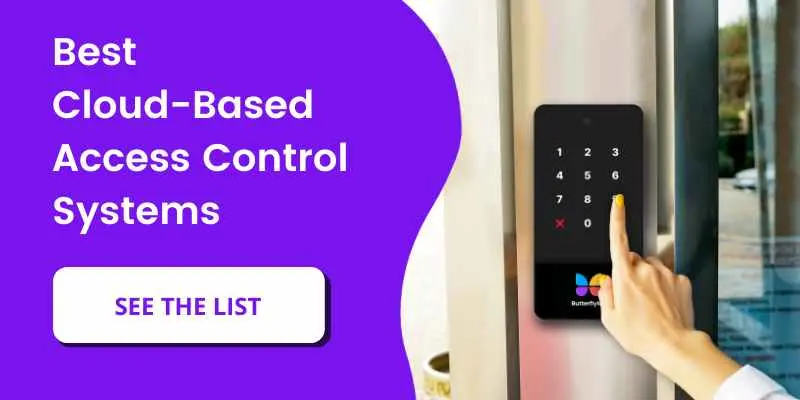 About LenelS2
Founded in 1991, LenelS2 is a part of Carrier, a global HVAC, refrigeration, fire, security, and building automation technologies provider. Lenel focuses specifically on physical security solutions, including access control, video surveillance, and mobile credentialing.
Today, Lenel S2 continues to expand. The company now offers a wide variety of access control systems, from their original Netbox to more "all-inclusive" products such as Blue Diamond and Elements, its cloud-based access control system. In addition to access control solutions, Lenel S2 also offers video management and software integrations.
The company primarily provides solutions for commercial real estate, education and healthcare facilities, manufacturing, and government organizations, as well as the occasional multifamily or mixed-use property.
How Lenel S2 Elements access control system works
One of S2's main selling points is accessibility. Since its system administration platform is web-based, there's no software to install or license fees required. So, building admins can manage the system from any web browser, even off-site.
Lenel S2 access control system product lines include:
OnGuard: The OnGuard line is a physical access control system that integrates with a variety of other systems your business may already be using.
NetBox: The NetBox line allows building admins to manage access through a web browser. NetBox access control systems integrate with the company's NetVR and VRx video management systems.
Elements: The Elements system is the company's cloud-based access control and video management line. It's ideal for small or medium-sized businesses.
S2 systems handle distributed processing through proprietary Nodes. S2 Netbox Nodes are the control panels that connect to key fob and card readers and locks. With Nodes, the Netbox system becomes scalable — you can connect several Nodes to a Netbox, and connect multiple Netboxes to each other for a properly scaled, customized system.
S2 customers enjoy a variety of integrations and connections with third-party products, including card readers, controllers, video monitoring systems, video intercoms, and more.
Watch how ButterflyMX works:
Review of Lenel access control systems
Lenel S2 offers cloud-based software to pair with its access control and video monitoring systems. From one dashboard, building admins can monitor and administer systems using any device. The company's cloud-based line is called Elements.
Features
Internal integrations: Lenel's Elements line integrates with its OnGuard access control system, ideal for enterprise businesses.
Third-party integrations: You can integrate your S2 access control system with other proptech, including visitor management systems, intercoms, video security services, and more.
Web-based: The interface is based entirely online, allowing you to access it from anywhere with an internet connection.
Customizable monitoring displays: Adjust settings so you're monitoring what you want, when you want.
Event and alarm management: Full-scale event management including event logging, notifications, and escalation tools.
Mobile app: Lenel S2's mobile app enables mobile security management, mobile credentials, and more.
Video monitoring: View live video of entry events or watch past recorded video, which is stored by date and time in the web portal.
Lenel access control pricing
There's no pricing listed on the LenelS2 website, but third-party sites estimate the cost of Lenel access control systems to start at around $1000 per door without installation costs. To cover the wiring and installation for each system, you may need to spend another $2000 to $3000 on labor and materials.
Pros & cons
Pros:
Scalable to virtually any level: Companies and buildings of all sizes can find a customized solution from S2.
Global availability: LenelS2 has an international presence.
Cloud-based options: When you opt for LenelS2's cloud-based solution, Elements, you enjoy the benefits of off-site data hosting and convenient system management.
Web-based management: You won't have to download software or licenses to use the system.
Cons:
No visitor management solutions: With a Lenel access control system, you may not be able to offer visitors a way to request access.
No integrations with identity providers: S2 may not integrate with identity providers you might already be using, such as G Suite or OKTA. As a result, you may have to manually remove or add users to the access system even if they've already been removed or added to the identity provider system.
Complicated offerings: LenelS2's access control products and solutions may be complicated and may not be user-friendly. You may need technically qualified staff to choose, manage, and administer the system for your building.
Should you get a Lenel access control system?
Lenel S2 access control systems have the backing of a long-standing company and a large customer base. The company offers a variety of physical security solutions for clients of all sizes, from small businesses to Fortune 500 companies.
However, Lenel S2's access control systems aren't all designed for the cloud. On their own, most systems are an on-premise access control solution that requires an onsite server and staffing to manage them. To enjoy cloud-based management, you'll need to spring for S2's cloud-based line, Elements.
So, if you're looking for a comprehensive solution for a large organization with multiple buildings and high-security needs, S2 might be a viable option. But their solutions may be difficult to parse, and they may not offer the convenient features that other access control solutions deliver.
Additionally, LenelS2 appears to focus more on commercial property access and industries such as government and healthcare, not apartments and multifamily. So, if you're looking for an apartment access control system, Lenel may not be the best fit.
Alternatives to Lenel S2 access control
Is the LenelS2 Elements cloud-based access system the best choice for your business or building?
An alternative such as ButterflyMX may be the better choice because it offers completely cloud-based software, remote management, and smartphone-based access. Additionally, ButterflyMX delivers a unified property access solution that extends from the front door or gate throughout the property — and even manages access for visitors.
Guests, staff, and tenants alike benefit from ButterflyMX's video access control system, consisting of:
A video intercom at the property's front entrance so visitors can easily request access from front desk staff or even a specific tenant. Plus, tenants and staff can see who they're letting into the property thanks to a camera with a 156° view, maximizing security. Additionally, the intercom is weatherproof and vandal-resistant and has 5GHz WiFi.
Card readers or keypads at various access points within the property create a keyless entry experience — meaning tenants can use a PIN, key card, or even their smartphones to navigate the property.
Elevator controls so that visitors can easily access elevators for a certain amount of time and get to the correct floor of the tenant they're visiting.
A vehicle reader at the property's front gate or parking garage, which utilizes RFID technology and enables tenants to seamlessly enter the property with just a windshield sticker placed in their car.
LenelS2 vs. ButterflyMX
An access control system should simplify access and make your job as a property owner or manager easier. S2 access control systems may improve security and ensure only authorized people access the right spaces. But they may not be the right fit for buildings that want a simple, user-friendly, and completely mobile access experience.
In contrast, ButterflyMX delivers a system that maximizes security with video and enhances access for anyone who enters your building.
| Feature | ButterflyMX | Lenel S2 |
| --- | --- | --- |
| Visitor access | Yes | No |
| Apartment & multifamily usage | Yes | No |
| Remote access capabilities for tenants | Yes | No |
| Built-in camera | Yes | No |
| Mobile app | Yes | Yes |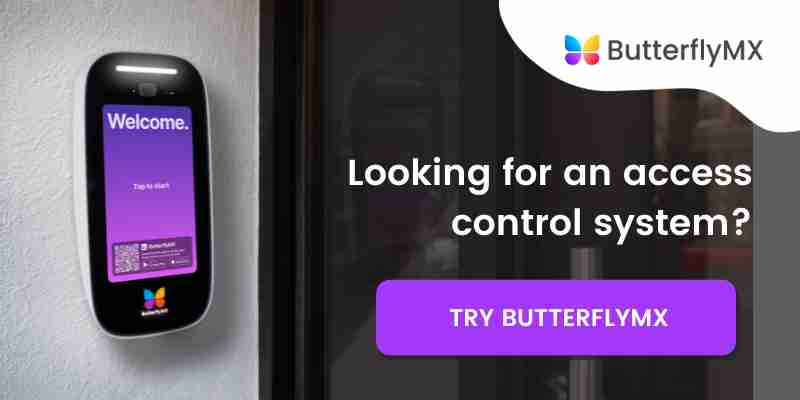 Disclaimer: ButterflyMX provides these blog posts to help our customers and potential customers make the right business decisions for them. Our blog posts are based on the information we have available to us at the time of writing.