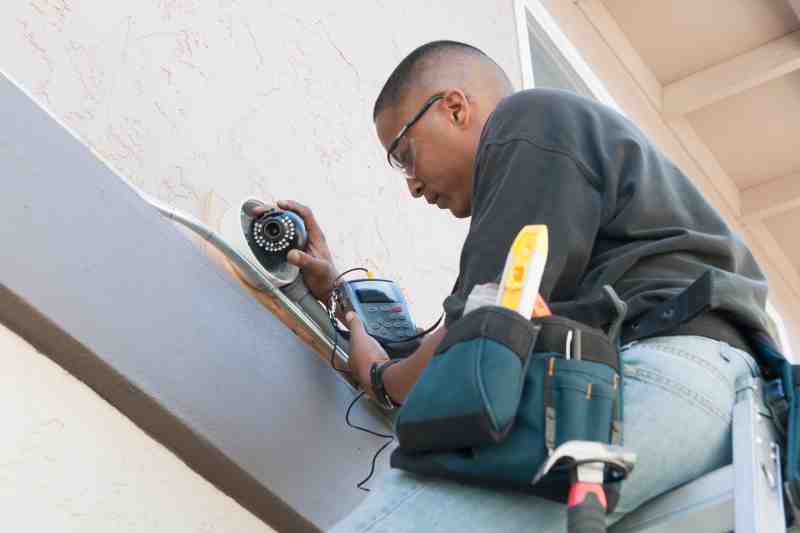 Having practical security measures at your building is an essential responsibility of a property manager or owner. Effective security camera installation is a great way to boost physical security at your building while deterring unauthorized access to your property.
Read on to learn how much security camera installation costs. Then, explore the benefits and drawbacks of installing wired and wireless security cameras. Finally, discover an alternative to security cameras.
In this post, we cover:
What is the average cost to install a security camera?
The cost for security camera installation usually ranges from $20-$400 for the equipment itself. Indoor camera installation typically costs around $100 per camera, and outdoor camera installation usually costs $200 or more per camera. Additional services like professional monitoring and video storage also result in higher rates.
Security camera installation costs can also vary depending on the number of cameras, as well as the type of cameras being installed. For example, cameras with special features like motion detection cost more than standard security cameras. Research reputable security camera installation companies in your area for the best quote.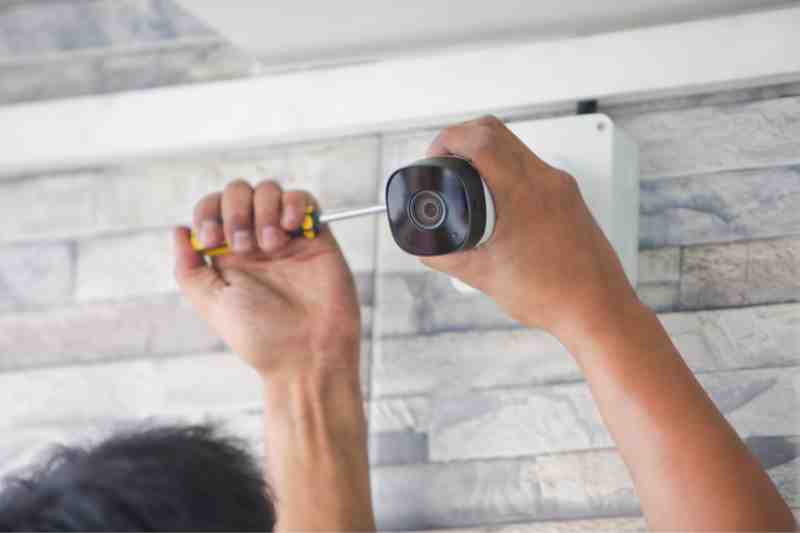 Can you install security cameras yourself?
It's not recommended to install a security camera system yourself, especially if you have a large multifamily or commercial property. The security needs of large buildings must be assessed by a certified installer for security cameras to guarantee the best quality installation.
Additionally, a security integrator or consultant can help you better assess your building's needs and determine what kind of cameras are ideal for your building.
Discover how to become a ButterflyMX installer:
What's the difference between a security camera and a surveillance camera?
CCTV security cameras are visible and are designed to deter crime, whereas surveillance cameras are typically hidden and are used for monitoring purposes.
Determining which kind of cameras are best for your building depends on your property's security needs, as well as the location of the building itself. If your property is situated in an area with higher rates of crime, theft, and vandalism, then professional security system installation can go a long way to deter individuals from trying to gain unauthorized access to your building.
What type of outdoor security camera is best?
The best outdoor security cameras are of industrial quality with an IP64 weather rating or higher. Outdoor security cameras should always be weather-resistant to prevent the likelihood of them malfunctioning under extreme weather conditions.
Additionally, outdoor security cameras should have a wide lens range so that the camera captures all activity with minimal blind spots. With this in mind, outdoor security camera installation can go a long way to protect your building's assets, as well as ensure safety for your residents and staff. This is especially crucial for large buildings with a lot of daily foot traffic.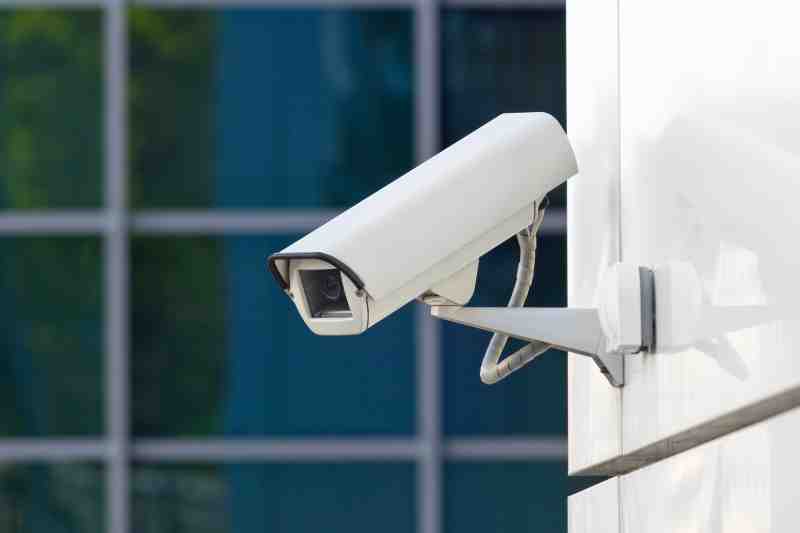 Wired vs. wireless security cameras
 There are several differences between wired and wireless security system camera installation.
Here are the most notable ones:
Wired security cameras
More reliable. Wired cameras are more reliable than wireless cameras because they don't rely on an internet connection to transmit the footage that they capture. So, you won't have to worry about your cameras not working due to poor connection or internet outages.
Uses cables. Wired cameras are connected by a power source through a cable.
Slightly higher costs. The cost of security camera installation for wired cameras usually ranges from $100-$500 per camera.
More secure. Wired security cameras are still effective even if your network goes down because they use backup power sources like batteries. They're also more difficult to hack than wire-free cameras.
Consistent video quality. You won't have to worry about blurry or pixelated footage due to bandwidth fluctuations.
Should be installed professionally. Wired security cameras should be installed by certified installers or integrators to ensure that they work properly.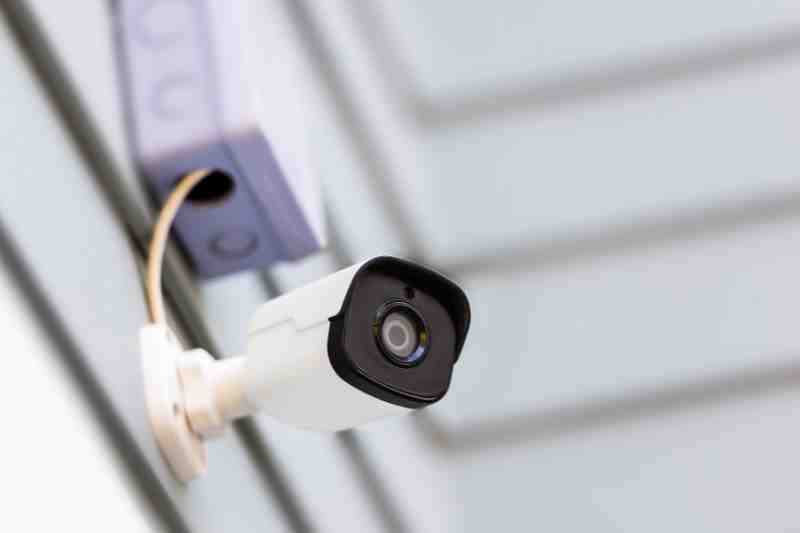 Wireless security cameras
Powered by WiFi. Wire-free cameras connect to the internet over WiFi and are powered by batteries.
Slightly lower costs. Wireless cameras range from $100-$400 per camera.
Not as reliable. These cameras may provide lower-quality video footage if your building is experiencing bandwidth issues. This significantly reduces the efficacy of the cameras because you may not be able to identify an unauthorized person if the footage is blurry.
Lack of security can cause privacy concerns. Wire-free security cameras have a higher risk of being hacked, which can compromise security for your entire building.
Benefits and drawbacks of security cameras
There are many pros and cons to consider before investing in security camera installation at your business.
Let's start with the benefits of security cameras:
What are the advantages of security cameras?
Deters crime. Security cameras are visible to everyone at your property, so this helps deter unauthorized visitors from entering your property since they know they're being recorded.
Monitor your property. Security cameras offer 24/7 monitoring for your property, so you always stay in the know about who's coming and going.
Keep records. Security camera systems usually come with professional storage services that allow you to access footage easily. So, if there is a case of vandalism or a break-in, you can easily access that footage to determine the culprit.
Video evidence. If someone manages to break into your building, you'll have video evidence that you can submit to the appropriate authorities.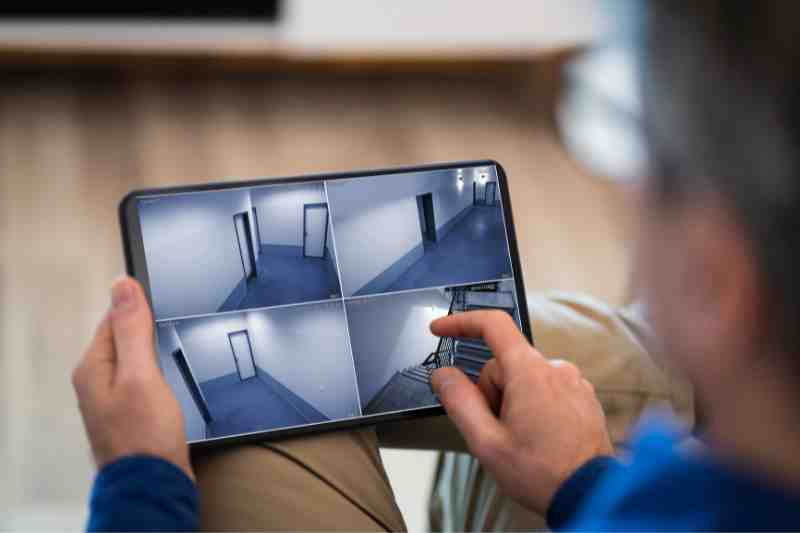 What are the disadvantages of security cameras?
Can be costly. High-quality security camera installation can cost thousands of dollars depending on the type of cameras you have, the number of cameras at your property, as well as the professional monitoring and video storage services.
Vulnerable to damage. Unauthorized users may attempt to damage the cameras at your property to prevent being caught on camera.
Won't stop theft. Security cameras go a long way to deter theft, but they don't prevent it entirely. So, your property might still be at risk.
Privacy concerns. Security cameras record everything, even authorized residents, guests, and staff members at your building. So, residents and staff members may have privacy concerns about being recorded. What's more, wireless cameras are susceptible to being hacked.
An alternative to security camera installation
Consider upgrading and replacing your security system at your building with a video intercom.
The ButterflyMX video intercom has a built-in camera that empowers you to monitor who's entering your building and when. What's more, it's a modern access control solution that allows you to grant or deny access to your building remotely. So, there's no need for you to be physically onsite to manage access at your multifamily or commercial building.
What's more, the ButterflyMX video intercom takes a time- and- date- stamped photo of everyone who enters your property. So, if an unauthorized person does manage to enter your building, you can submit this evidence to the appropriate authorities.
Takeaways
The cost of security camera installation can range from $20-$500 per camera.
It's crucial to hire a certified security camera installer to place the cameras at your property.
Wired security cameras are more reliable with lower privacy concerns since they're less susceptible to being hacked than wireless options.
Outdoor security cameras can be costly and are usually more vulnerable to damage if unauthorized individuals try to break them to avoid being recorded.
A ButterflyMX video intercom offers 24/7 monitoring and is an access control solution that allows you to manage access permissions from anywhere.