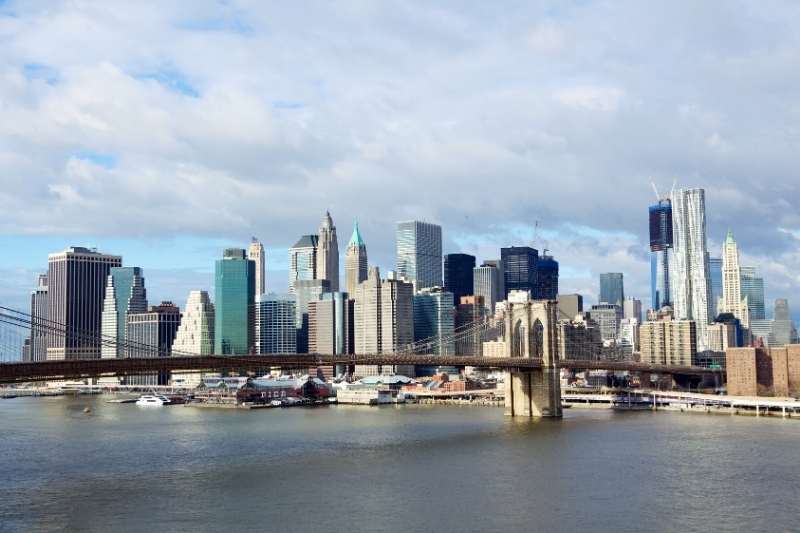 Whether you're upgrading your outdated apartment buzzer or selecting a building entry system for a new development, choosing the best video intercom system and installer in NYC isn't easy. You need to consider your building's needs, the features of each intercom, and the company that is installing it.
Buildings throughout the city, from Manhattan to Brooklyn, benefit from the convenience, security, and affordability the right video intercom provides. Additionally, modern entry systems have become the standard for new developments throughout all five boroughs of New York City.
But before you start shopping, read this three-step guide to buying and installing a video intercom system in NYC. We outline how to choose the right intercom for your unique building and how to hire the best installer for the job.
The three steps: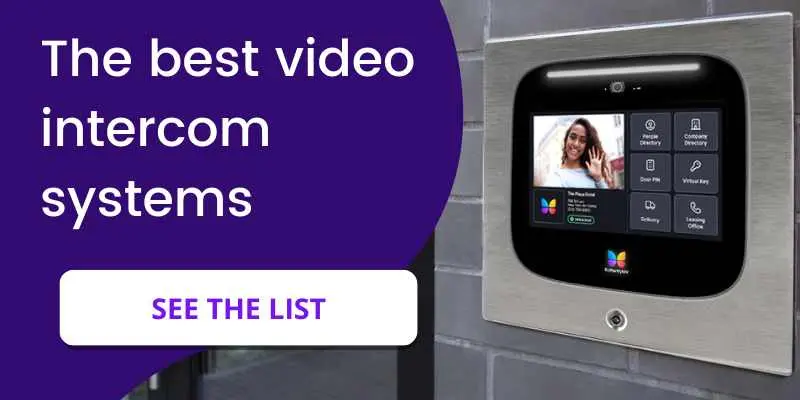 Step 1: Consider your building's needs and the type of installation
Apartment buildings in New York City run the gamut from small boutique walk-ups to large multi-building high-rises. The good news is that video intercom systems work in all kinds of buildings.
Since audio-only intercoms and buzzer systems no longer meet the demands of today's residents, your building needs an intercom with video. Your residents do everything on their smartphones — and many modern intercoms let them manage property access from their phones, too.
In NYC, video intercoms are a wise investment because:
Many come with a mobile app, which lets residents open the door and answer video calls from anywhere.
They maximize security by ensuring residents can see and confirm who's requesting access before letting them in.
You can use them in place of or in addition to a doorman or front desk.
They integrate with other access control products and smart building solutions.
They give delivery carriers a way to access your building, preventing package theft while ensuring your residents never miss a delivery.
But before purchasing a video intercom in New York City, consider its installation requirements. For example, does it require wiring throughout the building, or is it wireless? Will you have to install hardware in every unit, or can residents use their smartphones instead?
Finally, consider the type of project you're working on. Make sure the video intercom you purchase can be retrofitted or added to your development plan easily.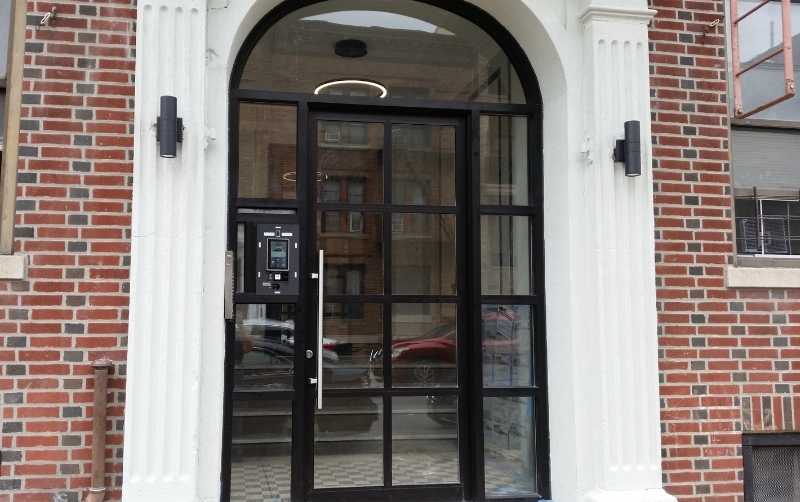 Video intercoms for new developments in NYC
If you're developing an apartment building in New York, budget is top of mind for you. Your goal is to spend efficiently. Video intercoms undoubtedly add value to your building, but you need to choose a cost-effective system that maximizes your ROI.
That's why you should choose a system without building wiring or in-unit hardware. This ensures a fast and affordable installation.
Installing a cloud-based video intercom that uses residents' smartphones instead of the in-unit hardware of traditional apartment buzzers cuts installation costs significantly. Wireless video intercoms are also far cheaper to install than telephone entry systems that require phone wiring and a phone plan.
Retrofitting a video intercom system in NYC
If you're a property owner or manager tasked with replacing a broken or outdated intercom, you need a video intercom system that's both cost-effective and attractive to current and prospective residents.
First, choose a video intercom system that you can retrofit in your building easily. The faster and more affordable the installation, the higher your ROI. Additionally, current residents will appreciate a quick and painless installation that doesn't interfere with their daily lives.
Of course, you'll also want a system that residents will actually enjoy and use. Smartphone-based video intercoms are attractive apartment amenities that boost retention rates and resident satisfaction.
Finally, one thing to keep in mind is New York City's intercom law. Familiarize yourself with the city's intercom requirements and how they apply to you. Then, make sure the system you choose complies.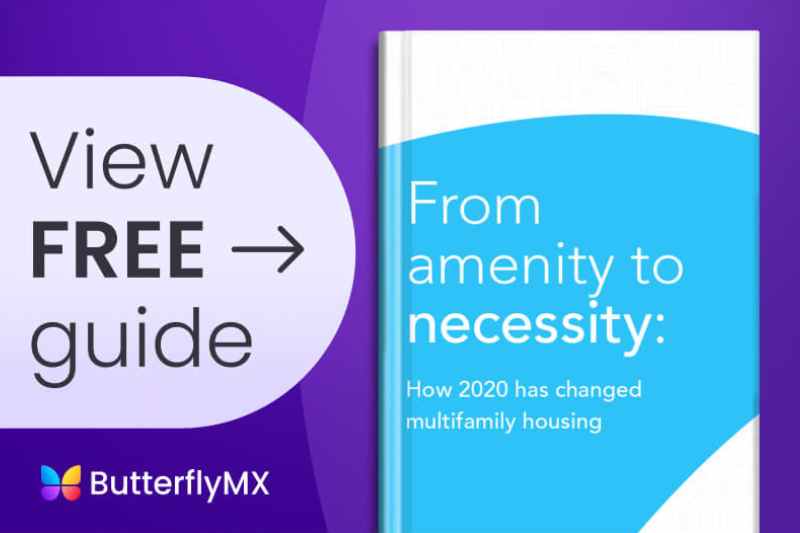 Step 2: Choose the right video intercom system
New Yorkers live a fast-paced lifestyle and crave convenience. Of course, security is crucial, too — especially in buildings without a front desk. That's why video intercom systems in NYC are a solid investment. Video intercoms help building owners and operators maintain security while providing convenient, seamless access for tenants, visitors, and delivery carriers.
That said, there are many video intercoms on the market. So, you have to weigh your options and select the best one for your property. Below, we outline the top five features to look for in a video intercom system.
Watch how ButterflyMX works:
Choose a video intercom system with these five features:
Cloud-based. Cloud-based intercoms enable both property staff and residents to manage access on the go. Property staff can update the resident directory and adjust access permissions from anywhere. Residents can answer video calls, grant access to visitors, and review their door entry logs remotely, too.
Mobile app. A great video intercom system needs a great mobile app. Check reviews of the system's mobile app in the Apple App Store and Google Play Store. If the app has bad reviews, steer clear of that intercom system.
Delivery and visitor management. Perhaps the greatest benefit of a video intercom in NYC is that it gives residents the power to open doors for visitors and delivery carriers from anywhere. Never again will your residents miss a visitor or a delivery.
Audit trail. Choose a video intercom system that takes a photo of every door entry event. This improves building security by providing an audit trail that property staff can review at any time.
Integrations. Make sure your video intercom integrates with other proptech solutions, like property management software, access control systems, and smart locks on unit doors.
Step 3: Hire the best video intercom installer in NYC
Even the best video intercom systems will cause problems if they aren't installed properly. An installer could void the intercom's warranty, cause damage to your building, or charge you for unnecessary services. That's why you need a certified installer.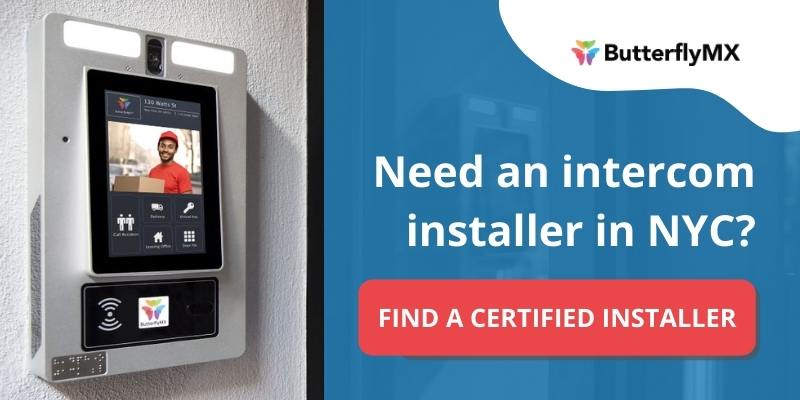 Intercom installation in NYC doesn't have to be a headache. By choosing the right installer for the job, you'll have your new intercom up and running with no hassle.
Generally speaking, you have two options:
A local specialist. Local specialists are individuals who can work with you closely for a more personalized experience. They can help you choose the right system for your building and are a great option for simple or moderately difficult installs.
A security integrator. Security integrators are companies — usually national — that have experience with particularly complex or comprehensive installation projects. They may be the better choice for high-caliber installs that cross multiple disciplines.
The best intercom installers in NYC are reliable, experienced, and reasonably priced. Ideally, your installer should have experience installing the type of video intercom you've purchased.
Here's how to choose the best New York City intercom installer:
Check online reviews. Do your research before hiring an installer. Check their website, social media, and third-party review sites (i.e., Google, Yelp, etc.) to see what others say about the company.
Ask for references. Any good installer can provide a few references. Request references from buildings similar to yours.
Request an on-site consultation. To get a sense of an installer's professionalism and attentiveness, request an on-site consultation. During the consultation, the installer can assess your property, make note of any potential complications, and provide a thoughtful recommendation and quote.
Improve your NYC apartment with a video intercom
A video intercom system in NYC undoubtedly benefits developers, owners, property managers, and tenants alike. Enjoying these benefits starts with choosing the right video intercom.
With headquarters in Manhattan, ButterflyMX knows the importance of access control in New York City. Our smart video intercom is a cloud-based system that delivers a mobile-first experience. With more than 7,500 installs and more than 7,000 five-star reviews, ButterflyMX is the most cost-effective way to manage access at your building.