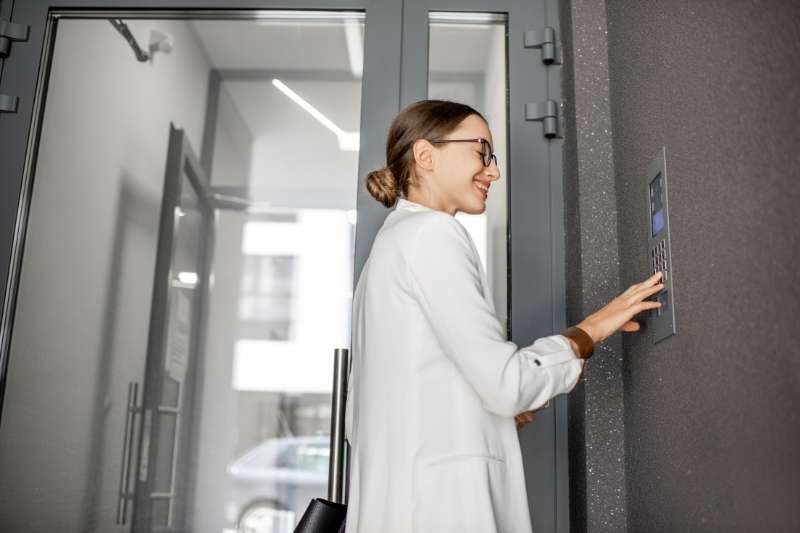 Managing the flow of people into a building is a high-wire act. Visitors, delivery carriers, staff, and tenants need to be able to quickly and securely access your property. To ensure you have the best possible access experience, you need a reliable door entry system. But what if you can't run wiring throughout your building to make the system work? Thankfully, there are now wireless door entry systems that eliminate the need for building wiring — saving you time, money, and hassle.
So, is a wireless door entry system the right solution for your property? Read on to find out. In this post, we'll explain how these systems work. Then we'll demonstrate how wireless systems are better than wired ones.
This post covers:
What is a wireless door entry system?
A wireless door entry system is a type of access control system designed to manage entry into buildings. The system allows you to open doors remotely by sending wireless signals.
Wireless door entry systems require two components: a base station and a substation.
A base station is installed at the entrance of a building. Visitors seeking entry to the building use the base station hardware to request access to the property. Base stations are also connected to the door's locking mechanism, which releases the door when a tenant grants access to their guest.
Building tenants and staff interact with visitors using substations, which are devices that residents use to talk to guests and grant them property access. In most cases, a building will only have one base station and multiple substations.
As you can imagine, all types of multi-tenant buildings depend on wireless door entry intercoms. You can find them installed everywhere from office buildings to industrial facilities to apartments.
What's the difference between a wireless and wired door entry system?
The difference between a wireless and wired door entry system is the connection between the base station and substations.
Wired entry systems require physical wiring from the base station to each substation, which increases the installation costs. In contrast, wireless entry systems do not require any hardwiring between these devices. Instead, the devices communicate wirelessly.
Takeaways
Wireless door entry systems enable visitors to talk to tenants and request property access through a base station at the building entrance.
The base station is wirelessly connected to substations, which could be in-unit devices or tenants' cell phones.
Wireless door systems do not require wiring between the base station and substations.
Since you don't need to install wiring throughout the building, wireless entry systems are more affordable than wired ones.
Watch how ButterflyMX works:
How does a wireless door system work?
Wireless door systems work by sending wireless signals between substations inside a building and the base station at the building's entrance. Those wireless signals are sent via WiFi, cellular networks, or radio frequencies.
Here's how visitors and residents use a wireless door entry system for apartments:
A visitor seeking building access uses the base station at the property entrance to contact a resident.
The base station sends a signal to the resident's substation (either a cell phone or in-unit hardware).
The tenant answers the call and speaks with the visitor.
When the resident is ready to grant the visitor access, they press a 'door open' button.
Pressing the 'door open' button signals the base station's locking mechanism to unlock.
The visitor enters the building.
How is a wireless door entry system better than a traditional door entry system?
Whether you're seeking an entry system to install in a new development or retrofitting an existing building, you'll have to choose between a wired and a wireless system.
Here are a few reasons wireless door entry systems are better than wired ones:
Cheaper to install. Wired systems are notorious for costing thousands or even tens of thousands of dollars to install. Imagine ripping up walls or pavement, running wiring, and then patching them back up. Eliminating this wiring saves money on installation costs!
Easier to maintain. Maintenance for a wired system is just as frustrating as installation. If your system breaks down or a wire fails, you'll have to shoulder the costs of tearing down walls and putting them up again — and this time, you wouldn't even have anything new to show for it.
No need for in-unit hardware. Installing and maintaining hardware in every unit is time-consuming and expensive. With a wireless system, you don't need in-unit hardware — instead, residents can use their cell phones. Some wireless door entry systems even offer mobile apps so users can manage access from anywhere with just their smartphones.
More features. IP door entry systems with mobile apps use all the power of the Internet to their advantage. The best systems offer features like virtual keys and video calling.
The best wireless door entry system
Are you looking for a wireless entry system that delights residents, visitors, and staff while cutting down on overhead? Look no further than the ButterflyMX video intercom.
If you install a wireless door buzzer entry system with in-unit hardware, you'll save money by avoiding the cost of running wiring throughout your building. And with ButterflyMX, you'll cut costs even further by eliminating in-unit hardware altogether.
Our wireless video door entry system replaces in-unit hardware with residents' smartphones. From the ButterflyMX mobile app, residents can video chat with guests and grant entry with the tap of a finger. Our video intercom puts the power of access control directly into your residents' hands. And with integrations to popular property management software (PMS), our system's resident directory automatically updates when you make changes to your PMS.
As the best wireless apartment entry system, ButterflyMX improves security and convenience for residents. It also saves time for property staff, ensuring you can spend your time doing what really matters: focusing on the well-being of your residents.