When installing a ButterflyMX video intercom, you'll need to prepare the wiring before mounting the intercom to the wall or pedestal.
Follow these four steps to prepare the wiring:
Step 1: Ensure you're meeting the minimum wiring specs
When wiring the intercom, you'll first need to ensure you're meeting the minimum wiring specs:
Power: 18/2 awg <50'. Must be power conditioned by Uninterruptible Power Supply. For longer cable runs, refer to our wiring diagram for the appropriate cable gauge. Doubling up on wire gauge is not permitted.
Internet: Cat5e/6 < 300' to router/switch.
REX: Terminate to the access control system OR introduce an isolation relay with a 12vdc adapter to wire to electric or magnetic strikes.
Step 2: Assemble the Cat5e/6 ethernet cable
Assemble the Cat5e/6 ethernet cable. Make sure all of the wires are butted to the end of the cable jacket and that the cable jacket is up halfway.

Step 3: Prepare the intercom power cable
Next, you'll need to splice in the five-millimeter locking barrel connector if the distance of the cable run exceeds the length of the 24vdc transformer that ships with each video intercom. Use gel-filled connectors to prevent corrosive damage.

Step 4: Prepare the REX (request to exit) wire
Finally, prepare the REX wire that will connect the intercom's relays to the building's access control system. If there is no access control system, you will need to wire directly to the lock. This process results in an inductive voltage kickback, which necessitates an isolation relay and a diode (for dc-powered locks) or a resistor (for ac-powered locks).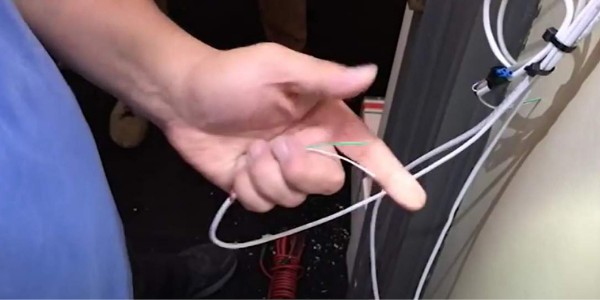 Be sure to check out our installer resources page for more information about wiring the ButterflyMX video intercom.