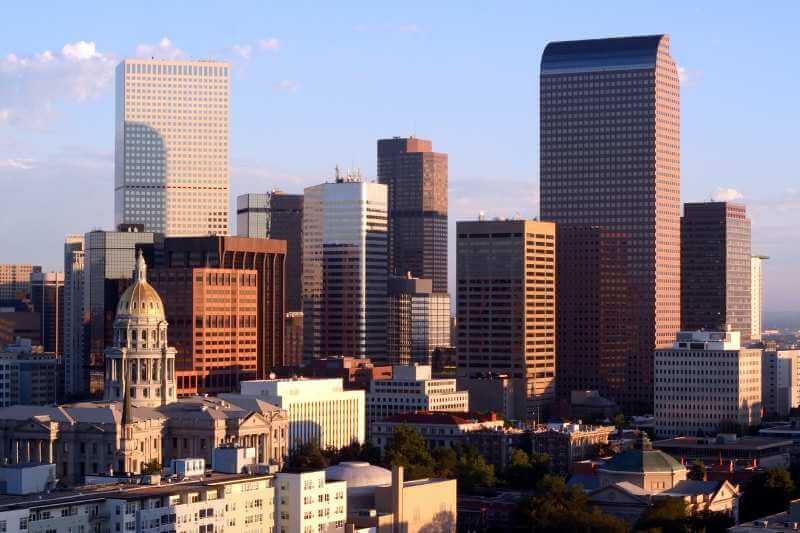 Denver is one of the fastest-growing cities in the United States, meaning the real estate industry will need to market toward a younger demographic with the right amenities. Denver access control systems are ideal technologies for any property because of the benefits they provide your staff and tenants.
But how do you choose the right access control in Denver when there are so many options? Well, this blog will detail how to choose the right system and which is best for your property. Plus, you'll learn what to consider for your type of property and who the best access control installers in Denver are.
This post covers:
Learn more about the ButterflyMX access control system: 
How to choose a Denver access control system
While every property in the Mile High City can benefit from access control, they may not have the same needs. Therefore, there's much to consider when selecting access control in Denver.
When looking for access control, consider:
Security concerns: Consider the threats you want to protect from when choosing an access control solution. Then, identify the number of entryways and areas you wish to secure. Once you've considered these aspects of your property, you can begin to understand the type of access control system you require.
Wired or wireless: Access control systems are either wired or wireless, both suitable for certain properties. Overall, wireless access control systems are the best choice because they're easier to install. Your installer won't have to run wiring throughout the property to individual units, so the project is completed much faster than a wired system.
Deliveries: Online shopping and food delivery have grown exponentially since 2020. So, your Denver access control solution should accommodate access for all those delivery drivers. The method in which this is handled varies on your property, but the best option is an access-controlled delivery room where couriers can drop off packages, and tenants can later grab them without staff assistance.
Access credentials: The last consideration for access control is the credential you want your system to use. Access control solutions can use various credentials, such as key cards, fobs, PIN codes, and even smartphones. It's up to you to select a credential best suited for your property. Ideally, select a system that supports multiple types of credentials for added convenience.
Property type: Access control systems are built to achieve the same goal, but they aren't implemented as a one-size-fits-all solution. Rather, they should be tailored to the needs of your property. For instance, an apartment building in Lakewood will use an access control system differently than an industrial facility in Aurora. So, ensure your access control system is capable of performing the way you want it.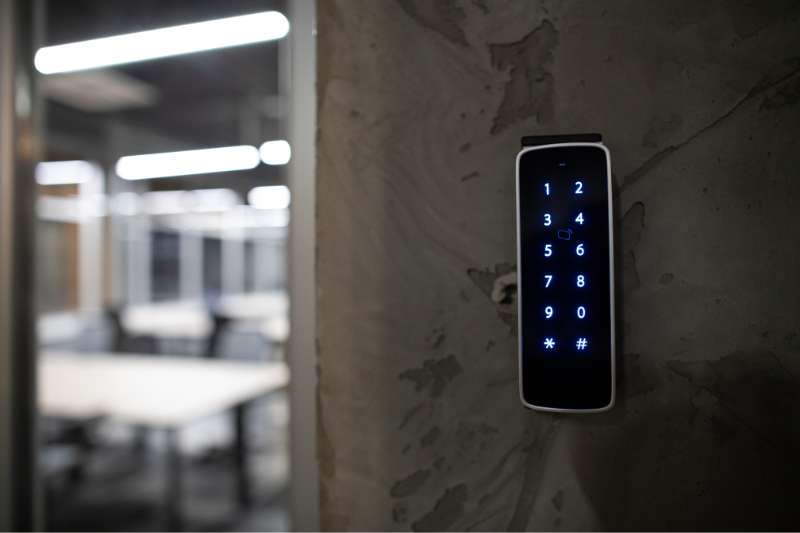 Properties in Denver using access control
All properties can benefit from access control, but how they're used will vary based on several factors. To get the most out of your access control in Denver, consider your property's unique qualities.
The properties that commonly use access control in Denver include:
Denver apartment access
Access control systems in apartment buildings effectively boost peace of mind among residents. By restricting access to the building, residents can feel better knowing they're safe and secure.
But it's also important your residents have an easy way to let in guests, delivery drivers, and service providers from their apartments. So, consider an access control system with a mobile app, allowing residents to remotely grant access to their visitors. With a mobile app and the right hardware, residents can see and speak to guests at the door before letting them inside.
Furthermore, apartment buildings can manage access to amenities spaces and administrative offices with keypads or card readers. In turn, residents can enter amenity spaces 24/7, and property staff can access their respective areas throughout the week.
Gated community access control
Gated communities face the unique challenge of restricting access to vehicles. An intercom system, keypad, or card reader are suitable solutions for getting residents through the gate quickly. However, vehicle readers and windshield tags can get your residents through the gate even faster without having to fumble for a credential.
Located at the gate, the vehicle reader scans the approaching car's windshield tag. If authorized to enter the property, the reader will send a signal to the gate to open before the vehicle reaches it. As a result, your residents enjoy hands-free access to the community.
Student housing access control in Denver
When housing students on your property, their safety is paramount. A mobile access control system won't only protect students but will also enhance their experience. Plus, students can quickly grasp and understand how a mobile access control system in Denver works because they use their smartphones for everything.
More importantly, you'll need a system that helps manage guests, as most students will want to have friends over regularly. So, a video intercom system at the main entryways allows students to receive access requests from their guests and let them in remotely. They'll feel safer because they'll have the chance to see and speak with guests before granting access.
Denver commercial access control systems
An access control system has a lot to offer commercial buildings ranging from downtown offices to Northglenn retail stores. While the uses may vary, commercial buildings benefit the most from keypads and card readers, limiting access to authorized personnel.
In the case of office buildings, a video intercom and elevator controls are effective additions. Your tenants can remotely grant access to their visitors or food delivery drivers without worrying they'll access other floors. Rather, the visitor may only access the floor of the tenant who let them in, reducing possible security risks.
Industrial facility access
Managing an industrial facility's many restricted areas requires a robust security system, such as an access control system. This system should support varying levels of clearance that are easily manageable from a desktop dashboard or a mobile app.
Most importantly, the access control system should connect to the facility's alarm systems and existing security solutions for convenience and safety. Thus, the access control system will release all door locks for personnel to evacuate as soon as possible.
The best access control installers in Denver
When looking for an access control installer in Denver, it's best to hire a certified installer for the system you want. This way, you'll enjoy faster installation and a valid warranty for your access control solution.
However, if you're unsure of the system you want, consider the five best access control installers in Denver below.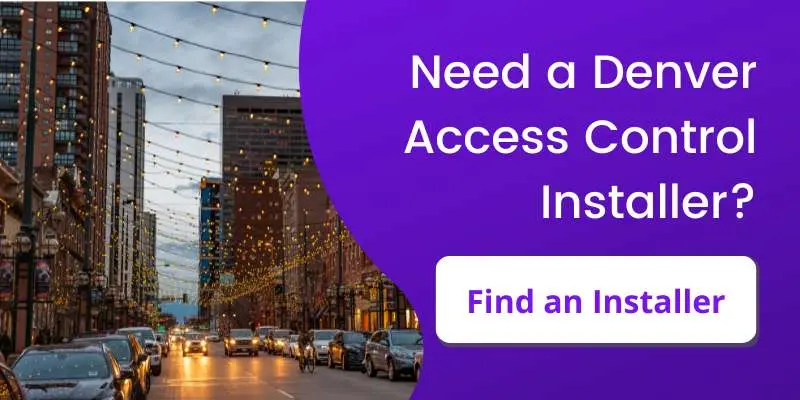 The best Denver access control installers are:
1. Security Surveillance System
Google Rating: 4.9/5 stars
Established in 2006, Security Surveillance System was established on a single principle: everyone deserves to feel safe and secure. Since then, the Security Surveillance System team has provided security solutions for properties all over the Greater Denver area, using only the most trusted brands and products available on the market.
Aside from access control, Security Surveillance System offers the following services:
Video surveillance
Burglar alarms
Home security systems
Commercial security systems
2. ProSec Integration
Google Rating: 5/5 stars
Serving clients from Fort Collins to Colorado Springs, ProSec Integration is committed to helping businesses protect people's lives, property, and resources. ProSec offers a variety of access control systems to meet your needs, ranging from cloud-based systems to video entry systems. Their keyless entry systems will help you save on locksmith costs while easily managing access across your entire property.
The services ProSec Integration also provides include:
Surveillance systems
Cloud-based video systems
Intrusion alarms
Fire alarms
Wireless alarms
Hard-wired alarms
24/7 monitoring
3. Big Horn Door Company
Google Rating: 4.2/5 stars
Big Horn Door Company is a locally-owned and operated door repair company with more than a decade of experience. Aside from door repair and installation, Big Horn offers services to help control who can enter your property. Big Horn Door Company offers customized solutions according to your property's needs. They install hardware ranging from keypads and magnetic locks to card readers and video entry systems.
Choose Big Horn Door Company for all your door-related needs:
Automatic doors
Revolving doors
Commercial storefronts
Hollow metal doors
Office doors
Fire and security doors
Emergency repair
4. Master Security Center
Google Rating: 3.8/5 stars
Established in 1940, Master Security Center offers a full suite of locksmith services, including Denver access control. By recommending and installing security products they believe in, Master Security Center is there to provide reliable and responsive services.
Master Security Center offers keyless entry solutions that limit employees to certain floors or areas, document arrival and departure times, and more. Above all, their team's primary focus is your satisfaction.
In addition to access control, Master Security Center offers many other locksmith services:
Safes
Security cameras
Door repair and installation
Emergency locksmith services
Alarm systems
5. Red Rocks Locksmith
Google Rating: 4.9/5 stars
Red Rocks Locksmith is a 24/7 mobile locksmith company serving the Greater Denver area. Their access control solutions span various types of systems, ranging from keypads and card readers to Bluetooth and biometric scanners. When you're looking to control access to your entire property, Red Rocks Locksmith has the solutions you're looking for.
As a locksmith service, Red Rocks offers a variety of security services:
Lockouts
Safes
Rekey locks
Metal key copying
Security cameras
Car locksmith services
Permiter controls and sensors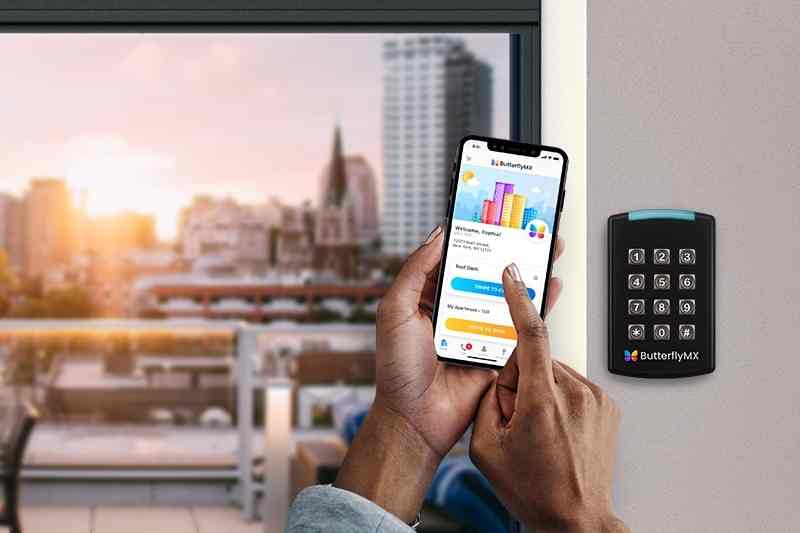 What is the best access control system in Denver?
The best access control system in Denver is ButterflyMX.
Established in 2014, ButterflyMX introduced the video intercom system, which has been installed in more than 10,000 buildings and 1 million apartments.
However, ButterflyMX has since introduced a unified access control solution ideal for apartments, offices, student housing, and more. No matter what part of your property you need to secure, ButterflyMX has the right solutions.
The ButterflyMX access control system uses the following hardware to control property-wide access:
Video intercoms
Package rooms
Keypads
Fob/card readers
Elevator controls
Vehicle readers
Windshield tags
Smart lock integrations
The ButterflyMX access control system is packed with features, such as:
Multiple entry methods: ButterflyMX supports multiple credentials, such as smartphones, PIN codes, fobs, and key cards.
Connectivity: All ButterflyMX products work together seamlessly, from elevator controls and video intercoms to package rooms and card readers.
Mobile app: Every ButterflyMX product can be managed through the ButterflyMX app on your smartphone and the web-based admin dashboard. That way, you or your staff can remotely manage users.
Video calling: The ButterflyMX video intercom supports video calls, giving tenants the peace of mind they need when letting someone inside. Rather than just hearing their voice, the video intercom shows them who's requesting access. Simultaneously, a time- and date-stamped photo is taken of the entry for you to view in the audit trail.
Vehicle recognition: For gated communities or parking garages, the ButterflyMX vehicle reader requires no work on the tenant's part. Instead, the vehicle reader scans the windshield tag when in range and grants access.
Takeaways
Access control is important because it protects real estate from internal and external threats that could harm property, people, or data.
When selecting an access control system in Denver, consider your property's security concerns, wired versus wireless systems, delivery needs, the credentials you want, and your property type.
The best Denver access control installers are Security Surveillance System, ProSec Integration, Big Horn Door Company, Master Security Center, and Red Rocks Locksmith.
In Denver, ButterflyMX is the best access control system because of the building-wide solution it provides.