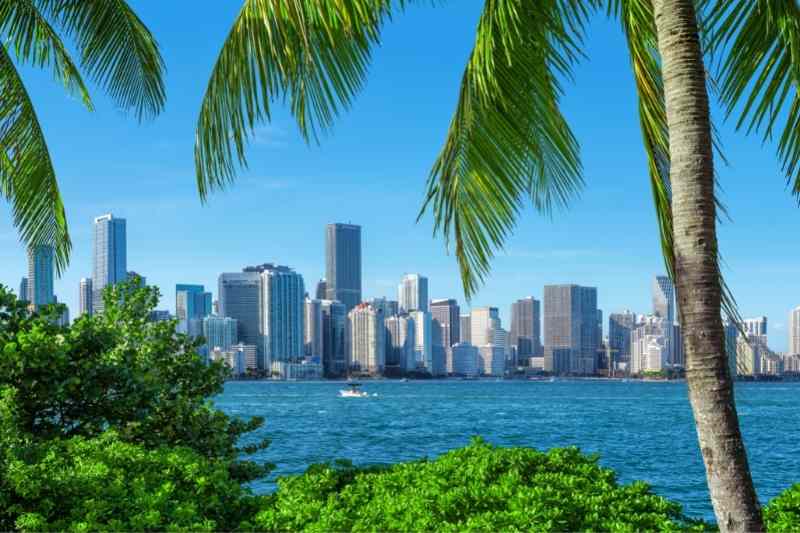 As a Miami property manager or owner, you know how much your city has to offer. With the right solutions, your tenants can focus on enjoying the vibrant culture of Miami instead of keeping track of keys and codes.
From Coral Gables condo buildings to Miami Beach parking garages, every property needs to balance easy access with security. Learn about the best access control systems Miami properties can count on to improve the access experience.
This guide includes:
Learn why WSS Integrated Technologies chooses ButterflyMX for its clients:
What does an access control system do?
Access control systems manage who can enter a property by checking credentials at the door or gate. There are many different types of systems that control access.
However, they all work in generally the same way:
First, staff and tenants are assigned a credential that they use to access the property. Then, users swipe, tap, or otherwise enter their credentials at the door or gate. If they're authorized to enter, the system unlocks the door or gate.
Some types of access control also offer visitor management features so delivery couriers and other guests can request access at the entrance.
If you need a solution to control access at your property in Miami, here are some systems to consider:
Intercoms
Keypads
RFID key card and fob systems
Mobile access control systems
Biometric systems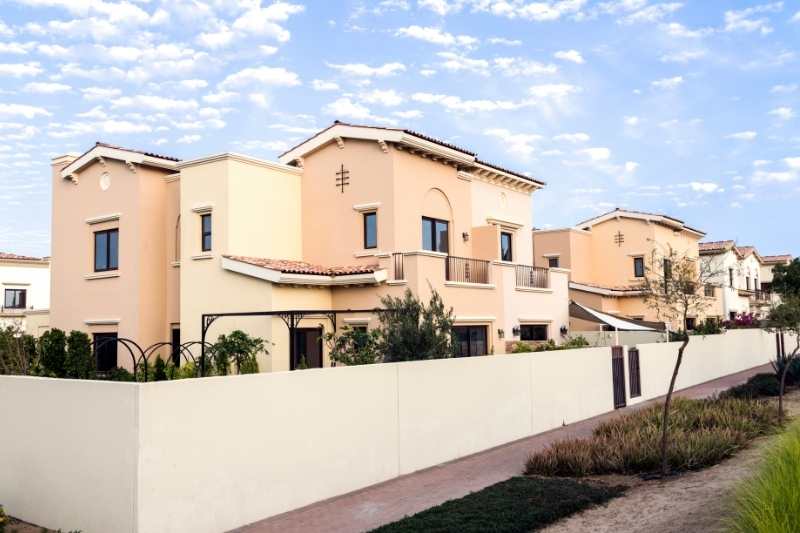 Common access control systems Miami properties are using
The type of system you should choose depends on the type of property you own or manage in Miami, as well as where you need controlled access.
Discover systems recommended for:
Apartments
A video access control system — specifically a video intercom — is the best solution for apartment access control.
Why?
Because your residents are getting more deliveries than ever and those couriers need to request access. Not to mention, the video component allows them to visually confirm who they open the door for, which is much more secure than a traditional audio-only intercom.
With the right video intercom solution, your Miami residents can even share single- and recurring-use access PINs with friends and service providers so they can enter the property.
Gated communities
Just like apartment buildings, the comfort and security of residents are the top priority for all gated communities. You know how important it is to keep your residents safe but they also need to easily let friends, guests, and deliveries into the property.
A cloud-based gate intercom is the best way to manage access in a gated community. Install a wireless video intercom at the front gate so guests can request access from the resident they're visiting. The cloud-based administration will also allow you to review security footage from anywhere so you always know who is coming into your community.
See ButterflyMX delivery PINs in action at your gated community:
Parking lots and garages
There are a variety of access control parking systems Miami garages and parking lots can use.
Some common parking access systems include:
License plate readers
Mobile-based access
Keypads
Manual security guards
However, the best solution for parking consists of a gate to block cars and a weatherproof system for checking credentials. There are many ways to check credentials but it's often more cost-effective and efficient to use a wireless system with a mobile app.
In the end, the best access control system for parking will be the same solution you use throughout the property. Creating a seamless access experience means easier management for you and your staff as well as more convenient entry for tenants.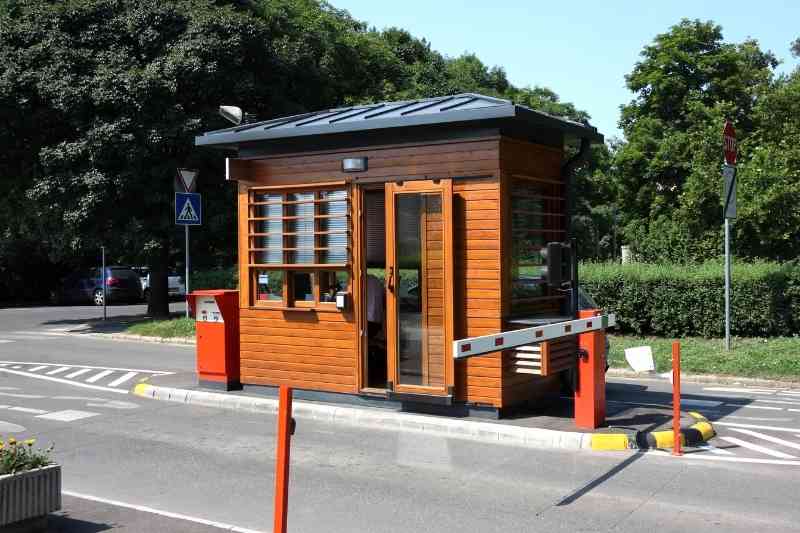 Industrial facilities
The best solution for industrial facilities is to install keypads at gate and door entrances throughout the property. Every staff member and tenant is assigned a PIN so they can enter authorized spaces.
If your industrial site gets a lot of visitors, such as clients or deliveries, then consider installing a wireless intercom system as well. From the front entrance, visitors can use the intercom to request access or use a virtual key. Also, your intercom can connect to the keypads throughout the property so your tenants can easily access appropriate spaces.
Commercial buildings
The commercial access control systems Miami businesses use vary quite a bit. For example, office buildings often need a combination of intercoms and elevator controls to allow tenants, clients, and visitors to access the building in different ways.
If your commercial building includes shops that are open to the public, then an access control system that allows you to restrict access after business hours is the best choice.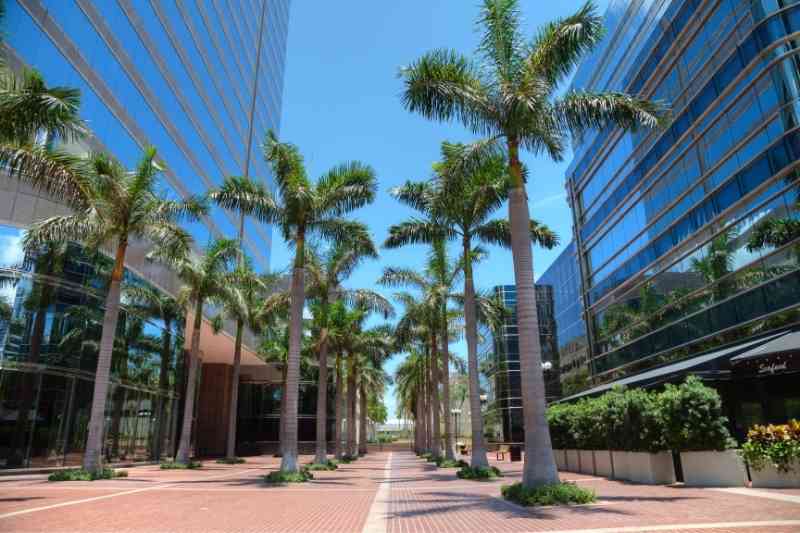 How to choose a Miami access control system
Every real estate professional in Miami knows how special this city is. Many of the things that make Miami unique also need to be considered for access control.
When choosing an access control system in Miami, consider the following:
Weatherproofing: Some days are sunny and glorious, but other times the heat or hurricanes feel out of control. Make sure that your access control solution is built for the range of Miami weather. All outdoor devices should be IP65 rated to withstand rain, dust, sun, and cleaning agents.
Cloud-based management: The last thing you want to deal with is driving across town in Miami traffic every time you need to update your system. Choosing a cloud-based access control solution means you can adjust access permissions, review entry logs, and more from anywhere in the world.
Smartphone access: Tenants are always forgetting their keys at home, work, or in the car. Spare yourself and your staff from replacing keys repeatedly by choosing a mobile access system instead. Instead, your tenants and staff can enter the property using just their smartphones from a mobile app.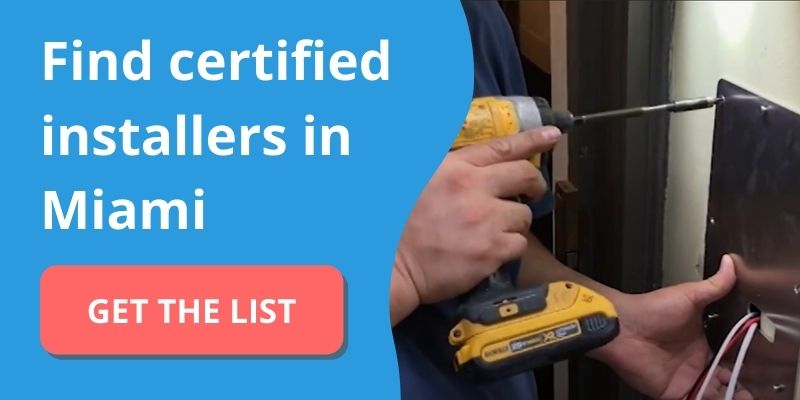 How to find an access control installer in Miami
Access control systems in Miami must be installed by a certified professional. If you're looking for an installer, make sure they're certified for the access control products you choose. Otherwise, you risk voiding the warranty.
So, you know you want to hire a trusted professional to install your building's new access control system. But how do you find the best installer who will get the job done right?
Here are some suggestions to find a Miami access control installer:
Ask around: Post on social media like LinkedIn or Facebook groups to get recommendations from other real estate professionals. You can also reach out to trusted colleagues and ask who they hired to install their access control systems.
Industry resources: Find recommendations in leading publications like the Building Owners and Managers Association (BOMA), Development Magazine, and Real Estate Forum. Many articles are available online and include forums where you can talk to other industry professionals.
Testimonials: You can always turn to online reviews to find a recommended installer. Finding lists of installers through search engines like Google, Yelp, and HomeAdvisor is a great way to get started.
Before you commit to an installer, we recommend getting multiple quotes and asking for testimonials to make sure you're getting the best price possible.
The best access control system in Miami
The best access control system in Miami is ButterflyMX.
As a property technology innovator, ButterflyMX introduced the smart video intercom system in 2015. Our flagship product has grown over the years to empower people to manage access into and throughout properties with just a smartphone.
Our access control solutions available in Miami include:
Smart video intercoms to control access at front entrances.
Keypads to control access to amenities, auxiliary entrances, garages, and more.
Key lockers to manage access to units and other spaces that use traditional locks and keys.
Elevator controls to grant managed access to elevators and limit usage to certain floors.
Smart lock integrations to seamlessly manage smart locks and other access control devices from one platform.
Since launching, ButterflyMX has been installed in more than 7,500 buildings and has over 7,000 five-star reviews.
One of many ButterflyMX clients in Florida says:
"We installed ButterflyMX, and they are just a dream. Easy for everyone to use, all while being convenient. The process from start to end was extremely simple."