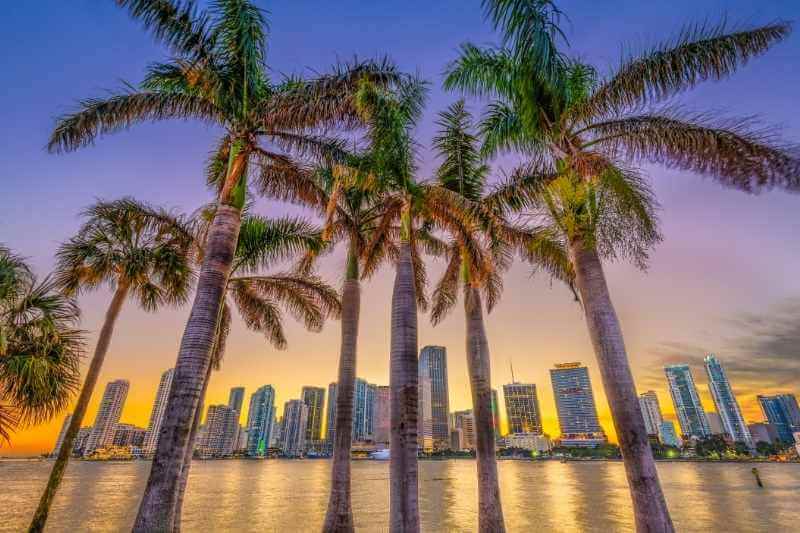 Miami is one of the most vibrant cities in the world. As a Miami property manager or owner, you know how unique the culture of your city is. And by choosing and installing a great intercom at your property, you'll keep your residents focused on soaking up the high-energy culture — not worrying about property access.
From sleek high-rises in Brickell to colorful historic buildings in Ocean Drive, Miami is teeming with properties that need streamlined security. Learn about choosing and installing an intercom that your residents can count on to improve property access.
This guide includes:
Watch how ButterflyMX works:
Where can you install an intercom in Miami?
You don't have to be a residential property manager or owner to install an intercom in Miami! In fact, any property that needs controlled property access can benefit from an intercom system.
The type of intercom you should choose depends on the type of property you own or manage. This will affect where you need controlled access.
Intercoms in Miami are found at:
Gated communities
Florida is home to tons of gated communities, which must focus on attracting families and long-term residents. This includes balancing top-notch security with convenient access for residents, guests, and delivery couriers.
Installing a gate intercom ensures that residents can easily control who has access to their community. With a gate intercom, residents can open and manage the gate from their smartphone or computer. What's more, with a video intercom, Miami residents can see exactly who they're letting in.
Additionally, a smart video intercom system will improve security. By installing an intercom system, you can review the security footage of your gate from anywhere. This way, you'll always know who's visited your community and when.
See ButterflyMX delivery pins in action at your gated community:
Multifamily residences
Guaranteeing apartment building security in Miami should be your top priority. A multi-tenant intercom will improve the access experience at your building. Just like gated communities, multifamily apartment residents want seamless control over who comes in and out of their homes.
By installing an intercom, your residents can chat with guests and even grant access from anywhere.
Further, high-tech video intercoms allow residents in multi-tenant buildings to share temporary and recurring virtual keys with guests. In fact, the best intercoms in Miami put access management in the hands of residents. This includes accepting packages, granting access to dog-walkers, or giving access to friends and family without disrupting their routines.
Commercial office buildings
Miami is a hub for established, successful businesses and promising startups. And one thing these businesses all undoubtedly need is secure yet convenient property access.
In order to streamline access to your building, you should install an office intercom.
If you rent your commercial building to multiple businesses, an intercom will help your tenants easily control access. This way, tenants can vet clients and visitors before granting them access.
Additionally, installing an intercom at a Miami commercial office that shares building space with shops and restaurants allows tenants to restrict access from the public.
Industrial facilities
Your industrial facility can benefit from an intercom by giving staff and visitors a streamlined access experience. By installing an intercom at a Miami industrial facility, visitors can use the intercom to request access. Likewise, they can use a temporary PIN to enter.
Additionally, you can connect the intercom to keypads throughout your facility. This way, guests can only gain access to authorized spaces. This will improve safety by restricting visitors and employees to approved spaces only.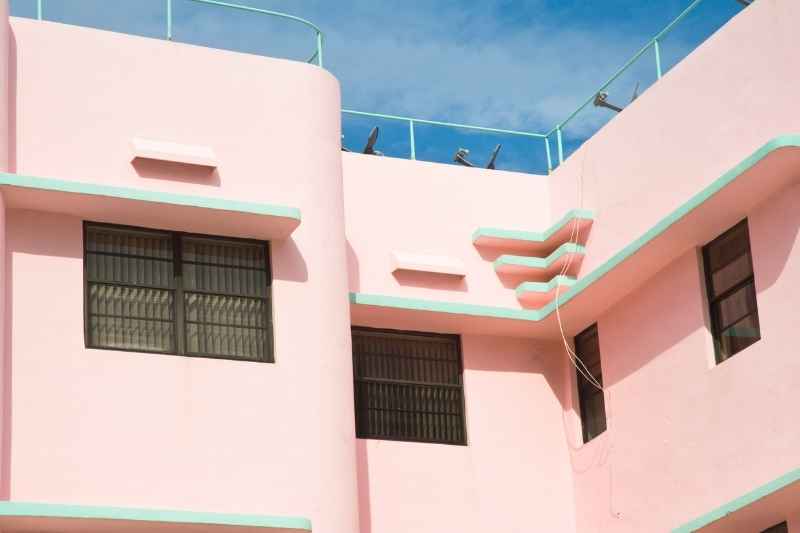 What to consider when choosing an intercom in Miami
As a property manager or owner in Miami, you know how special your city is. So, you should consider Miami's unique qualities when looking for an intercom system.
When choosing an intercom in Miami, you should consider:
Climate
Miami's climate is one of its biggest attractions. While the city is known for bright and sunny weather, Miami is actually vulnerable to heavy rains and hurricanes. As a result, your intercom should be built to withstand weather ranging from intense winds to bright sun to heavy rain.
To do this, check outdoor intercoms for an IP65 rating that can withstand the elements. Many Miami intercoms will be placed at entrances facing intense sunlight. In this case, a simple sunshade will make reading the intercom easier and will protect it from heat.
Aesthetics
One of Miami's defining features is its Art Deco architecture. In fact, this style is what turned Miami into a tourist attraction in the early twentieth century. So when you're choosing an intercom for your property, be sure to preserve Miami's signature style.
Some older intercoms are bulky, dated, and may stand out against your building. Instead, choose an intercom that will enhance curb appeal.
At this point, plenty of high-tech intercoms are sleek and modern enough to blend in with Miami's unique architecture.
Convenience
Miami is home to one of the fastest-growing job markets in the United States. Because of this boom in job growth, thousands of young professionals are flocking to the Magic City. These new renters are overwhelmingly millennials and Gen Zers. As a result, most of your new renters will expect a high level of convenience from their apartments.
By installing an intercom at your Miami property, you can eliminate the need for keys. You can also allow residents to grant access to anyone from anywhere.
For best results, choose an intercom with a mobile app so that residents can manage access from their phones. These will attract young, phone-reliant renters to your property.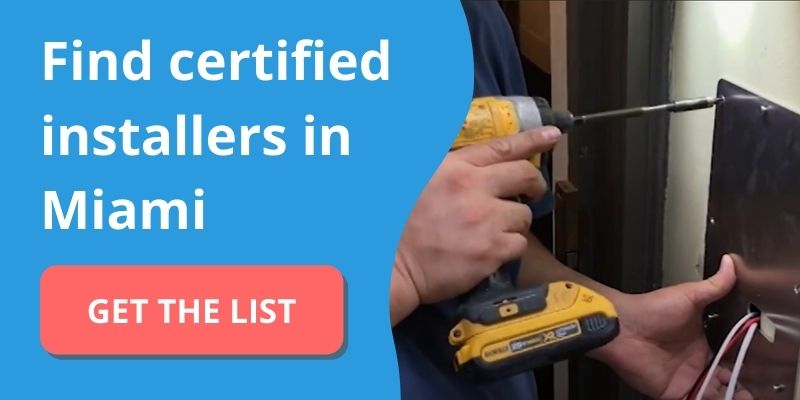 Types of intercoms in Miami
You have plenty of options when choosing an intercom in Miami. The intercom you choose will impact property access for residents, staff, and guests. So, you should take your time considering each type of intercom before you purchase one.
Three common types of intercoms in Miami:
Wireless: Wireless intercoms depend on wireless technology to enable communication between visitors at the front entrance and tenants in the building. Given the prevalence of gated communities in Florida, wireless intercoms are ideal for Miami properties because you won't have to spend money and time running expensive wiring from the front entrance to every unit within the property.
Video: Video intercom systems allow your tenants to video chat with guests instead of just speaking on the phone. Some video intercoms in Miami even allow you to keep a record of time- and date-stamped photos of who has entered the building.
Cloud-based: A cloud-based intercom will allow staff and residents to remotely manage who enters your property. Staff can update resident access permissions remotely, while residents can answer calls and grant access from anywhere.
How to find an intercom installer in Miami
Now that you know you want to install an intercom, you need to find a good intercom installer in Miami. When looking for intercom installation in Miami, make sure the person or company is certified to install the intercom you choose. This is important to protect your intercom's warranty.
Here are some tips to find a certified Miami intercom installer:
Social media: Post on local LinkedIn, Facebook, or NextDoor groups for recommendations from fellow real estate professionals. You can also ask colleagues who they've hired to install intercoms at their Miami properties.
Real estate resources: Read real estate magazines such as PREA Quarterly, Multihousing Professional Magazine, and Commercial Property Executives. These publications have online articles and even forums where you can get in touch with local professionals.
Reviews: One of the easiest ways to find high-quality intercom installers in Miami is on customer review sites such as Google, Angie's List, and Yelp.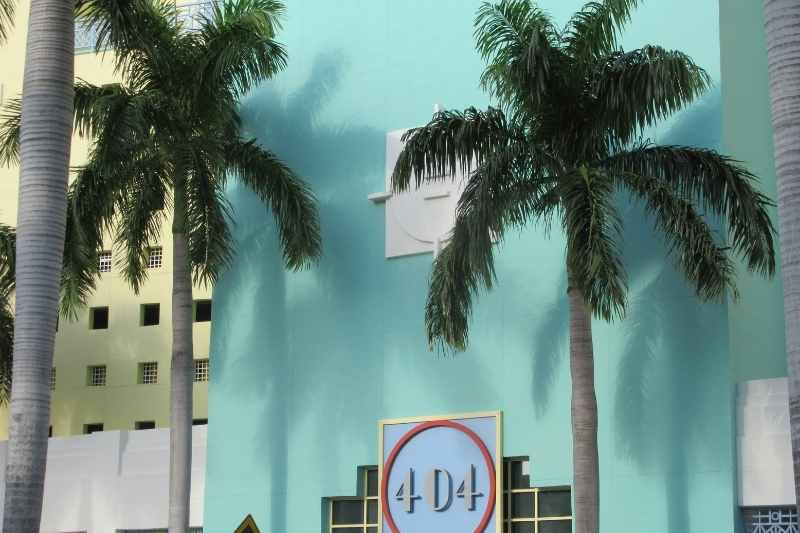 The best intercom Miami has to offer
By far, ButterflyMX offers the best intercom in Miami. ButterflyMX introduced the smart video intercom in 2015. Since then, the system has evolved to allow people to manage property access from anywhere in the world on their smartphones.
Benefits of ButterflyMX include:
Video calling: You and your residents can see who's trying to enter your property before granting them access.
Access PINs: Residents can gain access with just a PIN code if they forget their phones.
Virtual keys: Visitors can scan a unique QR code to gain access to your property.
Resident and tenant directories: Visitors can search by resident name, company name, or unit number to call a tenant directly.
Mobile app: Our app allows you to open and manage doors and gates from anywhere.
ButterflyMX has been installed in over 7,500 buildings and has over 7,000 five-star reviews!
Here's what one of our clients in Florida had to say about our intercom system:
"We were presented with many options but none was as enticing as the technology from ButterflyMX. This is a hands free and very user-friendly system and the app is so easy to use. I've recommended it to other communities and hope that they love it like I do."