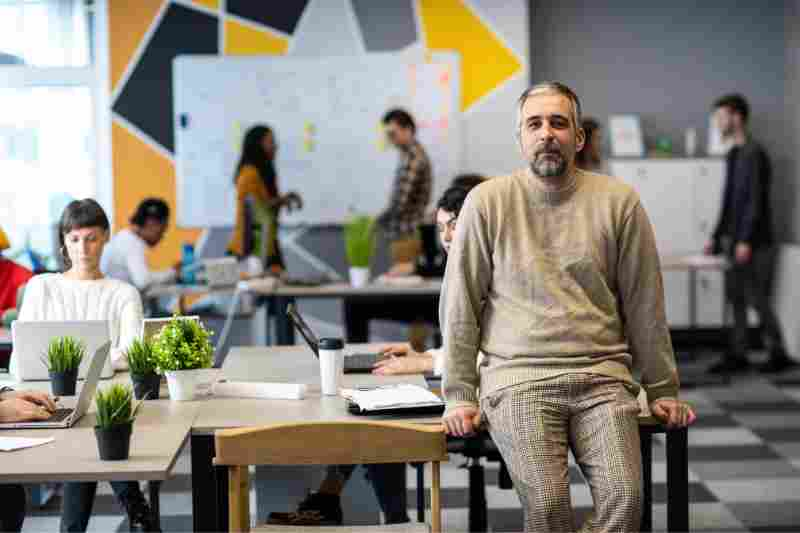 The working landscape is rapidly changing, making traditional offices less needed. As a result, apartments with coworking spaces are quickly becoming a highly sought apartment amenity. With the right planning, shared workspaces for residents who work from home in multifamily buildings can become a reality.
If the prospect of coworking spaces in multifamily buildings is of interest to you, keep reading to find out what it takes to make them successful.
In this post, discover:
The rise of apartments with coworking spaces
Hybrid and fully remote jobs have been around for a while, mostly with freelancers and contracted employees. However, many companies found that allowing eligible full-time employees to work from home results in a boost in productivity. Not only do employees feel they have more time in their day to meet demands, but they also save money on the cost of their commute.
Coworking spaces first developed in the early 2000s. They're a way to provide workers a place to complete their tasks in a designated space while also helping companies cut back on costs. It's become successful enough that, by mid-2022, approximately 900,000 people were using shared workspaces.
This is evidence that there's a need for apartments with coworking space as long as there are companies who see them as integral to employee morale.
Discover more apartment amenities tenants want: 
Are coworking spaces in apartments worth it?
Knowing that more and more people want to work remotely, the question becomes: is it worth including a shared workspace in an apartment building?
Measuring the worth of apartments with coworking space isn't as cut and dry yet — especially since the concept is still fairly new. However, it's worth noting that there are several multifamily coworking space examples in up-and-coming areas. Although you can add a coworking space for residents only, many new apartments make revenue by opening their workspaces to non-residents.
Examples of mixed-use apartments with coworking space:
Flatiron Domain in Austin, Texas: This Texas-based apartment development features a coworking space owned by Craftwork Coffee Co. Craftwork's business model is worth researching as they turn unused amenity spaces into shared working offices.
Two Light in Kansas, Missouri: This apartment building is a new construction that has a third-party-owned coworking space on its first floor. What makes it different is residents have the chance to sign up for living/working lease promotions. They'll also open the coworking space to non-residents to generate more revenue.
But these are brand-new apartment building projects that were designed with coworking in mind. What about existing buildings looking to add a coworking space amenity?
A better alternative for existing buildings to take advantage of the remote work boom is to consider it as part of a CapEx endeavor. Simply put, investing in upgrades that cater to remote-work tenants may be the best use of funds.
How to start a coworking space in your apartment
So, you're convinced that your residents and prospects would appreciate having a coworking space in the building.
But what are the requirements for a coworking space?
Obviously, you'll need adequate space for desks, tables, and chairs. If you don't have an empty room ready to go now, consider repurposing an existing amenity space. Many apartments already offer office space amenities, so designating a place for coworking is possible with adequate planning and budgeting.
Must-have coworking space features for apartments include:
Thoughtful design: The success of a shared workspace relies heavily on design. Without adequate seating, lighting, or desk space, tenants are unlikely to spend enough time in the space to make it worthwhile. Desks should have plenty of space, and electrical outlets should be easy to find. Furthermore, lighting and seating should be in high supply.
Internet connectivity: Imagine you work from home, but your internet connection is too slow to participate in meetings or even load simple web pages. If you put effort and money into anything, it should be high-speed WiFi.
Access control: Access to the working space should be controlled, especially if you wish to monetize this amenity. Investing in some kind of access control system like smart locks or keypads will ensure that only registered members can access it.
Privacy: Even when working in a public office, privacy is still an underrated aspect of communal working. People want to be able to go about their work day without someone peering over their shoulder or listening to their business conversations. Making sure there is space for privacy to take meetings and work undisturbed is a must.
Zoning compliance: Lastly, you'll need to understand zoning laws in your area that dictate what you can and cannot do with your property. The last thing you want is a legal issue before opening the doors to your coworking office.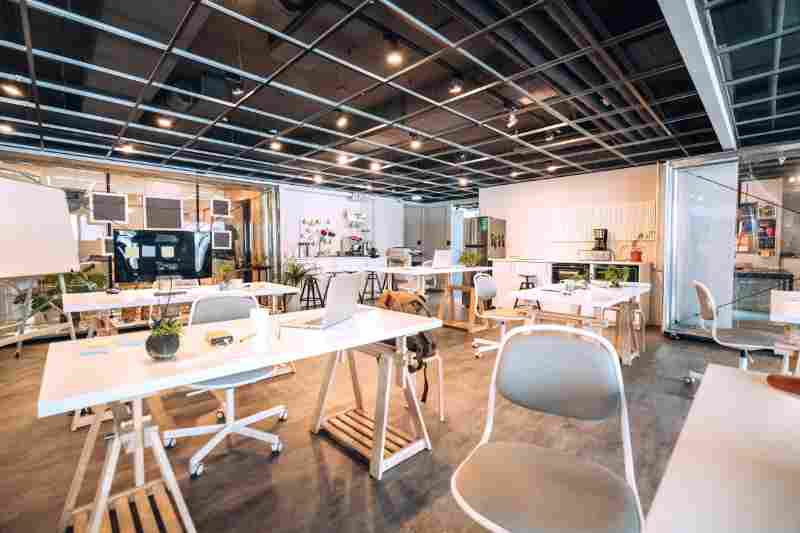 Monetizing your apartment coworking space
If you're wondering how a multifamily coworking space fits within your budget, you're not alone. Already there are efforts to help break down costs and revenue potential for repurposed apartment office spaces.
So far, the best answer is learning how to monetize a work-sharing space.
For most apartments, the best way to meet costs for extras such as gyms and pools is to charge fees for these amenities. However, not everyone will be keen on paying fees for coworking spaces, especially if they don't work remotely.
Ideas on how to make money on coworking spaces
For many, the solution to making these shared workspaces worthwhile has been finding a monetization method that works.
Offering monthly passes to a coworking space is one way to make money to cover costs. These passes would be for tenants only and would likely be tacked onto monthly rent charges.
Furthermore, opening enrollment to non-residents — like the new construction apartments mentioned earlier — could prove rewarding. Not only would you make money from tenants who want to cowork, but you could possibly even bring in revenue from outside resources.
Takeaways
Coworking is an in-demand method of communal work brought about by the popularity of remote jobs.
New developments can easily build a coworking space, but existing structures can allocate CapEx funds to create coworking spaces.
Apartments with coworking space can either cover costs by lumping coworking with amenity fees, or they can open enrollment to non-residents.
The biggest requirements for coworking spaces are design, internet connection, access control, privacy, and a full understanding of your county's zoning compliance laws.