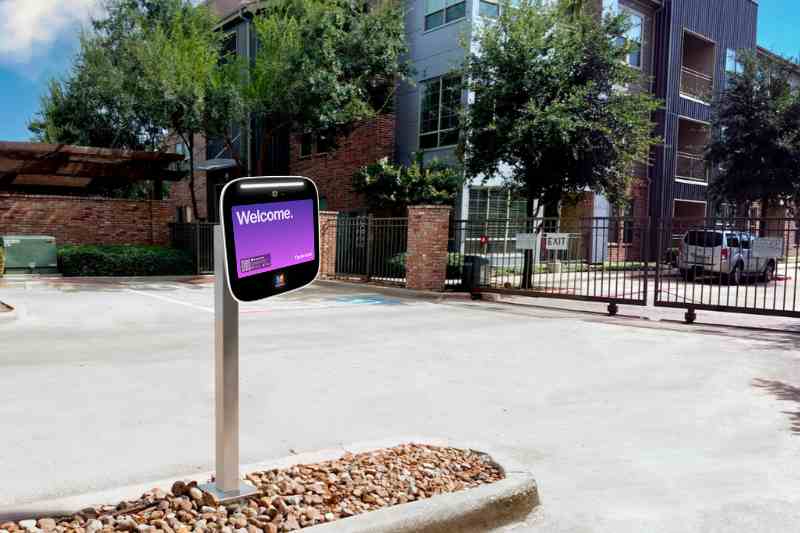 If you own or manage a gated property, you know that residents, visitors, and staff have high expectations regarding property access. But with so many options out there for gate entry systems, how do you know which one will best suit your needs?
This post walks you through the three most common types of gate entry management systems: access control systems, telephone entry systems, and gate intercoms. Then, it explains how to choose the gate entry system that's the best fit for you.
This post covers:
The 3 most common gate entry systems
When considering which gate entry solution to choose, you have a few options. Which one you choose depends on whether you need to provide access to tenants, visitors, or both.
The three most common gate entry systems are:
1. Gate access control system
A gate access control system is a security solution that allows registered residents to access a gated property. They aren't intended to enable visitor access — they lack a way for visitors to contact tenants and notify them of their arrival at the property. These systems offer different ways to authenticate users through their access control panel.
Access control systems for gates authenticate residents using:
RFID gate entry systems (which use a key fob or card reader)
Voice recognition
Vehicle detection systems
Fingerprint readers
Keypads
Cell phone gate access systems
The right access control system depends on your property's needs and infrastructure. For example, residential gate access control systems tend to use RFID tags, because RFID tags allow for convenient wireless communication.
In contrast, many commercial properties that focus on restricting access to only approved personnel use fingerprint readers or cell phone systems. And you'll find vehicle detection systems most often at gated communities and parking entrances.
2. Telephone entry system
A telephone entry system is a device that allows residents to communicate with visitors and grant them property access from a telephone. When installed at a gated entrance, a telephone entry system lets visitors call residents by pressing a button or dialing a code. Visitors can find a specific tenant's code by searching through the system's directory.
How does a telephone entry system work?
Telephone entry systems work by using telephone lines or cellular service to alert residents of a visitor with a phone call. When a visitor arrives at your gated entrance, they use hardware installed at the entryway of the property to alert a resident.
First, the visitor must select the correct resident from the system's directory. Then, they call that resident. When the resident's phone rings, they answer it like they would a traditional phone call. Finally, the tenant opens the gate for their guest by pressing '9' on their phone. Pressing '9' sends an unlocking signal to motors in the electric gate system, which opens the gate for the guest.
Find out how to open a gate with a cell phone:
3. Gate intercom
A gate intercom is a property access solution that allows residents to communicate with visitors and open the gate for them remotely. It's the best way to control access to gated communities, HOAs, and other gated properties.
Gate intercoms require:
Hardware called substations installed in each apartment unit. Alternatively, some gate intercoms use tenants' smartphones as substations, which eliminates the need to install hardware in every unit.
A base station installed at the gate entrance. Visitors use the base station to call residents.
Past generations of gate intercoms had to physically run wire between a base station and each of its substations. But today, many gate intercoms are wireless and operate over the internet.
IP gate intercoms
One of the latest innovations in property access is the IP gate intercom. IP intercom systems use the internet instead of physical wiring to let visitors communicate with guests and remotely control property access. IP intercoms with cameras are becoming more common, further improving functionality and security.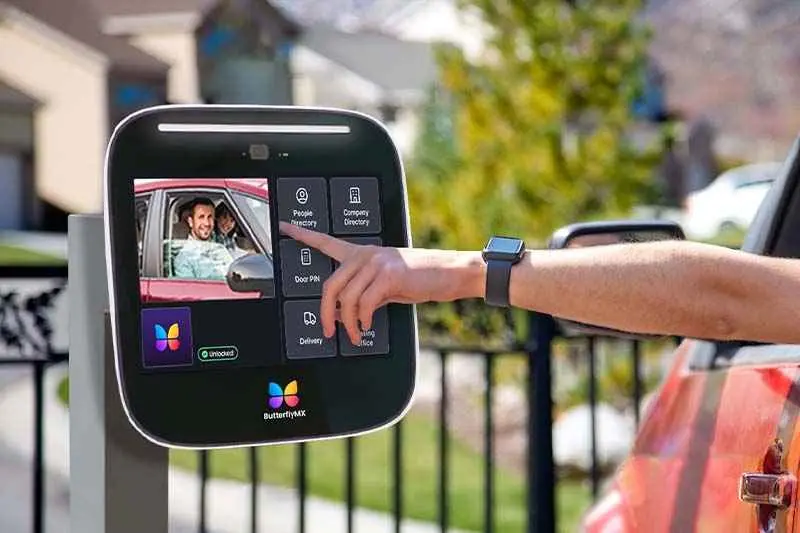 How to choose a gate entry system
A gate entry system is a must-have amenity for gated communities, apartments, and other gated properties. But which gate entry system is right for you? Before you make your final decision, don't forget to consider these important factors.
The top three factors to consider when purchasing a gate entry system are:
1. Security
Access control security at property entrances is undoubtedly one of your residents' biggest concerns. Ensuring security for your residents will establish you as a property owner or manager who goes above and beyond.
2. Ease of access
Ease of access is another major issue. You might have a secure gate entry system, but if it's hard to use or breaks down often, your residents will be fed up no matter the benefits.
To improve the access experience, the best entry systems are going wireless. Wireless gate entry systems benefit residents and property owners. Some companies offer wireless intercoms that let residents use their smartphones to open the gate. That means a resident miles from their apartment can use their smartphone to let in their guests. And if you don't have to install wiring, gate entry system installers save themselves the headache — and the expense — of tearing down walls and doing other maintenance tasks.
3. Functionality
Also important to your residents are the features your gate entry system offers. In addition to simplifying access, an entry system's features can help you better manage your property.
Some gate entry systems offer features like mobile apps that allow for remote unlocking and video calling, all from a resident's smartphone. The best gate entry systems also make it easier to manage visitors with features like virtual keys and delivery PINs.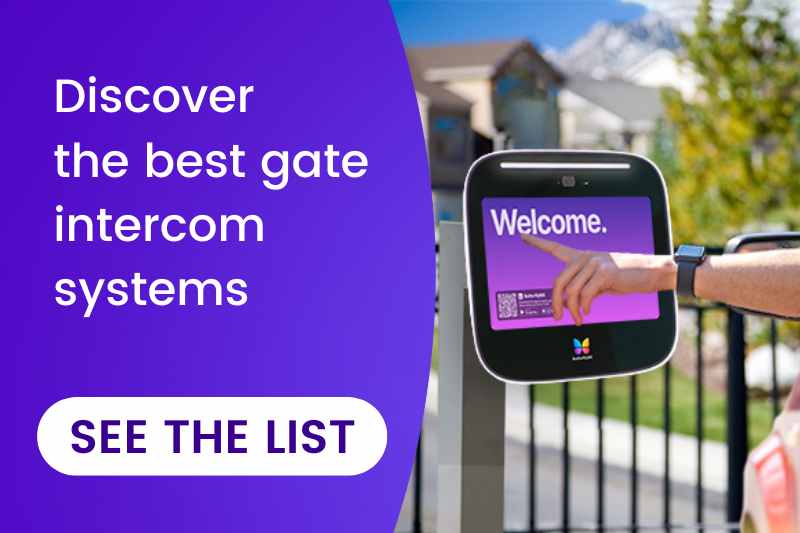 The best gate entry system
When you want your gate entry system to boost security, functionality, and ease of access, a gate intercom is your only choice. Access control systems and telephone entry systems aren't the best way to address your gated property's needs.
The biggest downside of a gate access control system is that you can't use it to grant access for visitors.
In a best-case scenario, your residents waste time and energy physically walking to the gate to open it for guests. In the worst case, your tenants give out the access codes meant for their personal use only. You certainly wouldn't want residents giving out the codes to your gate entry keypads. In terms of functionality and ease of access, access control systems are a no-go.
While telephone entry systems do enable guest access, they still don't compare to intercoms. Many telephone entry systems only connect with residents' landline phones. As more residents use their smartphones in everyday life, traditional telephone entry systems become increasingly inconvenient. Telephone entry providers have tried to compensate by offering cell phone compatibility. However, telephone entry system cellular capabilities have their problems. These systems are harder and more expensive to install and maintain than IP gate intercoms.
Gate intercoms are the best option for an effective controlled access system. Intercoms don't depend on other infrastructure to function as telephone entry systems do. And they improve on the functionality of an access control system while offering greater security and more features, including a completely keyless entry experience.
ButterflyMX gate entry system
Gate intercom systems are the best choice for successful gated property access. ButterflyMX is at the forefront of IP video intercom technology. ButterflyMX's wireless system allows residents to use their smartphones to open gates and grant access with the tap of a finger.
On top of smartphone-based video communication, ButterflyMX makes visitor access simple with virtual keys. Virtual keys can be configured for single or recurring use, ensuring visitor access while maintaining security.
Finally, ButterflyMX gives property managers access to all kinds of information. From a web-based dashboard, the property staff can view an audit trail of gate releases and virtual key uses. ButterflyMX also integrates seamlessly with property management software.
If you're deciding on a gate entry system, now you know that gate access control systems and telephone entry systems just won't cut it. Choose ButterflyMX, with more than 7,000 five-star reviews, it is the best video gate entry system — and ensure a safe, convenient property experience for your residents.