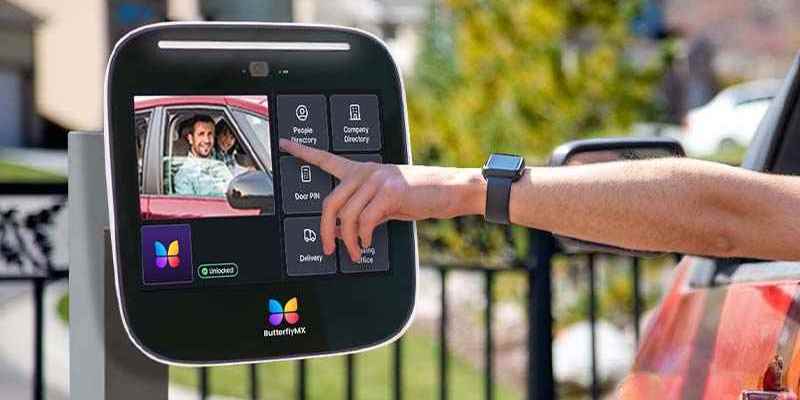 One of the most critical aspects of developing or managing a gated community is implementing the right gate security system. Although there are a handful of systems out there, some are better than others. An example of a great security system is a gate intercom system.
Continue reading this guide to learn more about gate security systems and how to find the right security solutions for your gated property.
In this guide, we'll cover:
What is a gate security system?
A gate security system refers to any access control solution that manages vehicle and pedestrian access into a gated property. These security systems are found at apartment complexes, commercial warehouses, office sites, schools, and assisted living facilities.
The purpose of a gated community is to create a physical barrier between the property and the surrounding area. The gate prevents unauthorized people or vehicles from entering the property. And a security system facilitates access for authorized personnel while denying others access to the community.
Gate security systems with cameras are highly recommended because they allow property staff to detect unauthorized entry in real-time. And if your property experiences high volumes of traffic, you can also go back and view the security footage of a specific time to identify suspicious activities.
Types of security gate access control systems
Once you've assessed your gated property's security needs, it's time to determine the type of security gate access control system to install. The bulk of the decision comes down to the size of the gated property, whether you need additional wiring, and whether it's for pedestrians or vehicles.
Here are the four most common types of entrance gate security systems: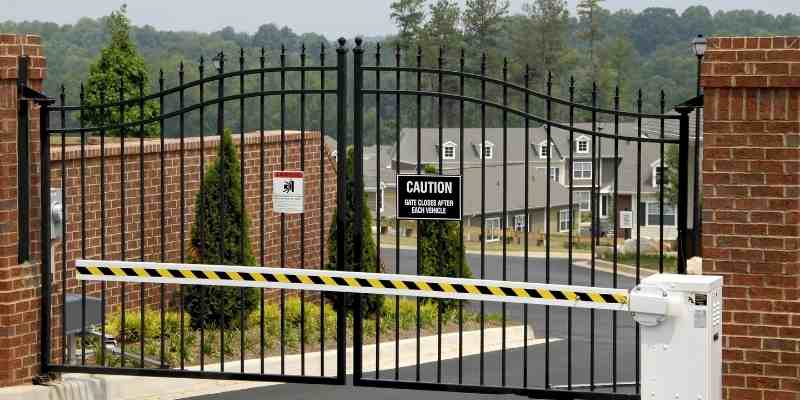 1. Pedestrian gate access control
Pedestrian gate access control systems are best suited for gated communities that receive foot traffic through the gate.
The best systems to control pedestrian access include:
Gate intercoms
Gate keypads
Key card and key fob systems
With any of these systems, pedestrians simply present their access credentials to open the gate. Once their identity and credential are verified, the gate unlocks. Some gates automatically open after they unlock, while others must be pulled open by the pedestrian.
2. Vehicle gate access control
If your gated community has to control access for cars entering and exiting the property, you need a vehicle gate access control. A vehicle gate security system provides the best way to prevent tailgating, which is when an unauthorized car follows closely behind an authorized vehicle to enter the property while the gate is open. Gate security systems prevent tailgating by monitoring and recording all vehicle entries, requiring each driver to present access credentials, and limiting the time the gate stays open.
Some gate security systems that can help control vehicle access include:
License plate scanners
Gate intercoms
Keypads
Fob systems
3. RFID gate security system
One way to maintain security at the gate is by installing an RFID access control system. RFID (radio frequency identification) readers work by emitting radio waves to communicate with RFID tags in an access card or fob. With an RFID system at the gate, only authorized tenants and staff will be able to enter the property.
A downside to RFID gate security systems is that each driver has to reach out of their car to firmly place their fob on the RFID reader. This can slow down the pace of traffic entering the property, which can cause significant delays during peak hours. Additionally, visitors won't be able to request property access through the RFID security system.
4. Smartphone gate security system
Wireless gate security systems that use tenants' smartphones as access credentials rank among the top options for gate access control. A smartphone-based security system lets tenants open the gate from their smartphones. As a result, only authorized tenants can enter the property — but they can still open the gate for their visitors right from their smartphones.
Most importantly, modern cellular gate entry systems significantly cut down the time it takes for each driver to open the gate. Drivers can swipe, tap, or voice-command their smartphones to open the gate without getting out of their cars or reaching for the access reader. Mobile-based wireless gate security systems are the best solution if you want convenient access for tenants and visitors, reduced wait times, and robust security and safety.
How gate security systems work
Every gate security system works differently, but the important function that they all share is requiring anyone seeking access to verify their identity. Once the system verifies the identity and access permissions of the person requesting access, it then signals the gate to open.
Here are the four basic steps of how a gate entry system works:
1. Access control panel verifies credentials
The access control panel is the core of a gate security system. It's connected to the electric gate opener, and it verifies the credentials of the person requesting gate access.
The most common types of gate access control panels are:
Video intercoms, which use PIN codes and virtual keys (QR codes) to verify access permissions. Some gate security cameras scan vehicle license plates or perform facial recognition checks on pedestrians.
Keypads require either PIN codes or mobile credentials. Keypads are ideal for auxiliary or service gate entrances.
Key card and key fob scanners have RFID tag readers that communicate with chips embedded in cards or fobs.
Security guards are also a type of access control. They sit in security booths next to gates to check tenants' and visitors' ID cards before pressing a button to open the gate.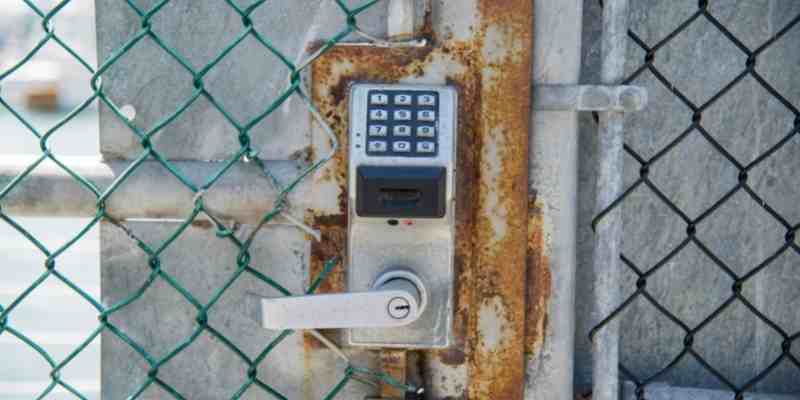 2. Control panel signals the gate to open
When the correct access credentials are entered or presented, the access control panel sends an electronic signal to the gate opener, which unlocks the gate and allows authorized vehicles and people to enter.
3. Gate opener mechanism activates
There are different types of gate openers. The main differentiator among them is the direction in which the gate opens.
The three main gate opener mechanisms:
Sliding gate opener: A motorized system with gears that pushes the gate to slide along a track on the ground.
Swinging arm gate opener: A mechanical system that swings the gate open or closed.
Vertical gate opener: A motorized system that has tracks along the sides of the gate frame, lifting the gate open in an upward direction.
4. Gate closes after a specific amount of time
The gate only stays open long enough for one vehicle or pedestrian to enter. This is to prevent unauthorized personnel from "piggybacking" on someone authorized, bypassing the gate security system, and unlawfully entering the property. Some gate systems will release alarms to signal property staff if the gate is held open for too long.
Watch how ButterflyMX opens gates:
Can you open a gate with your phone?
Yes, if the gate security system is mobile-based, you can open the gate with your cell phone. Most modern systems come with mobile apps for tenants to download. Once the app is installed, tenants can enjoy multiple ways to open the gate on their smartphones.
Most common ways to open the gate on a mobile phone:
Swipe to open
Scan a QR code
3D or haptic touch
Input a PIN code
Ways to open the gate with Alexa or Siri
Some gate access control systems let you open the gate with any Alexa- or Siri-enabled device. Voice commands are a simple, hands-free way to open the gate. And this method is especially beneficial for those entering the gated community in vehicles — they can keep their hands safely on the steering wheel and eyes on the road.
Top considerations for choosing the right gate security system
There are many things to consider when choosing the gate security system that's best for your gated property. Most importantly, you want a system that maintains security without hindering access for your tenants, staff, and visitors. That's why you should look for a gate intercom that has convenient features and capabilities.
Here are the top four features to seek out in a gate security system: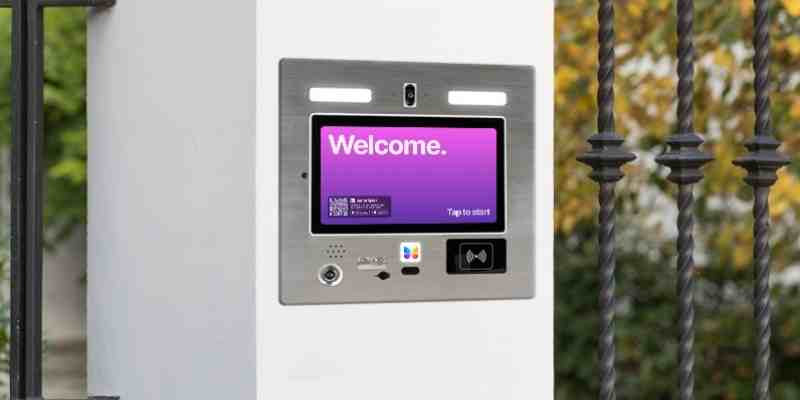 1. Mobile app
In this digital age, having a gate intercom that's compatible with smartphones is paramount. The system should come with a highly-rated mobile app. In addition to allowing tenants to open the gate, the app should have other convenient features, like virtual keys for visitors.
2. Cloud-based
With a cloud-based security system, you can update tenant information and manage the system remotely anywhere with internet access. Additionally, you'll enjoy automatic software updates, keeping the system operating smoothly.
When purchasing a cloud-based gate intercom, choose one that can integrate with your property management software (PMS). That way, the tenant rent roll in your PMS syncs with the intercom directory. So, whenever a tenant moves in or out of the community, their access privilege is automatically updated. And their name will be either added or removed from the intercom system's directory. That way, a visitor will never call a former tenant when requesting access from the intercom.
3. Camera-equipped
For maximum security, choose a system that has a camera. Not only does a video gate intercom help keep the property safe, but it also allows tenants to conveniently video chat with their visitors before granting access. This is especially helpful when tenants need to give detailed instructions for navigating the property — such as finding parking or entering through the correct building entrance. Plus, tenants can visually confirm their visitor's identity before letting them in.
4. Weatherproof
Choose a system that has an IP65 rating. In this context, IP stands for "ingress protection," and the IEC defines the IP rating system. An IP rating refers to the level of protection a device has against natural elements, such as water and dust.
For example, the '6' rating in IP65 indicates that the gate security system is fully protected against dust, and the '5' rating means that it's protected against low-pressure water from all angles. An IP65 rating protects the gate intercom from all kinds of weather, which means the device will definitely last for many years.