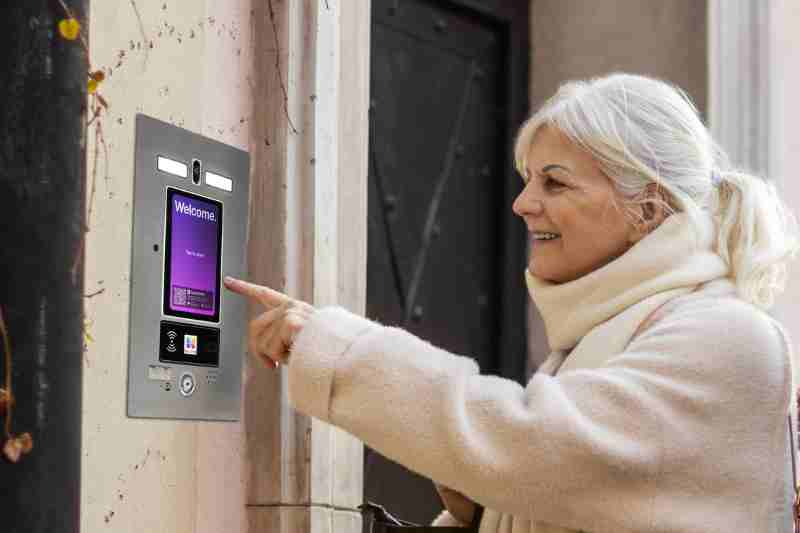 Intercom systems are a valuable addition to a multifamily apartment complex. They make residents feel safer, improve visitor management, and add convenience. However, finding an inexpensive intercom system that is both effective and reliable can be a challenge.
Below, we go over the benefits of a cost-effective intercom system. Then, we assess the features you should look for in one.
In this post, we cover: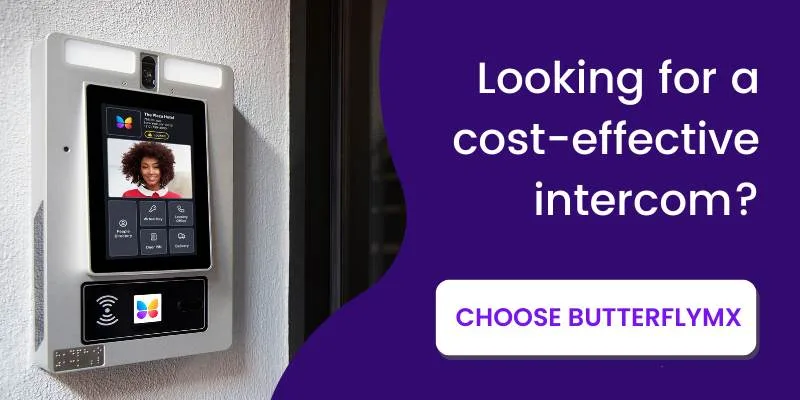 What are the advantages of an inexpensive intercom over a more expensive one?
There are many advantages of an inexpensive, uncomplicated intercom system for multifamily properties, gated communities, commercial buildings, and industrial complexes. These benefits are, namely, simplicity of use and ease of installation.
But an economic intercom system doesn't have to mean less quality!
In fact, here are four advantages of choosing a cost-effective intercom system:
1. Affordability
Above all, the most notable advantage of an inexpensive intercom system is affordability.
Firstly, choosing a budget-friendly intercom system lowers the cost of the device itself. But you should also consider the cost of installation, repair, and software.
These things can add up with both luxury and affordable intercom systems, so it's important to budget accordingly.
Pro tip: Opting for a wireless intercom system will help further cut costs.
2. Maintenance ease
A more low-cost intercom system will likely be easier to maintain because it contains simpler components. Additionally, parts are less expensive to replace and easier to find.
As such, you're less likely to wait as long for your intercom system to be repaired because you'll have an easier time finding someone to help you maintain it.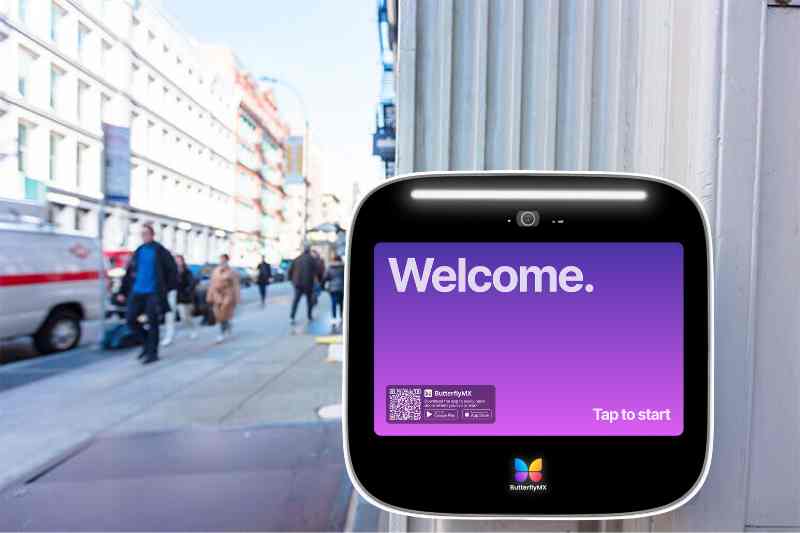 3. Energy efficiency
Most affordable intercom systems are energy-efficient in a way that their luxury counterparts are not.
They generally consume less power which can help minimize the cost of a monthly electricity bill. And some are even battery-powered, making them reliable during a power outage.
Moreover, you may find that certain budget intercom systems have power-saving modes that increase the efficiency of their operation.
4. Simplicity
As mentioned above, simplicity is one of the biggest assets of an inexpensive system. With some more expensive intercoms, the features could be overwhelming, and there are many things to install and learn.
A simpler design actually adds convenience by making everyday tasks and building operations easy to accomplish.
How do I choose an intercom system that fits my budget?
So, you know you want to invest in an intercom system. But how do you pick one that's cost-effective?
The best way to choose an intercom system that fits your budget is to:
Determine your access needs. Do you need a security-heavy intercom to vet visitors or a simple access control system that only residents will use? What are your building's requirements? When you know your most basic needs, it's easier to compare intercoms and what they offer, plus how they can meet your expectations.
Compare prices. The average price of an apartment intercom system ranges anywhere from $1,000 to $7,000. So, you should shop around until you find something that offers what you want for your budget.
Research vendors. Not only do you want a system that will fit your budget, but you also want a reputable vendor. Do your research to make sure you find a brand that will deliver on the agreed price and won't nickel and dime you out of your budget.
What features should I look for in an intercom system?
Audio and video capabilities. Regardless of cost, a good intercom system will include robust audio and video capabilities.
Visitor access. Make sure the intercom system provides a reliable way for visitors to request property access from tenants and/or building staff.
Integration abilities. Integrating with other proptech is a huge benefit of an intercom system.
Maintenance and support. Knowing that you'll have access to maintenance and technical support is a priceless addition to any intercom you go with.
Building compatibility. An intercom system, no matter the cost, should be able to be retrofitted within any property.
Convenience and ease. Being able to use a system easily should be a priority. If an intercom doesn't add convenience to your daily operations, it might not be worth the time or money.
Learn about video intercoms and how ButterflyMX works:
What is the best inexpensive intercom system?
ButterflyMX is the best multifaceted, cost-effective intercom system that fits most multifamily access control budgets. But why should you choose the ButterflyMX intercom system for your building?
The ButterflyMX intercom system offers:
Easy smartphone use. With ButterflyMX, residents can easily use their smartphones to open doors and gates for themselves and visitors. Residents can even see who they're letting in via the video intercom.
Delivery passes and virtual keys. Visitor management is simple with ButterflyMX's virtual keys and delivery passes. Residents can provide virtual keys to visitors, and delivery couriers can use passes to leave packages with ease. Moreover, property managers can remotely manage delivery passes and change permissions from anywhere.
Retrofitting for older buildings. Property managers and owners with older buildings don't have to worry about complicated installations with ButterflyMX. Retrofitting this intercom system is easy and can save time and money.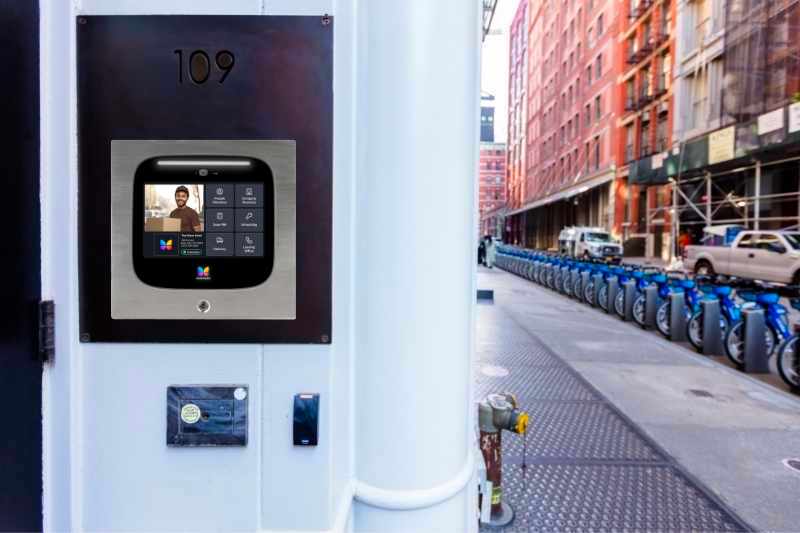 Here's why property managers love ButterflyMX:
With ButterflyMX, property managers can easily monitor the property and see who is coming and going.
Resident satisfaction is higher because of the overall increase in convenience.
The cost of keys, fobs, and other physical entry credentials is far lower thanks to the ButterflyMX mobile app.
The intercom's software is automatically updated periodically, ensuring your system is always up-to-date.
Takeaways
An intercom system is a valuable addition to a multifamily apartment complex, and an inexpensive option is just as beneficial as an expensive one.
Four advantages of an inexpensive intercom system include affordability, maintenance ease, energy efficiency, and simplicity.
The top features to look for in an intercom system are audio and video communication tools, access control, integration abilities, customer support, compatibility, and convenience.
ButterflyMX is the best cost-effective intercom system for your budget and is beloved by property managers because of its convenience, ease, and cost.