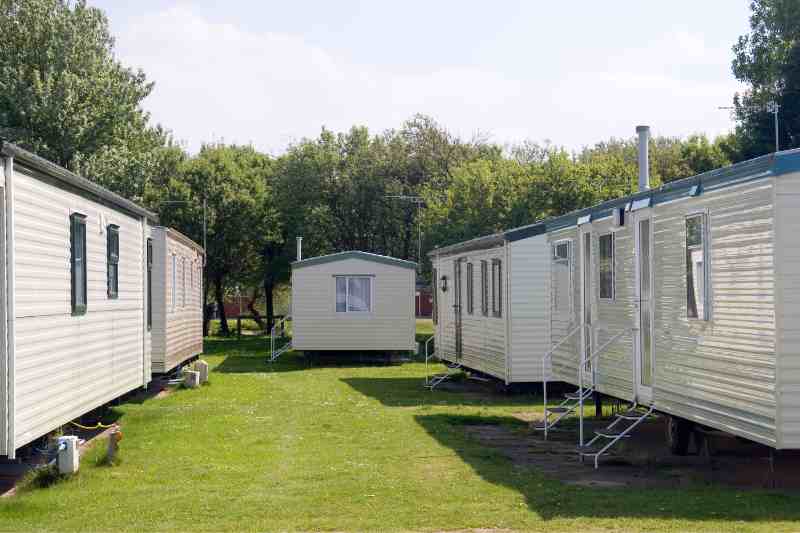 Mobile home parks are an increasingly popular housing option, offering affordable, flexible, and convenient living spaces. However, with a high concentration of residents in a relatively small area, you need an effective mobile home park intercom system to modernize access to your community.
Read on to learn what a mobile home park intercom is and why your property needs one. Then, explore how to properly install an intercom. Finally, discover the best mobile home park intercom system on the market.
In this post, we cover:
What is an intercom?
An intercom is a two-way communication system that residents and guests can use to securely gain access to your property.
Additionally, outdoor intercoms are weatherproof. So they're designed to withstand extreme temperatures and inclement weather — making them an ideal mobile home parking lot access control system.
There are many types of intercom systems, including:
Wireless intercoms. Wireless intercoms are an electronic building entry solution that doesn't require extensive wiring. So, they're great for mobile home parks. However, they must be set up in areas with a strong reception since they become less reliable in areas with weaker signals.
IP intercoms. IP intercoms use Internet Protocol to transmit audio and visual signals between two parties. They're easy to integrate with other security and property management systems, and they provide remote access.
Video intercoms. Video intercoms empower you to visually verify visitors, so you always know who you're letting in.
Telephone intercoms. Telephone intercoms use existing phone lines as a communication system. However, while cost-effective, these intercom systems tend to be outdated and unreliable in areas with poor cell reception.
Hybrid intercoms. Hybrid intercom systems combine different technologies, like video and wireless capabilities, for the most flexible and customizable solution.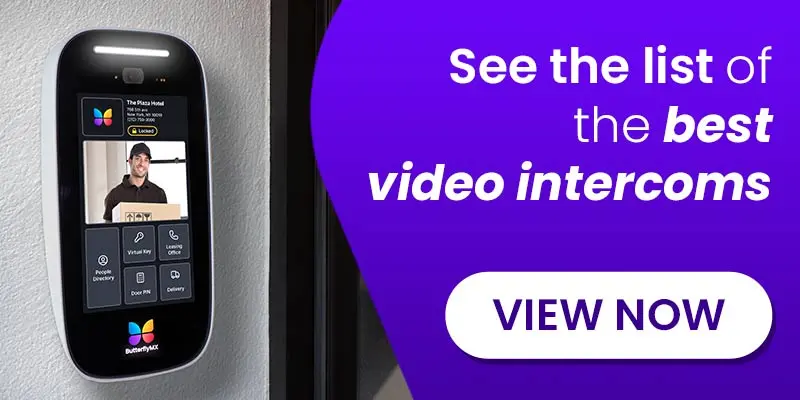 Why does my mobile home park need an intercom?
Your mobile home park needs an intercom to streamline operations, improve safety and security, and ensure that residents can easily grant access to their visitors.
Here are a few benefits of having an intercom at your mobile home park community:
Security. Verify residents and guests before allowing them access to your property. This eliminates the risk of unauthorized visitors attempting to access your park community.
Convenience. Intercoms provide convenient and secure access for everyone that frequents your property. What's more, intercoms allow residents and staff to easily grant access to visitors, delivery workers, and service providers without having to manually let them in.
Improved communications. Intercoms make it easier than ever for residents to communicate with visitors before letting them onto your property.
Remotely manage access. Modern intercoms empower you to manage visitor access permissions from anywhere in the world. So, property managers and owners don't have to physically be onsite to revoke, manage, or adjust access permissions.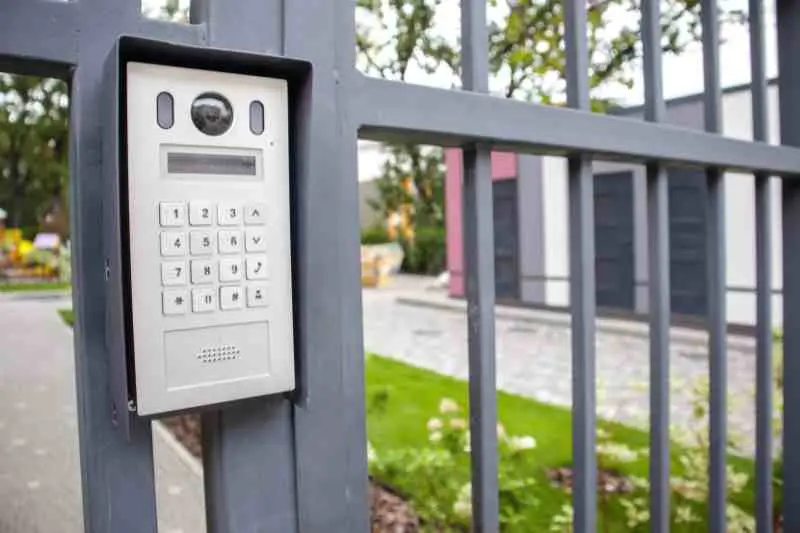 What are the advantages of a wireless intercom?
A wireless intercom offers a robust solution to common challenges that your mobile home park investment will often face.
Intercoms help solve challenges like:
Unauthorized access. Intercoms help reduce the risk of trespassing since they make it difficult for unauthorized visitors to access your property.
Break-ins. Investing in a smart access control solution helps mitigate the risk of break-ins, vandalism, and theft. Keyless access credentials like smartphones, PIN codes, and windshield tags can't be lost or stolen in the same way that keys can. So, a modern intercom system significantly reduces the likelihood of these events occurring.
Emergency response. Modern intercom systems integrate with first responder technologies, like fire alarms and medical alert systems. So, in the event of an emergency, emergency responders can quickly locate the mobile home that's in need of assistance.
Safety concerns. Intercoms offer you peace of mind by empowering residents to walk around the park grounds safely at any time of day or night. With this in mind, residents and staff won't have to worry about unauthorized trespassers potentially being onsite.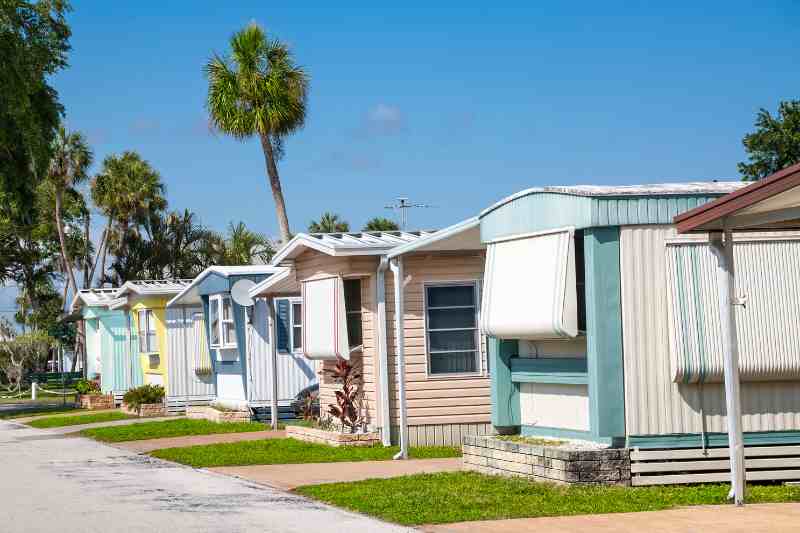 How to install a mobile home park intercom system
Hire a certified installer to assess your mobile home park community's needs and install your system. Every park-ground is different, from residential to vacation parks, so you need a customizable access control solution for your specific needs.
While wireless commercial intercom systems are simple to install since they don't require extensive cabling, it's still recommended to have a certified professional carry out the installation process.
Pro tip: Choose an installer that specializes in installing your parking access control system's hardware to ensure optimal results.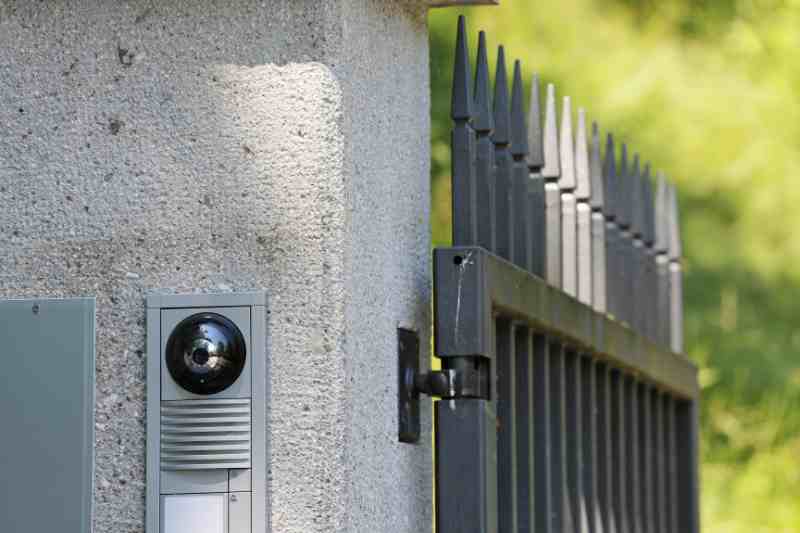 The best mobile home park intercom system
The best mobile home park intercom is ButterflyMX because it enhances security and convenience while empowering residents to access the park and let in their guests using just a smartphone.
What's more, ButterflyMX integrates with property management software to automate the process of adding or removing residents from the intercom system. So, if a resident moves out of the park and you delete them from your PMS, they'll also automatically be deleted from the ButterflyXM system.
ButterflyMX offers a suite of access control solutions perfect for mobile home parks, including:
Video intercom. The ButterflyMX wireless video intercom empowers residents and staff to launch two-way video calls with visitors. So, they can visually verify who they're letting in. What's more, it logs time-and-date-stamped photos of all entry events that are easily accessible online or through the ButterflyMX mobile app.
Mobile app. The ButterflyMX mobile app empowers residents to open gates with just a swipe on their smartphones. What's more, residents and staff can send temporary virtual keys to visitors and service providers.
Vehicle access control. ButterflyMX vehicle readers and windshield tags enable convenient hands-free access for every authorized vehicle at your property. All residents have to do is place the windshield tag on their vehicle — making it the most seamless access control parking system for mobile home parks.
Smart locks. ButterflyMX integrates with over 80 smart locks — enabling keyless entry at any access point at your property. As a result, this allows residents to open doors to shared amenity spaces like pools and recreation facilities with their smartphones.
Keypad. If you need extra protection for secure areas like supply rooms or fueling stations, ButterflyMX keypads are a great option.
Learn how the ButterflyMX video intercom works:
Takeaways
Mobile home park intercoms are a two-way communication system that streamlines access to your property.
Your mobile home park needs an intercom because they offer security, convenience, improved communications, and allow you to manage access from anywhere.
Hire a certified installer to install your mobile home park wireless intercom system.
The best mobile home park intercom system is ButterflyMX.