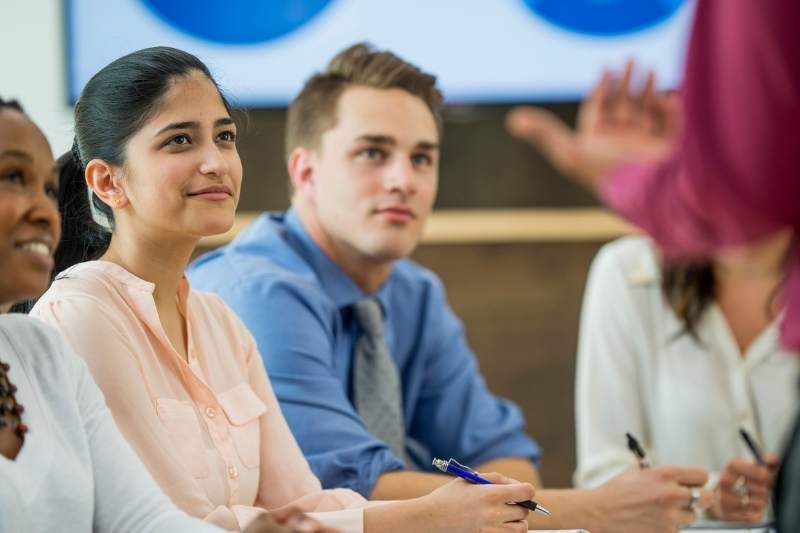 Successfully training new property managers is a foundational part of resident retention. Your residents expect the building to run smoothly, regardless of your new property manager's start date.
Coaching new property managers is key to developing a strong management team streamlining property operations and increasing your bottom line. Creating a comprehensive and efficient property management training system will take your property to the next level.
In this blog, we cover:
What is property management training?
Property management training is your chance to train a newly hired property manager (or PM) on the ins and outs of your building. Most property managers have education in the field, and some may even have on-the-job experience.
Because of this, your goal during training should be to share information that pertains to your unique property. Your property management training program should inform new hires about the specific processes that keep your property running smoothly.
Discover the 3 most important topics your property management training should cover:
Why do you need a property management training process?
So, you've interviewed and hired a new property management team member, now what?
One of the most common reasons residents choose not to renew their lease is poor management. And quite often, poor management is simply due to lackluster training. Therefore, you must take time to train your new property managers.
Your new hires may have experience in property management, but they won't know the intricacies of your community. By providing ample property management training, you'll ease any strain related to management transition.
If you take time to train your new PM when they start, you'll set them up for long-term success at your property. This will significantly lower your employee turnover rate and save you time, energy, and money in the long run.
Top 3 categories to include in your property management training process
Training a new property manager is an ongoing process. But, if you prepare a training framework for new PMs at your property, the transition will be seamless, and you'll retain your employees longer.
There are three categories you should include in your property management training program.
The top three categories are: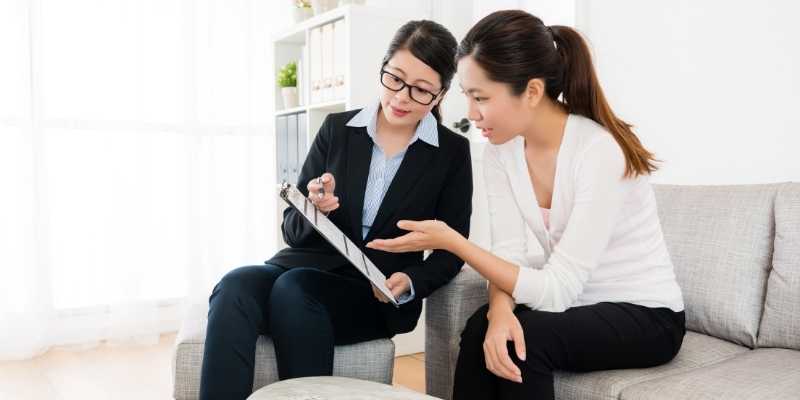 1. Financial training
Good financial planning is the difference between a thriving property and a failing one. Your property management training must focus time on finances.
Include lessons on: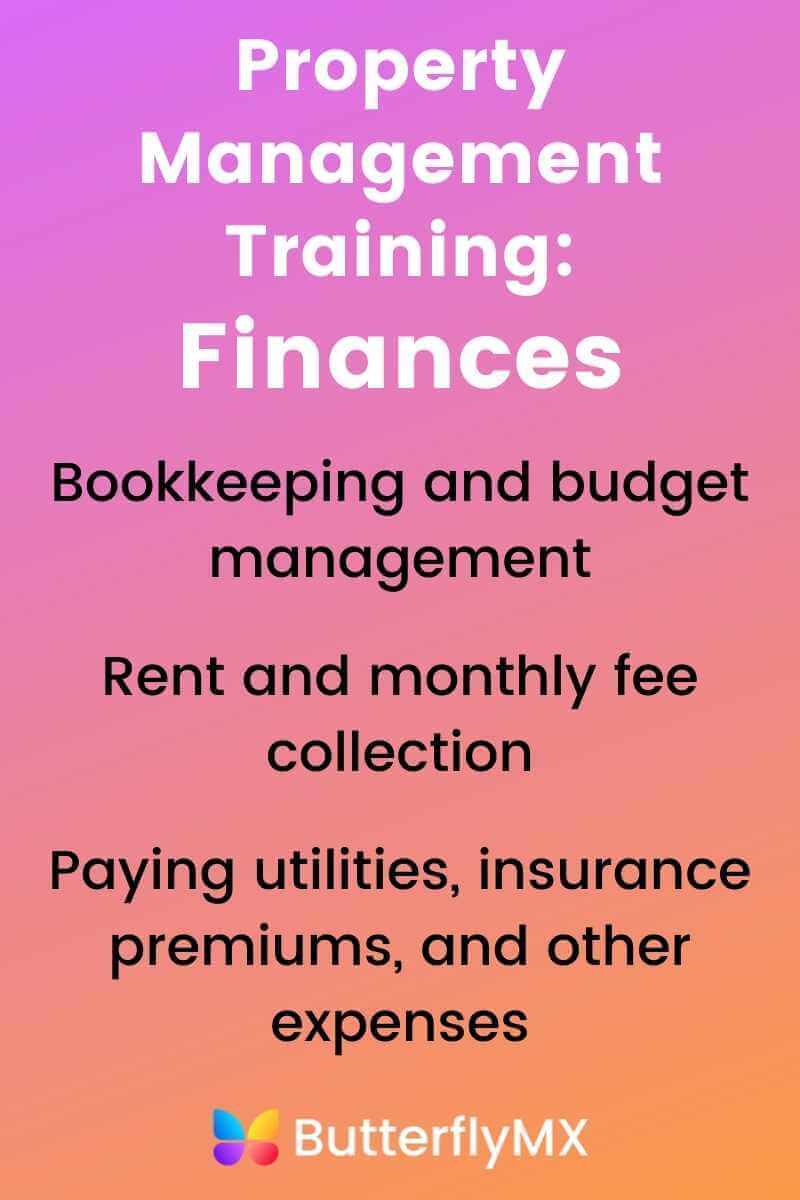 Bookkeeping and accounting at your property
Top-notch bookkeeping is essential to a smoothly run property. Consequently, this lesson is crucial. Be clear about your property's financial records and what you expect in terms of bookkeeping techniques.
Have your new PM send you regular financial reports. Go over the reports together to ensure they have followed your property management budget and recorded all transactions.
Establishing this practice is vital because it creates a clear line of communication and prevents any financial discrepancies.
Rent and monthly fee collection
Making sure rent and monthly fees are paid on time is paramount. This is especially true if your property does not have automatic payments. Rent collection procedures must be one of the most thorough parts of your property management training.
Your new PM needs to collect and deposit rent payments and contact residents who don't pay on time.
Obviously, if your property has an established procedure for late or overdue payments, share this with your new PM. If not, consider working together to establish this system.
In order to keep your property's operations streamlined, rent payments must be collected and deposited consistently and quickly. Make sure this lesson is one of the first you share with your new PM.
Paying utilities, insurance premiums, and other expenses
Having your property's water, electricity, or gas shut off because of poor planning would be disastrous!
The only way to prevent this is to have a payment plan in place. Make sure your new PM knows your deadlines and is prepared to meet them.
Again, if you have automatic payments in place, train your new PM on this system.
Additionally, make sure your new PM is up-to-date on your renter's insurance policy. This ensures that the manager won't approve a resident with incompatible renter's insurance. Provide your new PM with a list of approved renter's insurance plans. Have them give this list to new residents when they're looking to purchase a plan.
2. Marketing training
Advertising and getting plenty of leads from prospects is key to guaranteeing success for your property. Given that, your property management training must include a lesson on marketing.
You should train your new property manager on:

Performing move-in and move-out inspections
Before your new property manager can begin advertising an available unit, they must perform a move-in inspection. This will ready the unit for showings by allowing time to fix any maintenance or aesthetic issues.
Also, an inspection should be performed when the tenant moves in. You can choose to have the tenant perform the inspection alone or with the PM present. Create a form to record the condition of the unit. Have your new PM give this form to new residents and keep it on file for move-out inspections.
Move-out inspections are equally as important as move-in inspections!
Your PM should perform a thorough walkthrough of the unit with the move-in inspection form. Have them note any new damage. Report this damage to maintenance for repairs and gather it in an itemized deduction from the tenant's security deposit.
Showing rentals and facilitating property tours
Letting a unit sit empty for extended periods can be financially crippling for a property. So, make sure your property manager knows how to facilitate tours.
If PMs at your property are in charge of conducting tours, make sure they know your building's primary selling points and how to answer potentially tough questions from prospects. And if it's a leasing agent who leads tours, ensure that your new PM understands the prospect lifecycle and what their role is in the process.
Whether the building offers agent-led tours, self-guided tours, or both, your property manager needs to ensure tours are well-organized. Train them on this right away to avoid scheduling conflicts. After all, communication before the tour and the tour itself are your best opportunities to make a great first impression.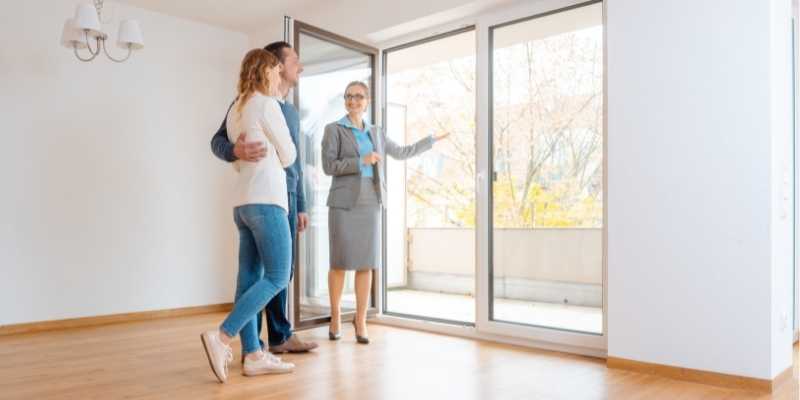 When training your new PM on tours and showings, remember to:
Train them to establish an open line of communication with prospects.
Guide them on property tours yourself and have them shadow other experienced staff on several tours.
Before letting them lead a tour, have them practice giving you a tour of an available unit. Prepare frequently asked questions and equip them with the best answers.
Screening new applicants
When a prospect applies for an available unit, your PM must respond promptly. You should have specific parameters for minimum applicant requirements. Have your new PM check these requirements by requesting the applicant's paystub, rental history, and more.
If a resident meets the minimum requirements, have your new PM submit a background check. Systems like Entrata and Yardi are inexpensive options to screen your applicant's rental and criminal history.
Meanwhile, train your PM to keep in contact with the applicant. Have them establish an open line of communication that keeps the prospect informed of where they are in the application process. Once approved, train your new PM on reaching out to an approved applicant.
And of course, make sure new PMs know how their job complements any leasing agents on staff. Property managers and leasing agents should understand their unique responsibilities while also coordinating and communicating with each other effectively.
3. Resident management training
Keeping residents happy is the key to resident retention! So, train your new property manager on resident management tactics to ensure a high rate of lease renewals and resident referrals.
To do this, focus your training on: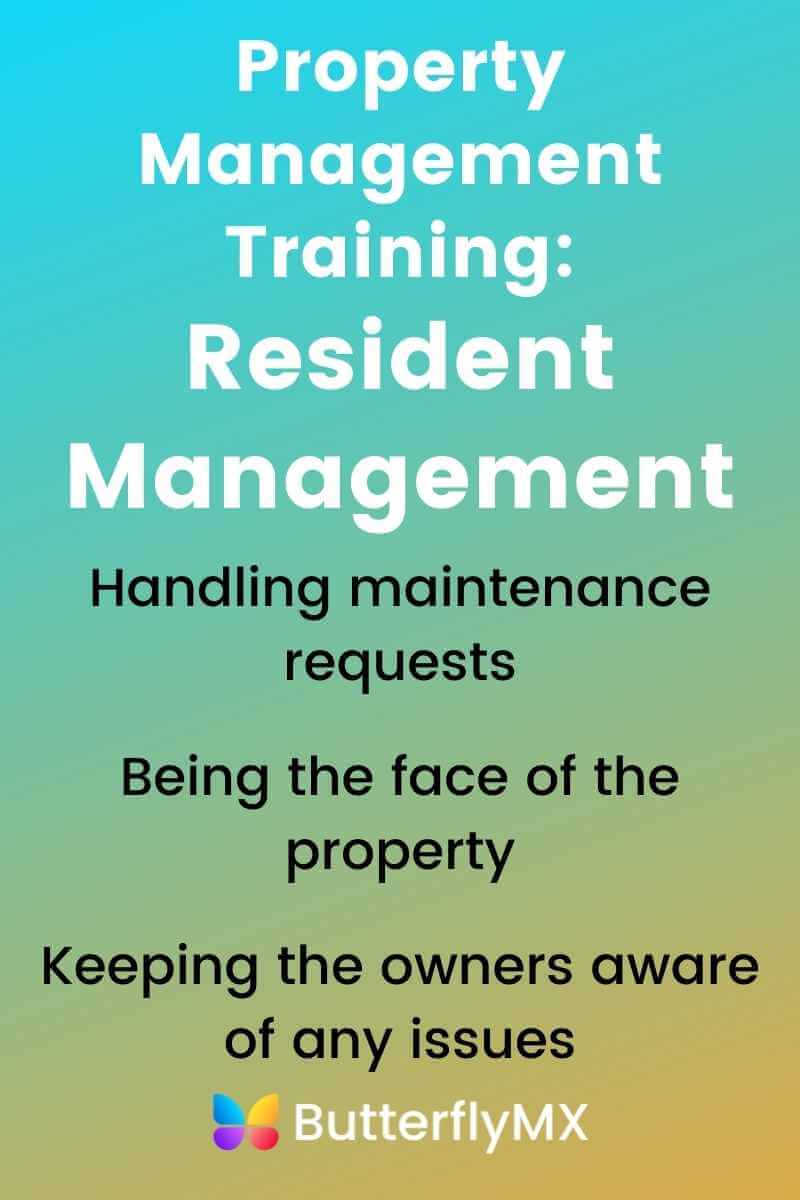 Handling maintenance requests
Communication between your new property manager and other staff is just as important as their communication with residents. Train them to thoroughly explain requests to maintenance staff and follow up in a timely manner.
If a resident hasn't given enough information on a request, the property manager should reach out directly. It's better to give an exhaustively outlined request than a partial, confusing one to a maintenance staff member.
In the long run, taking extra time to streamline maintenance requests will create better relationships between your new PM and the rest of your staff.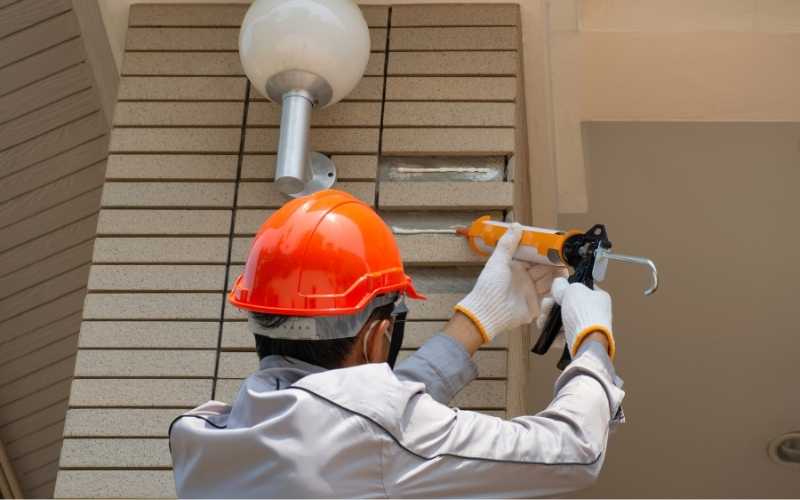 Being the face of the property
Property managers are the initial point of contact for all residents. To this end, their most important job is keeping residents happy. Make sure they keep a positive attitude during interactions.
Lack of property manager support will turn residents away from seeking out help from PMs. This will result in less traffic at your amenities, fewer lease renewals, and lower resident satisfaction.
Overall, prioritizing resident satisfaction in your property management training maximize NOI and protect your bottom line.
Keeping the owners aware of any issues
Whether you're a regional property manager or some other management figure, you must be kept up-to-date with any issues. So, foster a healthy, communication-focused relationship with your new PM.
Set up a weekly meeting where they can openly discuss overarching issues. Be available for big emergencies such as burst pipes or pending evictions.
Patience is key to training a competent and long-lasting property manager. With this in mind, double-check their work for the first few weeks and months. Highlight the issues you want to be made aware of immediately, and be ready to respond when they arise.
Residents will sense if tensions are high between building staff. Prevent this by being proactive. Teach your PM everything they need to know and troubleshoot until they've got the hang of managing your property.
Takeaways
Training a new property manager is a long-term commitment. But taking the time to train them now will increase your bottom line and prevent high employee turnover.
You should train your new property manager on three main topics:
Property finances: To seamlessly transition into the role as PM.
Property marketing: To gain interested prospects and bring new residents to the property.
Resident management: To increase resident satisfaction and, in turn, resident retention.