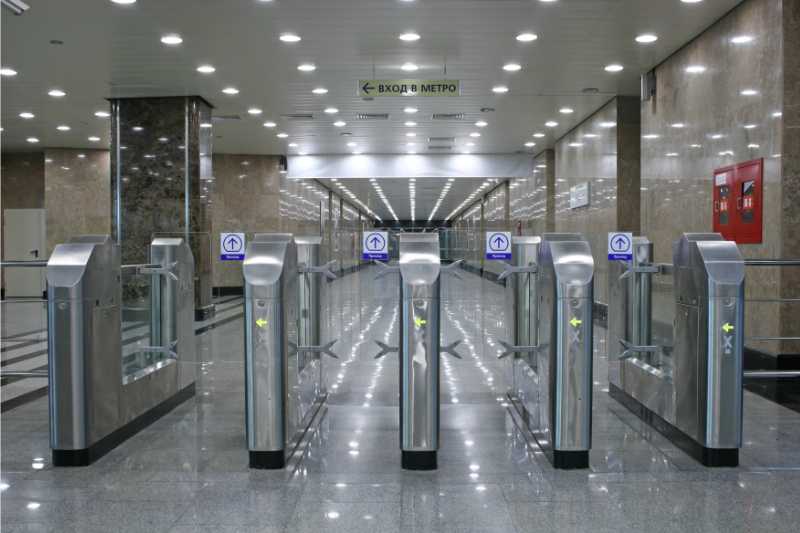 Upgrading your building's physical security systems can be quite a challenge. Every building has unique needs, and there are an overwhelming number of options to choose from. But one security solution worth considering is a security turnstile.
In this guide, we'll cover what security turnstiles are and how they work. Next, we'll review several different types of turnstiles. Finally, we'll cover the benefits of security turnstiles and provide the best alternative.
This post covers:
What are turnstiles used for?
Access control turnstiles physically restrict people from proceeding past a certain point in a building or public area (such as a subway station). They often take the form of waist-high or door-sized gates. Security turnstiles are most commonly used to control access at commercial properties and businesses but can be used in other types of buildings as well.
How do security turnstiles work?
When someone lines up at a turnstile entrance, the electronic turnstile barrier remains locked in place until the proper credentials are scanned. Once the person scans their credentials, the machine verifies whether they have permission to enter. If the person is authorized, the turnstile electronically lowers the barrier so that they can enter. After they pass through, the barrier slides back in place.
Alternatively, there could be a doorman or front desk person who verifies the person's identity and remotely opens the turnstile.
Once a person exits through a security turnstile, the turnstile usually lowers the bridge automatically and does not require them to scan a credential. Many commercial properties have one-way turnstiles that are clearly designated with signage. This way, people entering and exiting the building can do so at the same time without bumping into one another. However, smaller buildings may only have one turnstile for both entering and exiting.
Alternatively, you may consider installing a push-to-exit button. That way, visitors can exit through the secure door using this button instead of causing more foot traffic at the turnstile.
How many people can go through a turnstile in an hour?
Controlled access turnstiles don't take longer than a second or two to open. There's no limit to the number of people who can pass through a turnstile in an hour as long as their credentials meet the security requirements.
The only time a line may form is if a person doesn't scan their credential properly. This same example of user error can apply to nearly every other form of access control, and it's not something you should worry about.
What is a security turnstile's full height?
There are several different types of security turnstiles. Some are waist-high (about 3 feet), while others are as tall as your typical door (7 feet).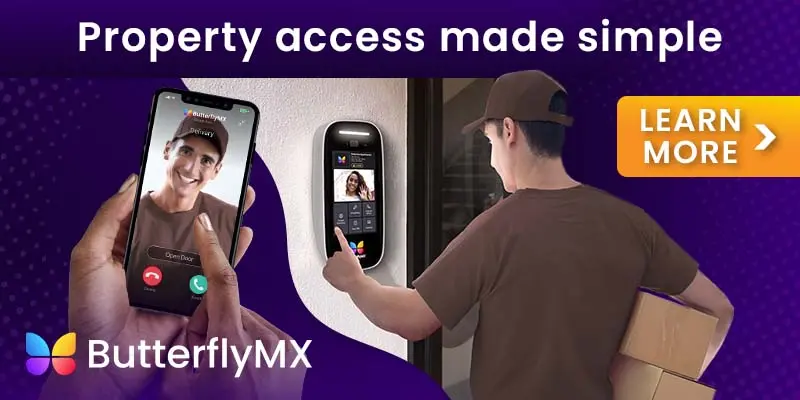 How much do security turnstiles cost?
Turnstile gate prices vary depending on the type of turnstile you want to install. Modern security technology tends to be more costly. Basic turnstiles can cost around $1,500 and jump to over $10,000. However, that higher price range is for full-sized turnstile gates.
What are the benefits of security turnstiles?
Security turnstiles offer a number of benefits for your building's overall security.
The benefits of security turnstiles are that they:
Prevent unauthorized people from entering.
Are user-friendly.
Deter larceny crimes.
May set off an alarm if someone tries to hop over.
Can be combined with other security systems, such as cameras and video intercoms.
Organize large crowds.
Keep track of the number of people who have passed through the turnstile.
What are the common types of security turnstiles?
There are generally three varieties of turnstiles. The turnstile that will benefit you the most depends on how large your property is and how many people come and go daily.
Security turnstile varieties include:
1. Optical turnstile
Optical turnstiles are one of the more technologically advanced types of turnstiles. They're solely used inside buildings.
These turnstiles scan when a person is close by and often feature red and green lights that glow and indicate when a person can or cannot attempt to pass through. Some optical turnstiles don't even require a user to swipe their credential, as the system's infrared scanners can detect it on their body.
Optical turnstiles are often used in high-volume buildings for faster entering and exiting. They typically cost the most when compared to more basic turnstiles.
2. Full-height security turnstile
Full-height turnstiles can be used both inside and outside of buildings. These turnstiles typically come in the form of revolving turnstiles and access gates. The biggest difference between those two, aside from how they look, is that access gates can be held open and are slightly less secure.
Conversely, access gates are easier to move large items through, which could be more beneficial for multifamily properties that have people moving in and out every year. Access gates are also more friendly for disabled people while revolving turnstiles can be more limiting.
3. Waist-high turnstile
The more classic of the security turnstiles, waist-high turnstiles are slightly less advanced than optical turnstiles. Turnstile gates with card readers often have physical security guards or doormen nearby to help if something goes wrong. Because of their simplicity when compared to optical turnstiles, they require much less maintenance and are easier to install and operate.
Which access control system integrates best with turnstiles?
Video intercoms and elevator controls pair best with security turnstiles for physical security at your building. Specifically, ButterflyMX video intercoms and elevator controls are the best products to pair with turnstiles.
The ButterflyMX video intercom:
Allows residents to unlock doors and gates remotely with the tap of a finger in a mobile app.
Takes a date and time-stamped picture of each entry.
Pairs with elevator controls, which ensure that users only have access to floors they have permission to be on.
Is easy to install and integrate with other property technology.
Features cloud-based software that updates automatically.
Learn more about access control systems that complement security turnstiles: 
Takeaways
Security turnstiles are gates that restrict access and require credentials to open.
Turnstiles range from $1,500 – $10,000.
The most common turnstiles are optical, full-height, and waist-high.
Security turnstiles can be integrated with a number of different devices, including the ButterflyMX video intercom.