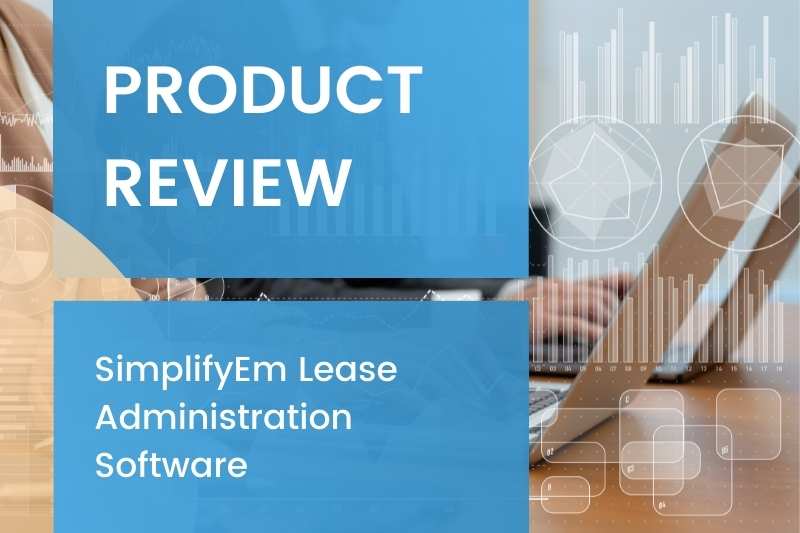 Dealing with the intricacies of lease administration as a busy property manager or leasing agent can be a daunting task. Without the proper tools and organization, it's difficult to keep lease information and details correct, coordinated, and current with the latest regulations. That's why it's worth looking into a lease administration software like SimplifyEm.
SimplifyEm is a property management system that includes robust lease management tools. This review carefully assesses SimplifyEm so you can determine if it will work with your property and lease management operations.
This post covers:
About SimplifyEm
You'll need a passion for both real estate and technology if you're designing lease administration software. Pankaj Shukla and Narinder Sandhu had both when they founded SimplifyEm in 2006.
Shukla and Sandhu then assembled a team of like-minded professionals who were equally passionate about real estate management and delivering an easy-to-use product and good customer service to ease the burden of property managers.
SimplifyEm now manages over $42 billion in real estate assets through their software and maintains a customer base throughout the United States and Canada.
How SimplifyEm works
SimplifyEm lives up to its name with a simplified process to get started.
After creating an account, the software leads you through an easy-to-understand three-step process:
Add your property
Customize your worksheet
Start entering amounts and review cash flow on your worksheet
Once you've created an account and entered your information, you can take advantage of the many services included in all subscriptions.
Some of those services may include:
Full income and expense tracking
Manage lease and tenant information
Manage vendors and year-end taxes
Unlimited document storage
SimplifyEm can be used for management companies in both multifamily and commercial, and for portfolios large or small.
Watch how ButterflyMX works:
Review of SimplifyEm
SimplifyEm offers an array of tools and features that assist busy property managers and building owners by keeping track of their many lease agreements. Whether you own or manage 50 units or 500, the right software can help you stay organized and successfully juggle all those lease agreements. Read on for more details about SimplifyEm's features, pricing, and pros and cons.
Features
Manage tenants ​and lease information. Manage all of your lease and tenant information in one place. Get notified when renters are paying late so you can quickly remedy the situation before it gets out of hand.
Online lease forms. You can customize lease forms to fit your specific terms.
Get notified when leases are about to expire. The software alerts you when a lease is approaching expiration so you can take steps to renegotiate a new lease or discuss termination procedures with the resident.
Lease termination forms can be used when both parties have mutually agreed to terminate their lease contract. SimplifyEm offers lease termination forms for all 50 states.
Unlimited lease and document storage. Organization is essential in time management, and SimplifyEm allows you to keep track of and safely store leases, notes, and other documents online.
Online rental applications. Rental application forms are critical in the process of approving a prospective tenant. The application can protect the property management company and building owners from unfair discrimination accusations. The application also begins the screening process to determine if the potential tenant is a good fit for their lease agreement.
Affordable tenant screening. SimplifyEm has partnered with TransUnion to provide comprehensive tenant screening services. Tenant screening reports include credit, criminal, eviction, and income information.
Email and live phone support. Take advantage of live support whenever you need assistance with the platform.
SimplifyEm cost
SimplifyEm pricing starts at $25 per month and increases based on the number of units you manage. These tiered pricing plans mean that your monthly fee depends on the size of your building or portfolio.
For those who manage 10 units or fewer, you'll pay $25 per month for the P10 plan. If you manage up to 11 to 20 units, you'll pay $35 per month for the P20 plan. SimplifyEm's pricing maxes out at $1620 per month for those who manage up to 2000 units. You can also use their online price calculator to receive a custom quote.
Keep in mind that certain features may cost extra, depending on your plan. Rental and leasing forms range from $3 to $10, and tenant screening reports are $19.95.
Before committing to SimplifyEm, take advantage of their free trial period.
Pros & cons
Pros:
Save money instantly: The software supplies you with a comprehensive list of often-overlooked tax deductions.
Manage all your lease information in one place: SimplifyEm makes tracking your leases and other documents easy. Know immediately who's paying late and whose lease is ready to expire.
Online lease forms and rental applications: Convenient access to rental forms for all 50 states.
Tenant screenings: Fast and reliable tenant screening reports by TransUnion.
Generate cash flow reports: Easily run cash flow reports on your multi-tenant properties to see where your money is going.
Cons:
Prices may run high in the upper-cost tiers.
The software may lack an open API for integrations.
The system may not have a stand-alone application.
Should you get SimplifyEm?
SimplifyEm works well for property managers seeking a solution to simplify the leasing process. Their software is currently used by TransUnion, Zillow, and Fidelity National Real Estate Solutions. If you're looking for lease administration software that's easy to use and has good customer support, then SimplifyEm may be for you. Take advantage of their free trial period and find out.
Alternatives to SimplifyEm
If you're looking for a different lease administration software provider, consider LeaseQuery or Yardi Breeze.
LeaseQuery was founded by accountants who understand the challenges that come with the leasing process. Offering features such as data entry validation and automatic report generation, LeaseQuery may be a solid option for you. However, it isn't designed specifically for property management, so the user experience may not be what you're seeking.
Yardi Breeze is another alternative that fuses accounting, lease administration, and property management tools into one software solution. Keep in mind that Yardi Breeze is designed for smaller properties — so if you have a large portfolio, consider Yardi Voyager.
Disclaimer: ButterflyMX provides these blog posts to help our customers and potential customers make the right business decisions for them. Our blog posts are based on the information we have available to us at the time of writing.