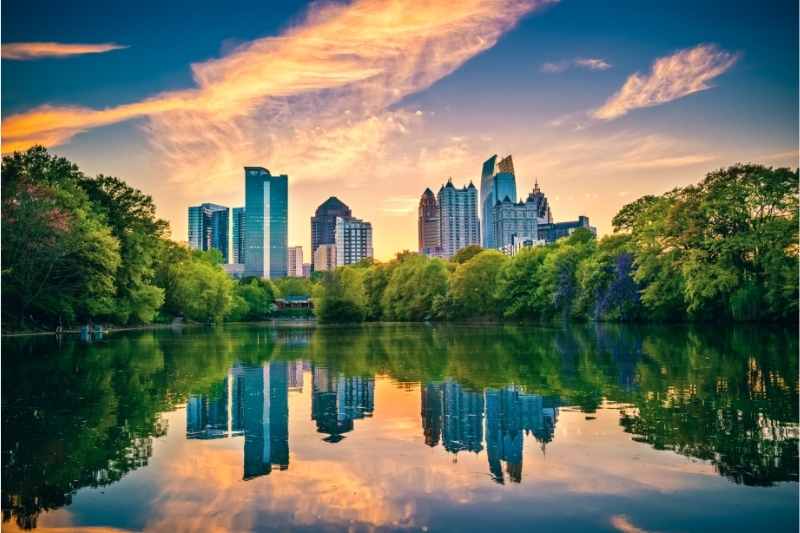 Atlanta is a thriving city with a growing population. So, an up-to-date access control system is one of the most important features your building can offer to keep up with the competition and make tenants' lives easier.
However, there are many different types of access control systems to choose from. In this guide, we'll go over what an access control system is and how you can pick one for your property. Next, we'll explore the different types of access control systems and how you can get one installed in Atlanta. Finally, we'll cover the best access control system for you.
This post covers:
What does an access control system do?
An access control system manages who can enter your property by checking credentials at entryways and verifying who the user is before unlocking the door or gate for them.
Adding an access control system to your building will:
Improve security
Prevent break-ins, package theft, and other problems
Ensure a convenient access experience for tenants
Help authorized visitors navigate the building securely
How do access control systems work?
Access control systems work by requiring authorized tenants to provide a valid credential to unlock doors and navigate the building. Residents are assigned a credential and can often give visitors a permanent or temporary credential as well. If the credential is valid, the access control system releases the door or gate lock.
Watch how ButterflyMX works:
How to choose an access control system
Your Atlanta property's unique needs will define what you should look for in an access control system. Additionally, Atlanta itself has a number of unique qualities that separates it from other cities across the country.
When choosing an access control system in Atlanta, you should consider the following:
Smartphone access. From the elderly to children, nearly everyone has a smartphone. Atlanta has a large population of millennials, so it's important to appeal to them with the latest tech features. Entering a building via a smartphone app eliminates the need for residents to be responsible for keys. Additionally, smartphone access makes for super fast building entry. This is especially relieving when residents want to get out of the Georgia summer heat.
Weatherproofing. Speaking of heat, you'll want an access control system that can withstand 100-plus-degree days at the peak of summer. Look for devices that have an IP65 rating.
Guest management. Atlanta's vibrant foodie scene means one thing for certain: many of those drivers on the road are delivery drivers. So, your access control system should make it convenient for delivery drivers and other couriers and service providers to enter your building securely. A good access control system will allow residents to remotely grant access to visitors.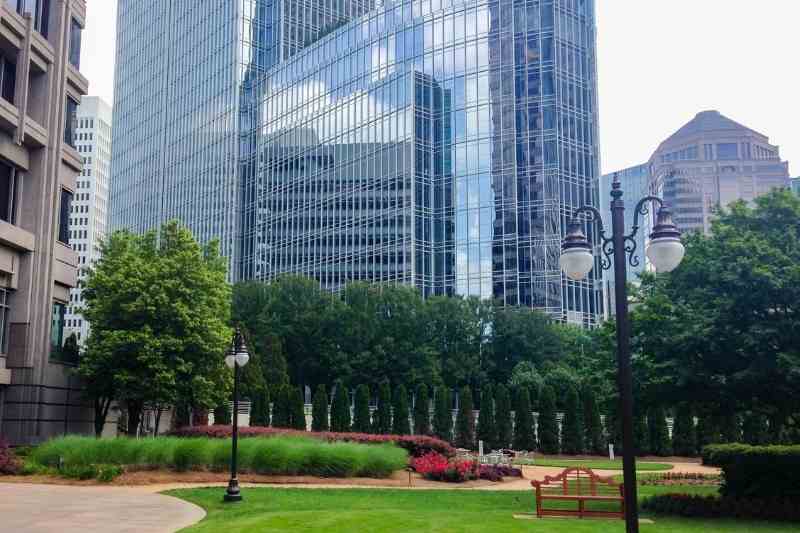 Types of access control systems in Atlanta
The best access control system for your building depends on the type of property you own or manage.
Learn about the right types of access control systems for:
Atlanta apartment access control
A video access control system is one of the best kinds of systems for apartments in Atlanta.
Above all, residents want to feel safe. But they don't want that safety to be an inconvenience. So, a video access control system will continuously monitor who enters the building while ensuring quick and easy access.
Many apartment buildings in Atlanta also favor door card readers and key fob entry systems. This is a faster entry method than old-fashioned keys and can also be used to monitor who comes and goes from a multifamily property.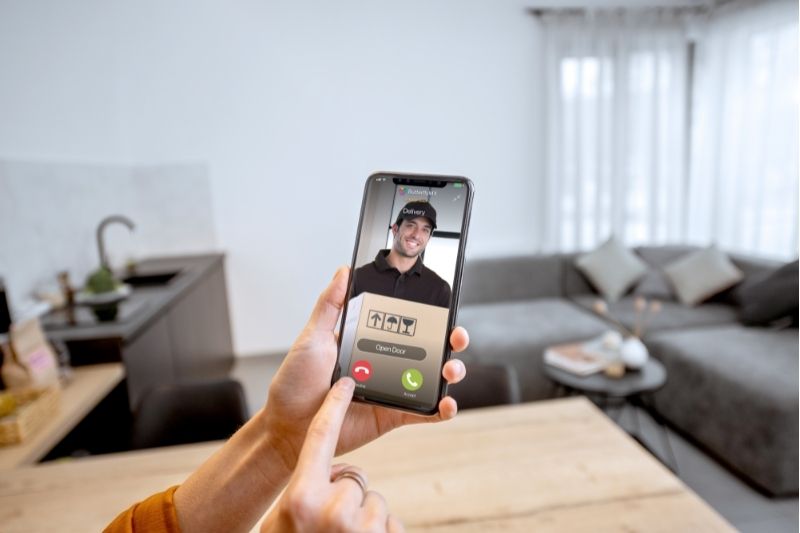 Parking garage access control
As with most densely populated cities, there are tons of parking garages in Atlanta. Atlanta ranks 21 in the country as a walkable city, which means many residents will want a place to secure their cars.
The best parking access systems will feature:
RIFD smart parking systems
Vehicle readers
Smartphone-based access
Keypads
One of the biggest concerns about a parking garage or parking lot is the long line of cars waiting to get in. So, your parking access control system will need to enable cars to verify their credentials and pass through quickly.
Commercial building access control in Atlanta
Even when you don't factor in the booming local film and music industry, Atlanta is packed with office buildings. Your ideal commercial access control system in Atlanta will be able to accommodate several tenants and guests frequently entering. Accordingly, your access control system should include a video intercom at the front entrance and elevator controls.
Some downtown buildings in Atlanta are mixed-use, with restaurants often sharing space on the ground floor of commercial buildings. So, you'll want to ensure that customers of a business don't mix up with your office worker tenants. The access control system you choose should be able to assign and identify unique credentials that can be given on a tenant-by-tenant basis.
Access control installers in Atlanta
Finding and hiring an access control system installer in Atlanta is much easier than it sounds. A good access control installer will be in and out of your property quickly (possibly within a day). The right installer will be cost-efficient and leave you feeling confident that your access control system is operating correctly.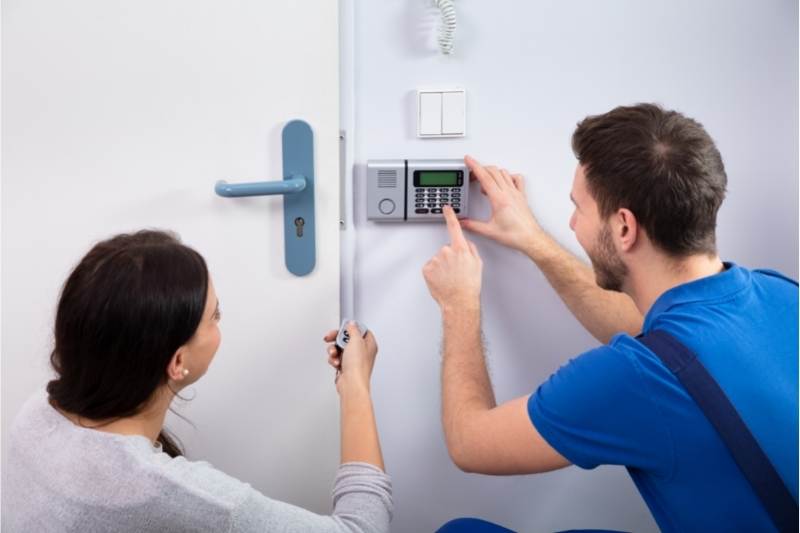 The 3 best Atlanta access control installers
While some installers will work better for your property than others, there are still plenty to choose from in Atlanta. We've narrowed the list down for you and chosen three that are worth checking out.
The 3 best access control installers in Atlanta are:
1. American Alarm Corporation
Google rating: 5/5
American Alarm Corporation was founded in 1995 and is the biggest company on this list. They specialize in access control systems, security cameras, commercial alarms, fire alarms, and residential monitoring.
While they're located just under an hour away in Roswell, GA, they regularly service the Atlanta area.
They are an A+ rated member of the Better Business Bureau. Reviews highlight customer service, timely installation, and thoroughness of their technicians.
2. Downs Security Solutions
Google rating: 4.5/5
With over 40 positive reviews, Downs Security Solutions is a family-owned business that can service your property throughout the Atlanta area. They offer commercial, residential, and high-security services.
Reviews highlight timely service, clear communication on the installation process, and expert advice.
3. Armor Lock and Security, Inc
Google rating: 4/5
Operating since 1965, Armor Lock and Security, Inc is a medium-sized installation company. They specialize in access control systems, security cameras, alarm systems, and locksmith services.
They don't subcontract their work and offer definitive pricing during consultations.
Reviews highlight their affordability, timely service, and expert knowledge when answering questions.
Choosing your installer
Once you've got a solid list of options, it's time to narrow things down and choose the best Atlanta access control system installer.
Here's how to pick an installation company or provider:
Location. Make sure your access control installer is actually located in the Atlanta area. Some bigger companies outsource to local installers. It's always more cost-efficient to go directly to local installers within your city.
Size. If you have a bigger property, make sure you pick an installer that is capable of servicing your building in a timely manner.
Insurance. All installers should immediately show you insurance upon request. Also, it's necessary that they're insured because they work with electricity and wiring when installing access control systems.
References. A reliable access control installer will have a number of references within the Atlanta area for buildings similar to your own.
Watch how ButterflyMX keypads work:
The best access control system in Atlanta
When it comes to an access control system that addresses the climate, demographics, and unique culture of Atlanta, ButterflyMX is the best access control system in Atlanta.
ButterflyMX has been simplifying property access since 2014. Now, the company offers the industry's first unified property access solution.
ButterflyMX's access control system offers essential features such as:
High-end security. Every time someone enters the building, the ButterflyMX video intercom takes date- and time-stamped pictures. This audit trail can be instantly accessed through the ButterflyMX OS.
Smart elevator controls. Your elevator controls can be configured to only allow access to certain floors depending on a user's credentials. This allows maintenance areas, private spaces, and areas under construction to only be accessed by the proper personnel.
Smartphone-based access. This feature eliminates the need for keys and allows residents to quickly enter the building via their ButterflyMX mobile app.
Remote access. Residents don't have to worry about being home to let in guests or delivery drivers with this feature. When a visitor requests access through the video intercom, residents are notified and can grant visitors access through the ButterflyMX app from anywhere in the world.
Video calling. Residents can speak face-to-face with whoever is requesting access. This helps maintain security by allowing them to know exactly who they're letting onto the property.
Takeaways
Your building in Atlanta needs an access control system to maintain security and provide a convenient way for authorized tenants to gain access.
The three best Atlanta access control installers are American Alarm Corporation, Downs Security Solutions, and Armor Lock and Security, Inc.
Hiring a good access control installer in Atlanta involves considering the company's, location, size, insurance, and customer references.
The ButterflyMX unified property access solution provides everything you need to control access at your building in Atlanta. It accommodates all types of properties including apartments, commercial buildings, and parking garages.