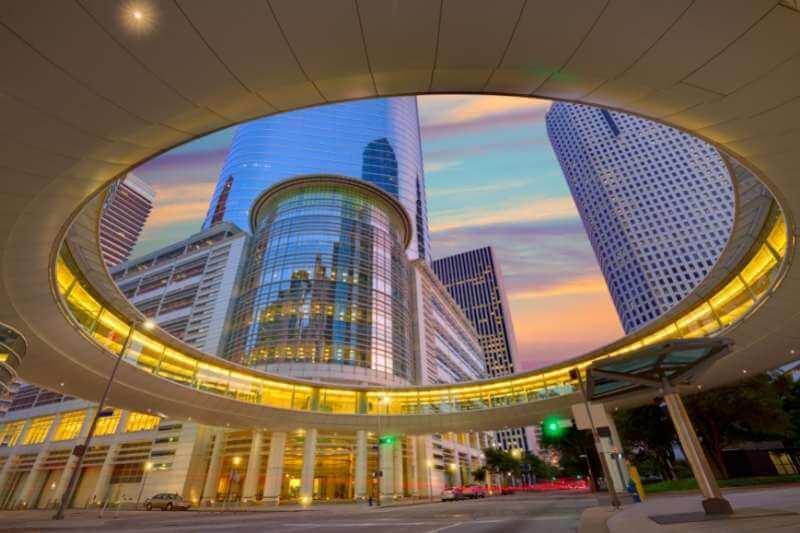 An access control system is one of the easiest ways to streamline access at your Houston property. A robust access control system helps you and your staff on a daily basis. Further, it also enriches the experience of all users.
When looking for access control in Houston, you can't choose the first solution you find. Instead, it's vital you learn how to choose the right system for your property before learning about the best installers in H-Town. Most importantly, you should know the best access control system in Houston, Texas.
This post covers:
How to choose an access control system in Houston
As the fourth most populated city in the United States, Houston is home to all types of properties that can benefit from an access control system. However, an access control system shouldn't be a one-size-fits-all solution. Instead, your system should tailor to the unique needs of your property and its occupants.
When selecting an access control system, take into account your property type:
Learn how Nimbus chose ButterflyMX:
Houston apartment building access control
Apartment buildings from downtown Houston to The Galleria and beyond can take advantage of a wide range of access control hardware for their residents.
By securing main entryways and amenity spaces, Houston apartment buildings can ensure their residents feel safe at all times of the day. With that said, the technology you implement shouldn't inconvenience residents. So, select an access control solution that supports multiple types of credentials — especially a mobile app.
With a mobile app, your residents can let in their guests and delivery drivers remotely. Further, they can provide service workers temporary access using a virtual key. Thus, residents don't have to be home when their dog walker or housekeeper visits during the day.
Houston commercial access control
It doesn't matter if you have a mix-use high-rise in Downtown Houston or a small office space in Sugar Land; an access control system easily manages who can enter your commercial property.
Utilizing hardware like a video intercom and elevator controls helps manage guest access. Then, guests can only access the level they need to reach when a tenant lets them inside. Not to mention, the video intercom takes a time- and date-stamped photo upon entry. After, it keeps these photos in an audit log that you can review at any time!
Furthermore, mixed-use commercial buildings with residential and commercial tenants must ensure all areas are secured. Keypads and card readers are great for these buildings. They guarantee that only authorized personnel can access their designated areas.
Houston gated community access control
Gated communities are highly sought after in The Woodlands, Katy, Pearland, and many other suburbs for their higher level of security and safety. Unfortunately, a gate means nothing if you can't restrict access to the property.
With this in mind, look for a system that lets residents access the property using a PIN code or mobile app. When it comes to guests, ensure the system has a directory they can use to call residents for access.
More importantly, your gate access control system needs to stand up against Houston's harsh weather conditions since it will likely be constantly exposed to the elements. So, seek an access control system with an IP65-rated casing. As a result, it can stand up against rain, wind, extreme heat, and more.
Houston garage and parking lot access control
Parking garages and lots are essential in cities as populated as Houston. However, most of them lack robust access control measures. To secure your tenants' parking spaces, implement an access control solution.
For instance, installing vehicle readers and windshield tags lets tenants access the area without fumbling for a credential. As a result, tenants can park their cars and get to where they're going faster. Plus, it eliminates long lines of cars piling up at the entry.
Houston industrial facility access control
The Houston region produces more than $80 billion worth of products every year, with more than 6,400 manufacturers contributing. In order to uphold the local economy, industrial facilities require state-of-the-art technologies, including access control. After all, an industrial facility has numerous restricted areas. Each of these areas have varying levels of authorized personnel, making access control a necessity.
Key fobs, cards, or badges are exceptional choices because they can be assigned to different types of personnel with varying degrees of access. Moreover, these credentials can attach to a lanyard or set of keys, making them quickly accessible for personnel moving from one area to another.
Above all, a key card or fob system can integrate with existing security systems. These include fire alarms or surveillance cameras, increasing the overall safety of your facility.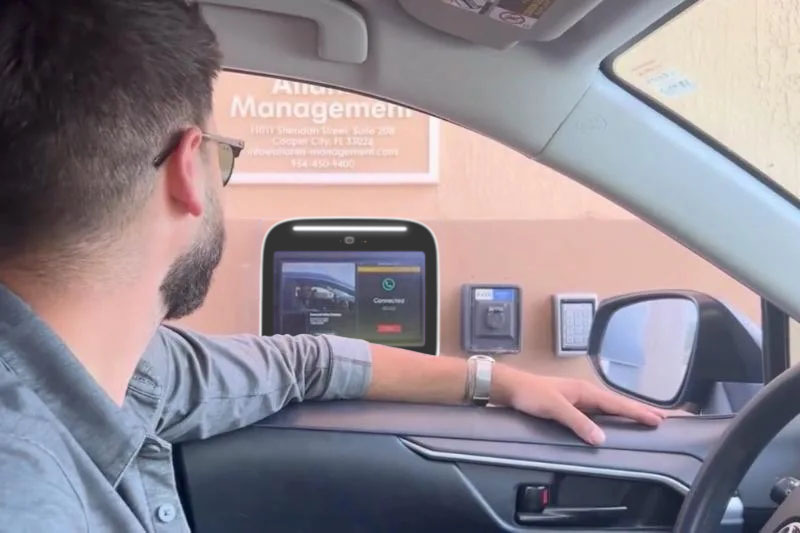 Best Houston access control installers
H-Town is full of access control installers, so it's difficult to determine which is right for your project. For the best experience, reach out to the manufacturer of the access control system you want. They'll provide you with a list of certified installers. That way, you can make sure to get the right system and a quality installation.
If you're unsure of the system you want, contact a Houston installer to learn about what best fits your property's access needs.
The best access control installers in Houston include:
1. RapidHandy Houston Security Solutions
Google rating: 4.7 / 5
Serving the Greater Houston area, RapidHandy has helped protect more than 1,000 properties across various industries. Their access control installations are tailored to each property without sacrificing their effectiveness or ease of use.
When it comes to access control, RapidHandy provides:
Access control software implementation
Credentials and readers
Intercoms
Telephone entry systems
Of course, RapidHandy Houston Security Solutions also provides a full suite of security hardware to consider for your property.
2. Megasystems Security
Google rating: 4.9 / 5
Megasystems Security is a family-owned and operated security company that has been serving Houston for over two decades. As a licensed and insured business, Megasystems Security offers commercial access control systems that meet your facility's needs. They offer customized solutions with only the most trusted brands and award-winning solutions.
In addition to access control, Megasystems Security offers the following services:
Physical security audits
Video monitoring
Maintenance programs
Security cameras
Alarm systems
Intercom systems
Structured cabling
3. Sky Locks & Doors Service
Google rating: 4.9 / 5
Sky Locks & Doors Service is a licensed and insured locksmith company established by an expert in the industry. From copying keys to installing access control, Sky Locks & Doors Service has established itself as a reputable provider of security systems. They service properties in Bellaire, Baytown, Humble, League City, Spring, and many other locations in and around Houston.
The team at Sky Locks & Doors Service offers comprehensive Houston access control services, from installation and training to maintenance and repairs.
4. OMNI Fire & Security
Google rating: 4.9 / 5
OMNI Fire & Security was founded in 1987 and remains a locally-owned and operated company. Offering a full range of products and services, OMNI Fire & Security can provide your property with 24-hour security solutions, including an access control system. OMNI Fire & Security will assist you in finding the right access control in Houston based on the function and size of your property.
Other services to consider from OMNI Fire & Security include:
Outdoor property protection
Fire alarm systems
Monitoring services
Remote video systems
Open and closing reports
5. American Fire Systems
Google rating: 3.9 / 5
Established in 2002, American Fire Systems is a full-service fire protection company offering commercial facilities customized security solutions. Serving Houston and other major Texas cities, American Fire Systems assesses and builds your access control needs from the ground up. In turn, the many markets they serve benefit from tailored solutions.
The team at American Fire Systems works closely with properties such as:
Multi-unit properties
Apartment buildings
High-rises
Condos
Offices
Manufacturing facilities
Schools and campuses
Hospitals and doctor's offices
Access control system repair in Houston
Regardless of the access control system you select, it will require regular maintenance and occasional repairs. Ideally, you want to catch any issues with your access control system early before they become serious.
So, watch out for these common signs of needing access control repairs:
Physical damage. Any visible damage to the system's readers, intercom, wiring, or other hardware should be addressed immediately, especially if you have any hardware that could be exposed to the elements. Keep an eye out for any openings, scratches, gashes, sunken buttons, and cracked screens.
Delayed door release. You'll be able to customize the timing of your access control system's door release, but if it isn't working correctly or there is a severe delay, you'll need a technician to inspect the system to diagnose the problem.
Rejected credentials. When your system rejects authorized credentials or doesn't respond to any credentials, it may require some tuning or a reader replacement.
User complaints. Listen to your residents, tenants, or employees using the system. If they're experiencing any issues with the system, it's worth investigating further for potential repairs.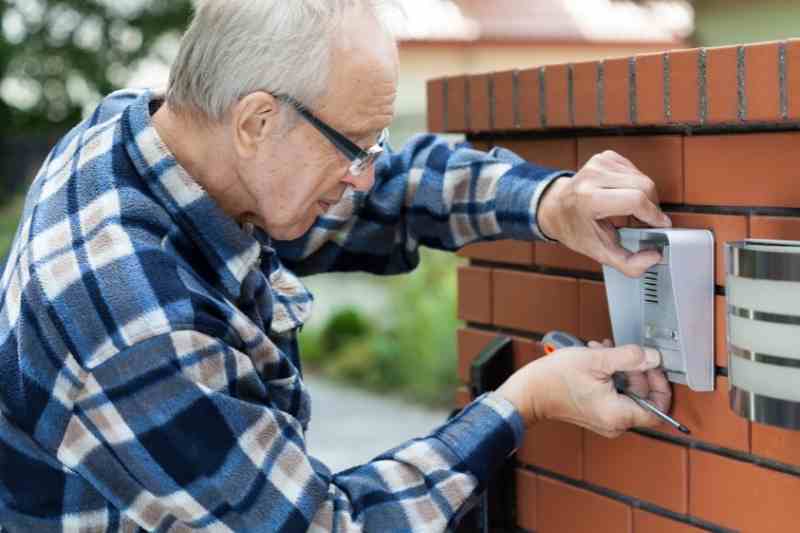 Best access control system in Houston
ButterflyMX is the best access control system in Houston. It's the only access control solution that can strengthen your property's security without sacrificing convenience.
ButterflyMX was founded in 2014 with its flagship product, the video intercom system. Today, ButterflyMX has extended its product line to property-wide, cloud-based access control.
The ButterflyMX access control system features:
Video intercoms. The ButterflyMX video intercom is designed for primary entryways, allowing guests to request access from a resident directory. The intercom supports two-way video calling so residents can see who they're letting inside before granting access.
Keypads. ButterflyMX keypads help manage access for any interior areas, such as amenity spaces or offices. They support multiple credentials, including PIN codes, fobs, and smartphones.
Mullion readers. Similar to keypads, ButterflyMX mullion readers support multiple credentials: cards, fobs, and mobile access.
Package rooms. Multifamily and commercial properties can manage who can enter their package storage areas with the ButterflyMX package room. It not only allows tenants to access their packages but also gives access to couriers for deliveries.
Elevator controls. Ensure guests can only access specified levels when granted access with elevator controls. When a tenant lets their guests inside, elevator controls restrict the guests to the tenants' floor, so they won't have access to the whole property.
Vehicle readers and windshield tags. Gated communities and parking garages can reduce lines at the entryway by installing vehicle readers and windshield tags. The vehicle reader pulls the credentials from the windshield tag, automatically opening the gate as the vehicle approaches.
Smart lock integrations. Lastly, ButterflyMX integrates with leading smart lock brands on the market so that you can implement access control across individual units at your Houston property.