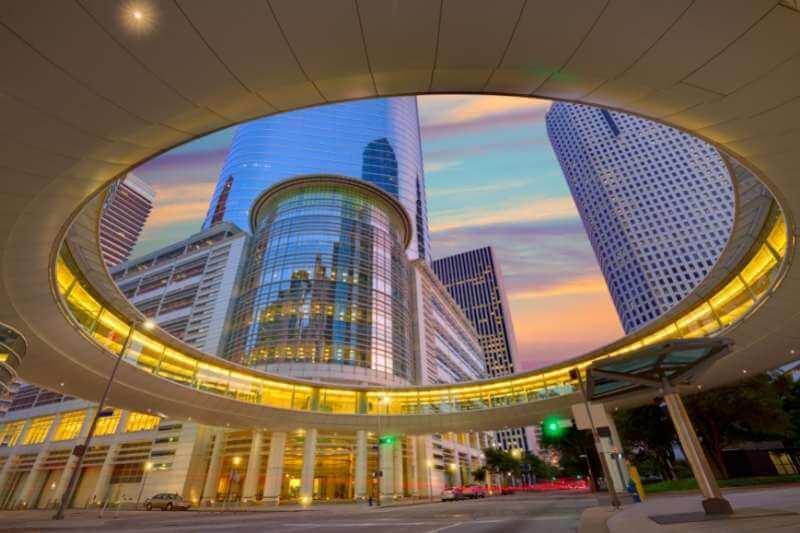 An access control system is one of the smartest ways to improve the quality and function of your Houston property. It not only helps you and your staff on a daily basis, but it enriches the tenant experience. As a result, you can attract prospective tenants and retain them long-term.
When looking for access control in Houston, you can't choose the first solution you find. Instead, it's vital you learn which system is best suited for your property. You'll also need to know what features to look for and how to find the right installer.
This guide will cover the following:
What Houston properties need access control systems?
Houston is a booming city with a vast range of commercial and residential properties, many of which would benefit from access control.
Access control systems are a must for:
Apartments: Houston residents benefit from access control systems like video intercoms because they can see who they're letting inside the building. They can also easily let in a delivery driver or dog walker without ever being home.
Gated communities: Utilizing a wireless intercom system prevents the common problem of car stacking at the gated entrance. Additionally, residents have an easier time letting in guests or couriers no matter where they may be.
Garages and parking lots: There are a handful of access control solutions you can implement for your Houston parking lot or garage. For example, license plate readers, keypads, and gate attendants are common choices.
Offices: Tenants see a variety of guests in the form of delivery drivers, customers, clients, and more. Access control systems make it easy to manage all of these visitors while protecting tenants and business assets.
Commercial properties: Small and large businesses alike benefit from access control systems in their commercial properties. They provide a safe and secure solution for letting in couriers and customers.
Mix-use properties: Managing building access for residents, business owners, employees, delivery drivers, and customers is a considerable challenge. Access control systems offer the necessary features for the level of security a mix-use property requires.
Industrial facilities: Keypads are an effective solution for Houston industrial facilities. Assigning each employee a PIN lets them access the areas they need while restricting them from other parts of the building. As for visitors, a video intercom system at the entrance lets employees know who is requesting access.
See what others have to say about ButterflyMX:
Benefits of access control systems for Houston properties
Regardless of the type of Houston property you own or manage, access control is beneficial for you, your staff, and your tenants.
Your property will benefit from controlled access in many ways:
Improved security
Access control systems make it easier to let approved tenants in while keeping unauthorized guests out of your Houston property. In addition, a system with video functionality includes an audit trail of each entry. This means you can see a time-stamped photo of every person who entered your property. If there is ever a security breach, you can always return to the audit for the necessary information.
Furthermore, a video intercom lets your staff and tenants see the visitor requesting access. That way, your tenants feel safe granting access to visitors.
Easier management
With an access control system, managing who has access to the property is much simpler. Management can now create new users, revoke access, and track it all in one place. For example, a mobile app streamlines the management process while enabling remote management. So, staff no longer have to be onsite to make updates to the system.
Lower operating costs
When you no longer have to send staff to another property, your operating costs decrease. If you own more than one property with shared staff, they can easily manage access to all buildings remotely using a desktop application or mobile phone. Then, staff can work on more essential duties.
Meanwhile, you can also forget about changing locks or cutting new keys for tenants. The turnover rate for your tenants directly impacts your operating costs, including the price of keys and locks.
Attract and retain tenants
Houston residents are looking for smart technologies in their apartments and offices. In fact, they're willing to pay more per month for it. So as a property owner or manager, installing an access control system can be a worthwhile investment.
Your current tenants are more likely to renew their leases while prospective tenants may be more attracted to your property. For instance, greater safety, security, and convenience are hard to pass up.
What to consider when choosing a Houston access control system
Before selecting an access control system in Houston, certain factors must be considered. Neglecting these factors can dramatically affect the quality of your access control system.
To choose the right access control system in Houston, you must consider:
Weather
Houston experiences a wide variety of weather conditions yearly — and in some cases, daily! Extreme heat, strong winds, and heavy rain are serious elements your system will need to stand up against. Otherwise, you'll need to seek access control repairs.
For the best protection against the Houston weather, look for a system that is IP65-rated. IP stands for Ingress Protection, a rating of how well an enclosure protects against liquid and dust. An IP65-rated access control system will easily stand up against the harsh Texas weather.
Demographics
What are the demographics of your tenants? Do they skew older or younger? These details could determine which type of access control system is a good choice for your property.
Younger generations, like millennials and Gen Z, are attracted to smart technologies, such as smartphone-powered video intercoms. So, entice them by installing an access control system with a mobile app. You'll garner more prospective tenants while reducing the turnover rate.
Security needs
Security is the most important aspect tenants look for in a property. They expect a level of security that makes them feel safe and secure. If your building lacks those features, an access control system can provide them.
Installation
The layout of your property and the location where you want your system installed are major considerations. For example, a wired access control system with substations in each unit is extremely costly. What's more, the installation project could take weeks to complete.
Conversely, a wireless system addresses those concerns. It doesn't require additional hardware or wiring installed throughout the property. Instead, a wireless system utilizes smartphones as substations and only requires three wired connections: power, internet, and door strike.
As a result of choosing a wireless access control system, installation is more affordable, faster, and easier.
Delivery needs
Houston's food scene offers everything from Tex-Mex to crawfish to barbecue — all available through convenient delivery. Your tenants will take advantage of such services along with a slew of other deliveries from couriers.
With this in mind, you need an access control system that lets tenants grant access to delivery drivers. Paired with delivery PINs and video calling, your tenants can feel safe knowing who they're letting inside.
How to select a Houston access control installer
You must find the right installer to implement access control at your Houston property. That can be difficult if you don't know where to start.
There are a few factors to look for when selecting an installer:
Ask for recommendations: Reach out to colleagues, real estate agents, and other businesses about the access control installers they know or use. Word of mouth is a powerful resource because it shows how positive of an experience the installer provided.
Reviews: Before contacting installers, look at the online sentiment regarding their past work. Google and Yelp are excellent places to start.
Certifications: When considering an installer, check what access control systems they're certified to install. Installers are certified by manufacturers to ensure their products are installed correctly, and warranties stay intact. Otherwise, an installer that isn't certified could void your system's warranty.
Customer service: While interacting with your installer, ensure they care for you, your staff, and the property. Excellent customer service is a good sign they'll get the job done correctly.
Important note: Always seek more than one quote from installers. The lowest price and the highest price are not always the best options. In fact, they're often outliers. Make sure you get multiple quotes to consider before making your decision. That way, you'll make an informed decision that will likely lead to a positive experience.
Questions to ask an access control installer
If this is your first time searching for an access control installer in Houston, you likely aren't sure what to ask.
Questions to ask a Houston access control installer include:
How long have you been installing access control systems?
What access control brands are you certified to install?
How long does it take to install?
What kind of maintenance should I expect?
Are there additional expenses after installation?
Is a wireless access control system right for my property?
Is the front entrance the only area I should install an access control system?
What is the best access control system in Houston?
In order to strengthen your property's security without sacrificing convenience, ButterflyMX is the best access control system in Houston.
ButterflyMX's flagship product is the smart video intercom, a cloud-based access control system. Introduced in 2015, the video intercom system has gone through many iterations that have only improved its design and functionality. Today, the video intercom is just one component of ButterflyMX's unified property access solution, empowering you to control access at every entryway throughout your building.
ButterflyMX's access control solution offers:
Wireless installation: The smart video intercom is wireless, meaning it doesn't require a major wiring project throughout the property. ButterflyMX only requires three wired connections: power, internet, and door strike.
Mobile app: The ButterflyMX app allows tenants to enter the building with their phones rather than using a traditional key. Staff and tenants can also grant access to visitors remotely.
Audit trails: ButterflyMX devices record every entry into the building by snapping a time-stamped photo and detailing who let in the guest. This information is stored for up to a year and can be viewed anytime.
Video calling: One-way and two-way video calling is supported, giving tenants peace of mind when letting in a guest.
Elevator controls: You can maintain who has access to certain floors using elevator controls. That way, you can restrict guests and tenants to their designated floors.
Visitor access: Tenants and staff can easily let in visitors upon request. Visitors can call tenants with the video intercom directory, or they may enter single-use PIN codes. For recurring guests, virtual keys allow them access at designated times.
ButterflyMX has proved to be the best access control solution for more than 8,500 buildings and 750,000 apartments. Find out why so many have chosen this access control system in Houston.