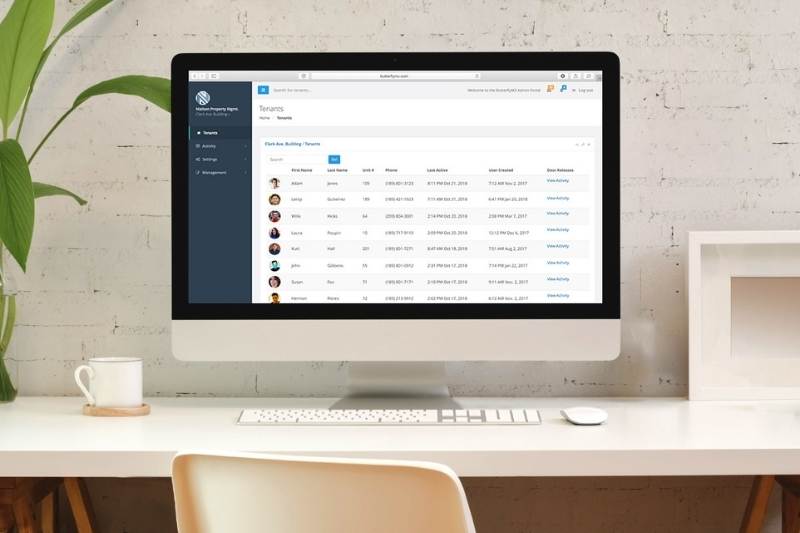 As a property owner or manager, you fully understand the importance of security at your building. Managing who comes and goes is a vital part of your day-to-day operations and you likely already have access control in place at your property.
But maybe you still use traditional metal keys or assign key cards to tenants. And as technology advances, you're starting to consider investing in a system with more robust access control software to make your job easier.
Learn to control access at your building with software in the following sections: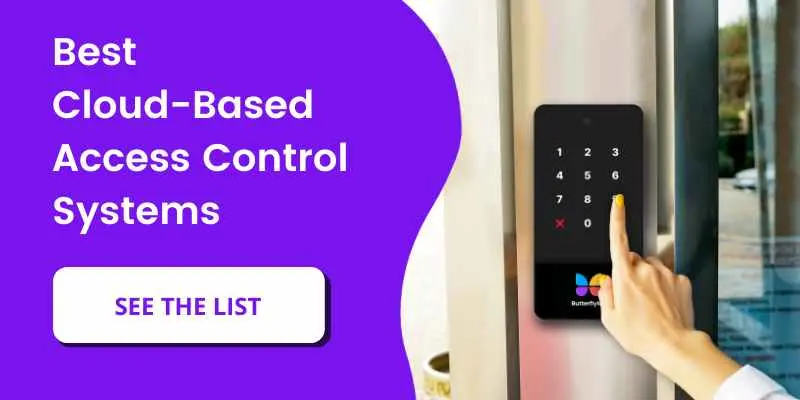 What is access control software?
Access control software is the application you use to assign, manage, and monitor access credentials and activities. Additionally, updating permissions, reviewing entry events, and responding to guests at the front door are all a part of access software.
However:
Not every access control system uses software to function. Depending on the type of access control device, you may not need software installed to control access at your building. However, most modern access systems are electronic and require software to operate.
Before you choose software, there are several different types of access control to consider.
What are the 3 types of access control?
The three types of access control are: mandatory, role-based, and discretionary.
If you think about it, managing who can access your building isn't all that different from managing who can open a folder or document on a computer. In the same vein, there are different methods of controlling access. And this largely depends on the type of access control you want.
Let's look at how each type of access control uses its software to operate:
Mandatory (MAC): Mandatory access control uses a central, off-site authority to manage access. MAC is most common for high-security companies where a Chief Security Officer personally oversees all locations and manages access within.
Role-based (RBAC): Role-based access control designates administrators to assign user permissions on a dashboard. And you can even create complex access rules. For example, an apartment building with RBAC software can customize labels so that all "resident" users can open the laundry room door but all "delivery" users cannot.
Discretionary (DAC): With DAC systems, property managers and owners log onto a dashboard and assign permissions to users. This type of access control is so named because it's at the discretion of the administrator to manage permissions.
Watch how ButterflyMX works:
How does access control software work?
Access control software works by storing access credential and permission data on the cloud or an on-site computer. The control panel — the brains of the access control system — runs on this software. Essentially, the software has all the data and code to operate the whole access control system.
At the end of the day, the role of access software is to make sure your credentials, readers, and control panel can all talk to each other. You can invest in the shiniest key cards on the market but it won't work without the right software to tie everything together.
In addition to software, all access control systems need:
Credentials: Access credentials are the devices tenants use to prove their identity and gain access. Key cards and fobs are popular RFID credentials. However, mobile devices are becoming more common because everyone already has them.
Readers: Readers are installed at every door that needs controlled access. Users hold up their credentials to the reader to gain access. Once the reader scans the credentials, it tells the control panel to unlock the door.
Door release mechanism: You need electronic or magnetic locks at the door to unlock it on command. When staff and tenants use their credentials, the mechanism opens the door for them. The door release also allows you to remotely open the door to grant visitors access.
All this might seem daunting at first. But don't worry, you don't have to decide right now what type of software you want. Instead, what matters is that you narrow down what you want the software to do.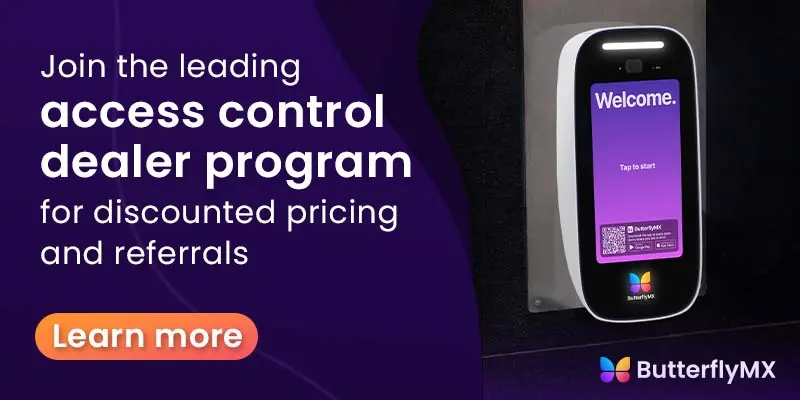 5 features to look for in access control software
Now that you understand what access software is and how it works, it's important to decide what you want it to do. As you shop around for the best access software, you need to know what to look for.
The top five features you want in any access control software are: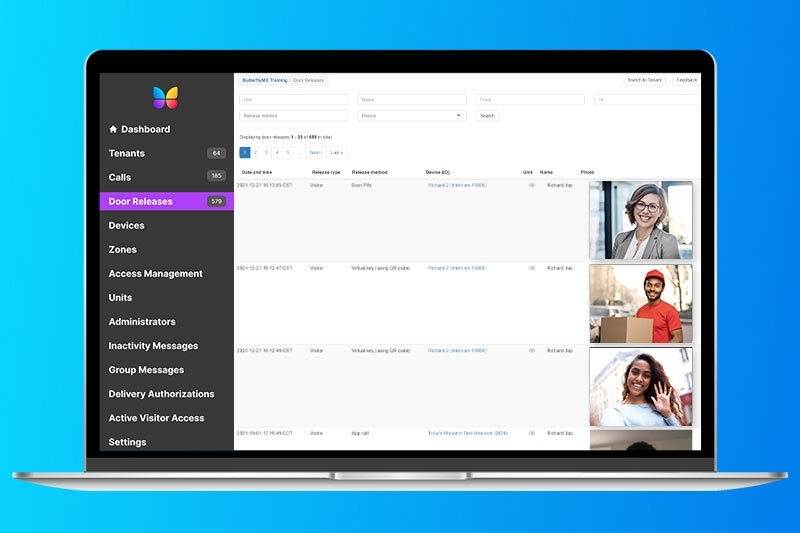 1. Remote management
Remote access software requires cloud-based storage but also comes with a lot of benefits. You can manage access from anywhere. And there's no need to come onsite to edit permissions or review entry logs.
2. UX design
User experience (UX) is everything in the world of software. If the software is hard to use, your staff and tenants will feel frustrated and may not adopt the system. Make sure to read reviews and research what the experience is like for tenants, staff, and guests to use the software.
There's no point in purchasing an access control system that your tenants won't use. So make sure the software is accessible and intuitive.
3. Property management dashboard
Your staff and tenants aren't the only users who matter. As the property manager or owner, you'll need to make sure that the user experience for the software is great for you as well. Ask for a demo of the property management dashboard to see what it's like to use it.
4. Mobile app
For a great mobile access experience, you need software that includes a mobile app. Check out reviews on the Google and Apple stores to make sure the app is well-liked by the customers who use it.
To enhance the resident experience, choose software that offers multiple ways to open the door using the app. For instance, voice commands enable residents to unlock the door even when their hands are full.
See the ButterflyMX mobile app in action:
5. Integrations
One of the best things about using software is that different platforms can talk to each other. Many access control solutions today integrate with other smart technologies like property management software, smart lights, and temperature controls. Your software can even integrate with elevator controls.
The best access control software
Now you know exactly what to look for. But, what is the easiest way to find all these features?
Over 10,000 properties of all sizes and industries use ButterflyMX for a convenient and secure access control experience.
ButterflyMX access control solutions include:
Video intercoms for easy property access
Package rooms to enable seamless deliveries
Elevator controls to enhance security beyond the lobby
Keypads to manage access to amenity spaces, garages, and more
Key lockers to control access for units with traditional locks
Thanks to the ButterflyMX operating system (OS) all of these devices provide a high-tech, streamlined experience. The software ties everything together, allowing devices to communicate with each other, integrate with other programs, and make your building the most efficient it can be.
How does the ButterflyMX OS work?
ButterflyMX offers the best access control systems software on the market today. The software is not only powerful but also easy to use.
The ButterflyMX OS offers robust features such as:
Dashboard: A user-friendly online platform where administrators can adjust access permissions, view entry photos, and integrate dozens of other solutions.
Integrations: ButterflyMX communicates with other technology for property management, smart lights, temperature control, and more for a seamless smart building.
Mobile app: Tenants can manage their own guests and deliveries from the powerful ButterflyMX app. With thousands of five-star reviews, the app is a hit with tenants everywhere.
Virtual keys: Managing access just got easier thanks to virtual keys. Staff and tenants can issue digital access keys, allowing their guests to enter the building at approved times.