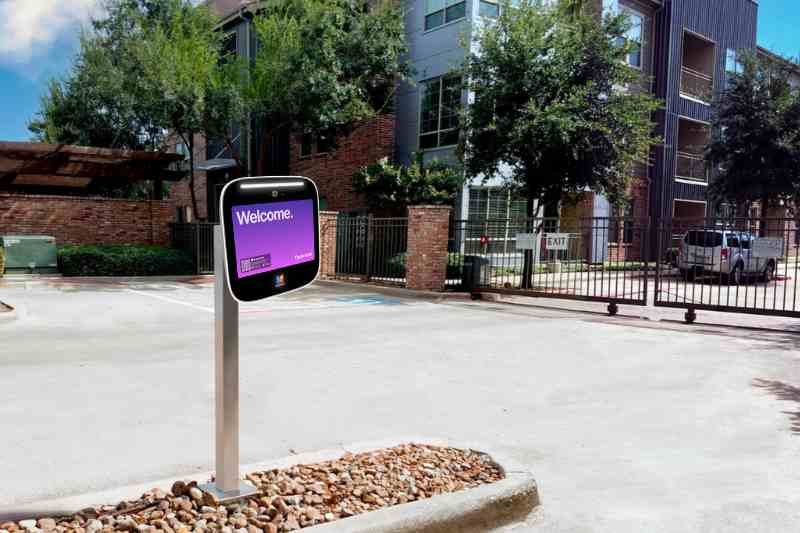 Your gated community residents are looking for a convenient and safe place to call home. Luckily, your property has the power to deliver the lifestyle residents want — and it all starts at the front gate. Whether you're developing a new gated community or improving an existing one, it is essential that you choose the best gate intercom system.
To help you choose the best gate intercom system for your community, this guide will cover:
Watch how ButterflyMX works for gated communities:
Why is your gate intercom system important?
Your front gate is the first experience any residents, visitors, and guests will have at your property. So, don't forget that the intercom you choose will affect how residents, visitors, and staff access and interact with the property.
Don't panic!
While choosing the best gate intercom system is a vital part of managing your gated community, it also creates a secure and convenient living experience that delights current and prospective residents.
Putting in a little extra effort now to research gate intercoms means your staff, residents, and even the maintenance team will have the best experience possible at your property.
Gate intercom systems are important because they:
Empower residents and staff to remotely unlock the gate for visitors
Reduce car stacking and tailgating at your gated entrance
Ensure secure and successful deliveries to gated properties
Save time for property staff who would otherwise have to manage property access for visitors
Maintain security by allowing you to keep the gate locked without hindering access for tenants and authorized guests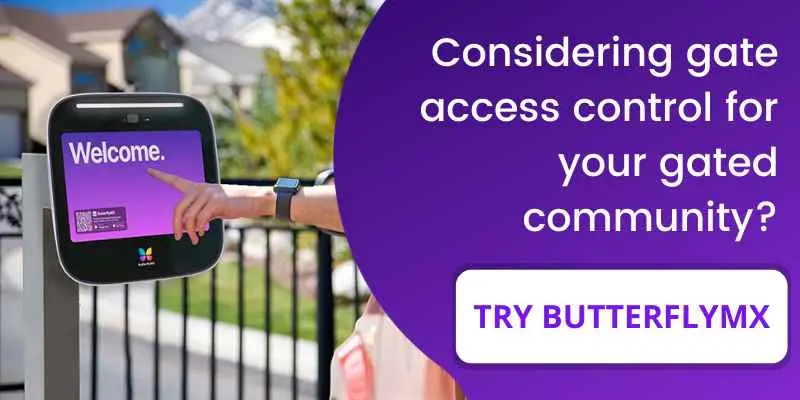 What features should you look for in the best gate intercom system?
To ensure simple and secure property access at your gated property, choose a gate intercom with the following features:
Wireless gate entry system
Do you want to save money and enjoy a simple, frustration-free installation? Then a wireless gate entry system is right for you. These modern systems don't require expensive wiring and in-unit hardware that can take weeks to install.
Instead, wireless gate entry systems only need three connections:
You'll drastically reduce your installation costs when you choose a wireless system. Plus, you'll avoid the headache of installing devices within every home in the community. This is why a wireless solution is the best gate intercom system.
But does that mean that your gate intercom should have no wires at all?
No! Although we recommend systems without wiring between the gate and each unit, it's best to choose a system that has a wired internet connection. Wired internet connections are often more reliable and secure.
Gate intercom with camera
Residents in gated communities prioritize security. So, they want to know that anyone who enters the property has been authorized to do so.
By installing a gate intercom system with a camera, you empower residents and staff to see who is at the gate before granting them access. Your residents can video chat with their visitors and enjoy peace of mind knowing their neighbors can do the same.
A gate entry system with camera also allows you to monitor the gate entrance and ensure maximum security. Make sure you pick a system that takes a time- and date-stamped photo every time someone enters the property. You can review this audit trail periodically to ensure that all visitors have been properly authorized. Or, refer to it when someone reports a security violation.
Smartphone-based access control
Built for modern living, gate intercoms with smartphone-based property access allow residents to video chat with visitors and open the gate with their smartphones.
Now that most Americans own a smartphone, there's no reason to install clunky, outdated hardware in each home. Instead, choose a system that lets residents use the intercom with devices they already own: smartphones and tablets.
Intercoms with smartphone-based access controls can:
Reduce wait times to enter the property: With traditional entry systems, gate attendants face a lengthy vetting process. They must take down a visitor's information, check their ID, and call the resident (who may not be in their home). This process can leave traffic backed up at the gate — and possibly even overflowing onto the street. Smart gate intercoms reduce wait times because they facilitate faster property access.
Ensure residents never miss a visitor: Traditional gate intercoms dial visitors' calls to an in-unit device. If the resident isn't inside their home, they'll miss the call. But gate intercoms that direct calls to residents' smartphones let them grant gate access remotely, whether they're in the garden or the grocery store.
Free up property staff's time: With a smart intercom installed at the front gate, property staff will have more time to focus on tasks more important than vetting visitors. The best gate intercom system for your community will take care of access control for you.
Simplify property access for service providers and couriers: Gated communities often struggle with providing secure yet streamlined property access for maintenance workers, cleaners, dog walkers, and other service providers. Intercoms with smartphone-based access controls let residents issue virtual keys to service providers. The property staff can also give unique delivery PINs to each carrier.
Remote management capabilities
Whether you're using the gate entry system for your HOA, a gated community you manage, or even a self-storage facility, you'll appreciate the benefits of remotely managing the system.
A gate entry system with remote management capabilities lets you:
Update the resident directory without going on-site
View an audit trail of everyone who enters the property
Issue and restrict resident access
Offer self-guided tours to prospective residents
How much does a gate intercom cost?
Today's gate intercom systems cost between $1,000 and $7,000, which doesn't include installation or maintenance fees.
Choosing a gate intercom isn't all that different from any other purchase. You want to stay on budget while still getting the best product you can. At the same time, be wary of any gate keypad or intercom with too-good-to-be-true low prices. Usually, these devices are cheap for a reason and you don't want to mess around with the safety of your gated property.
Don't forget installation costs
While intercom hardware varies in price, it's easy to estimate the total hardware cost because the price is fixed. But installation and maintenance costs are more difficult to calculate.
Each installation company will estimate its fee based on the materials needed and the difficulty of the installation. And ongoing maintenance costs will vary depending on the number of hardware devices purchased and the amount of wiring used to install that hardware. Since every building has different hardware and wiring needs, you need to contact a certified installer and compare your options.
If you're replacing or purchasing a gate entry system, be sure to get a quote for both the price of the hardware and the installation. Reputable companies will not only ensure you're paying the best price for hardware, but they'll also connect you with a local certified installer who will get the job done right.
The 4 best gate intercom systems
There are four leading gate intercom solutions on the market right now: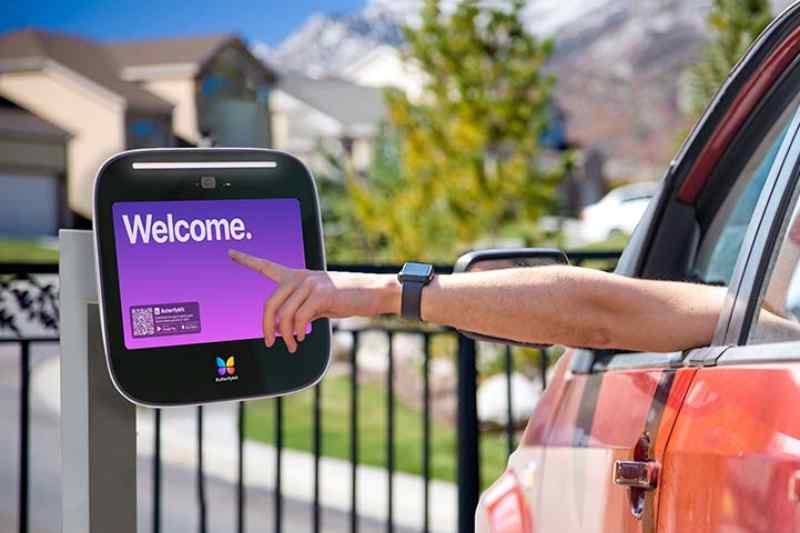 1. ButterflyMX
As a property technology innovator, ButterflyMX introduced the first smart video intercom system in 2015. Since then, ButterflyMX has been installed in more than 10,000 buildings and more than 1,000,000 units. The company also has the most customer reviews in the industry with more than 20,000 five-star reviews.
In addition to opening doors and gates with your phone, the ButterflyMX gate intercom system lets you grant remote access to guests, integrate with your property management system, eliminate building wiring and in-unit hardware, and more. The intercom features a sleek touchscreen interface and a top-rated mobile app for an improved user experience.
Features
Two-way video calling
Smartphone-based gate access with a powerful mobile app
No wiring or in-unit hardware
Sleek and durable touchscreen interface
Multiple access options, including virtual keys, PIN codes, and delivery PINs
Cloud-based data storage and admin management
Audit trail with time- and date-stamped photos of every gate entry
Integrations with gate openers, property management systems, keyless locks, and more
ButterflyMX pricing
Gate intercom pricing starts at $3995. In addition to the hardware, there are hosting and software costs which include the mobile app, ongoing updates, new features, and live support via phone and email.
Pros
Without wiring or in-unit hardware, ButterflyMX is easy to install
Smartphone-based access is more convenient for staff and tenants than using traditional gate openers
The cloud-based dashboard makes it easy to manage your gated property access from anywhere in the world
With 24/7 live video and a cloud-based audit trail, your property enjoys an extra layer of security
ButterflyMX works throughout your gated property with integrated smart locks, elevator controls, and keypads. So, your staff and tenants can use one app for everything!
Cons
ButterflyMX doesn't currently offer a solution for single-family homes
Features and functionality may be too extensive for buildings with fewer than 10 units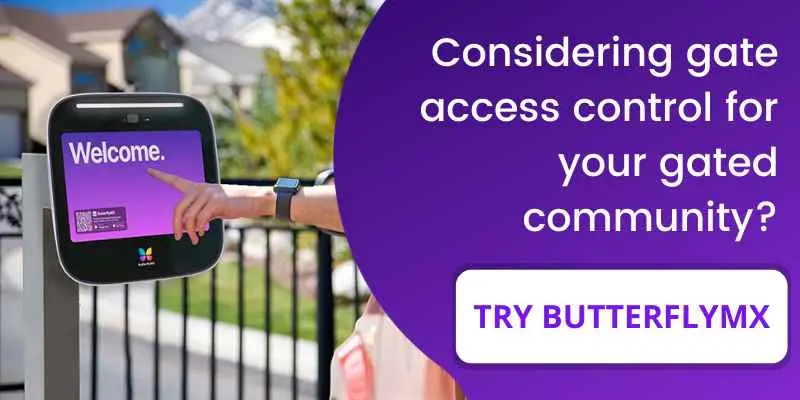 2. Estate Swing
Estate Swing is a leading brand for driveway gates, gate openers, and accessories – including gate intercoms. As an intercom system designed specifically for gates, Estate Swing is a straightforward and affordable solution for small residential, farming, and commercial properties.
Read the full Estate Swing review »
Features
Traditional telephone entry systems that allow users to open the gate via landline or cell phone.
Wireless installation options are available.
Compatible with all gate openers including those not made by Estate Swing.
Camera is on standby until a call is being made so consumes lower energy than a live feed.
Video monitor records all entry events and saves them to an included Micro SD card
Up to 300ft visibility with a clear line of sight.
Some models include LEDs for improved visibility at night.
You can customize the indoor monitor unit with your own music and wallpaper images.
Estate Swing pricing
Estate Swing offers a range of gate products with varying features and pricing. According to an April 2022 pricing sheet, pricing for their gate callboxes start at $169 for wired devices without video and $349 for those with video. However, other devices such as a base station and gate opener are required to make these intercoms work, so the total hardware price is actually closer to $1000 before installation.
Pros
Energy efficient with camera standby mode and solar panel options available.
Because of its minimalist design, Estate Swing intercom devices are low cost and may even be self-installed for some properties.
Designed with gated properties in mind and can be bundled with other gate devices such as openers.
Cons
Data is stored locally on a Micro SD card, which needs to be managed onsite and can run out of storage easily. Not to mention, SD cards can easily be damaged or destroyed by inclement weather.
While more energy efficient, the Estate Swing camera may only turn on during calls so the video doesn't provide 24/7 security surveillance at the gate.
Estate Swing intercoms may not be compatible with other technology such as smart locks, temperature controls, and property management software.
Residents and staff may not be able to access the video footage from their cell phones since there does not appear to be a mobile app.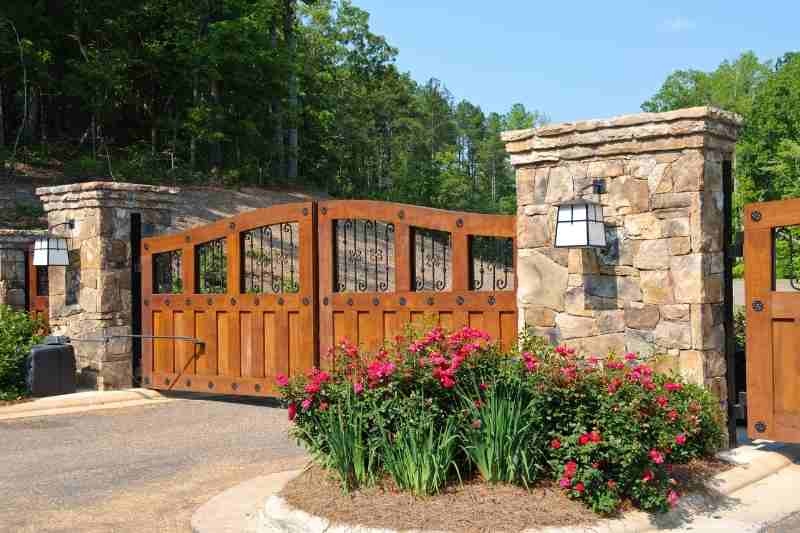 3. Doorking
Doorking — also known as DKS — offers a wide range of traditional telephone entry systems that can be used for gated properties. DKS intercoms use regular phone lines to allow visitors to speak with tenants, who can then open the door or gate remotely for their guests.
Read the full Doorking review »
Features
Traditional telephone entry systems
Some models are PC programmable
Some models feature built-in directories
Keypad and call button interfaces
Separately sold features, such as directories, light kits, and camera kits
Some models offer elevator controls
Doorking gate intercom pricing
Doorking offers over a dozen entry system models with varying features and pricing. According to a February 2020 pricing sheet, intercom pricing ranges from about $1300 to $6450. Accessories are typically sold at an additional cost.
Pros
DKS devices are durable with weather- and tamper-resistant materials
The traditional design is familiar and easy to use for all ages
Cons
May not have built-in camera/video intercom options.
May not offer cloud-based access management.
Cellular connection may require the purchase of a separate device.
Not all models are PC programmable.
May not have a mobile app.
No touchscreen interface on the current models.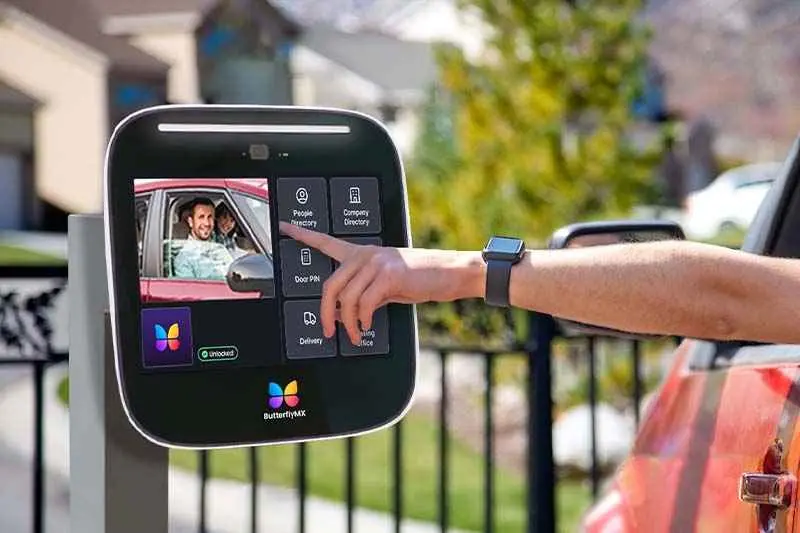 4. Cellgate
Since 2006, Cellgate has provided a range of products and services for access control and monitoring over cellular networks. Based in Texas, the Cellgate brand specializes in AC and solar-powered devices that can work in remote locations.
Read the full CellGate review »
Features
Compatible with Verizon and AT&T LTE networks across the United States.
Solutions for single-family and multi-tenant residences may include live video.
Property management features include a smartphone app and online portal.
Video telephone entry can be bundled with surveillance camera packages.
All hardware works via cellular networks, however, many models can also be wired with Ethernet instead.
Cellgate pricing:
As of April 2022, Cellgate doesn't list pricing on its website. However, third-party installers list the price of a Cellgate intercom system between $1,399 and $4,399 depending on the devices you choose. This price does not include the monthly service fees required by Cellgate to maintain and operate the system.
Pros:
Receive real-time photo notifications through the smartphone app so your staff and tenants can see who is at the gate.
Integrated surveillance cameras are motion-activated to record all activity at your gates.
Tenants and staff receive live video calls from visitors and can use the smartphone app to open the gate for them.
Cons:
While your staff and tenants can receive video calls to their smartphone through the app, all video is actually stored on an SD card inside the camera. At worst, SD cards can be damaged or destroyed in bad weather and at best you must remember to swap out the cards before data runs out.
The smartphone app only allows visitors through the front gate and may not integrate with other areas of the property such as package rooms for deliveries.
Battery backup may not be available for your Cellgate device which might make your gates unusable in the event of a power failure.
Some Cellgate devices may limit the number of contacts in the directory and therefore may not be suitable for larger properties.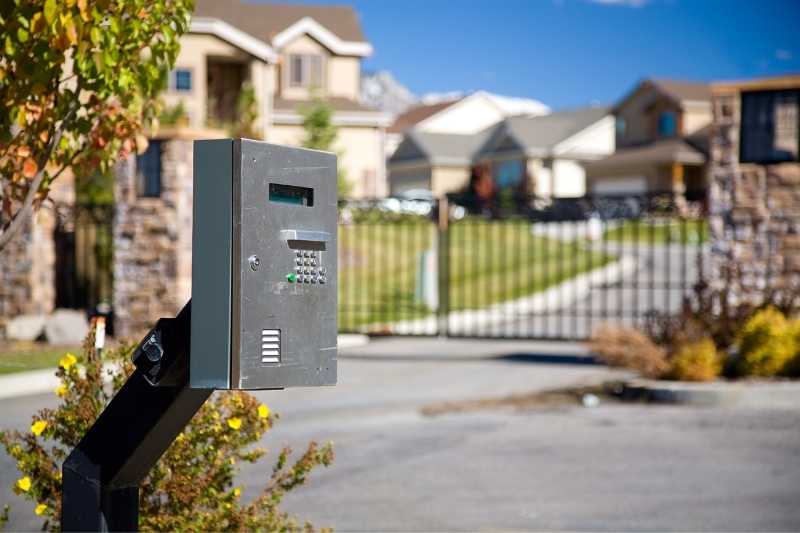 Which intercom is the best?
If you're searching for the best gate intercom system, ButterflyMX is the clear winner.
The ButterflyMX video intercom empowers building staff and residents to open doors and gates with a smartphone. By eliminating building wiring and in-unit hardware, ButterflyMX saves you time and money while adding convenience for residents.
Property owners and managers love ButterflyMX because it:
Is a cloud-based system that you can manage remotely from any device
Integrates with other proptech, including smart locks, property management software, and more
Facilitates seamless access, meaning residents never miss visitors or deliveries
Saves time for property staff, who no longer have to handle all access management duties
Residents love ButterflyMX because:
They can open the door or gate for themselves and their visitors right from a smartphone
Virtual keys and Delivery Passes empower them to grant access to guests and delivery carriers — even when they're not home
They can see who's at the gate through a video call before letting someone in
Since launching in 2015, ButterflyMX has been installed in more than 7,500 buildings and more than 750,000 units. The company also has the most five-star reviews in the industry with more than 7,000.
Takeaways
A gate intercom is a valuable access control solution for gated communities and other gated properties.
Purchase a wireless gate intercom that doesn't require a wired connection between the system's hardware. However, you should choose one with a wired internet connection to avoid connectivity issues.
Choose a video gate intercom with a built-in camera to improve property security.
Select a smartphone-based gate intercom so your residents can securely manage access on the go from their smartphones.
Install a cloud-based gate intercom to manage and update the system remotely.
The best gate intercom system is ButterflyMX.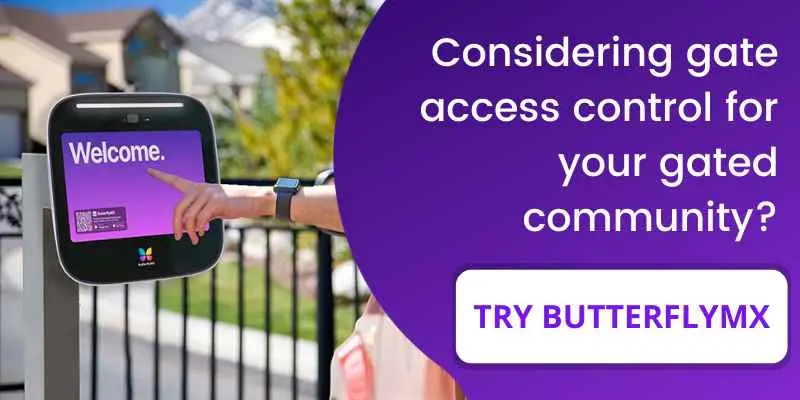 Disclaimer: ButterflyMX provides these blog posts to help our customers and potential customers make the right business decisions for them. Our blog posts are based on the information we have available to us at the time of writing.