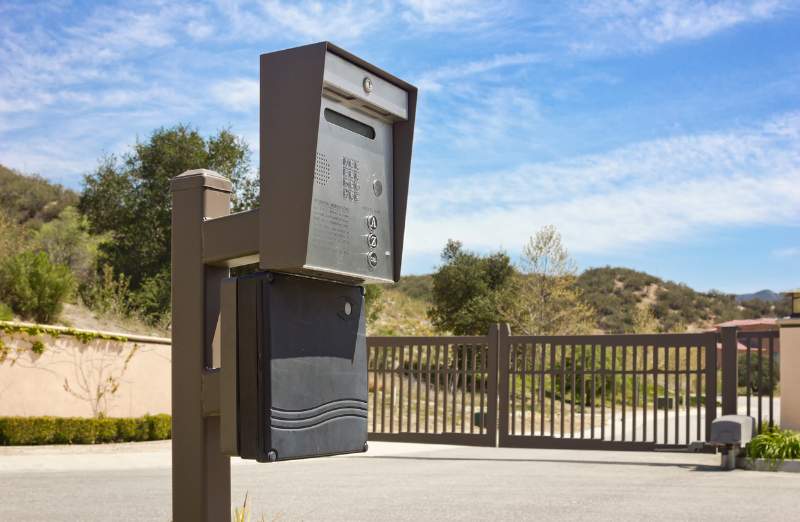 Read this post to learn about the top four features you should look for when choosing the best gate intercom system for your community.
When residents rent or purchase in gated communities, they're seeking both a convenient, amenitized community and a safe place to call home. Your property has the power to deliver the lifestyle residents want — and it all starts at the front gate. Whether you're developing a new gated community or looking to improve an existing one, be sure to carefully consider the property's entry system. A gate intercom system is the best entrance solution.
Keep in mind that the intercom you choose will profoundly impact how residents, visitors, and staff access and interact with the property. Your gate intercom should create a secure and convenient living experience that delights current residents and entices prospective residents. The best gate intercoms will also streamline processes for property staff. While offering time-saving management tools to improve workflows.
The best gate intercoms have these 4 features:
1. Wireless gate intercoms
Want to save money and ensure a simple, frustration-free installation? A wireless gate intercom vs a wired intercom is the best option because it doesn't require wiring to in-unit hardware.
The best gate intercom will only need three connections:
Power
Gate lock
Internet
By selecting a wireless gate intercom, you'll drastically reduce installation costs. Plus, you'll avoid the headache of installing devices in every home in the community. 
Keep in mind that although we recommend systems without wiring between the gate and each unit, it's best to choose a system that has a wired internet connection. An intercom with a wireless internet connection may tempt you, but systems that rely on WiFi or cellular technologies (4G or 5G) are less reliable and more prone to outages.
2. Gate intercoms with a camera
Residents in gated communities prioritize security, so they want to know that anyone who enters the property has been authorized to do so. By installing a gate intercom system with a camera, you empower residents to see who is at the gate before granting them access. Residents can video chat with their visitors and enjoy peace of mind knowing their neighbors can do the same.
Gate intercoms with cameras also allow property staff to monitor the gate entrance and ensure maximum security. When choosing a gate intercom, pick one that takes a time- and date-stamped photo every time someone enters the property. You can review this audit trail periodically to ensure that all visitors have been properly authorized, or refer to it when someone reports a security violation.
3. Smartphone access control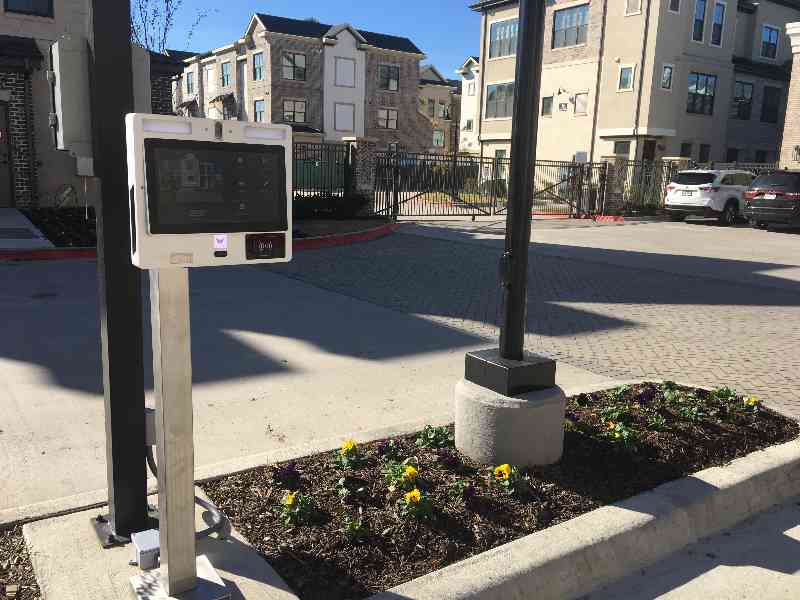 Now that most Americans own a smartphone, there's no reason to install clunky, outdated hardware in each home. Instead, choose a system that lets residents use the intercom with devices they already own: smartphones and tablets.
Intercoms with smartphone-based access controls can:
Reduce wait times to enter the property: With traditional entry systems, gate attendants face a lengthy vetting process. They must take down a visitor's information, check their ID, and call the resident (who may not be in their home). This process can leave traffic backed up at the gate — and possibly even overflowing onto the street. Smart video gate intercoms reduce wait times because they facilitate faster property access.
Free up property staff's time: With a smart video intercom installed at the gate, property staff will have more time to focus on tasks more important than vetting visitors.
Eliminate the third shift: If you employ a gate attendant for the late-night third shift, they're probably not encountering many visitors. Let a video gate intercom act as the attendant so your employee can spend their time securing the property.
Ensure residents never miss a visitor: Traditional gate intercoms dial visitors' calls to an in-unit device. If the resident isn't inside their home, they'll miss the call. Gate intercoms that direct calls to residents' smartphones let them grant gate access remotely, whether they're in the garden or the grocery store.
Simplify property access for service providers and couriers: Gated communities often struggle with providing secure yet streamlined property access for maintenance workers, cleaners, dog walkers, and other service providers. Intercoms with smartphone-based access controls let residents issue virtual keys to service providers. The property staff can give unique delivery PINs to each courier.
4. Remote management
Whether you're using the gate entry system for your HOA, a gated community you manage, or even a self-storage facility, you'll appreciate the benefits of remotely managing the system.
A gate entry system with remote management capabilities lets you:
Update the resident directory without going on-site
View an audit trail of everyone who enters the property
Issue and restrict resident access
Offer self-guided tours to prospective residents