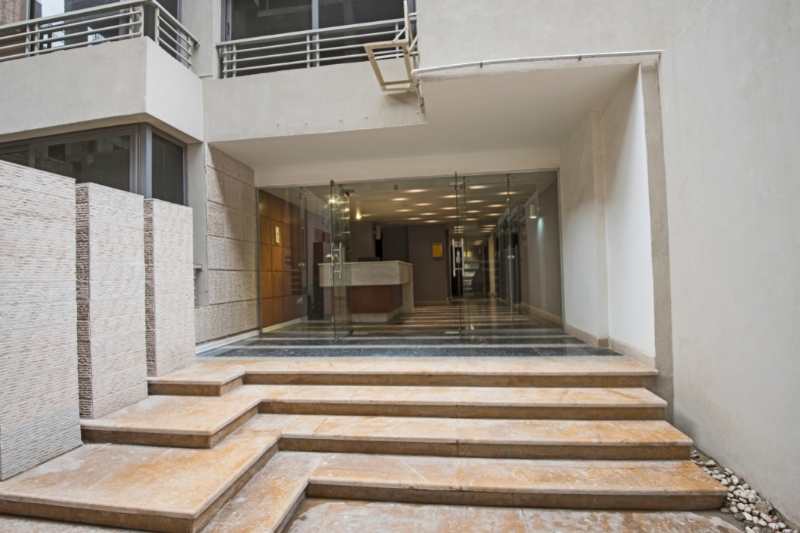 Whether your building is located in a bustling city or a quiet suburb, one fact remains: You need to facilitate access for visitors and deliveries. While some buildings employ a front desk staff member to manage visitors and delivery carriers, there's another alternative: the digital doorman.
A digital doorman system is a relatively new tech-powered solution that enables building staff — or even residents themselves — to remotely manage property access for visitors.
Read on to learn more about this increasingly popular visitor management system and why it might be a good fit for your property.
This post covers: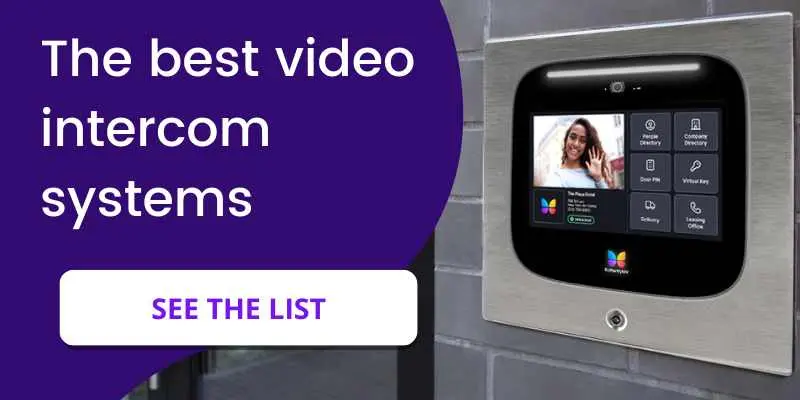 What is a digital doorman?
A digital doorman is a type of virtual doorman service that remotely controls building access, provides property surveillance, and manages visitors and deliveries for apartments and even offices.
Essentially, the purpose of a digital doorman is to facilitate secure property access for visitors, delivery carriers, and even residents who may get locked out. These systems can either serve as an alternative to an in-person doorman or complement your human doorman.
Examples of digital doorman systems
The most popular examples of digital doorman systems include:
Telephone entry system: Installing a telephone entry system may provide rudimentary remote doorman services. Visitors can use the system to call a resident directly and residents can press a button to unlock the door. You may also set up a telephone entry system to route calls to an on- or off-site staff member. However, there won't be any video calling or surveillance capabilities.
Virtual Doorman: Virtual Doorman is a mobile doorman provider based in New York City that provides software, hardware, and a team of off-site call center operators.
Cloud-based video intercom system: A video intercom system can also provide remote doorman services. When visitors arrive at the building, they can video call an on- or off-site staff member or a resident directly. Residents/staff may use a mobile device or an in-unit device to unlock the door remotely.
Watch how ButterflyMX works:
Digital doorman cost
A digital doorman can cost anywhere from $1,000 to $70,000 to setup & install. Additionally, it may cost about $100 to $3,000 a month to maintain the system.
The cost of a digital doorman varies greatly between systems because each one functions differently and offers varying degrees of features.
For example, some digital doormen require you to purchase and install separate cameras or access control devices. As a result, these systems will cost more than an all-in-one cyber doorman.
How does a digital doorman work?
A digital doorman works by providing a way for residents or staff to monitor visitors and control building access remotely without relying on a traditional, in-person doorman.
Since there are a few types of remote doorman systems, each one functions a bit differently.
But most digital doorman entry systems consist of:
Video intercom and optional video surveillance system. Every remote doorman system requires a device through which visitors can contact the "doorman." So, most systems use a type of video intercom to see exactly who's requesting access. Some systems also include a network of integrated security cameras.
Off-site human operators. Many doorman systems function by routing visitors' calls to an off-site call center. A human operator within the call center answers visitors' calls and coordinates with residents to determine whether they should grant property access.
Door release device. Every remote doorman system needs a way to remotely unlock the door or gate. So, you'll need an electronic or magnetic lock and a release mechanism installed at your door or gate.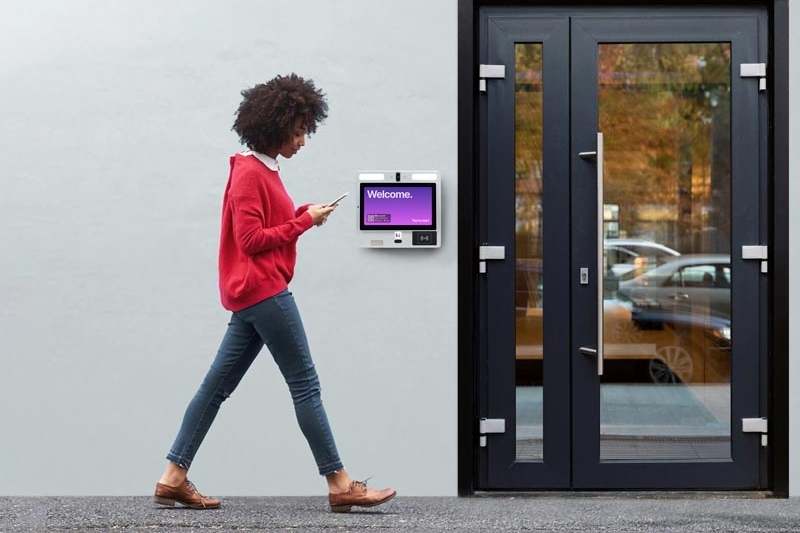 Is a digital doorman safe?
Yes, a digital doorman is a safe option to monitor and control access at your building. Cyber doorman systems provide 24/7 security and access control services.
The safest video doorman systems are those that route video calls directly to residents. That way, residents can visually verify the visitor's identity without relying on a third-party middleman.
That said, a virtual doorman system that relies on a team of off-site operators is also safe to use. However, you may find that the off-site team can't get to know your residents as well as a traditional doorman could. Additionally, it may take extra time to route visitors' calls to an off-site operator, which could frustrate visitors and residents alike.
Top 5 benefits of a digital doorman
A remote doorman system is a worthwhile investment for buildings of all sizes.
Here are the top five benefits of a digital doorman:
1. Cost-effective
Using a digital doorman system is a cost-effective way to manage visitor access and maintain security throughout the building.
If you employ a human doorman during the day, you can rely on a remote doorman during late-night hours when there are few visitors. This is an extremely cost-effective solution, especially for smaller buildings.
If you don't currently have a traditional doorman or front desk staff in your building, you can opt for a digital system to avoid the costs of interviewing candidates, hiring front desk staff, and managing schedules for multiple employees.
2. 24/7 coverage
A digital doorman is an around-the-clock access control and security system. Whether you invest in one for the graveyard shift when staff members are off-duty or you rely on your virtual doorman system all day, you'll enjoy 24/7 coverage.
3. Increase property value
Did you know that New York City apartments with a doorman rent for an average of 13.5% more than apartments without a doorman?
As you can see, having a doorman increases property value.
So, having a digital doorman can similarly increase the value of your property and allow you to charge higher rent.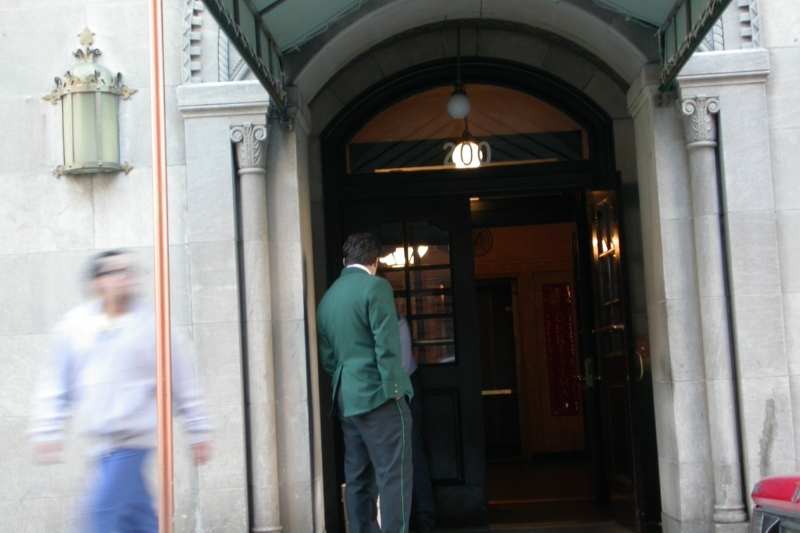 4. Facilitate package deliveries
Package deliveries these days are overwhelming. You need a way to manage the dozens of parcels arriving at your building every day.
And a digital doorman is a fantastic package management solution.
Buildings without a traditional doorman often struggle to control property access for couriers. As a result, many deliveries can't be completed — or, worse, packages are lost or stolen. Having a virtual doorman system allows couriers to request property access 24/7 to complete every delivery.
And in buildings with a traditional doorman, a cyber doorman can help manage after-hours deliveries, like your residents' late-night food orders.
5. Maintain security
If you want to maximize building security but don't have the budget or space for a staffed front desk, a digital doorman is a great alternative. That way, you can keep your property entrances locked without hindering access for residents and authorized visitors.
Digital doormen also improve security for buildings that do have a traditional doorman or front desk. After business hours, you can pay your staff member to patrol the property and tackle other security-related tasks while your remote doorman controls access at the front door.
What's the best digital doorman?
The best digital doorman is a wireless video intercom system that pairs with a mobile app.
A smartphone-powered video intercom enables:
Visitors to video call residents directly to request access.
Residents to visually confirm who's requesting access and unlock the door for visitors remotely — even when they're not at home.
Staff to review every door entry event through a log of time- and date-stamped photos stored online.
Delivery carriers to request property access from residents (or simply enter the building using a pre-authorized PIN code!)
For best results, don't choose a system that relies on an off-site call center.
Think about it:
When a visitor arrives at the building, they place a call to request access. This call gets routed to someone in an off-site call center, who then has to call the resident directly. Ultimately, the call center operator acts as an unnecessary middleman.
Instead, choose a cyber doorman system that allows visitors to contact residents directly.
With a video intercom system, residents can visually confirm who's requesting access. If they recognize the visitor, they can quickly grant access remotely with the tap of a button on their smartphones. And if they don't recognize who's requesting access, they can ignore the video call or chat with the visitor for more details.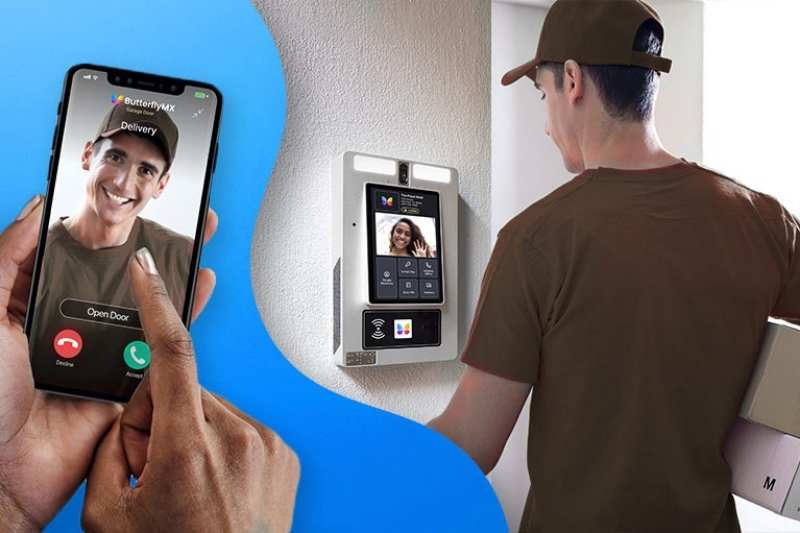 ButterflyMX as a digital doorman system
The ButterflyMX video intercom is the best digital doorman solution.
Because our intercom pairs with a convenient smartphone app, residents can easily control property access for themselves, their delivery drivers, and their visitors. Guests can directly contact the resident they're visiting, and residents can see who's at the door before unlocking it.
What's more, our video intercom's touchscreen interface can be customized to your liking. For example, you can add a button for visitors and delivery carriers to call an on- or off-site staff member. That staff member can see who's requesting access, talk to them, and remotely unlock the door from any phone, tablet, or computer.
Finally, ButterflyMX also offers:
Virtual keys, so residents or staff can authorize one-time or recurring access to planned visitors.
Delivery Passes, which residents can send to delivery drivers to guarantee secure, one-time access.
Property management software integrations, so you can automatically sync information from your PMS directly with the intercom
A package room solution, so that delivery carriers can gain property access and leave packages in a secure, locked room.
Watch how the ButterflyMX package room works:
Takeaways
A digital doorman system is a great way to manage visitors and control property access remotely.
Digital doormen can either work in tandem with a traditional doorman or serve as an alternative.
Having a cyber doorman can increase your property's value, maximize security, save money, and ensure safe deliveries.
The best remote doorman solution is a cloud-based video intercom with a mobile app, like ButterflyMX.