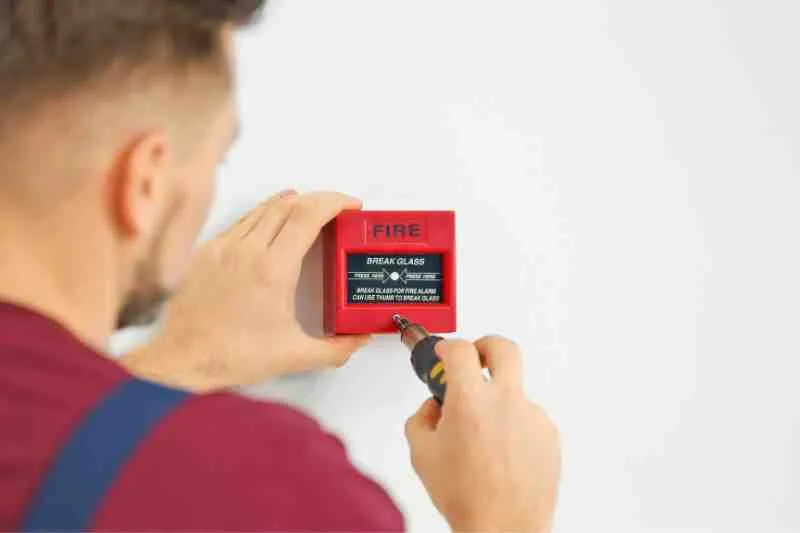 Fires are a rare but devastating threat to physical security at your property. Installing a fire alarm system is a crucial step toward protecting your building's occupants and assets.
Read on to learn what a fire alarm solution is and the different types of fire detection systems. Then, explore the costs of a commercial fire detection system. Finally, discover how your smoke alarm system can integrate with an access control solution to maximize physical security.
In this post, we cover:
What is a fire alarm system?
A fire alarm system consists of several devices that are designed to alert your building's occupants of a fire, smoke, or carbon-monoxide emergency.
Fire alarms may consist of:
Carbon monoxide detectors
Heat detectors
Water flow switches
Pressure switches
A trustworthy fire and alarm system is one of the most important security technology assets to have at your building.
What are the main types of fire alarm systems?
While at first, you may assume there is only one type of fire detection system, there are actually several. In fact, there are many types of commercial alarm systems designed to provide safety and fire security throughout your building.
Here are the most popular types of fire alarm systems:
Conventional fire alarm system. This is the most popular type of fire detection system. Conventional systems allow occupants to be evacuated from a particular zone or affected area when the alarm is triggered.
Ionization system. An ionization fire alarm requires a constant electrical current, which runs between two metal plates in the device. When smoke enters the device, that connection is disrupted, which triggers an alarm.
Photoelectric system. A photoelectric fire alarm works similarly to an ionization system. However, instead of electricity, a photoelectric system relies on a beam of light. When smoke enters the device, the beam of light is interrupted, which triggers the alarm.
Wireless fire alarm system. Wireless alarm systems use radio signals to communicate between the detectors and the fire alarm control panel. These systems don't require extensive cabling, so they're easier to install than conventional systems.
Two-wire alarm system. Two-wire alarms have two wires that power and signal detectors. This results in a quick and easy installation since there's no need for extra cables.
Beam smoke detector. Beam smoke detectors detect smoke particles with transmitters and receivers over a distance. This makes them ideal for larger industrial buildings like warehouses.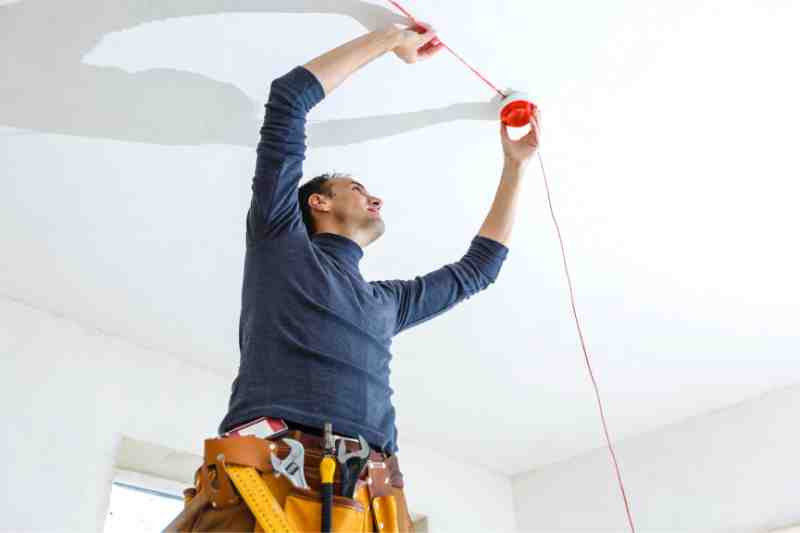 What does a fire alarm system consist of?
Fire detection and alarm systems consist of several components that all work together to alert your building's occupants and emergency personnel of a potential fire-related emergency.
Here are the most common fire alarm system components:
Fire alarm control panel. The fire alarm control panel is the central monitoring hub and interface that controls the alarm system. This panel also alerts the proper emergency personnel when the alarm is triggered.
Detectors. Different types of fire detection systems have sensors like smoke, heat, and carbon monoxide detectors.
Strobes and sirens. Fire alarms use a combination of audio and visual signals that warn your building's occupants of a potential fire. So, fire alarms are intentionally loud to alert every occupant. Additionally, they often include strobe lights to alert occupants who are hard of hearing. They may also include a voice evacuation message that gives instructions on how to safely evacuate the premises.
Call points. A call point is the pull station or switch that people can use to trigger an alarm system manually.
Power supplies. The power supply consists of the fire alarm batteries or generator that powers the system.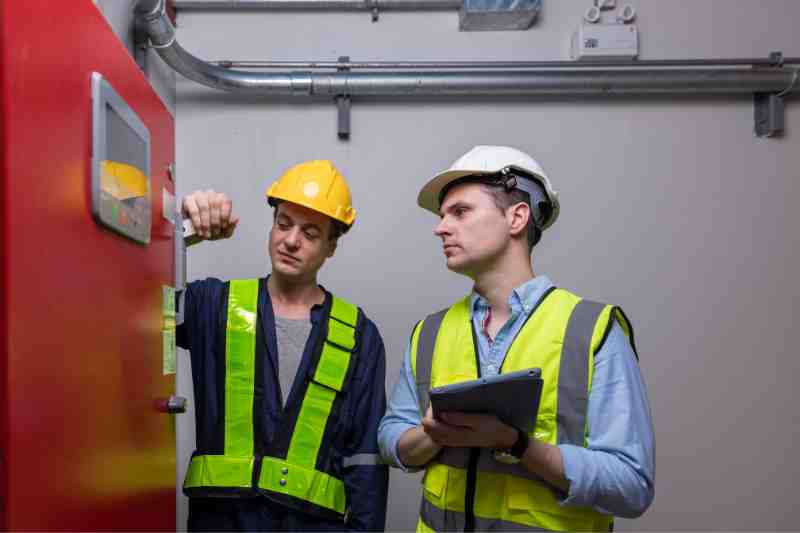 How does a fire alarm system work?
A fire alarm works in a few short steps:
When a fire starts, the heat or smoke triggers automatic functions that alert the panel to sound the system. Alternatively, staff can also manually trigger the system using the pull station.
When the alarm sounds, staff will guide your building's occupants through the appropriate evacuation protocol.
Concurrently, the system will automatically alert your local fire department.
Pro tip: For optimal fire security, hire a physical security consultant to divide your building into zones. That way, detectors will be placed in each zone of your building for heightened safety. So, if the alarm goes off, the fire alarm panel can pinpoint exactly which zone the alarm was triggered in and allow emergency responders to locate and extinguish the fire quickly.
Fire drills are not currently required by OSHA or for residential properties. However, it's recommended to have routine fire drills so your building's occupants are familiar with the evacuation protocol.
During these drills, your system's installer should also assess the system and make sure it's working properly.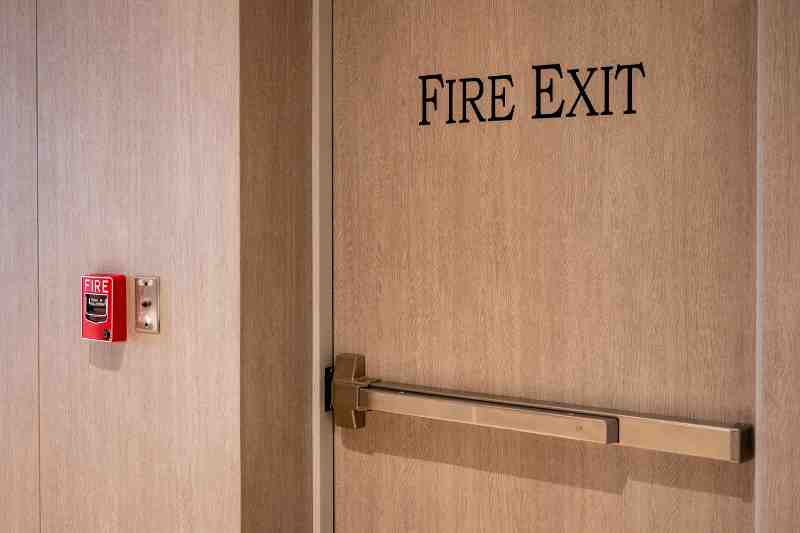 How much does a fire alarm system cost?
The cost of a commercial fire and alarm system varies depending on the complexity of the installation. Typically installation for new buildings costs $1 – $5 per square foot.
However, this price can fluctuate depending on how old your building is. This is because older buildings often present unique challenges that require additional labor.
Ultimately, a commercial alarm system costs $1,800 – $2,500 per apartment or $15,000 – $20,000 for large commercial office spaces. Consider hiring a security integrator for the most accurate quote for your building.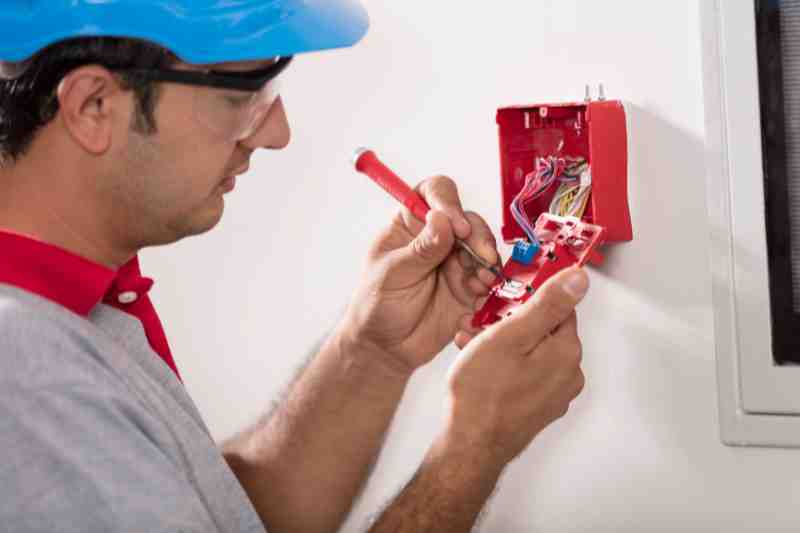 How do fire detection systems integrate with access control?
Do you want to maximize physical security at your building? If so, choosing an access control system that integrates seamlessly with your fire detection system is crucial.
Here's how a robust access control solution can elevate your fire detection system:
Door release. When a fire detection system is triggered, an access control system can automatically unlock all the doors so that occupants can safely exit the building. Further, emergency first responders can enter your property without first spending time opening gates or locks.
Real-time alerts. Robust access control systems can provide real-time updates on the status of emergency events.
Remote monitoring. If you own or manage a property in a different city or state, your access control system notifies both you and local emergency responders of detected fires. So, you can easily stay updated on the status of any emergency, even if you're out of town.
Pro tip: Conduct a physical security assessment to determine how to seamlessly integrate your commercial smoke alarm system with your access control solution.
Discover how ButterflyMX works:
Takeaways
A fire detection system senses carbon monoxide, heat, flames, and smoke. It also alerts your building's occupants and emergency personnel of a fire.
Fire and alarm systems contain a fire alarm control panel, detector, strobes and sirens, call points, and a power supply.
A fire alarm system usually costs $1 – $5 per square foot to install. 
To maximize physical security, integrate your fire alarm with your access control system.