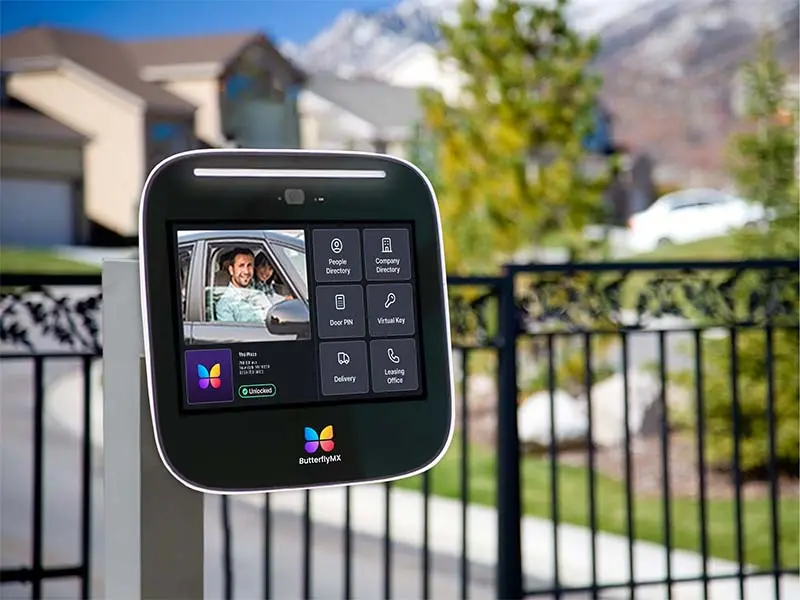 If you own or manage a gated property, you know the value of an effective gate entry system. And one way to control gate entry is with a gate call box with a camera. However, call boxes are increasingly becoming an artifact of the past. There are now so many other options for gate access control that give your residents and staff enhanced security and a better experience.
Read on to learn more about gate call boxes with cameras, how they work, their pitfalls, and why you should go with a better alternative.
This post covers:
What is a gate call box with a camera?
A gate call box with a camera is an entry system installed at the entrance of a gated property. Guests and delivery couriers use these call boxes when visiting tenants or dropping off packages at gated communities. The camera allows tenants to see visitors before opening the gate for them. Some gate call boxes with cameras only take pictures, while others also provide video footage.
Call box systems are used at all kinds of property entrances, including both doors and gates. But you'll find gate call boxes with video at various gated properties, from commercial complexes to senior living communities.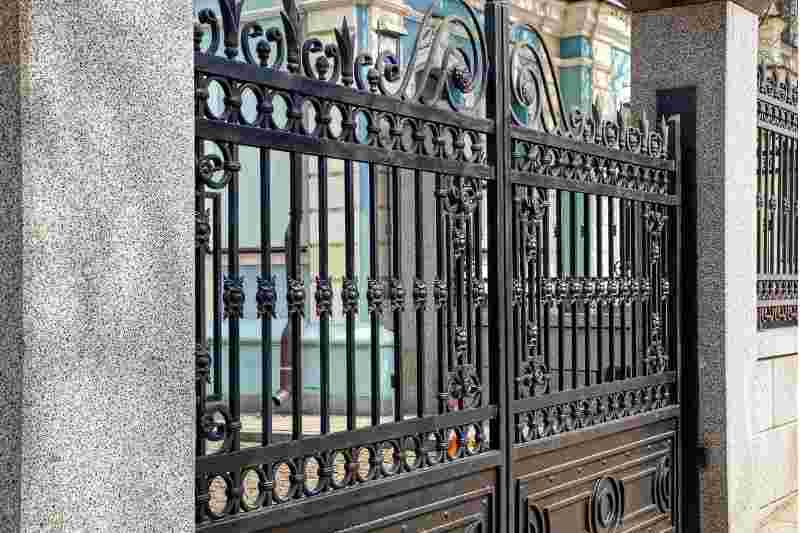 Main components of gate call boxes with cameras:
Base station with a camera. The base station with a camera — the call box itself — is the piece of hardware installed at the gated entrance. A visitor uses the base station to call a tenant or the front desk to request access. And the base station has a camera to show live footage of the guest, allowing renters and staff to confirm the guest's identity visually.
Substations. A substation is a piece of equipment that allows tenants and staff to speak with and view the visitor from within the property. Depending on the visitor management system you have, "substations" can mean different things. For example, it can be a device installed in the main office or at a security desk. Or, it can be devices installed in each tenant's office or apartment. Substations can even be tenants' smartphones. Either way, the substation has a screen that shows live footage of the visitor at the gated entry.
Gate opener. To grant a visitor access to the property, the tenant presses a button on their substation. In turn, this sends a signal to the gate call box to trigger the sliding or swinging gate opener to activate.
How gate call boxes with cameras work
Gate call boxes with cameras work by allowing residents to see, talk to, and grant their visitors access. Upon receiving a video call from a guest, a tenant presses the 'open' button on the substation, signaling the gate to open.
Since the gate may be far from the rest of the property, it's common to see wireless video call boxes for gates. This is because the base stations may not be near an internet or telephone connection. So as an alternative, the base station device connects with its substations via a WiFi or cellular network. As a result, wireless call boxes for gates don't require extensive wiring throughout the property.
Four simple steps for using a long-range wireless gate intercom:
The visitor calls a tenant. Gate call boxes have directories in which visitors search for a tenant's name and call them.
The camera activates, and the call box signals substation. The camera component of the call box activates, and the device establishes a connection with the correct substation. The base station also relays live video of the visitor to the tenant's substation.
Tenant talks to visitors and grants access. Tenants and visitors can communicate because both devices have microphones and speakers. If the tenant wants to open the gate for the visitor, they press a button on their substation. And if a mobile app powers the wireless gate video intercom, the tenant can open the gate with a smartphone.
Gate opener activates. The driveway gate entry system signals the gate opener to unlock the gate.
Watch how ButterflyMX works:
5 pitfalls of a gate call box with camera
If you're seeking a gate call box with a camera for your gated property, first ask yourself if it's really the best gate entry system available.
Today, there are better outdoor gate access control solutions that offer greater security and more convenience. So, in this section, you'll learn about why gate call boxes are outdated.
Here are five pitfalls of a gate call box with a camera:
1. No integrations with other proptech devices
Today, most devices run on the Internet of Things (IoT). IoT enables internet-based technologies to communicate with each other. However, gate call boxes with cameras aren't IoT-based, which means they can't integrate with property management software, smart locks, or other proptech.
2. They aren't cloud-based
In contrast to modern security gate access control systems, gate call boxes store data on servers on-site, not the cloud. This means that you must go on-site each time you add or remove a tenant from the system. Even more annoying, you won't get automatic software updates or data backups with a gate call box.
3. No delivery solutions
Online shopping and food delivery services are becoming more popular each day. And the postal and parcel industry is adapting to this shift in consumer behavior. Unfortunately, gate call boxes lack solutions like delivery passes and package rooms to accommodate these growing trends. Couriers can call a resident through the gate call box, but if the resident isn't home, they may miss the delivery.
4. They lack robust video capabilities
Most gate call boxes with cameras don't offer two-way video calling. Tenants can see guests, but guests can't see tenants. Also, there is no way to record and save video trails on a gate call box. As a result, property staff will need a separate security system if they want to review gate entry activity.
5. Expensive to maintain
You'll need to pay for a costly phone plan to operate a gate call box each month. Additionally, older devices like call boxes are notorious for needing constant repairs. Eventually, maintaining the call box will become more expensive than the device itself.
A better alternative to the gate call box with camera
Luckily, a better alternative to gate call boxes is right at your fingertips: a gate intercom system with a camera. These systems compensate for all the pitfalls of a gate call box and then some.
Wireless gate intercoms with cameras empower residents to open the gate from anywhere, have two-way video calls with guests, and review gate entries on any device that's connected to the internet. Even more, with gate video intercoms, tenants can assign virtual keys to trusted guests to enter the property even when they're not home.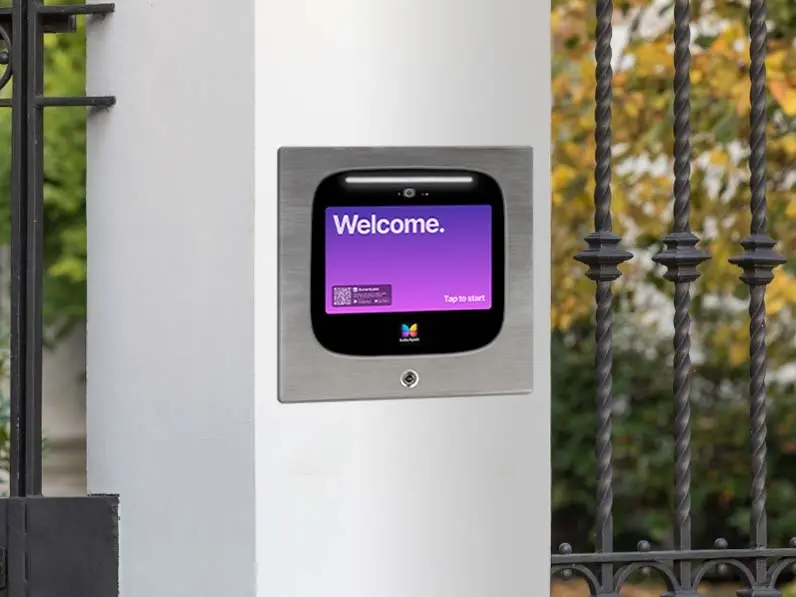 Choose the ButterflyMX gate access control system
It's time to ditch your gate call box and switch to the ButterflyMX gate video intercom.
ButterflyMX is the best front gate intercom system because of its:
Two-way video call capabilities: With ButterflyMX, both parties can seamlessly video chat with each other without interruption. What's more, guests can leave messages for tenants when they're not home or in the office.
Remote access: Since the ButterflyMX intercom is cloud-based, you can remotely manage property access from anywhere. Also, residents can open the gate for visitors even when they're not home. They'll receive a mobile app notification whenever a visitor requests access, and they can swipe or tap on their smartphone or Apple Watch to open the gate.
Delivery management solution: ButterflyMX's delivery pass feature prevents tenants from ever missing a delivery. Renters assign a unique, one-time PIN code to package and food delivery couriers so they can securely place parcels inside the building.
Proptech integrations: ButterflyMX has integrations with commonly used property management software, such as Yardi. As well as other proptech solutions, like smart locks and building automation software.
You can also supplement your gate intercom and create a cohesive access experience at your gated property with ButterflyMX keypads. Our gate keypad with a camera is perfect for auxiliary gate entrances and gates to outdoor amenity spaces.