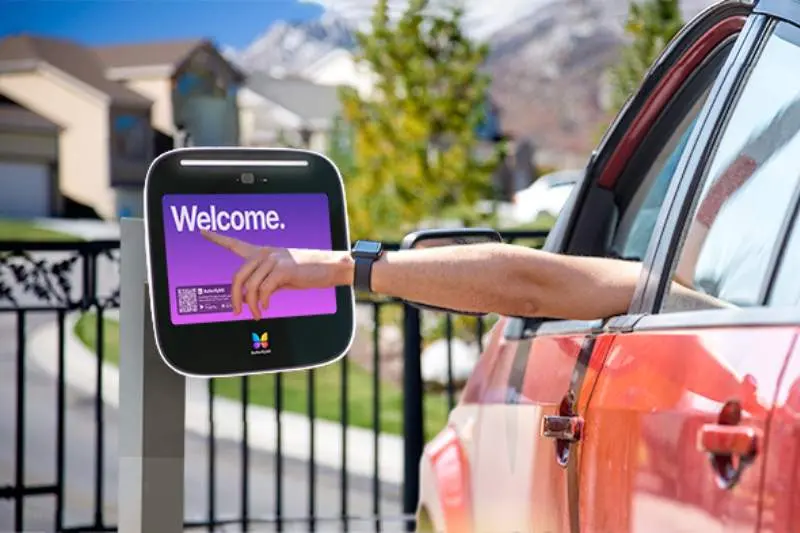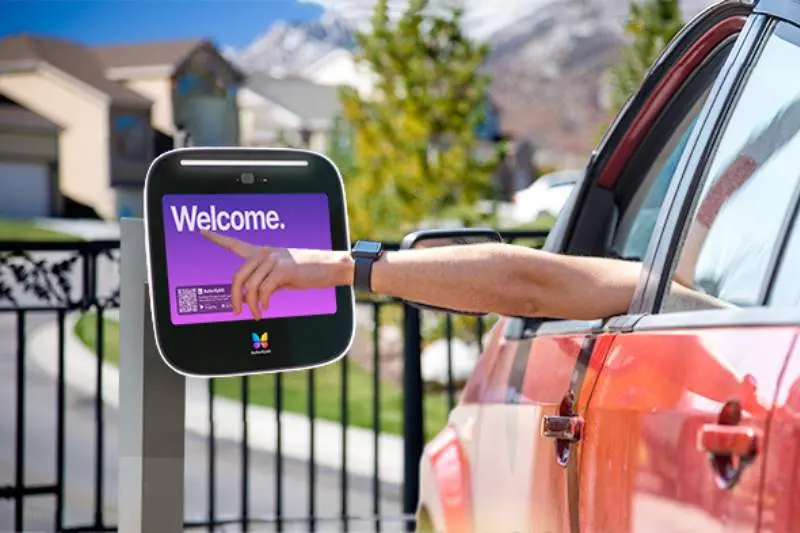 If you live or work in a building with ButterflyMX, you've hopefully learned that there are many ways to open the door from your smartphone, without having to rely on keys or fobs. But one of the main benefits of ButterflyMX is being able to let in your guests or deliveries as well.
You'll no longer have to leave the comfort of your apartment — or worse, rearrange your schedule — to let in guests, mail carriers, or delivery drivers. With the ButterflyMX mobile app, you can provide entry into your building from anywhere in the world without having to stop what you're doing.
Here are five different ways to let someone in with ButterflyMX:
1. Intercom phone or video call
Perhaps the simplest way to let someone in with ButterflyMX is when they call you directly from the video intercom.
When you have the ButterflyMX mobile app downloaded to your smartphone, this initiates a video call, allowing you to see exactly who is at your building before letting them in. You have the option of a two-way video call or, if you'd like to remain private, a one-way video call where you can see the visitor but they can't see you. Once on the call, you tap the 'door open' button to grant them access.
If you don't have a smartphone, or you haven't downloaded our mobile app, you can still let in your visitor. Instead of receiving a video call, you'll receive a regular phone call. Once you've verified their identity, you simply press '9' to open the door or gate.
How video calling works with ButterflyMX »
2. Virtual keys
If you have a recurring visitor or a visitor that you know will be coming, you can send them a virtual key. Virtual keys are time-sensitive QR codes that you send to trusted guests for easy access.
With a virtual key, a visitor can let themselves into your building whether you're there or not. You can customize your virtual key so that they're recurring, single-use, or just for certain days & times. You can also delete the virtual key to revoke access at any time.
How to create and issue a virtual key »
3. Delivery Pass
If your visitor is actually a delivery person like an UberEats or Amazon driver, you can provide them access to your building with Delivery Pass.
Delivery Pass is a one-time access PIN that you send to your delivery driver to access your building. All they have to do is enter the PIN at the video intercom when they arrive. That way, they don't have to leave your pizza out in the cold!
Watch the full ButterflyMX resident experience:
4. Swipe to open
Another way to let someone in with ButterflyMX is swipe-to-open in the mobile app.
On the home screen of the mobile app, you'll see a button that allows you to swipe to open your door or gate from anywhere in the world. Once you swipe, the door will release for five seconds.
5. Voice commands with Alexa or Siri
Using Siri and Alexa makes your daily life so much easier. With ButterflyMX, you can use Siri or Alexa to conveniently grant visitors access to your building.
So, whether your phone is charging in the other room or you're cooking and don't want to touch your phone with messy hands, you can simply tell Alexa or Siri to open the door or gate when your visitor has arrived.
How to use ButterflyMX voice commands »