If you live in a building with ButterflyMX, it's important to download the mobile app on iOS or Android in order to start taking advantage of all of the features ButterflyMX has to offer.
When you first open the mobile app, you're prompted to input your email and password in order to log in. If you cannot remember the password that you created when setting up your account, you have the option to reset it.
To reset your password, you'll need an email associated with your ButterflyMX account. If you don't have a ButterflyMX account, please contact your property manager.
Note: You should only reset your password if you can't remember your current password. If you want to change your password, you can do so in the 'Account' tab.
How to reset your ButterflyMX password
Step 1: Open the app
Open up the ButterflyMX app on your smartphone.
Step 2: Tap 'here'
Under the 'Register' button, tap 'here' after the  'Forgot password?' text.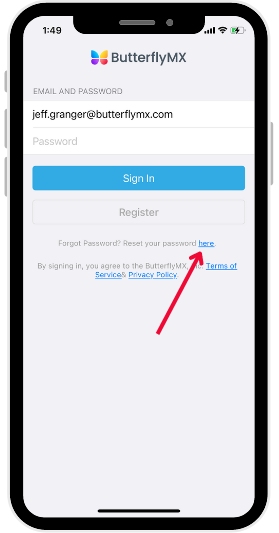 Step 3: Enter your email address and hit 'Reset'
Enter the email associated with your ButterflyMX account and tap 'Reset'.
Step 4: Open the reset email from ButterflyMX and click 'Reset password'
Wait for an email from ButterflyMX. Once it comes through, open the email and hit 'Reset Password'.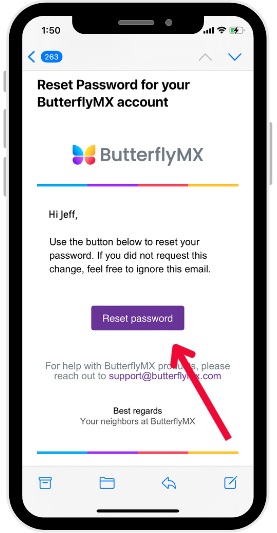 Step 5: Create a new password
Type in the new password you would like to use, and then retype it to confirm.
Make sure your new password has:
At least 8 characters
At least one letter and number
Confirm your new password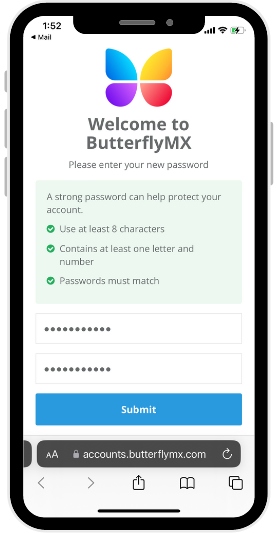 Step 6: Tap 'Submit'
Tap 'Submit' to save your new password.
And that's it! You now have a new password and can access your ButterflyMX account. For more tips on using our mobile app, check out our resident resources.