The right PropTech amenities create a secure and convenient property access living experience.  And satisfied, secure residents stick with a good thing! 
Here are three PropTech amenities that every modern residential property should have.
1. Access control
When it comes to designing a smart building, it starts with the front door. A smart building consistently denies access to certain people while seamlessly allowing access to others. Intelligent access control requires a modern system, one that offers uncompromising security and convenience. Thankfully, a handful of modern access control companies are designing products to address this.
Vendors such as Brivo, S2 Security, PDK, and Kantech offer the same benefits of a traditional key-fobbed control system but with the flexibility of a cloud-based system. They let you manage resident access, monitor activity, and view reports – all from an online dashboard. Moreover, since these systems connect to the internet, they can communicate with other systems at your property such as ButterflyMX. Residents and property managers can see who is coming in, issue temporary visitor access, and change access permissions all from a single app.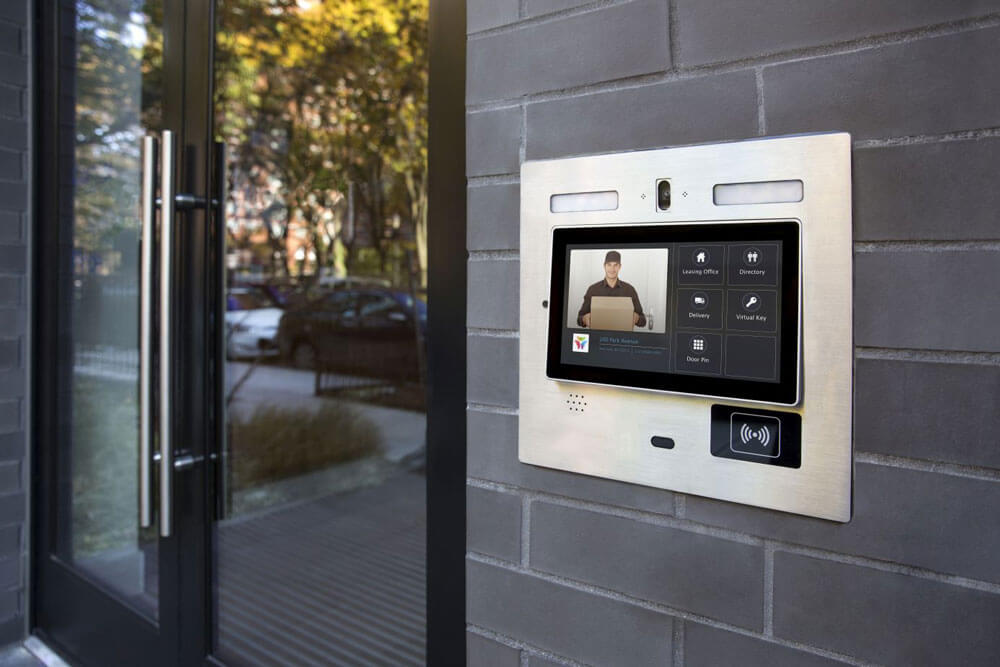 2. Smart locks
Since the first door was created to provide access, locks have been used to restrict it. For much of that time, there has been an inverse correlation between security and convenience: Increase the security of a lock, the less convenient it becomes, and vice versa. Now with digital authentication, locks still restrict access for some while providing convenience to others.
Smart lock vendors such as Schlage, August, Yale, Saflok, and Salto Systems have built locking devices similar to those used in most urban hotels, but instead of using keycards, they leverage smartphones. As residents come and go – or when they have guests or visitors – access to the unit can be granted via their smartphone.
Also, these vendors have created integrations with other PropTech companies including ButterflyMX, allowing residents to manage both property and unit access from one app. That's especially convenient for granting access to service providers (e.g., house cleaners, dog walkers, or cable providers), especially during work hours or other times when residents aren't home. 
According to security solutions provider Vyanet, the benefits of access control systems include:
Reduced costs of lost keys.

Greater control over who can go where.

The ability to prevent strangers from entering buildings.

Minimized risk of theft.
For property managers, the most significant benefit is fast ROI – often in under three years. Consider as an example:  A typical investment in a smart lock is approximately $200. With a smart lock, creating/revoking an electronic key is as fast and easy as pushing a button, which can also be used to issue temporary access for maintenance staff. Conversely, it costs between $20 and $50 to rekey a door each time a tenant turns over plus the time involved from your property staff.
3. One mobile app
As the number of PropTech amenities continues to grow, so too does the number of mobile apps needed to use them. The issue is that as you incorporate more of these amenities into your property, your residents will soon find themselves using a multitude of apps daily. This can detract from the seamless living experience you are trying to create.
Vendors such as Mobile Doorman and Entrata are working to solve this headache. They have created all-in-one mobile solutions that allow your residents to interact with your property from a single app. Residents can pay their rent, open doors, and even schedule maintenance all from one app. Property managers get custom branding, the ability to communicate with residents as a group or individual, and engagement analytics.
And since these apps maintain an open API, they integrate with ButterflyMX, allowing residents to receive video calls and send virtual keys without ever leaving the building app. This further consolidates your residents' living experience from too many PropTech apps into one.
And don't miss the next post in this series which will highlight 4 additional amenities your property needs right now!