The right proptech apartment amenities create a secure and convenient living experience. But if you want to appeal to millennials — the generation with the highest percentage of renters — there are a few more things you should know. Millennials appreciate a living experience enhanced by the latest technology. And satisfied, secure residents stick with a good thing!
First, we'll explain what proptech is, and why proptech is something every property manager should invest in. Then, we'll help you understand which proptech amenities millennials want most.
This post covers:
What is proptech?
Proptech is short for 'property technology.' Proptech is the collective name for the technology-powered innovations that are sweeping the real estate industry. By harnessing the power of developments like data aggregation and the Internet of Things, proptech aims to redefine the scope of what a building can do.
Everything from building construction to property management to the residential experience has been reimagined and modernized by proptech. Home management software, adaptive AI that predicts pricing trends, and sensors that alert you to wiring or pipe failures before they even happen are all examples of proptech applications.
Other examples of proptech include:
Augmented reality house tours available online
Coworking spaces exploring the "space as a service" business model
Keyless entry systems
Smart windows that darken automatically and generate solar power
Why you should invest in proptech amenities
You should invest in proptech amenities not only to simplify your own management workflow but to show your residents that you're always looking for ways to make their lives more convenient.
Other industries have been taking advantage of technology for decades, but real estate has been slow to catch on. By investing in proptech, you'll make your property more appealing to a large, tech-loving sector of potential residents: millennials.
In fact, millennials have enthusiastically embraced the smartphone, a device that puts the power of the internet in their hands. And another benefit of adopting proptech is that many features of your building become smartphone-compatible — and that much more appealing to a prospective millennial resident.
You should also know that proptech amenities aren't just for apartment buildings — they're an excellent addition to student housing, gated communities, and other types of multifamily housing.
3 proptech amenities that every millennial wants
Undoubtedly, proptech amenities improve the resident experience at any multifamily building. So, it's in your best interest to invest in the right proptech.
If you're concerned about the cost of offering these amenities, consider charging residents a small amenity fee to cover those expenses. Most millennials are more than willing to pay a fee or slightly higher rent in exchange for technology that enhances security and convenience.
The top three proptech amenities for millennials are:
1. Access control
Designing a smart building starts with the front door. A smart building consistently denies access to unauthorized people while seamlessly allowing access to others.
Intelligent access control requires a modern system that offers uncompromising security and convenience. Thankfully, a handful of cloud-based access control companies are designing products to address this.
Vendors such as ButterflyMX, S2 Security, Prodatakey, and Kantech offer the same benefits of a traditional key-fobbed control system with the flexibility of a cloud-based system. They let you manage resident access, monitor activity, and view reports – all from an online dashboard.
Moreover, since these systems connect to the internet, they can communicate with other systems at your property, such as your video intercom. Residents and property managers can see who is coming in, issue temporary visitor access, and change access permissions all from a single app.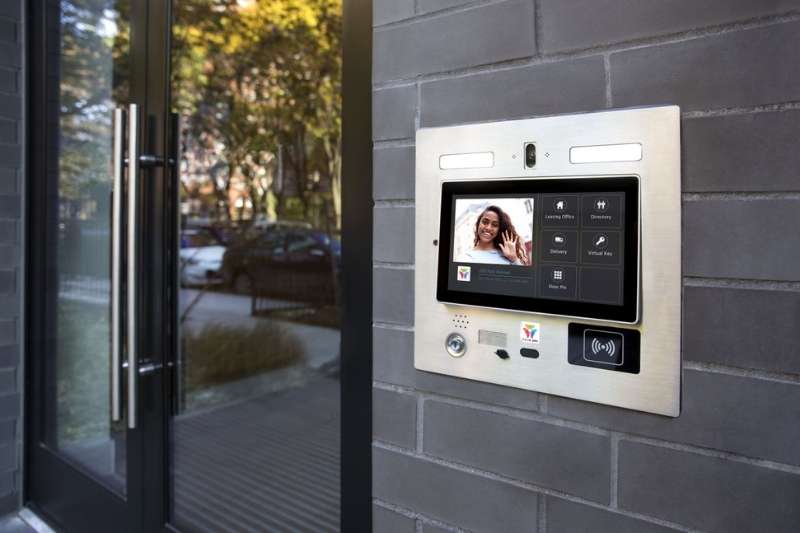 2. Smart locks
Smart lock vendors such as Schlage, August, Yale, Saflok, and Salto Systems have built locking devices similar to those used in most urban hotels. But instead of using keycards, they leverage smartphones. As residents come and go – or when they have guests or visitors – they can grant access to the unit from their smartphones.
Also, these vendors have created integrations with other proptech companies, allowing residents to manage both property and unit access from one app. That's particularly convenient for granting access to service providers (e.g., house cleaners, dog walkers, or cable providers), especially during work hours or at other times when residents aren't home.
The benefits of smart locks include:
Reduced costs of lost keys
Greater control over who can go where
The ability to prevent strangers from entering buildings
Minimized risk of theft
For property managers, the most significant benefit is fast ROI – often in under three years.
For example, a typical investment in a smart lock is approximately $200. With a smart lock, creating/revoking an electronic key is as fast and easy as pushing a button. Smart locks can also be used to issue temporary access for maintenance staff.
Conversely, it costs between $70 and $160 to rekey a door each time a tenant turns over, plus the time involved from your property staff.
3. One mobile app
As the number of proptech amenities continues to grow, so too does the number of mobile apps needed to use them. The issue is that as you incorporate more of these amenities into your property, your residents will soon find themselves using several apps daily. This may not appeal to millennials and possibly detracts from the seamless living experience you are trying to create.
Vendors such as Mobile Doorman and Entrata are working to solve this headache. They have created all-in-one mobile solutions that allow your residents to interact with your property from a single app. Residents can pay their rent, open doors, and even schedule maintenance all from one app. Property managers get custom branding, the ability to communicate with residents as a group or individual, and engagement analytics.
And since these apps maintain an open API, they integrate with other proptech solutions. For example, if you integrate your smart locks with your video intercom system, your residents can unlock the building's front door and their own apartment door from the same app. This further consolidates your residents' living experience from too many proptech apps into one.