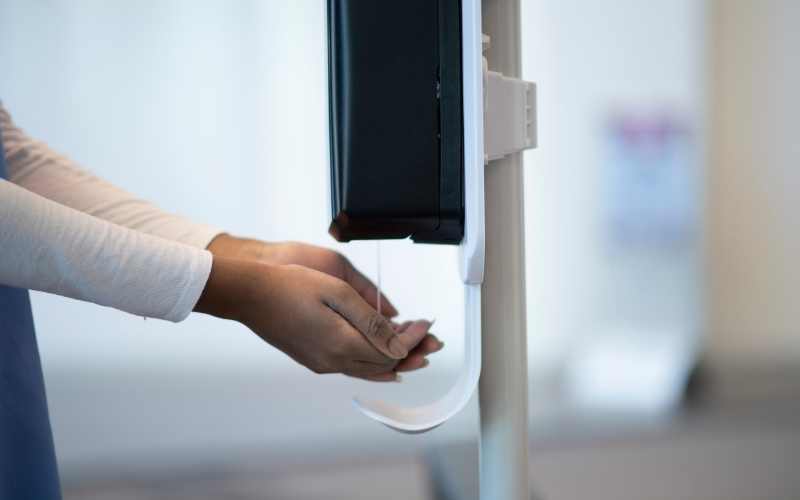 Now more than ever before, office tenants and their employees are vigilant about keeping office spaces sanitary and germ-free. That's why commercial buildings are interested in creating touchless offices.
A "touchless" office refers to creating a work environment that reduces the number of possible infection points – shared surfaces that are touched by many people. 
The best way to design a touchless office is to adopt property technology (proptech). Proptech encompasses everything from commercial intercom systems to enable touchless building entry to hands-free thermometer kiosks to prevent the spread of disease. So, proptech is the simplest and most effective way to make your office building safer.
Read on to learn about how office spaces should use technology to ensure safe and sanitized offices in the "post-pandemic" era.
Here are six ways to create a touchless office with technology:
1. Intercom systems with smartphone capabilities
When you're designing a hands-free office, even the simplest act of entering and exiting buildings poses a unique challenge.
Back in the day, employees and visitors coming to the office signed in by writing their names on paper, scanning their RFID badges, or following instructions from a receptionist. Most people touched shared surfaces without thinking much about it.
As we all know, COVID-19 disrupted the way we view germs and the transmission of viruses. Now, diligent handwashing and intensive surface disinfecting have been practiced more than ever before.
So, offices started to rethink how people access buildings. This is where smartphone-based commercial intercom systems become essential.
Office administrators already have a roster of employees who need access to the office, so they can easily add employee information into a property access system. It's as easy as granting access to a Google Doc or Microsoft Teams, but for buildings!
Pair the intercom system with an automatic door opener to ensure a truly touchless entrance experience. This way, tenants can enter and exit the building without touching the door. All they'll need to touch are their own smartphones.
Watch how touchless entry works with ButterflyMX:
Easy property access control
Authorized employees can simply swipe to open doors on their smartphones. Building managers can control which parts of the building each employee has access to. They can also easily grant or revoke access privileges as needed.
To grant guest access, tenants can assign virtual keys to visitors — such as job candidates or business associates — for a specific date and time. Then, instead of talking to receptionists or security guards, visitors can seamlessly access the building. All they have to do is open the virtual key on their smartphones and scan it at the video intercom system.
2. Touchless thermometer kiosks with hand sanitizer dispensers
Health screenings like temperature checks will most likely be routine for the time being. Instead of having a staff member stationed at the entrance screening everyone who enters the building, invest in touchless, infrared thermometer kiosks.
The kiosk has motion sensor technology that turns on whenever it detects a person and takes their temperature. Not only do these kiosks eliminate the need for extra staff, but they also significantly speed up the flow into the building.
Pro tip: Choose one with an automatic hand sanitizer dispenser attached or as an add-on.
Keeping everyone safe
If a tenant or visitor has a fever, then they should not enter the building. Some thermometer kiosks can be integrated into existing access control systems, so access is automatically denied to those who don't meet health requirements. 
Since the health screening information is saved only on the employee's phone, using such systems doesn't violate HIPAA laws. The property access systems will keep records of the date and time each person entered the building. So, if need be, employers can still securely conduct contact traces without accessing workers' personal health information.
3. Desk or conference room reservation systems
As companies continue to adopt hybrid or flex office models, there must be an easy way to control and monitor room capacity. This will prevent overcrowding and ensure that the space cultivates a productive environment. 
One simple way to do that is to implement an app-based desk or conference room reservation system. Choose cloud-based software with a mobile app so employees can reserve a desk or amenity space on the go.
How it works in touchless offices
Set a capacity limit for the building, as well as for individual offices. Tenants and their employees can sign up for certain times of the week to come into the office. Some apps show real-time occupancy data, so it'll be easy to tell if employees are following guidelines.
Having a mobile app also makes it easier for employees to coordinate team meetings. Instead of sending endless emails, they can just look on the app to see which days the office space is available.
Employers can easily keep track of their employees' varying schedules using this reservation system. The pandemic forced many employees to move out of business meccas, where businesses usually have their headquarters. Using a reservation system gives both property managers and tenants a pulse on how physical buildings are used going forward.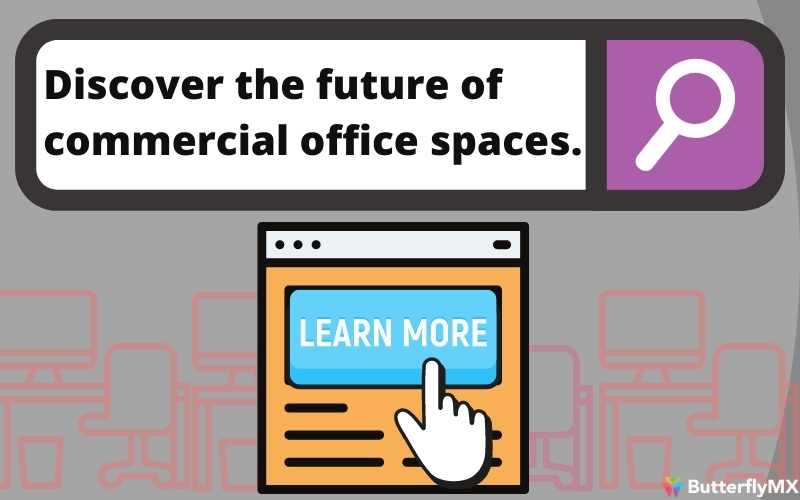 4. Smart locks for access to shared rooms
In pre-pandemic days, only certain tenants and their employees had physical keys to conference rooms, supply closets, and other restricted rooms. But today, remote work and the hybrid model mean that not all employees are in the office on a given day. As a result, there might be no one who can unlock these rooms.
That's why you should replace traditional door locks with commercial smart locks.
Smart locks enable people to unlock doors through an app on their smartphones. Like smart intercom systems, smart locks empower property managers or employers to grant or revoke access to certain employees whenever necessary.
Furthermore, smart locks improve security. Physical keys can be shared, lost, or copied without anyone knowing. That puts the office in a vulnerable situation. However, smart locks log every entry event on a database, so office managers can always contact trace without any hassle. Even if the office administrator is working from home, he or she can easily give certain employees access to restricted rooms through the app.
5. IoT devices for office technology
As the Internet of Things (IoT) continues to grow, office technology will be integrated with property management systems. IoT facilitates communication among devices connected to the internet. Today, every electronic device is connected in one way or another. Even boring office technology is becoming "smart," just like that TV in your living room.
This means that projectors in conference rooms, copy machines in break rooms, and even coffee makers in lounges can communicate with each other. These devices can become app-powered, meaning that employees can control them with smartphones. For example, instead of making copies from the copy machine's touchscreen or keypad, employees can send pages to copy through an app without even touching the machine.
As technology rapidly advances, there's no doubt that one day there will be one app that controls every aspect of office life. Even today, almost all devices have smartphone app capabilities – something you probably couldn't imagine just a few years ago. Soon, all you'll need to do is enter tenant information in a management system such as Google Workspace. With this one step, they'll have controlled access to units, office technology, and facilities all in one app.
6. App-controlled light switches and smart thermostats
One of the most exciting prospects of the touchless office is becoming truly energy efficient. Installing app-controlled, smart lights and thermostats eliminates many potential inflection points and lowers the building's energy emissions. Instead of keeping the lights and HVAC systems on 24/7, tenants can turn them on only when the office is in use.
What's more, in an era when touching wall light switches and thermostats is risky business, smart thermostats and lights give everyone peace of mind. These smart technologies can be controlled from a smartphone or web-based dashboard, which means tenants can turn on the lights or adjust the thermostat without even touching them. Minimizing the touching of shared surfaces keeps everyone safe and healthy and also improves your tenant's working experience.
There's an app for that
App-controlled light switches are more efficient than sensor-controlled lights. Because with the latter, constantly turning them on and off actually uses more energy than leaving the lights on all day. It's more energy-efficient to have tenants turn on the lights when they're in the office and turn them off when leaving.
In the same vein, a smart thermostat empowers employees to adjust the room temperature from their smartphones. Even better, smart thermostats automatically detect the natural temperature of the room from sunlight and self-adjust the settings throughout the day. This can significantly conserve energy usage throughout the building — a benefit for both the planet and the building's operating costs.
A touchless office is the new normal
The sooner we can accept that we probably won't return to pre-pandemic times, the sooner we can adapt to the new normal and excel. Technology has made the unthinkable possible, and proptech is no exception.
Although real estate is known for slowly adapting to new technologies, time is of the essence here. From property access to occupancy control to minimal infection points, there's a proptech solution for nearly everything.