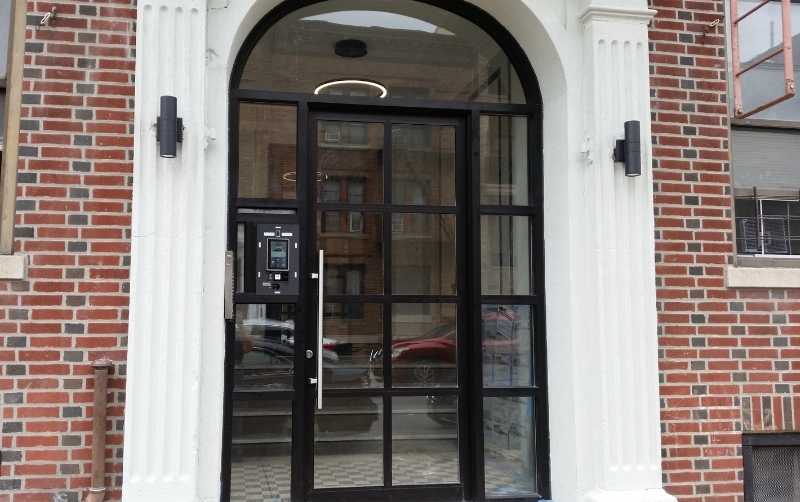 For decades, apartment intercoms have been the go-to property access management tool for multifamily properties because they simplify access for residents, visitors, and delivery people. But if you own or manage a small apartment building, condominium, co-op, or another type of property with only a few units, a video intercom may feel like more than what you need.
The good news is that today's best video intercoms aren't just for large apartment buildings — there are smart video intercoms for condos and small apartments, too. Whether you have 5 units or 500, video systems offer improved convenience, security, and more. Below, we've outlined how a video intercom can benefit a smaller building just like yours.
10 reasons to invest in video intercoms for condos, co-ops, HOAs, or small apartment buildings: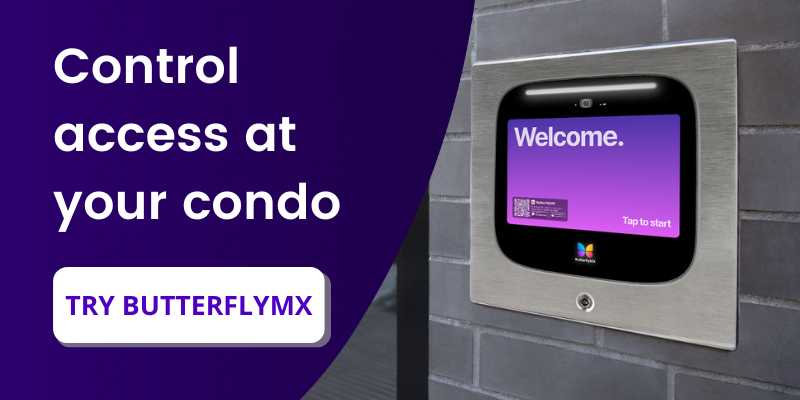 1. Easy & affordable installation
Does the thought of installing a new intercom feel daunting? With the right system, installation doesn't have to be a chore. Modern intercoms with cameras, like ButterflyMX, make it easy to save time and money on your intercom installation.
Reduce installation costs
Far too often, the fear of a massive installation bill prevents building owners and developers from installing or replacing an intercom system. Whether you're retrofitting an intercom in an old building or installing one in a new development, don't let installation costs hold you back.
It's true that installing a wired intercom with in-unit hardware can cost tens of thousands of dollars. But by choosing a wireless video intercom for condos, you can slash that installation bill in half.
Wireless video intercoms for condos cost less to install than other systems because:
You don't need hardware in every unit
You don't have to run wiring throughout the building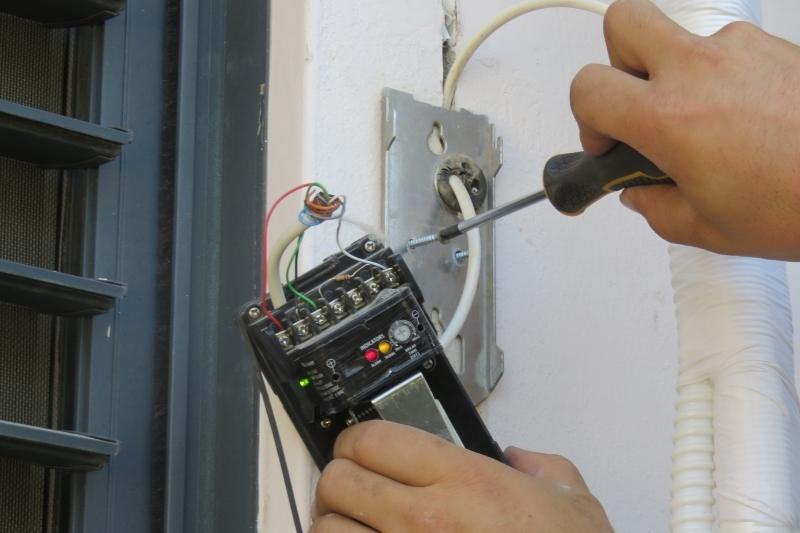 Ease of installation
If you own a condominium, it can be difficult to get your HOA board to sign off on an extensive — and expensive — project like installing a wired intercom system. Small apartment building owners also often hesitate to green-light big projects. Installing an intercom system that requires building-wide wiring will disrupt everyone in the building, possibly for weeks on end.
Installing ButterflyMX's video intercom takes as little as a few hours because you only need three connections: power, internet, and door strike. Plus, you won't have to disturb residents by running wiring throughout the building and installing hardware in every unit.
2. Ensure package deliveries
Missing a delivery because you weren't home is extremely frustrating. Worse is if your package is stolen because it was left outside. With online shopping on the rise (and only expected to grow), your building will surely see more deliveries over the coming months and years. You need a way to provide delivery access, store packages, and distribute them efficiently.
A smart video intercom offers three ways to ensure packages deliveries:
Video calling
Video calling allows you to see and speak with a delivery person no matter where you are. This way, you can provide access to your property even when you're not home. Better yet, you'll know who you are providing access to because you can see them. For extra security, you'll also have a time- and date-stamped photo of the person stored for 365 days for review.
Delivery PINs
Delivery PINs allow you to provide your delivery person with recurring or one-time property access depending on the need.
If it's your trustworthy postal carrier who has been delivering to your property for the last five years, give them a recurring PIN — you'll both appreciate the convenience.
If it's an Uber Eats driver or other online delivery that only needs one-time access, generate a single-use PIN and drop it in the delivery instructions when placing your order. The courier will get access to the building just for the period of time they need to make their delivery, and you'll get a notification with a picture when they do.
Package rooms
Once the delivery has been made, you may want to provide a storage option (some buildings don't want packages on the floor of their lobby). The simplest solution is a package room. Package rooms take advantage of the extra space you already have in your building.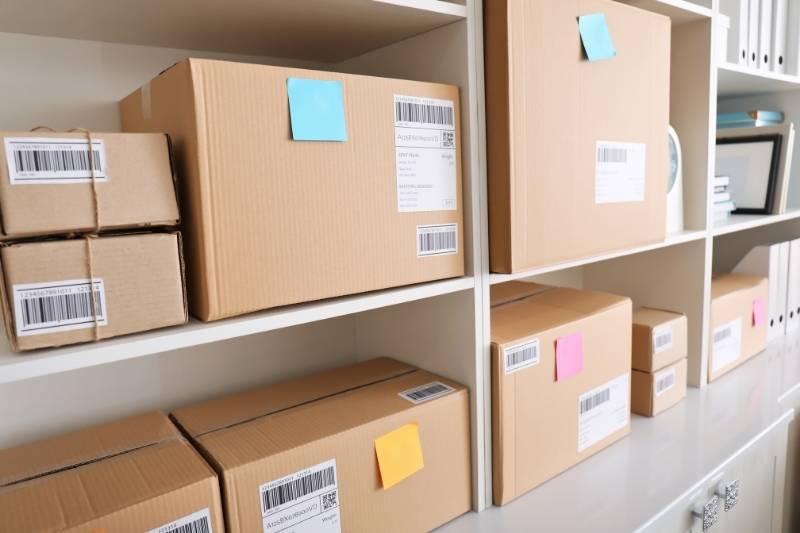 To set up a package room, all you have to do is:
Choose a spare room to dedicate to package storage
Install ButterflyMX at the package room door
Add shelving and any extra security features you desire
When couriers arrive at your building, they'll use their delivery PIN to gain access. From there, they can open the secure package room door using the same PIN. Residents get a notification when they have received a package.
Prevent package theft
A lot of condos, co-ops, and small apartment buildings with only a few units don't worry much about package theft. The reality is, residents don't typically steal other residents' packages — outsiders do. As such, simply getting a delivery person into your building so they can drop off your package in the lobby should be enough to solve any package theft problem. However, if you have a larger building, package theft may occur because residents have visitors who may not always be the most honest people.
Many small multifamily buildings lack a secure place to store deliveries. As a result, couriers leave packages in unlocked vestibules, lobbies, or sometimes even just on the front stoop. This leaves your residents' deliveries at risk of theft.
When you have ButterflyMX at the front door, you'll never have to worry about porch pirates because couriers will always have a way to access the building. With or without a package room, our intercom is a critical tool to ensure that couriers can leave packages safely inside the building.
3. Long-term cost savings
A cloud-based video intercom for condos doesn't just save you money initially on the install — it also helps you save big over time by eliminating phone bills and intercom reprogramming fees.
Eliminate costly phone bills
If your apartment building, co-op, or condo relies on a telephone entry system that uses phone service, you're probably overspending on an unnecessary phone bill every month. By replacing the system that operates over phone lines with one that used the internet, you'll save hundreds — or even thousands — every year.
No more reprogramming fees
A lot of intercom systems are difficult and costly to reprogram. In some cases, condo owners are stuck paying a hefty fee every time they need to update the tenant directory. But you shouldn't be charged hundreds of dollars just to add or remove a tenant from your intercom system. With an IP-based multi-tenant video intercom, you can update your resident directory for free with the click of a button.
4. Easy system management
Requesting a service provider to come onsite and update your intercom with minor changes isn't just expensive — it's also a headache. Whether you own a small apartment building or serve as the president of your HOA, you have better things to do than worry about scheduling frivolous intercom programming appointments.
Choose a video intercom that makes it easy to add and remove tenants yourself. With cloud-based systems like ButterflyMX, all you have to do is log into your web-based property management dashboard.
In the ButterflyMX property admin dashboard, you can:
Add or remove tenants
Manage tenants' permissions
View an audit trail of who has entered the building
Monitor how visitors gain access to your building
Send messages to your tenants
With ButterflyMX, you are in control of the system. You can even have multiple admins in the dashboard so that everyone — from property managers to HOA members — can manage access and permissions.
Learn how to use ButterflyMX's property management dashboard:
5. Simplified visitor access
A huge pain point for residents, building managers, and owners alike is visitor access. If you've ever had to go downstairs to open the door for a guest or wait around all day to let in the cable guy, you know how frustrating visitor access in multifamily buildings can be.
Whether a resident needs to open the door for a friend or a property manager needs to grant access to a service provider, an intercom system with door release and video calling is the best solution. Guests can place a video call through the intercom, which residents can answer on their smartphones from anywhere in the world. Residents can also open the door for guests right from their phones.
In addition to video calls, ButterflyMX further simplifies property access for guests with tools like virtual keys and elevator controls.
Virtual keys for temporary access
Both residents and property managers often find themselves needing to grant temporary building access to visitors. With virtual keys, you can remotely let visitors into the building at specific times without giving them a physical key.
A virtual key is a QR code — like your mobile boarding pass to get on a plane — that residents and property admins send to guests in advance. You can send a virtual key by email and/or text.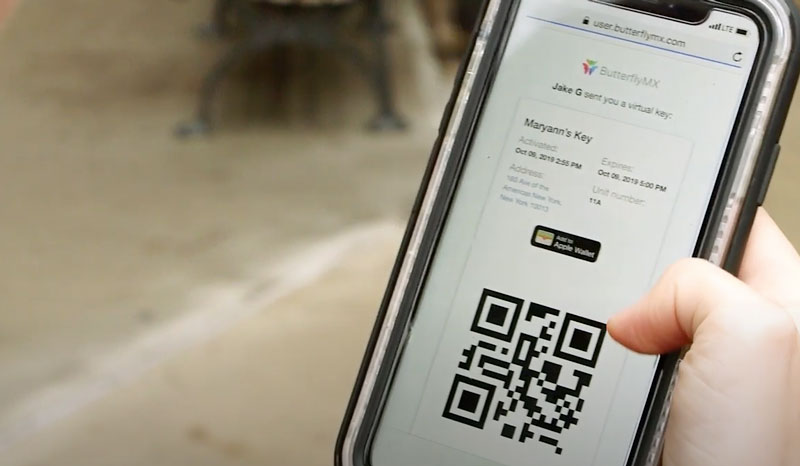 Here are some common use cases for virtual keys:
Residents can send a recurring virtual key to a dog walker or nanny who comes every weekday between 10:00 am and 12:00 pm.
Property managers and residents can send a single-use virtual key to a plumber or repairman for one-time access.
Property managers can send virtual keys to prospective tenants for self-guided tours.
Elevator controls
If you own or manage a multistory building with a key-fobbed elevator, you have one more visitor access problem to solve: getting guests up to the correct floor. With elevator controls, residents never have to go downstairs to bring visitors up to their floor.
Here's how elevator controls work:
When a resident opens the door for a visitor, the intercom automatically unlocks the key-fobbed elevator for a specific amount of time
Visitors can walk through the front door and access the elevator, which will only bring them to the resident's floor
Residents can also unlock the elevator from the intercom system's mobile app at any time
6. No ongoing maintenance
The last thing small apartment buildings and condos need is an intercom that requires constant — and costly — maintenance. That's why smart video intercoms for condos and small buildings are a wise investment.
Cloud-based video intercoms operate on software that is updated remotely on an ongoing basis. That means your intercom will always be up-to-date without scheduling any onsite service appointments. Think of it like your smartphone's operating system — all you have to do is download the latest software to enjoy updates.
On top of that, you'll never have to worry about repairing or maintaining in-unit intercom devices. With ButterflyMX, the only hardware you need to install is the front door intercom, which is durable, vandal-resistant, and IP65 rated.
7. Improved building security
Security is a top priority for any multifamily building, regardless of size. Condominiums, co-ops, and garden-style apartment buildings all need comprehensive security solutions to ensure resident safety.
Intercom systems improve property security by letting residents vet visitors. Video intercoms for condos are more secure than audio-only intercoms because they let residents see visitors before letting them in. The problem is that installing video stations in every unit can be extremely expensive. Even if your building only has a few units, the installation could cost thousands of dollars for hardware and labor.
Instead of choosing a wired video intercom, choose a wireless, smartphone-based system. ButterflyMX operates with smartphones instead of in-unit devices, so you'll save significantly on the installation.
As an added layer of security, ButterflyMX also takes a time- and date-stamped photo every time someone uses the intercom to enter the building. This audit trail is stored in the property management dashboard for admins to review.
8. Deliver the technology residents demand
As the largest and fastest-growing segment of the multifamily rental market, millennials' opinions matter. Modern millennial renters not only seek but demand technology-powered apartment amenities. In fact, more than half of millennial renters surveyed by Entrata said they would agree to a rent increase for upgraded technology.
While millennials continue dominating the housing market, you can ensure your condo or small apartment building meets expectations by installing a smart video intercom. ButterflyMX adds the security and convenience today's renters want. Plus, with smartphone usage only growing, smartphone-based systems will soon be the norm.
9. A built-in marketing tool
As a small building owner or HOA president, you probably don't have much time to market your building. But what if there was a hands-off way to catch prospective tenants' eyes — without lifting a finger?
Installed at the front door, video intercoms for condos and small apartments add instant flair to your building. With their sleek, modern design, these intercoms turn heads. If you're having trouble catching prospects' attention and converting tours into leases, a ButterflyMX video intercom can help.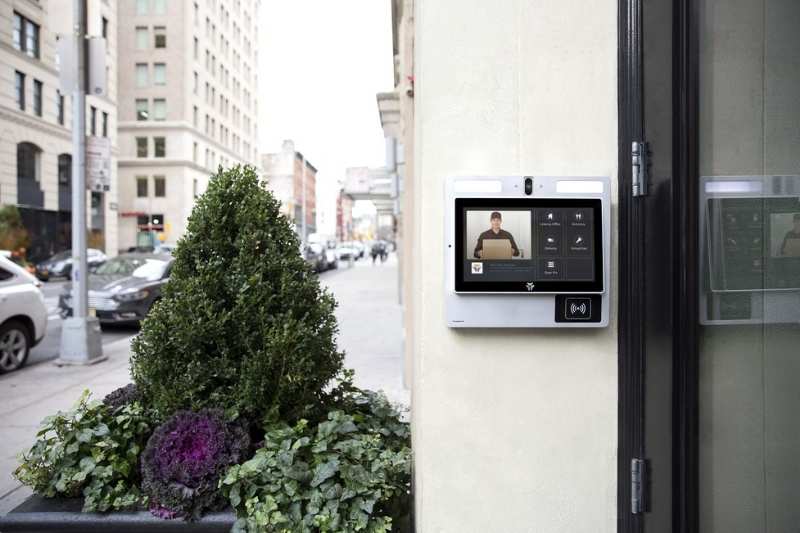 Not only does the intercom attract new residents, but it also works wonders to retain existing ones. Once tenants acclimate to the convenience of opening the door with their smartphones, they'll never want to live in a building without ButterflyMX.
10. Excellent customer service
Whether you own a building or serve on a condo board, you probably deal with numerous vendors every day. Is there anything worse than working with a vendor who can't answer your questions, return your calls, or help you when you need it most?
At ButterflyMX, we put customers first — always. We have more than 7,000 five-star reviews, and our dedicated Customer Success team provides comprehensive onboarding for new customers and live support seven days a week. Whether you're experiencing an issue with your system or need help navigating the property management dashboard, you can rest assured you're in good hands.