Today's property managers are looking at a new market with new realities when it comes to filling their buildings with tenants.
For one thing, 36.6 percent of U.S. households currently rent – a higher percentage than at any other time since 1965. For another,
nearly 80 percent of Gen X and millennial renters aren't currently planning to buy homes
. And while the "American Dream" of individual home ownership appears to be alive for the time being, according to a recent survey by the National Association of Realtors, unaffordable housing still deters most people from buying a home – especially millennials.
This large supply of renters is a boon for property managers seeking to quickly lease up their buildings; however, if you recall from our previous ebook,"A Property Manager's Guide to Tenant Retention," nearly half of all renters will turn over their lease within one year of moving in, which can result in more than a $150,000 hit to the annual gross operating income of the typical 200-unit property.
So, how do you keep residents from leaving your building? Amenities may be the answer.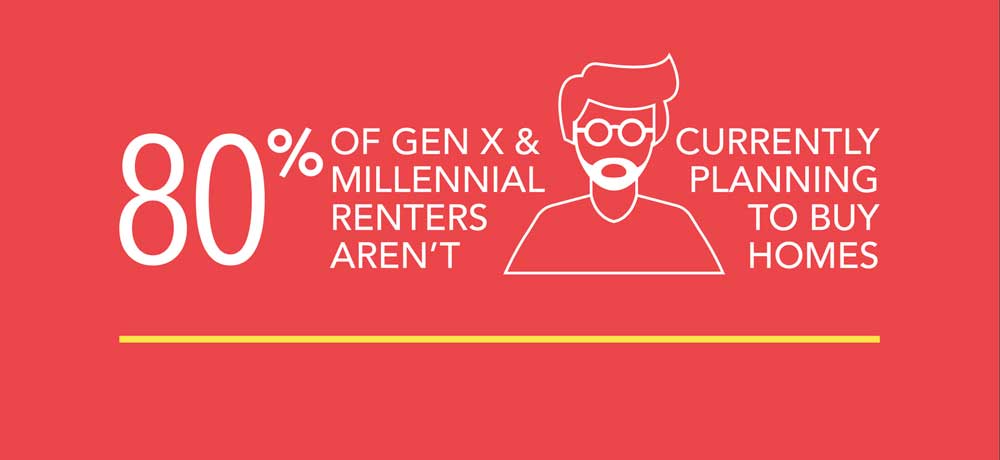 In a recent survey by NMHC/Kingsley Apartment Renter Preferences Report, 60 percent of people say their living space reflects their identity.
Meaning: today's renters are seeking a home which they feel connected to. So, by providing your residents with ammenities that reflect their preferences and values, you can help to build this connection and decrease the likelihood they will turnover.
It's important, however, to remember that "traditional" amenities such as dishwashers, washer/dryers, air conditioning, and high- speed internet are now par for the course. Also, amenities shouldn't be considered as a synonym for bells and whistles, either – they should offer true value to your residents.