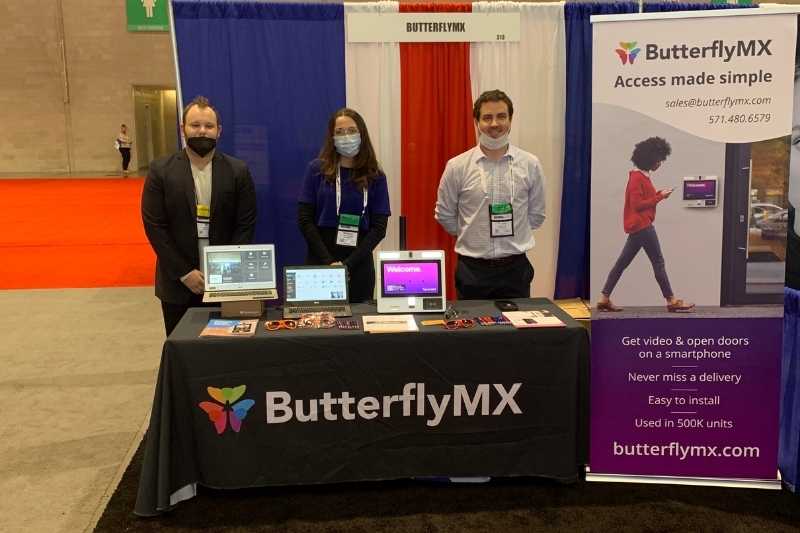 The Building Owners and Managers Association (BOMA) 2021 International Conference and Expo brought together some of the greatest minds in commercial real estate (CRE). As a writer, I attended BOMA to hear directly from CRE professionals about the challenges they face and brainstorm solutions.
This event is an incredible opportunity to learn about the latest in CRE. And in this post, I share some of these insights with you.
This BOMA 2021 recap covers: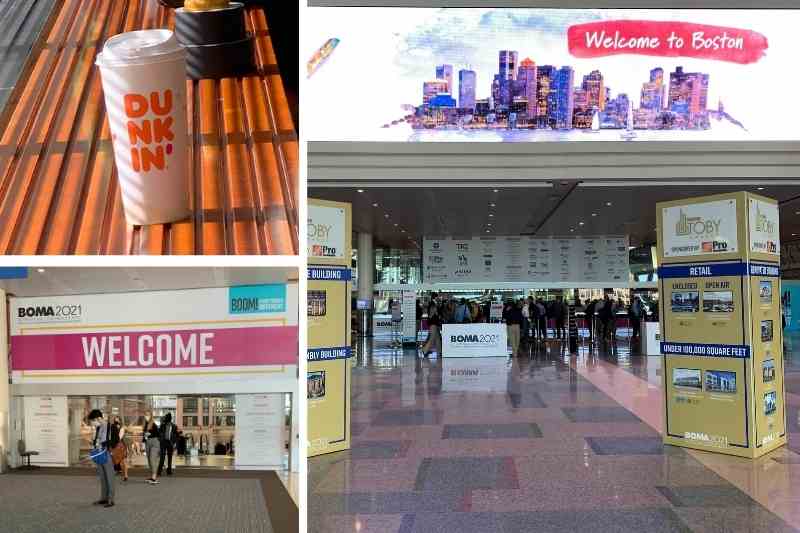 Arrival and set up
October 7th
8 am – Arriving at the conference
This year, BOMA 2021 was in Seaport, a neighborhood on the southern coast of Boston, Massachusetts. In the 1800s, builders designed Seaport as an industrial area for shipping and stockyards. But, in recent years, Seaport has come a long way to become one of Boston's most desirable real estate markets.
Over time, luxury condos, retail, and office replaced 19th-century shipping containers and new developments appear every day. As a result, Seaport rapidly transformed into a lively community for families and young professionals alike. From the perspective of a Bostonian, some of my favorite spots in Seaport are the Institute of Contemporary Art, The Lawn on D, and Trillium Brewing Company.
9 am – Registration and check-in
BOMA organizers clearly communicated COVID-19 vaccination and testing requirements beforehand. So when I arrived at the conference venue, I was greeted by an easy check-in process. Badges were even color-coded to indicate which individuals were comfortable with contact, such as a handshake.
12:30 pm – The Expo Begins
With over 200 booths, the BOMA 2021 exhibition hall was packed full of cutting-edge technology and the biggest names in CRE. Not long after the doors opened, the space was bustling with conversation as attendees explored the spacious Boston Convention Center.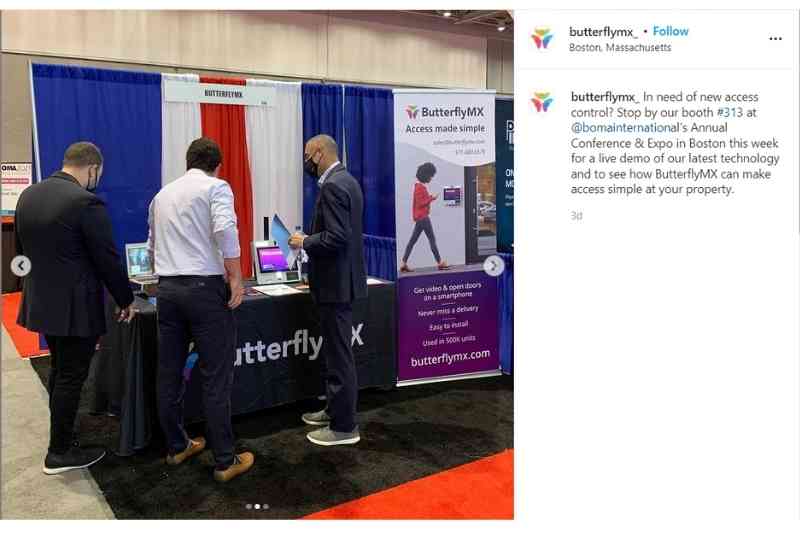 Themes of BOMA 2021
BOMA 2021 highlighted three key initiatives during the expo:
Green Initiative: BOMA encourages commercial real estate professionals to stay one step ahead of their sustainability goals. The event featured many eco-friendly and energy-efficient businesses as a result.
Technology: High tech solutions are also top of mind in CRE as tenants consider returning to the office. So BOMA 2021 featured products that improve workflows and property management.
Safety and accessibility: Exhibitors also presented products — like upgraded wheelchair ramps and roof access hatches — that improve the safety and accessibility of commercial properties.
Over at the ButterflyMX booth, we chatted with CRE professionals in all areas of real estate — from energy to property management. I was even able to connect with several of our partners, including Yardi and RealPage, who were also exhibiting at the event.
Education Sessions
Leading professionals offered dozens of educational sessions at BOMA 2021 on a variety of topics. The future of work and access control is top of mind across the industry so I paid particular attention to these subject areas.
Below are some highlights of the sessions I attended.
October 7th: Day 1 at BOMA 2021
1:00 pm – Getting Tenants Back with Access Control and Visitor Management
Presenters:
Brian Harnetiaux, Executive Director, Asset Management @ USAA Real Estate
Melanie W. Colbert, CPM, Principal, Operations @ LBA Realty
Yonathan Ron, Global Director @ Genea
This session brought together CRE experts with decades of experience on the subject of access control, visitor management, and bringing tenants back to the office. According to the speakers, integrations and high-tech solutions are essential to attracting new and returning renters.
Harnetiaux and Colbert explained that the best systems offer a streamlined experience. For example, when the tenant pulls into the garage, the system also triggers opening doors, elevators, lights, and thermostat settings.
Recommended tech investments to attract tenants back to the office:
Air quality monitoring
Touchless access control
License plate readers
Dashboard QR codes
Smart thermostats
Smart lights
See how touchless access with ButterflyMX works below:
Additional sessions on Thursday addressed topics such as:
The New Normal of Disinfecting Commercial Office Space
Catastrophe Preparation and Promoting Safety for Property Management Companies During COVID-19
The Power of Communication: How National Development Cultivated a World-Class Tenant Experience
October 8th: Day 2 at BOMA 2021
9:30 am – Sustainability Strategies for a Tenant Controlled or Net Lease World
Presenters:
Megan Basore, VP, Corporate Responsibility @ Duke Realty
Christy Walters, RPA, Senior Property Manager @ Duke Realty Corporation
Brenna Walraven, BOMA Fellow, CPM, RPA, BOMI HP, President and CEO @ Corporate Sustainability Strategies, Inc.
In general, ESG (Environmental, Social, and Governance) was a hot topic at BOMA 2021. Stretching far beyond commercial properties, ESG is affecting businesses of all kinds. Consumers and investors today care more about the ethics of businesses they support. So this session addressed the increasing pressure of corporate responsibility in CRE.
Notably, experts recommend that all properties prepare for increased climate-related issues such as tornadoes, hurricanes, and cold fronts. They also suggest installing EV charging stations and sustainable microgrids. According to current predictions, the impact of climate change on real estate will only increase in the coming years. Basore highlighted how making these changes early in the construction process — instead of retrofitting your properties in the future — will also save you money in the long run.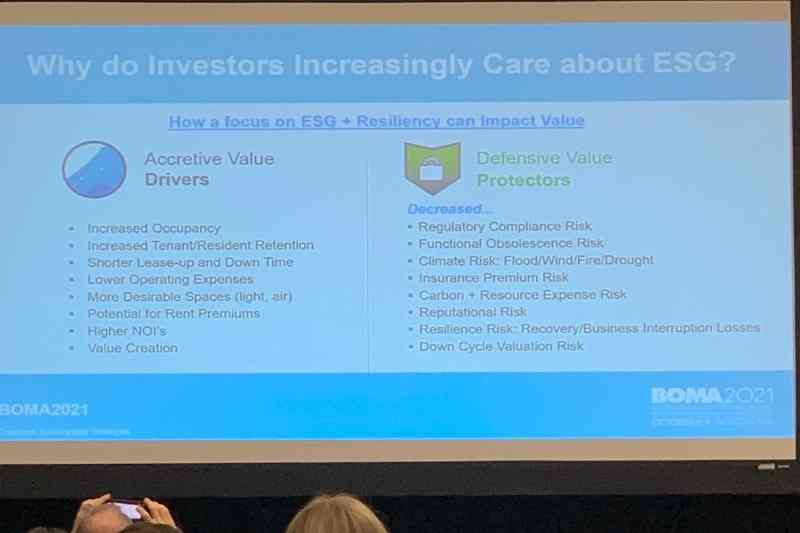 10:45 am – Shock of the New: Return to (Hybrid) Work Changes Everything
Presenter:
Haniel Lynn, Chief Executive Officer @ Kastle Systems
In this session, Haniel Lynn discussed the long-term impact of COVID-19 on global office culture and how commercial spaces can support hybrid workers. As a result of remote work, many popular 2019 amenities, like meditation rooms and workout classes, don't have the same draw. Tenant priorities have shifted.
In conclusion, Lynn proposed practical and health-focused investments. Making office spaces feel more comfortable during the ongoing COVID-19 pandemic will better support today's workers.
Examples of amenities that appeal to hybrid workers today:
Touchless access control so employees can enter and exit the building using just their smartphone
Indoor air quality apps where tenants can see data in real-time
Software allowing employees to reserve a meeting space remotely ahead of time
Additional sessions on Friday addressed topics such as:
Predicting Asset and Portfolio Value Using Machine Learning and Big Data
Touchless, Hygienic Restroom Remodel for Market Mentors
Unlocking the Next Wave of Value: IoT, 5G, and Digital Tenant Services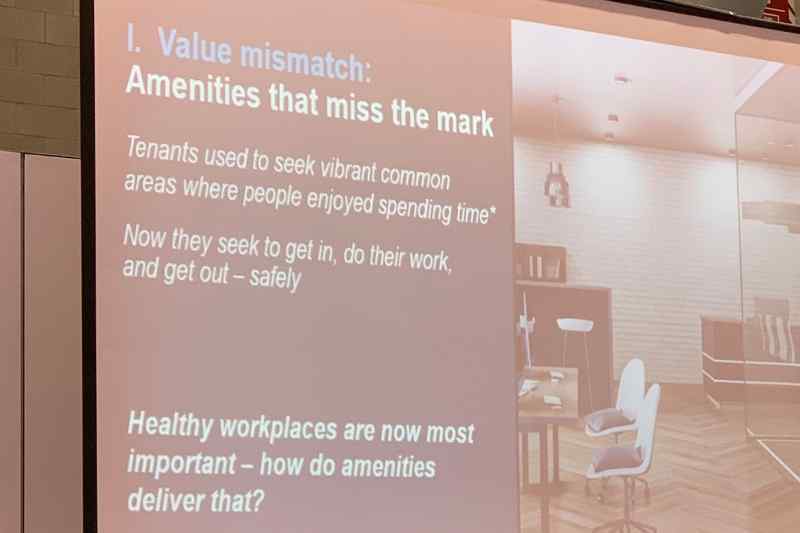 Takeaways from BOMA 2021
After connecting with other CRE professionals and attending education sessions, our team has a lot of information to reflect on. However, throughout the conference, three major themes emerged.
Three takeaways from BOMA 2021:
Smart buildings are no longer considered a luxury in commercial real estate. Instead, smart technology solutions are now a must for attracting new and existing tenants.
Property management for smart buildings is complex. However, it is necessary because renters rely on technology to work 100% of the time.
Sustainability initiatives are top of mind for everyone, from investors to tenants. Because climate legislation is changing quickly, it is more economical to make sustainable choices now than later.