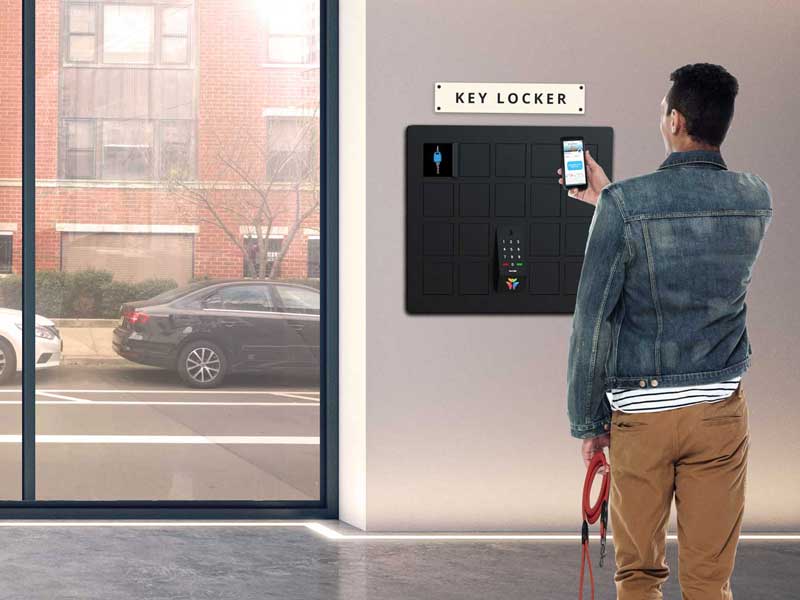 If you want to offer self-guided apartment tours at your building, you know that access is one of the biggest challenges. With a ButterflyMX video intercom at the front of your building, the property access piece is taken care of. But how does the prospective resident tour the rest of your building — the beautiful amenity spaces, the parking garage, and most importantly, the apartment for rent?
Enter Key Locker — a simple, smart, and secure building-wide access solution for self-guided touring. Read on to learn more.
In this post, we cover:
What is Key Locker?
Key Locker is an automated locker system powered by our keypad. It enables property owners, managers, and leasing agents to store keys, allowing prospective residents to access locked amenity spaces and apartment units during self-guided tours.
Key Locker consists of 34 compartments controlled by a keypad. To open a compartment, all prospects have to do is enter a six-digit PIN code. And when you close a compartment, it automatically locks.
How it works
Prospective residents follow three simple steps to retrieve a key or fob:
Prospect books a self-guided tour on your website
Prospect automatically receives a ButterflyMX virtual key to access the building via our video intercom
The prospect uses the same virtual key PIN to open the Key Locker and retrieve a key or fob. They also use the virtual key PIN to return the key or fob after completing their tour.
Benefits
The benefits include:
Camera for added security
Key Locker includes a built-in camera for enhanced security. Each time a locker is opened, it automatically takes a time- and date-stamped photo of the person.
Smart sensors
Each compartment has its own locking mechanism to operate independently. An infrared sensor in each locker detects if the key or fob has been returned when the tour is complete.
Cloud-based
Property owners and managers can grant or revoke access using the ButterflyMX OS, which is powerful online software that is accessible via a smartphone or computer.
Easy to install
Only two wires are required for installation: power and internet. The entire system fits in an area of 23.8" x 3.8" x 15.1".