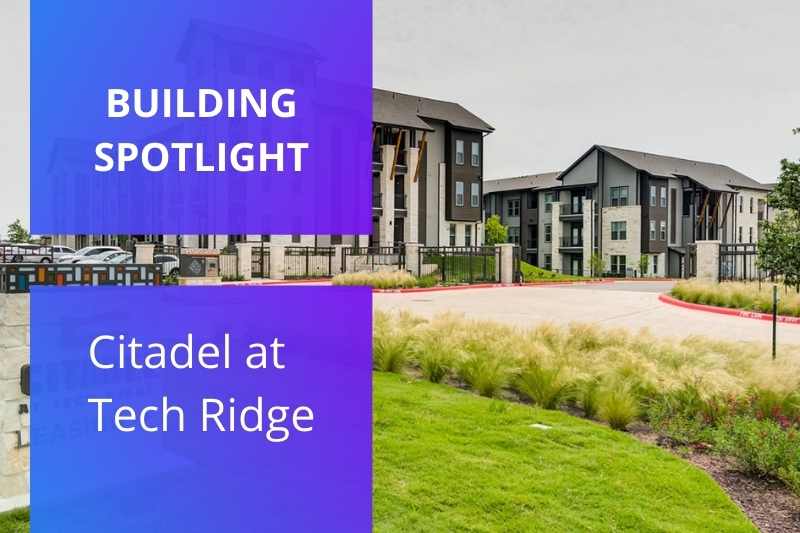 ButterflyMX's products simplify access to apartment buildings across the country. We offer secure and convenient access to properties and make it easier than ever for residents to access the property and the rooms within. As a result, ButterflyMX products greatly improve the resident experience.
We love highlighting a property that thrives in collaboration with ButterflyMX. And for this Building Spotlight, we highlight the Citadel at Tech Ridge, a gated residential community in Austin, Texas.
About Citadel at Tech Ridge
Location: Austin, Texas
Units: 12 buildings, 308 units total
Building Classification: Residential gated community
Project Type: Built in 2019
Developer: Bell Partners
ButterflyMX Product: Gate video intercom
The city of Austin has seen an influx of new residents over the past few years with nearly 100,000 people moving there each month. All of these new residents expect the latest cutting-edge technology and modern-day amenities in their apartment buildings. And Citadel at Tech Ridge has that in spades.
Accurately touting itself as "Luxury for a Lifetime," this gated residential community more closely resembles a lavish hotel resort than your typical residential building.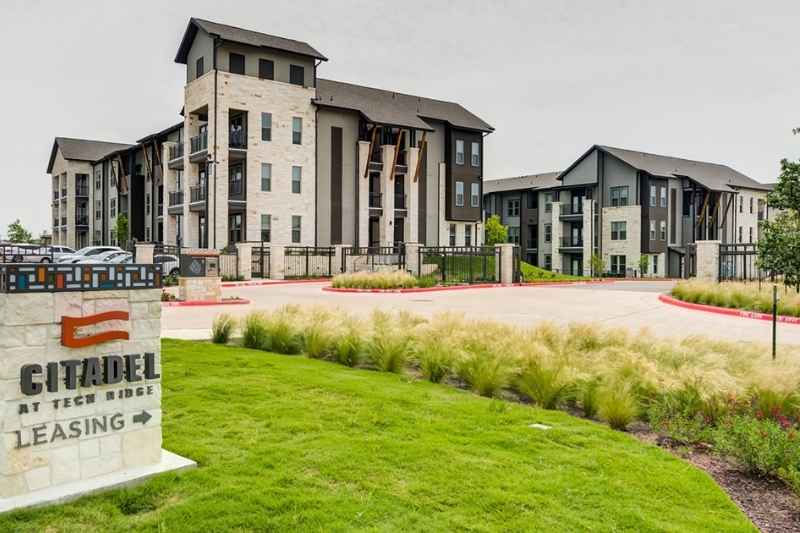 Some of the luxurious amenities at Citadel at Tech Ridge include:
A resort-style swimming pool (complete with lounge chairs and palm trees)
Business and cyber lounge
Resident clubhouse and lodge
Pilates, yoga, and spin studio
CrossFit-style training equipment
Ample parking
Electric vehicle charging center
The complex features a wide range of units from one to three bedrooms and one to two baths. The monthly rental cost for each unit ranges between $1,535 and $3,491.
Each apartment comes with a number of high-quality features, including:
A private balcony or porch
Granite countertops
Washer and dryers in-unit
Walk-in closets
Stainless steel appliances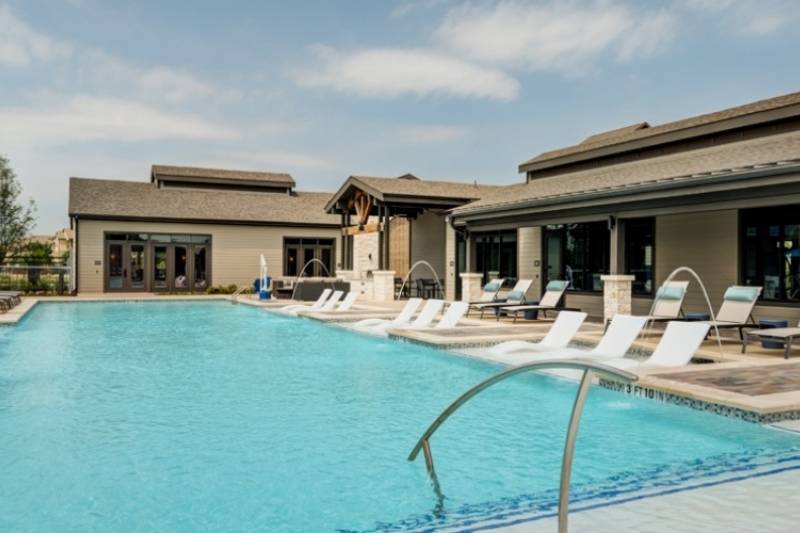 The importance of man's best friend(s)
In tune with the demands of modern residents, Citadel at Tech Ridge not only welcomes pets but also offers amenities for them. In the 2020s, more multifamily buildings have embraced and welcomed furry residents than ever before. And the Citadel community is one of them.
Their pet amenities include:
Pet spa
Bark park
Dog run
Over 90 million families in the United States own pets, which account for 40% of households. Grooming and exercising dogs is just as important as feeding (and loving) them. As such, the impact of Citadel at Tech Ridge providing these amenities can't be overstated.

A luxury neighborhood
The peaceful neighborhood of Tech Ridge Center features a number of shopping plazas, restaurants, and convenient destinations of interest. This town has something for everyone, from millennials to seniors.
Popular local restaurants range from steakhouses and oyster bars to Chinese food and BBQ. There are also ample coffee shops such as Austin Grind and Summer Moon Coffee.
The nearby Copperfield nature trail is 3.5-miles of beautiful scenery that includes a lake and is suited for hikers of all ages. What's more, other local destinations of interest also include a Cinemark movie theater and The Original Pinballz Arcade for residents to enjoy after a days-long nature hike.
Tech Ridge Center is also less than a 20-minute drive to Downtown Austin, where residents can experience the iconic 6th Street, visit the state capitol, and kayak along Congress Ave.
Watch how ButterflyMX works:
ButterflyMX & Citadel at Tech Ridge
To facilitate quick and easy property access, Citadel at Tech Ridge has installed a ButterflyMX gate intercom at the entryway of their property. With ButterflyMX, residents can open the gate by just swiping their smartphones. This frees residents from carrying separate keys to enter through the gate.
Even better, the contactless gate access method also conveniently prevents a build-up of cars at the main gate, ensuring residents can get home stress-free.
Citadel at Tech Ridge is a big property with 12 three-story buildings amply spaced out from one another. So, rather than trudging all the way to the front gate, residents can remotely grant guests access from their phones thanks to ButterflyMX. Also, the gate intercom allows delivery drivers to communicate directly with residents. Residents can hear and see who's requesting access at the front gate.
Because Citadel at Tech Ridge has so many people — residents, staff, visitors, couriers, etc. — coming and going, security is a top priority. Luckily, the ButterflyMX gate intercom takes a picture and logs the access credentials of everyone who enters the property. As a result, Citadel at Tech Ridge residents and staff can always rest assured that they're safe and sound.