There's no disputing the importance of including technology within a living space.
According to research done by Gartner for the property management company RentVest, smart devices will be standard in most homes by 2022. Additionally,
57 percent of residents
in a report by Multifamily Executive say they would agree to a monthly rent increase of at least $20 for smart-home features such as smart intercom systems, smart thermostats, smart lighting, motion sensor lights, and smart door locks (with 45 percent of renters believing that physical door keys will be obsolete within the decade).
Smart home technologies, formerly restricted to single family homes, are now coming to multifamily buildings and dorms. Internet of Things (IoT) devices will create a seismic shift in multifamily and campus communities and create new opportunities."

 

– Felicite Moorman, cofounder and CEO of StratIS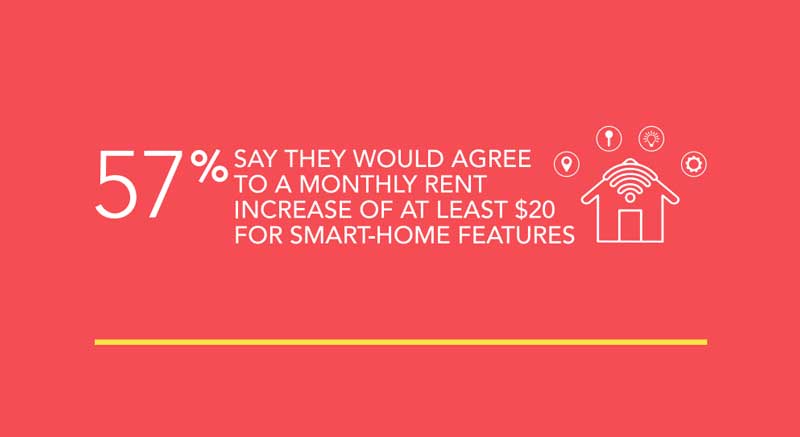 SmartMove, the national tenant screening service, notes several benefits of adding smart-home technologies, which include increased security through the use of cameras, sensors, and smart locks. Smart technologies can also reduce energy costs: think smart thermostats that automatically lower the temperature when no one is home.
But there are also challenges including significant upfront costs, dependence on inconsistent Wi-Fi signals, and concerns for tenant (and management) privacy. On that last point, internet security and privacy breaches can have negative personal and professional consequences. That means property managers should take strong precautions when deploying all smart-home technologies.
Forward-looking property managers with convertible space to spare – such as common areas, clubroom space, and large lobbies – should also consider creating shared co-working spaces in the mold of WeWork, Regus, and iLoftSpace.
As more employees and freelancers work remotely, the demand for these workspaces will likely increase, creating a potential revenue stream while also attracting tenants engaged in the gig economy. Another thing to consider is that smart-home technologies that monitor and respond to maintenance, operations, and security issues offer significant benefits to property managers.
Bottom line: Incorporating smarthome technologies makes properties more valuable and attractive to renters and tenants.