Read this post to which amenities enhance the tenant experience.
"Why do tenants stay or go?" CREtech asked in a 2018 blog post
Its answer: "The experience. Landlords master retention and recruitment by delivering top-notch user experiences. Space is not just a commodity. Tenants view their office, retail centers, and apartments as a service."
It shouldn't be surprising, then, that landlords are increasingly being urged to become curators of services, according to an extensive study by the Urban Land Institute and PwC.
The right tenant experiences offer property owners 3 important benefits:
Make it easier to lease office space.
Keep current tenants satisfied and loyal.
Charge higher rent per square foot.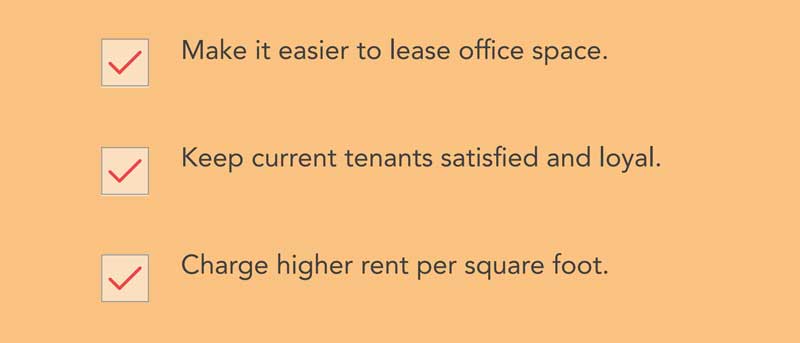 "Tenants desire productivity solutions, which ultimately benefit both the tenants' workplace engagement as well as the property owners' bottom line."
But the tenant experience is not only limited to amenities such as onsite gyms, gourmet dining, consumer discounts, or childcare services. When surveyed, employees have consistently ranked productivity-enhancing amenities high on their lists.
Employees consistently ranked these productivity-enhancing  amenities high on their lists:
Consistent, high-availability internet access
Seamless visitor registration/management
Conference room management
Food delivery
Fitness center access, including notifications when usage is light
Easy access to emergency and property management contact information
In short, organizations are looking for ways to mitigate work disruptions and help their employees make the best, most productive use of their time.
"We all have the same experiences of getting slowed down by office distractions that have little to do with our core job function, such as registering a visitor or fixing a broken coffee machine. Despite the trends of offering social events and consumer discounts to tenants, they will ultimately prefer any benefit that makes their jobs easier or saves them time."
Creating an amazing tenant experience
More millennials compose today's workforce than any other generation.
These first-generation digital natives reached maturity online, and today, 85 percent use their smartphones to access the internet. They are "more likely to use higher-end technologies in their personal lives" and "have a more positive view of IT strategies that encourage the use of personal devices at work." Therefore, it shouldn't be surprising that in a survey on tenant engagement conducted by smart-building platform Cohesion, participants said they wanted apps that manage all of their building interactions and can control their daily needs.
Further, according to tenant experience platform provider HqO, the primary way landlords can provide a great tenant experience is by making it easier for tenants and their employees to engage through software.
At its core, then, the foundation of a modern tenant experience should be based on a smartphone and smartphone-enabled apps that control the productivity-enhancements organizations are demanding. From one device, tenants can receive facility updates and control access to their buildings, offices, parking garages, and conference rooms – even remotely.
"We asked participants how often they would use a smartphone app or web portal that provided specific features. What we found was that mobile access cards, food ordering, visitor management, and service requests are the most likely features to be used." — propmodo
ButterflyMX, which created the smart video intercom, designs cloud-based software and touchscreen hardware to provide secure, convenient, and affordable property access from a smartphone.
It's a modern building-entry solution designed specifically for the needs of office, co-working, and industrial tenants. It offers video calling, virtual keys, time- and date-stamped door release logs, and delivery PINs that create seamless building entry for employees and their visitors. ButterflyMX's open API also allows integration with other cloud-based services that commercial owners and their tenants are using – ensuring that data is captured and workflows are streamlined, saving time and money.
Leverage data analytics to understand your tenant's experience
The ability to collect and understand data about your building can help you understand how your tenants interact with your building, which is critical to making better decisions.
Think about it: Knowing that 5,000 people walk by the building every day is a strong bargaining chip when negotiating a new lease with a grocery chain on the ground floor. Similarly, investing in an expanded fitness area makes more sense when you have data showing a 40-percent year-over-year increase in the number of people accessing it.
Deliver better programming and amenities.
Continually optimize their offerings.
Drive greater value and ultimately increase the net operating income (NOI) of their properties.
Cloud-based access control systems that monitor the building and its various spaces often include analytics capabilities based on anonymized data of tenant and visitor access.
Conclusion
Changing tenant expectations have created new demands on commercial real estate professionals, increasing the pressure to heighten the tenant experience.
Where and how people work will continue to change dramatically over the next several years, primarily driven by preferences and habits. But one thing will remain constant: Commercial tenants want tools, systems, and environments that enable greater worker satisfaction and productivity.
Commercial real estate developers, owners, and property managers need to keep this top of mind as they compete to fill their office spaces. Technology-based features and amenities that promote convenience, security, and greater productivity will allow landlords to differentiate themselves in an increasingly competitive market and meet evolving tenant expectations.
Download our free tenant experience guide to learn how to improve the tenant experience at your building and drive top-dollar, multi-year leases.