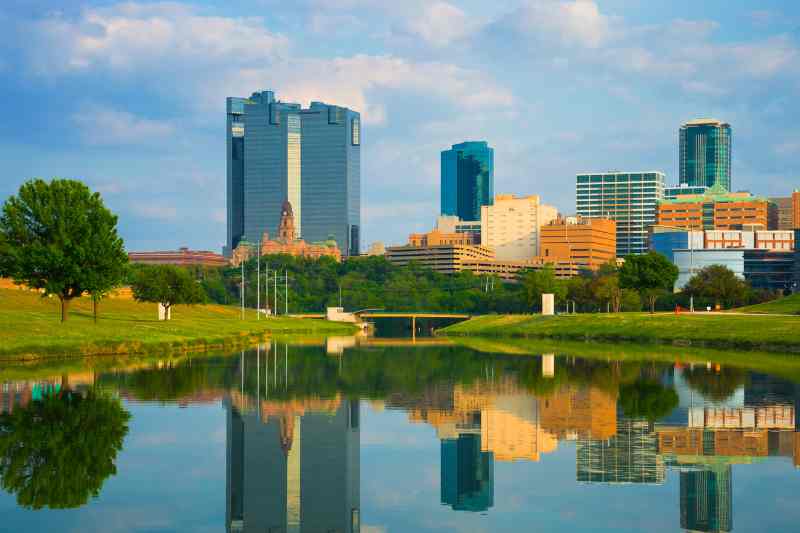 Fort Worth, Texas is where the West begins. While the Wild West might conjure up images of saguaro cactuses and tumbleweeds, as a Fort Worth property manager or owner, you know how diverse and lively your city is. And with the right Fort Worth access control system, your tenants can focus on soaking up the sights of Cowtown — instead of keeping track of keys!
From the bustling streets of West 7th to the scenic views of Panther Island, every Fort Worth property deserves an easy, convenient access control system. Read on to learn the best access control systems Fort Worth properties can depend on.
This post covers:
What is an access control system?
An access control system manages who can enter a property by checking credentials at the door or gate.
There are many benefits to installing an access control system at your Fort Worth property.
Some of these benefits include:
Delivering a convenient access experience to tenants.
Helping guests navigate your property easily.
Preventing package theft.
Improving overall property security.
So, are you looking for a Fort Worth property access control system?
If so, consider these systems:
Intercoms
Keypads
Key fobs
Biometric systems
How do access control systems work?
While there are many types of access control systems, they all work in fairly the same way.
First, tenants and staff are given a credential they can use to access your property. Second, users present their credentials at the door or gate. Then, if they're authorized to enter, the access control system unlocks the door or gate.
The best access control systems also offer guest management so delivery couriers and other visitors can easily request access at your property entrance.
Discover this beginner's guide to access control: 
Considerations when picking a Fort Worth access control system
Like with all improvements you make, you need to pick the system that best benefits your unique property. So, access control systems in Texas should be able to handle every unique trait of the Lone Star State.
What's more, Fort Worth is a bustling, growing city with its own special considerations.
Things to consider when looking for access control for your Fort Worth property:
Weather. During the winter months, Fort Worth typically sees at least two substantial snow storms. Conversely, summers in Fort Worth are marked by countless 100+ degree days. So, the access control system you choose should have an IP65 rating to withstand extreme cold and heat.
Guest management. A robust access control system allows tenants to grant access to visitors remotely. Because Fort Worth properties cater to everyone from young post-grads to established business owners, you need to offer a convenient way for them to let guests in while they're away.
Cloud-based system. Something that makes Fort Worth so unique is its proximity to another large Texas city: Dallas! In fact, many people opt to work in one city and live in the other. While this is common, most people don't want to make the hour-long commute between cities more than they have to. So, the last thing you want is to have to drive throughout the whole metroplex during rush hour just to update your access control system. Instead, invest in a cloud-based system that allows you to edit access permissions, review entry logs, and more from anywhere.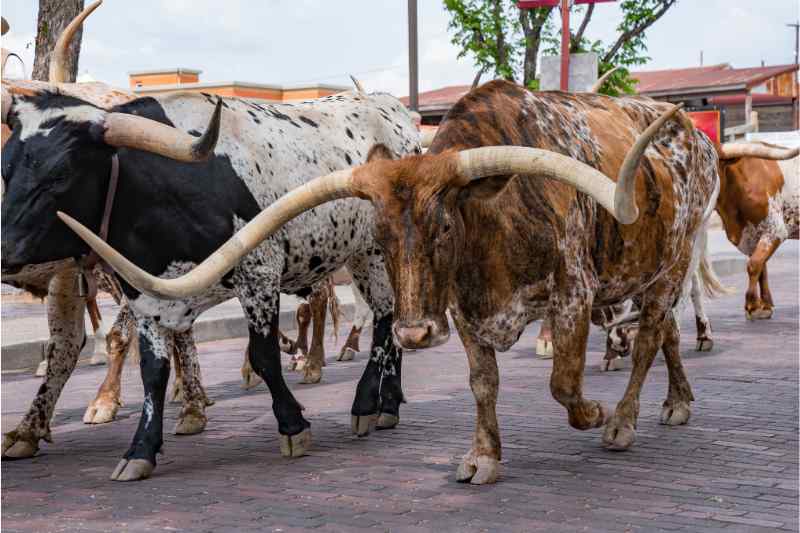 Types of access control in Fort Worth
So, you know you want to invest in an access control system for your Fort Worth, Texas, property. But what type of access control should you choose? The answer depends mostly on the type of building you own or manage.
Let's take a closer look at the types of access control systems for:
Fort Worth multifamily apartments
For multifamily apartments in Fort Worth, the best access control system is an intercom with a camera. In fact, residents can be kept safe without compromising convenience with a video access control system like a video intercom.
But why?
With a video component, residents can visually confirm their guests' identities, a huge upgrade from voice-only intercoms. Further, the most advanced residential building access control systems in Fort Worth allow residents to share virtual keys with family, friends, and service providers.
Gated communities in Fort Worth suburbs
Something that sets the Dallas-Fort Worth metroplex apart from other major cities in America is its huge quantity of gated communities. In fact, a majority of apartments in Fort Worth are gated communities. And giving these residents security and convenience is just as important as their high-rise counterparts.
The best access control system for gated communities is a cloud-based intercom. So, install a wireless video intercom at the front gate where guests can request access from residents.
Fort Worth parking lots and garages
While Fort Worth residents live primarily in gated communities, the city's attractions lie primarily downtown! So, these residents — and any out-of-towners — need a secure place to park when they venture into town.
There are many common parking access systems, including:
Vehicle readers
Smartphone-based access
Security guards
RFID smart parking systems
License plate readers
The best Fort Worth vehicle access control system should correctly verify credentials quickly. And if your parking garage is attached to a larger commercial or residential property, choose the same solution you use for your entire property.
Commercial access control systems in Fort Worth
Fort Worth may be where the Wild West begins, but it's also home to hundreds of large commercial offices. These offices vary from high-rise commercial properties Downtown to mixed-use developments in Clearfork. As a result, commercial access control systems are much needed in Fort Worth.
The kinds of commercial spaces you can find in Fort Worth vary greatly, which means Fort Worth property access control systems need to vary, too. Instead of picking a one-product system, opt for a system that lets you mix elevator controls, keypads, and intercoms. This empowers you to accommodate multiple tenants — and restrict access after-hours for mixed-use developments.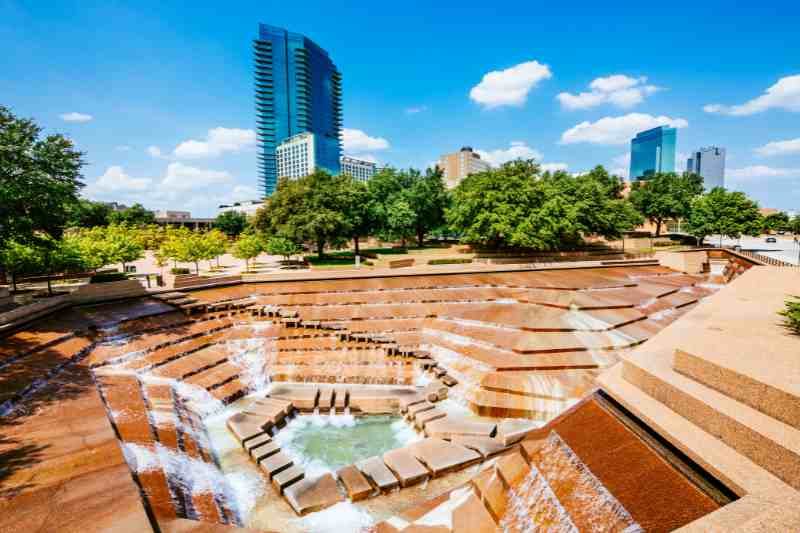 Finding and hiring the best Fort Worth access control installer
Fort Worth property access control system installation must be done by a certified installer. So, when you're looking to hire an installer in Fort Worth, Texas, first check that they're certified for the products you choose. If not, you risk voiding the warranty.
Additionally, before committing to an installer, get multiple quotes to make sure you get the best price possible.
So, you know how important it is to hire an accredited installer. But how can you find the best installer in Fort Worth?
Here's how to find a certified Fort Worth access installer:
Customer testimonials. An easy way to find recommended access control installers in Fort Worth is by reading reviews. Seek out customer reviews on search engines such as HomeAdvisor, Angie's List, and Google.
Real estate resources. Check out recommendations in industry publications like BOMA Magazine, Real Estate Forum, and SIOR Report. Further, many real estate magazines have online resources like forums where you can chat with other real estate professionals.
Ask your peers. Learn which installers the real estate professionals of Fort Worth like on social media. Ask on NextDoor, Facebook, or LinkedIn for local recommendations. What's more, ask your trusted colleagues to discover who they've hired to install the access control systems at their Fort Worth properties.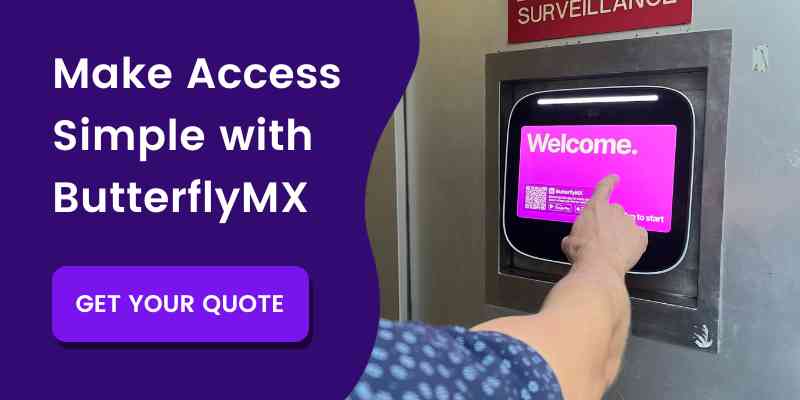 The best Fort Worth access control system
The best access control system in Fort Worth is ButterflyMX because it improves security without sacrificing convenience. What's more, no other system can adapt to the various property types, weather, and population of Fort Worth.
In 2014, ButterflyMX introduced the smart video intercom system. In the years since, we've improved its design and functionality through multiple iterations. Now, our intercom is just one part of our unified property access solution that empowers millions of users to manage property access from anywhere using a smartphone.
Features of the ButterflyMX access control solution include:
Video calling. Tenants can video chat with the person requesting access. So, they know exactly who they're letting into the property, enhancing security.
Audit trails. ButterflyMX video intercoms take a date- and time-stamped photo of each entry event. These photos are stored in an audit trail that can be accessed at any time in the ButterflyMX OS.
Remote access. Are your tenants away? No problem! They can grant guests access even when they're not on the property. For example, when a visitor requests access through the video intercom, tenants are notified and can grant access via the ButterflyMX mobile app.
Elevator controls. Configure elevator controls to permit access to specific floors based on the presented credentials. So, restricted spaces, maintenance areas, and construction zones can only be accessed by authorized personnel.
Virtual keys. Visitors can scan a unique QR code to access your property. These permissions can be restricted to timed access windows and can be edited from anywhere.
ButterflyMX is now installed in more than 10,000 buildings, has over 20,000 five-star reviews, and is trusted by more than 1,000,000 users.
One of our ButterflyMX commercial clients says:
The ButterflyMX access control system for my office building has been a total success. I migrated from the traditional system with a small screen and tedious scroll through the directory to a large screen easy access system. The tenants love it and it's easy to update and add and delete tenants.